European Tour 2019 (August 28 – October 7) 
From Kasey: 
Hey, it's your best friend from America, Kasey Williams! 2019 saw my fifth tour with my good friend Dudley Taft. We played some new venues, and some old places, made some new friends, and saw some familiar faces. It feels like every tour keeps getting better and better! There were some fun adventures had on this trip. Between gigs we; released our latest album, crashed a wedding, rode in a car elevator, hung out in Dresden, Germany, got into shenanigans with our buddy Wojciech in Krakow, Poland, crashed a birthday party, released a new music video, broke a pair of prescription glasses, saw the Berlin Wall, played a live radio/video broadcast, went to the Rijksmuseum and swung on the "Sensational Swing" at A'DAM Lookout in Amsterdam, and broke down on the Autobahn only to make it in time for our last gig! There was plenty more, but my NDA prevents me from speaking any further... Until the next adventure! Kasey 
Kasey called this one the "Better Hotels Tour." I suppose he is correct! But really until this tour we didn't always have our own rooms. On the first tour, John Kessler and I shared a hotel room. Then on subsequent tours, we would get a couple of rooms but sometimes there were four of us. 
I called this tour the "Better Gigs Tour." We played to bigger crowds, made more Euros and aside from a few nights at the Lammers residence where Kasey shared a room with our drummer, everyone had their own room. That made things much more comfortable during our five and a half weeks in Europe! 
It seems that every tour we have a different drummer. At least the last four have been that way. Carl Martin, then Darrin Watkins, then Marty McCloskey and now Darby Todd. We had planned to have Marty with us for this tour, but at the last minute he asked that we find a replacement. That was a bummer. With about seven weeks to go, I had to scramble. I contacted Walfredo Reyes Jr. who had recently moved to Cincinnati and played on most of the tracks for the newest album, Simple Life. He reached out to the drumming community at large and through a friend found Darby. Luckily Darby was in-between tours and only had a few gigs on the books for September. So he was our man. 
Darby did his homework and charted all the songs, so rehearsal was a cinch. Also, he has been drumming since he was six years old and it comes naturally to him. So now we were "cooking with butter" as I like to say.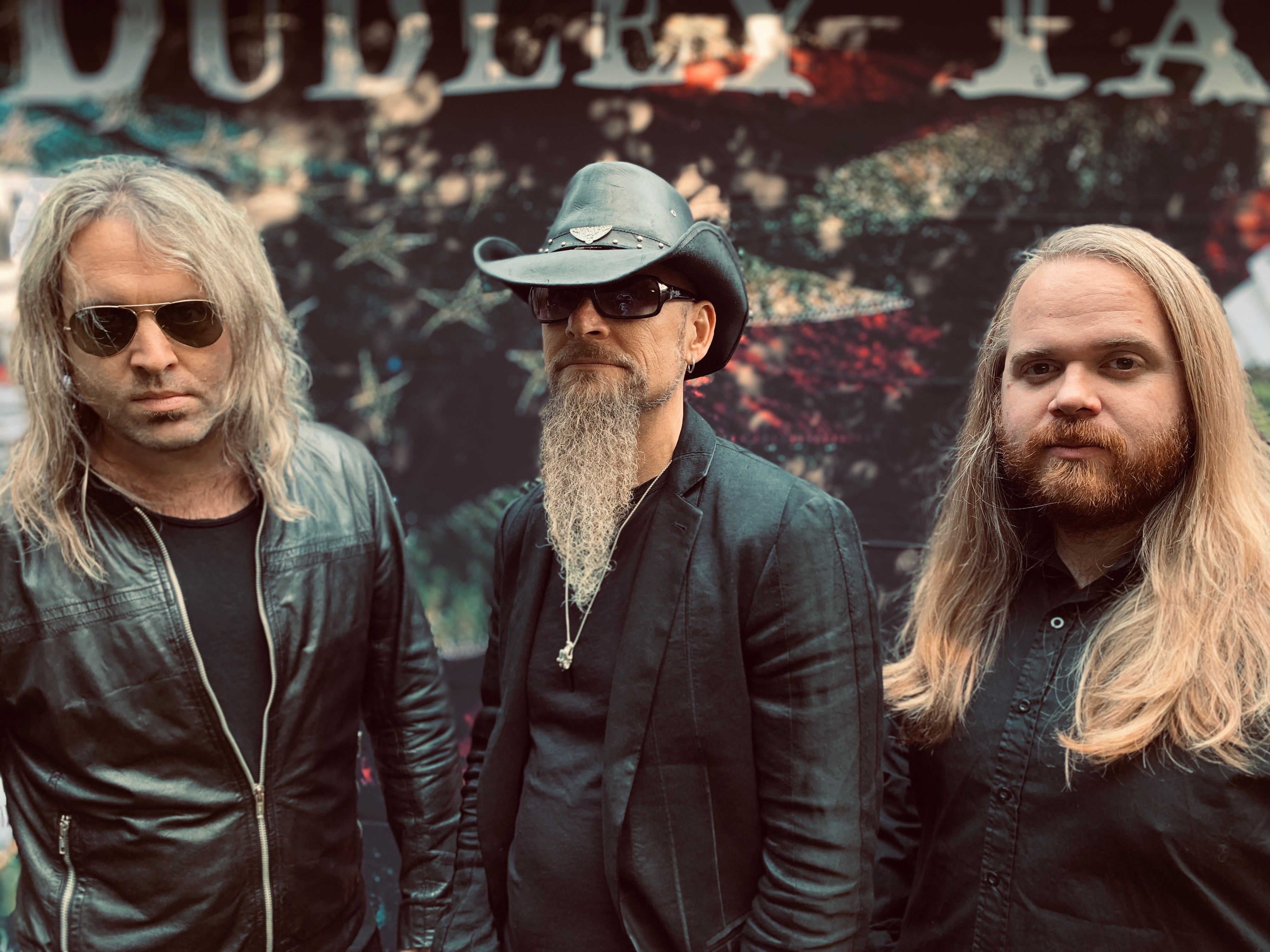 L to R: Darby Todd, Dudley Taft, Kasey Williams
Two days of rehearsal was enough to get us comfortable for our first show in Eschweiler, Germany. It was a Tuesday which can be hit-or-miss for attendance, but there was a nice crowd at Rio and we had a great first gig. Our French buddy Manu Lanvin was set to play there in December - we will see him later in Poland. Darby had played with Carl Verheyen, and it was funny to see a drum head with Walfredo Reyes Jr.'s signature on it, because he played on the new album Simple Life! Hahaha. It is a small world.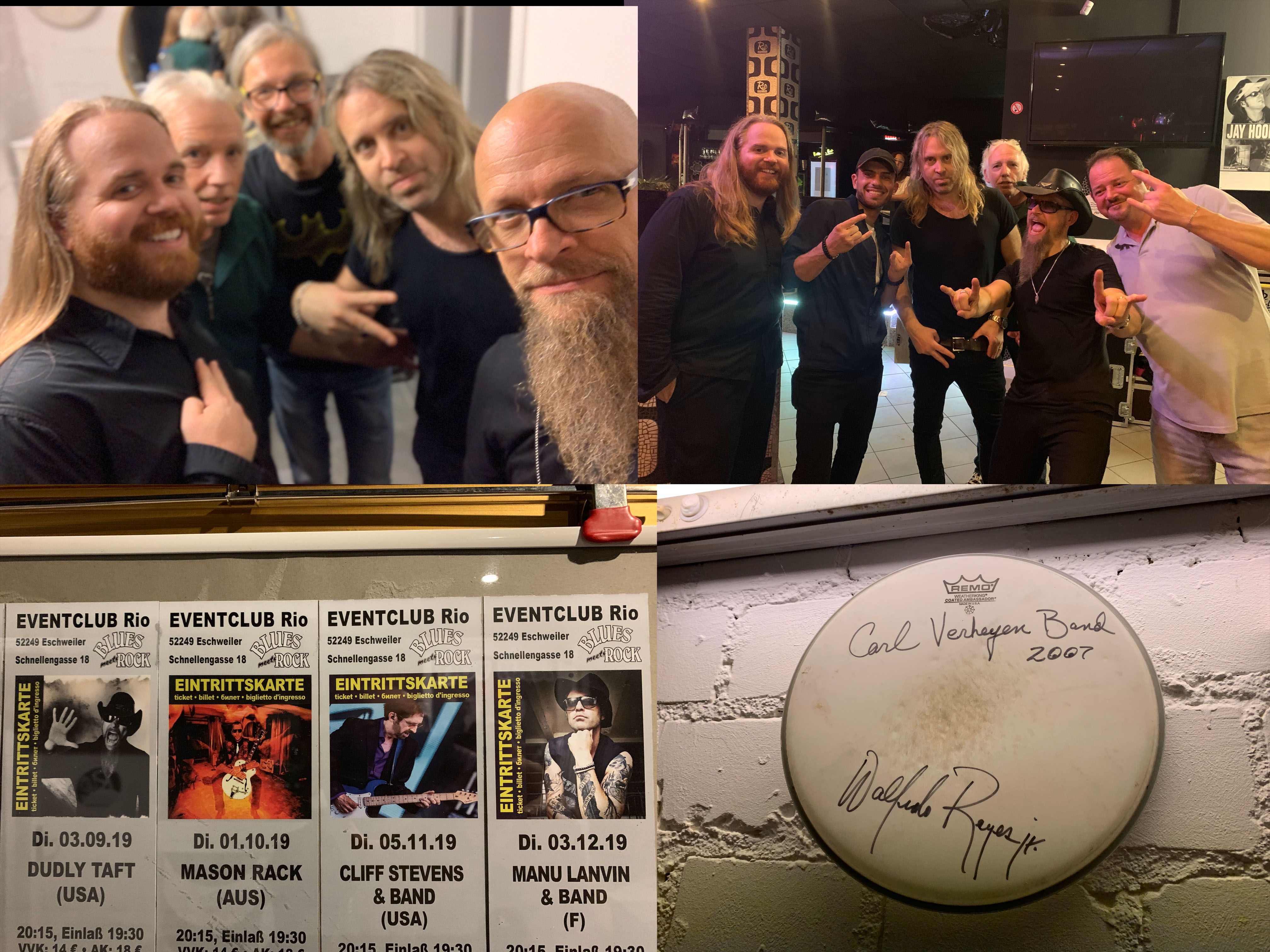 Rio in Eschweiller, Germany - With the promoters and Walfredo's signature and Manu Lanvin
Anko Lammers (my great Dutch friend) had made us a merchandise banner as a gift, so we looked very professional all around! The Germans tend to buy the most CDs and t-shirts, and this time we had two of our albums on vinyl. (Last year in the US vinyl outsold CDs for the first time since the late 1980's.) We have quite the arsenal too – six CDs, three different t-shirt designs in men's and women's and two vinyl LPs.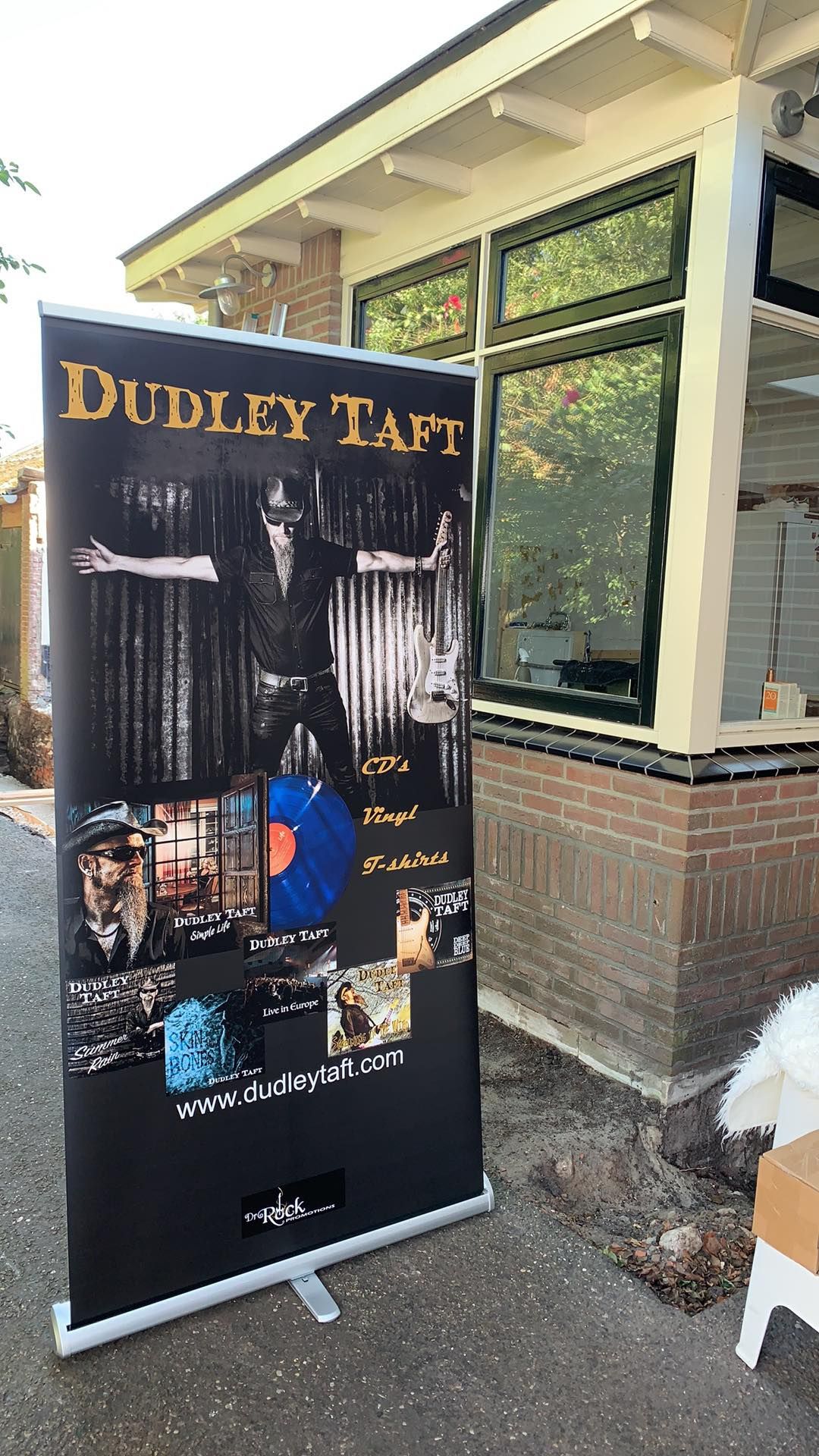 Professional Merch Banner!
I was looking forward to the next show in Cologne because Ralf and Kristin Reichen were coming, along with their daughter Tarika and her boyfriend Nico. If you have read these tour blogs, you will remember that Ralf and Kristin run Tonehunter Amplifiers and effects pedals. They lend me gear, sort out my pedalboard and have become our really great friends! Also my friend Vincent Abbate whom I had met at the Talking Blues show at the Urania Theater in Cologne on the last tour would attend. He writes for Rocks magazine and was slated to review the show. (Luckily, he likes my songs!) In addition, my publicist and booking agent Dirk Osterhaus was also there. We played well, with Darby going crazy on the kit with machine gun fills and double-kick action tastefully delivered. Tarika and Nico manned the merch booth, and it turned into a great show. 
We had the day off on Wednesday and stayed at a decent hotel in downtown Cologne for both nights. Kasey liked that.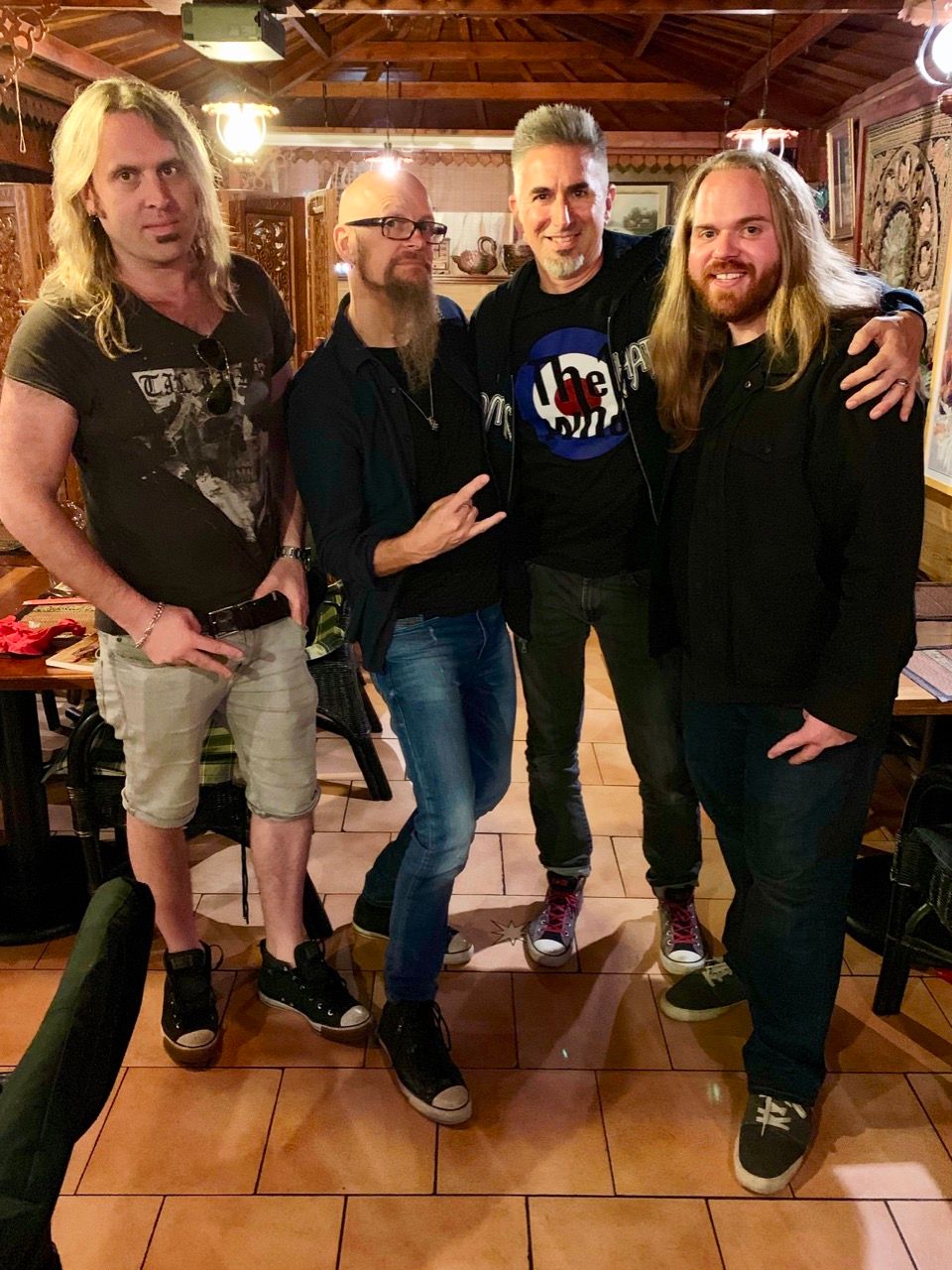 L to R: Darby Todd, Dudley Taft, Vincent Abbate, Kasey Williams
I did an interview with Vincent Abbate in Cologne, and he also has a blog called Who Is Blues? You can read part 1 of my interview HERE: 
https://www.whoisblues.com/2019/09/13/wib-interview-dudley-taft/
and Part 2 HERE:
https://www.whoisblues.com/2019/10/31/wib-interview-dudley-taft-pt-2/
That Friday we had a short drive to Wetter to play the Earth Music Hall again, which has a yearly concert series with a nice group of subscribers. The crowd at this show was much bigger than our last time there, and it was one of my favorite shows of the tour. Dirk was in attendance again, with his lady friend Christiane running the merch stand. We sold quite a bit of stock and made out very well! It really makes a big difference having someone selling for us; it's difficult to finish our first set and run back there, take the money and sign all the items and make photos with everyone. One of these days we'll have our own support for that!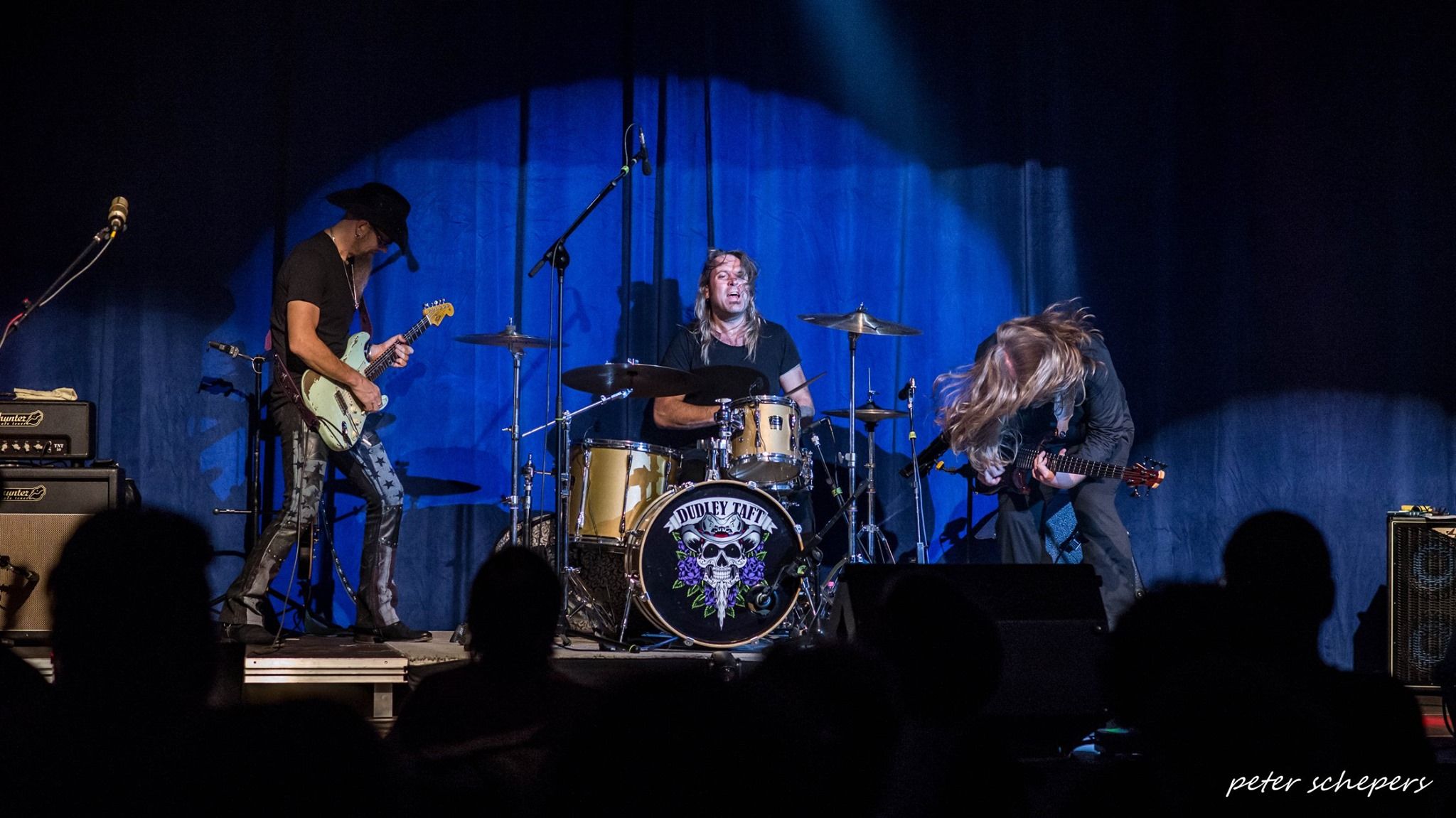 Rocking Earth Music Hall in Wetter, Germany
Next it was off to Wegberg to play Zur Alten Post again. This is a small bar with a nice little stage and usually a great crowd. This night was no exception. We stayed at Burg Wegburg, which is an event space and hotel. It is a five-minute walk to the gig, which is nice! After setup and sound check, we had some dinner and then I checked the venue to see how the crowd was shaping up. It looked pretty thin for a Saturday night, so I was a bit bummed as I went to van to do my pre-show routine of some vocal warm-ups. After about fifteen minutes, I headed back to the venue and was surprised to see that it was totally packed! It seemed like a magic trick, but there was a 50th birthday party for someone a few doors down the street, and the party had gotten a bit crazy and the local Police told everyone to leave. So naturally, they came down the street to the Post. But there were quite a few fans from last year, and one dude had a sweatshirt on with a bunch of our skull stickers! Hahaha, he was our most vocal fan that night. 
Our first set was cut a bit short because of a broken snare drum, but that was no problem – we played a seventy-minute second set, and all was good. Well, I thought it was at least! Apparently, some of the birthday party-goers got really drunk and a fight had broken out – with people smashing each other in the head with pint glasses. It was an ugly scene outside the bar, and the Police came again and arrested a bunch of angry dudes. We packed up a bit faster than usual, got our fee and beat it back to the hotel. At that point we thought a beer or two was in order, but the bar wasn't open due to a wedding reception. The three of us timidly asked some of the wedding party if we could get some beer, and within about three minutes, the father of the groom had introduced us to his son and the bride, and the beers were flowing. We certainly stood out in our rocker clothing, but they seemed to like us, and even took our photo, printed it and added it to the wedding album. What a strange night indeed!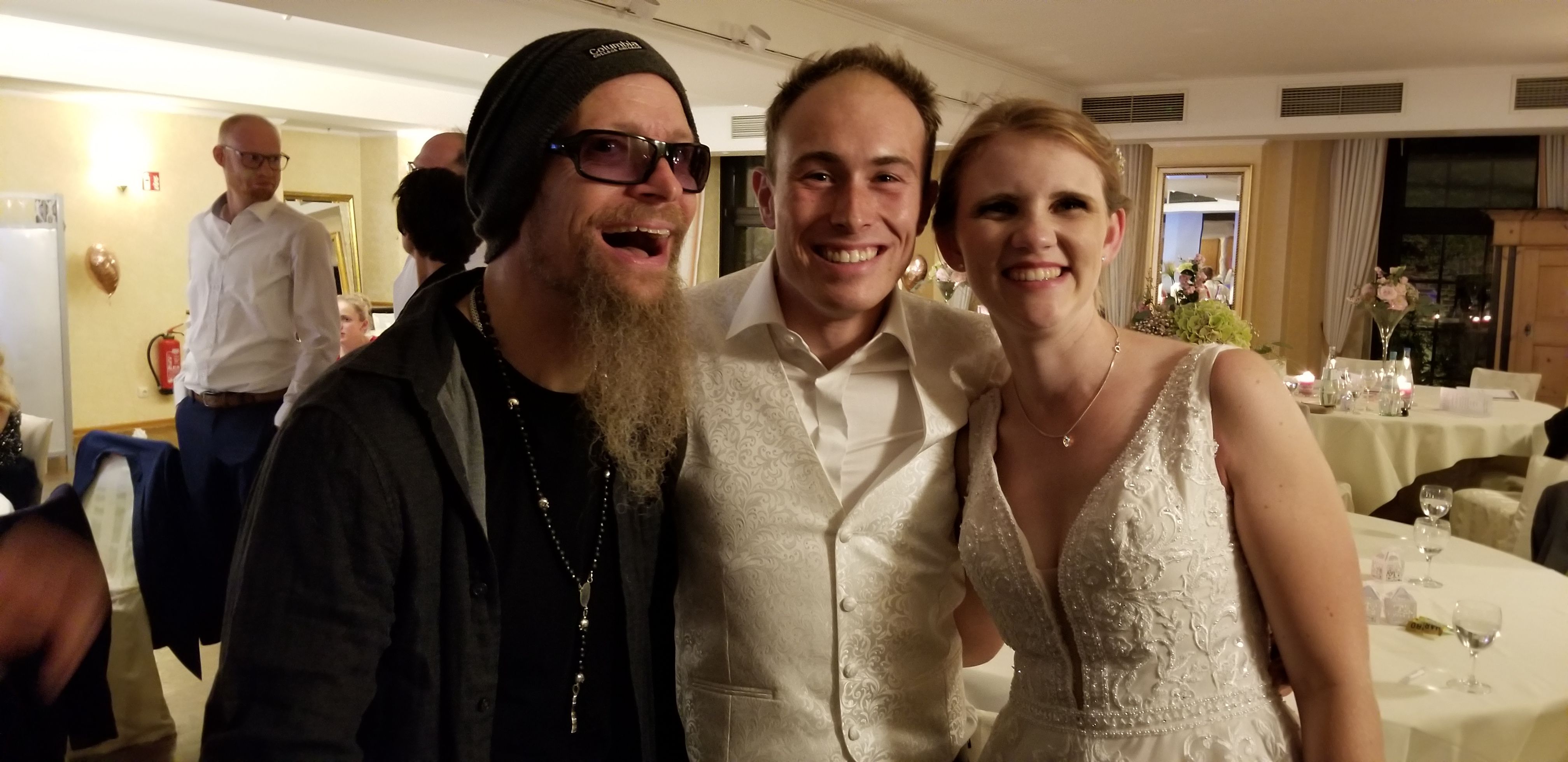 Me with the bride and groom in Wegburg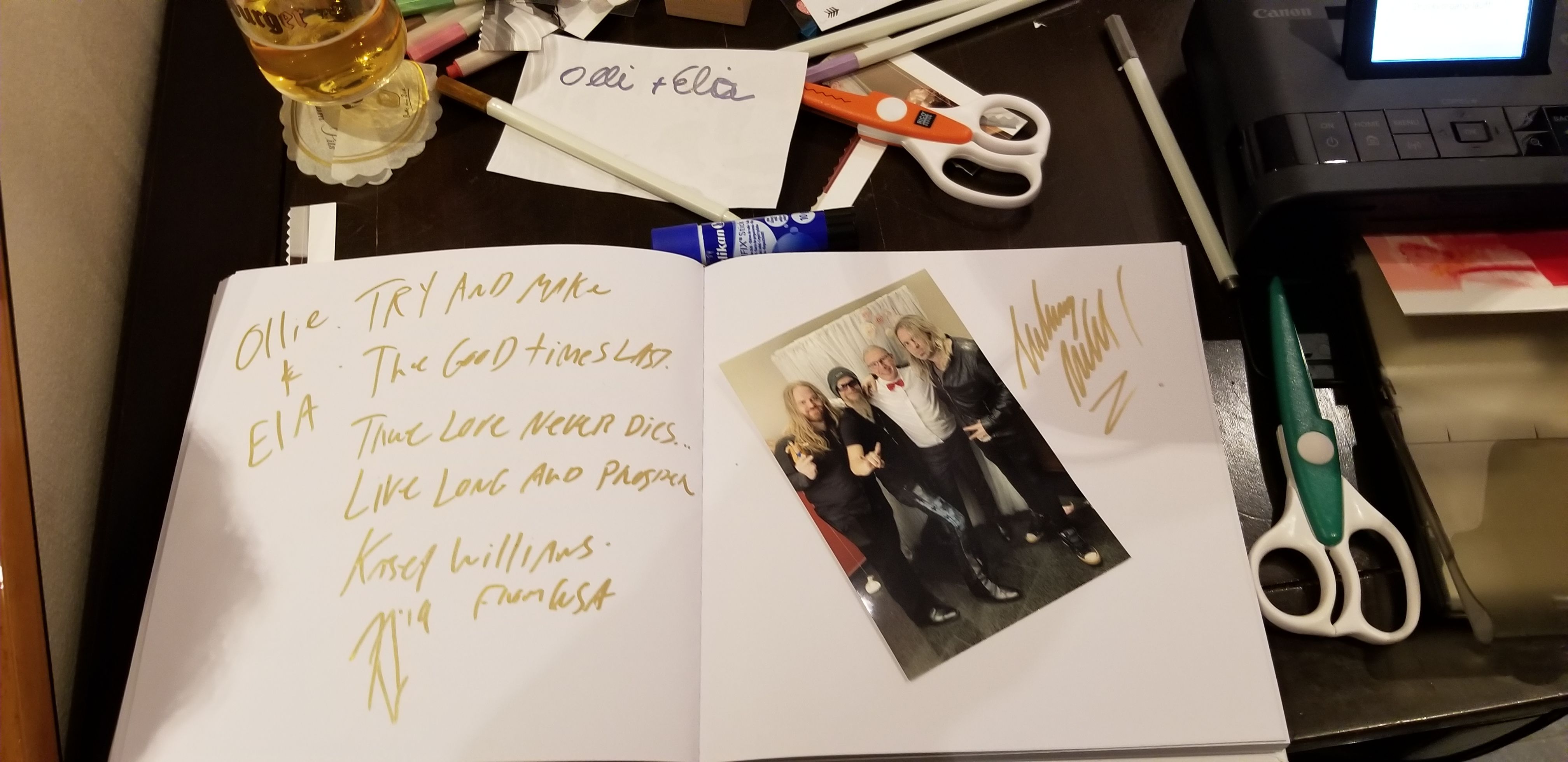 Yeah, they took our picture and put it in the wedding book!
The next day we made the drive to Rotterdam to play the Bluesclub L'Espirit. This was my third time playing there, the last time being the day my mother died. In a way it had taken on an emotional note for me, and I thought about her a lot during that show. It was packed of course; and I was happy to see my picture on their seasonal program cover. We killed it in there, and had a great time. We stayed at a Van der Valk hotel in nearby Ridderkerk, which is a nice, affordable hotel chain in the Netherlands that has a great restaurant. Kasey liked that. 
These nicer hotels, as Kasey will attest, have great breakfast spreads with an egg chef ready to make you an omelet or a scramble with whatever you want. Usually we appear fifteen minutes before they shut it down, and during the day we have a decent sandwich at a gas station, and sometimes a meal at or near the venue. But really we average about two meals a day. That and the exercise of singing 25 songs a night makes me lose some weight. This time I lost about 2 1/2 kilos, or about six pounds. For me that's a lot! Normally I am 162, but got down to 156. I like this because I can see my abs! Hahahaha… But really people, this is a lot of work! 
The next morning I woke up early to take Darby to the train station so he could make his flight to London from Amsterdam's Schipol airport. We had a few days off in a row, to give us enough time to travel to Poland, and he could go home to his newly wedded wife.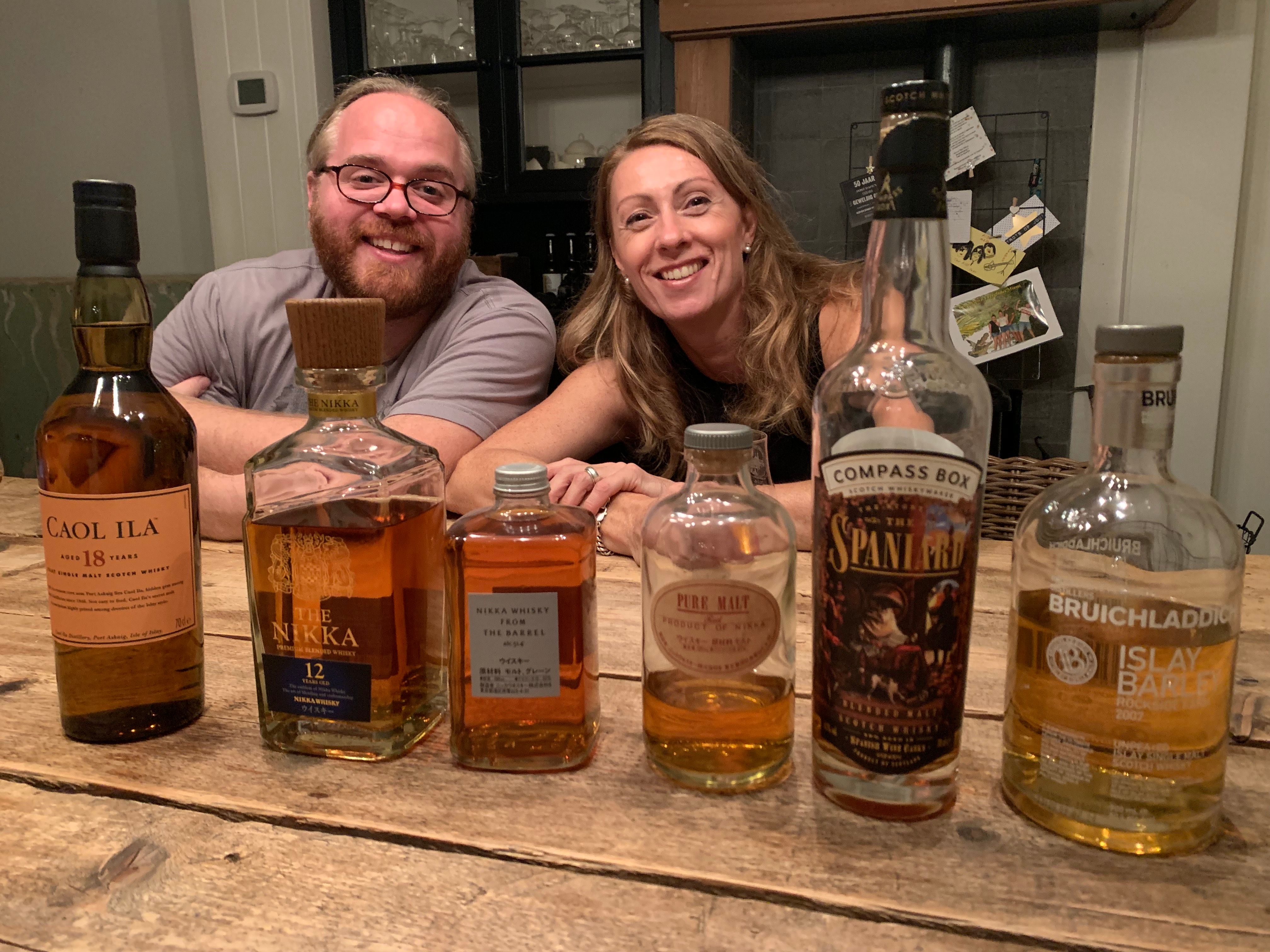 Kasey and Helga with that night's whiskey selection
Kasey and I headed back to Castle Lammers to get some fresh clothes and refill the merch bins. We had a nice evening with our hosts and were off the next morning for a long drive to Dresden, which was a nice stopping point between Vriezenveen and Krakow. I like to drive no more than six or seven hours (how civilized), arrive at a hotel around 5 or 6PM, have a nice dinner and walk around the city a bit. The weather had been amazing so far this tour – 70 to 75 degrees and clear (about 21 - 23 celsius). It was just like this when we rolled into Dresden, and there were about twenty hot air balloons in the sky! Our hotel was just across the river from the city center, and we walked across the bridge to have some tasty schnitzel at a restaurant overlooking the river. (Well, Kasey is vegetarian, so I don't know what the hell he ate.)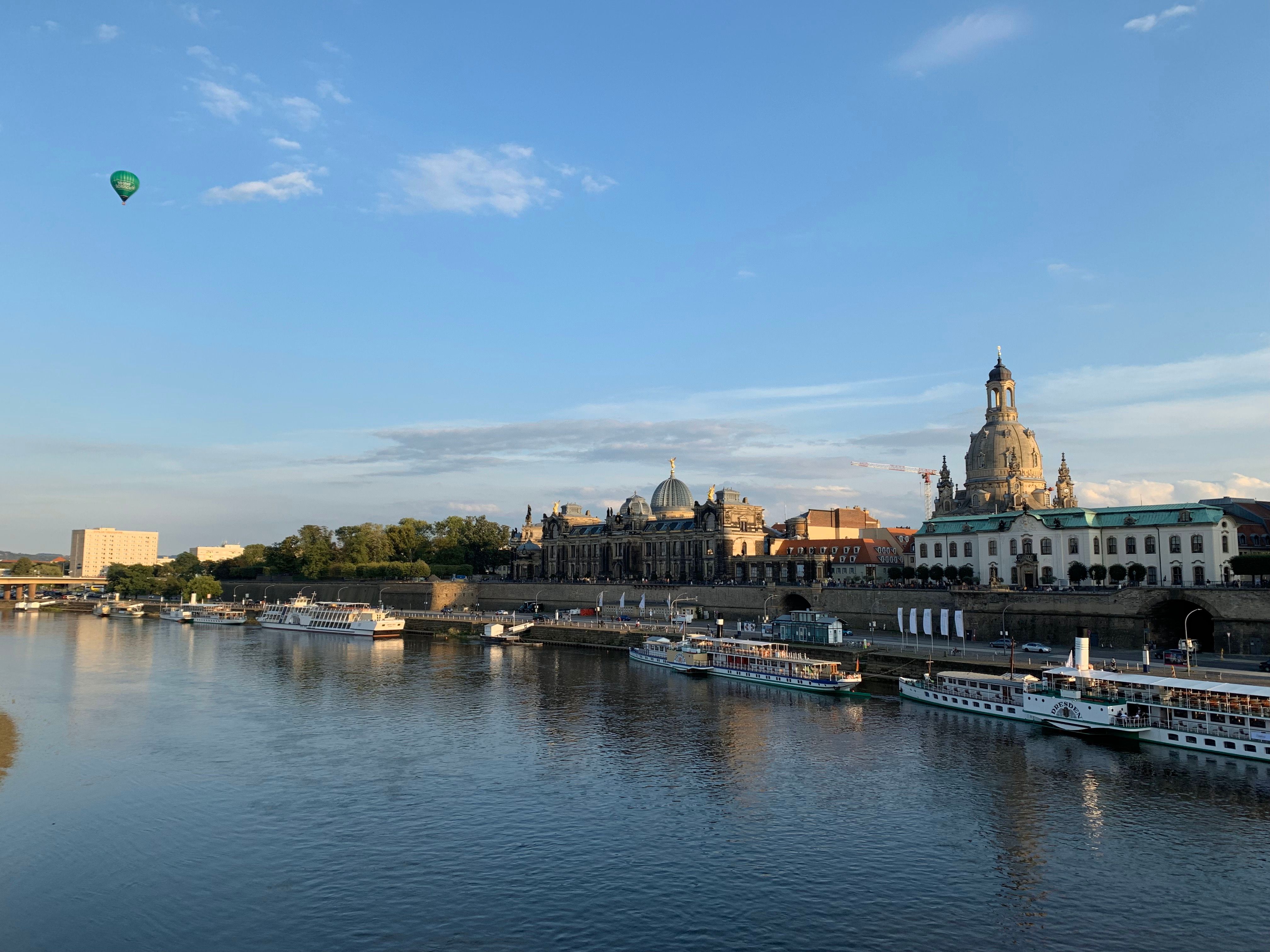 Dresden, Germany at twilight
If you have read these blogs, you know that I love to play in Poland. I have been all over the country but had never been to one of its coolest cities, Krakow. We could have stayed with Anko and Helga another day, but I thought it would be cool to check it out for a couple of days. For some reason the hotel chains that I frequent were all booked up for the Wednesday, so I did a bunch of laptop-research and found a quirky little hotel in the Kazimirz (Jewish) section called Hotel Rubinstein. It was named after Helena Rubinstein who was a makeup mogul of sorts, and famous in Poland. The only two rooms left in the hotel included a large suite on the top floor which I quite enjoyed. Kasey liked this one too.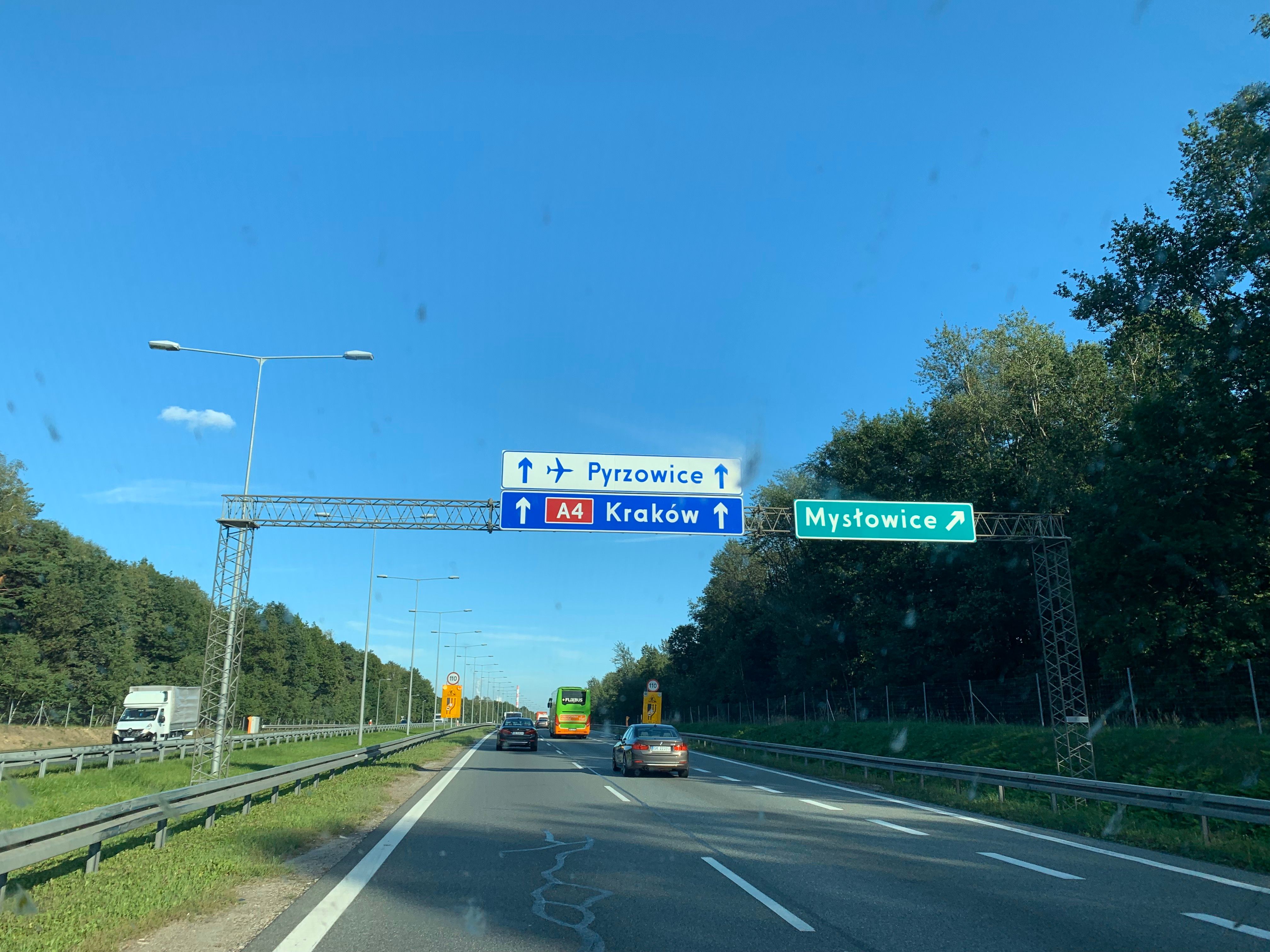 On the road to Kraków
Our good friend Wojciech (pronounced voy-check) whom we had met on a previous tour lived there and was anxious to show us around the city. The drummer for Evening Standard, a band we shared the stage with in Bochnia, he had saved us on a previous tour when our drummer Carl had mistakenly put gasoline in our diesel van. He loves cars and has a sweet Camaro that he drives like a maniac, and instantly knew what was wrong with the van. He had us squared away in no time flat. Anyway, he was our guide, along with his girlfriend Maria. Wojtek (short for Wojciech) showed us around and took us out to an amazing gourmet dinner near our hotel.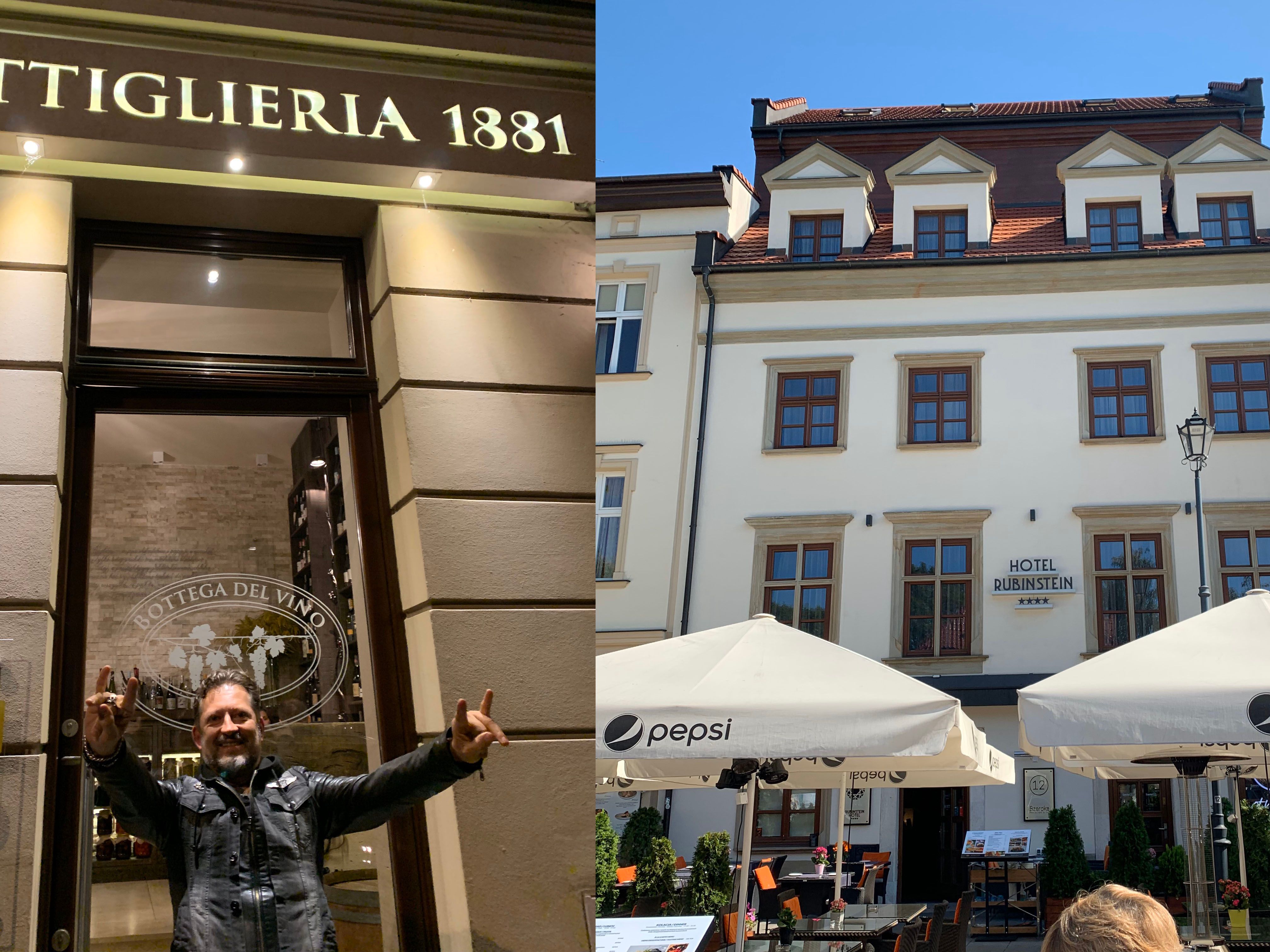 Wojciech and Hotel Rubenstein in Kraków
He knows his Polish history very well, and was eager and quite proud to educate us!  After dinner we went to his apartment, which was quite stunning. It is the most dialed-in place I have ever seen. Every bit of wall space is covered in murals and pictures from his exploits around the world on motorcycles and cool cars. His bed is suspended by ropes (uh, I didn't ask why...) and his music room where he practices drums was wall-to wall with framed pictures of him and musicians that have come through town, including one with Darby!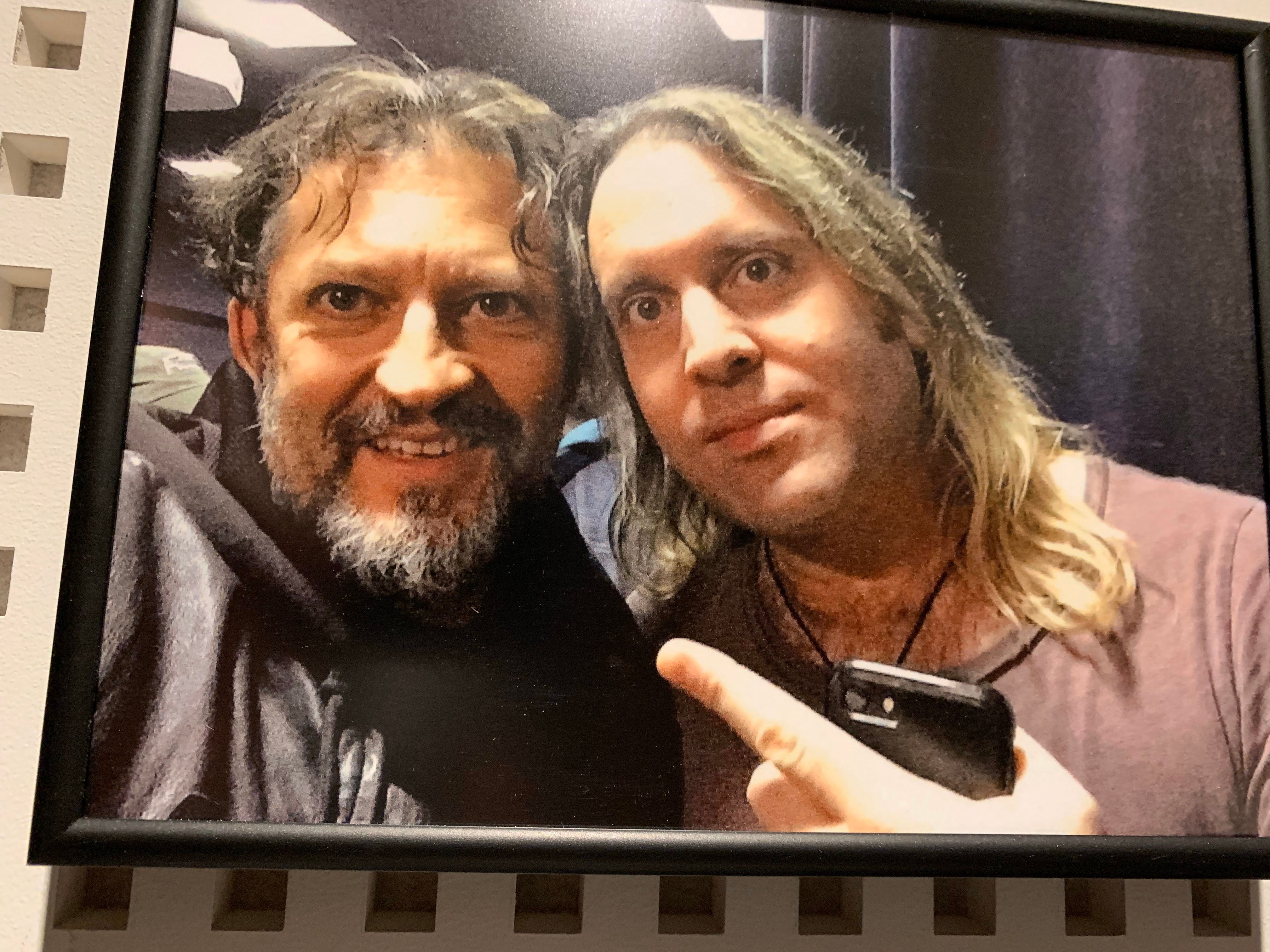 Wojciech and Darby Todd (from a previous tour)
The next morning we met up with him again and got a tour of the Wawel castle, one of the oldest buildings in Krakow and a veritable treasure trove of Polish history. We hired a guide who gave us a three hour exhaustive (and a bit exhausting) tour of the church, castle and museum. We hung out with him and Maria the rest of the night and had a fantastic time. He has become a truly great friend! 
Our first gig was in Nowy Sacz (pronounced no-vee sanch), and we picked up Darby at the Krakow airport on the way. We had played Atelier Jazz Club before, and it's a great venue in Tom Hejan's plumbing supply store (really). We had a nice crowd and it turned out to be Darby's favorite gig – the stage really sounded nice, and we were getting really comfortable playing with each other. Some people in the crowd were wearing Dudley Taft t-shirts and knew a few of the songs. We sold a lot of CDs and a few vinyl LPs.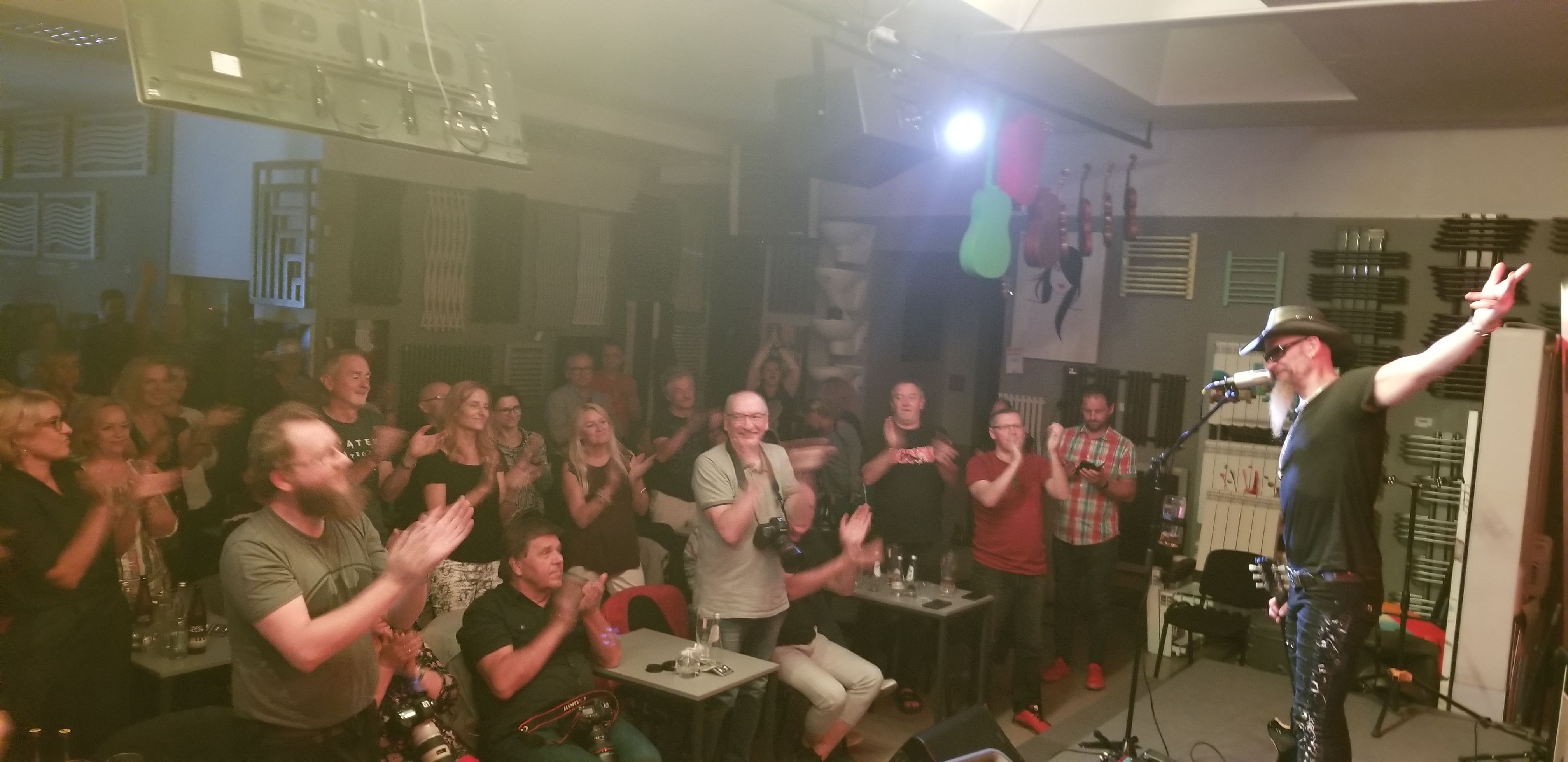 Atelier Jazz Club in Nowy Saçz, Poland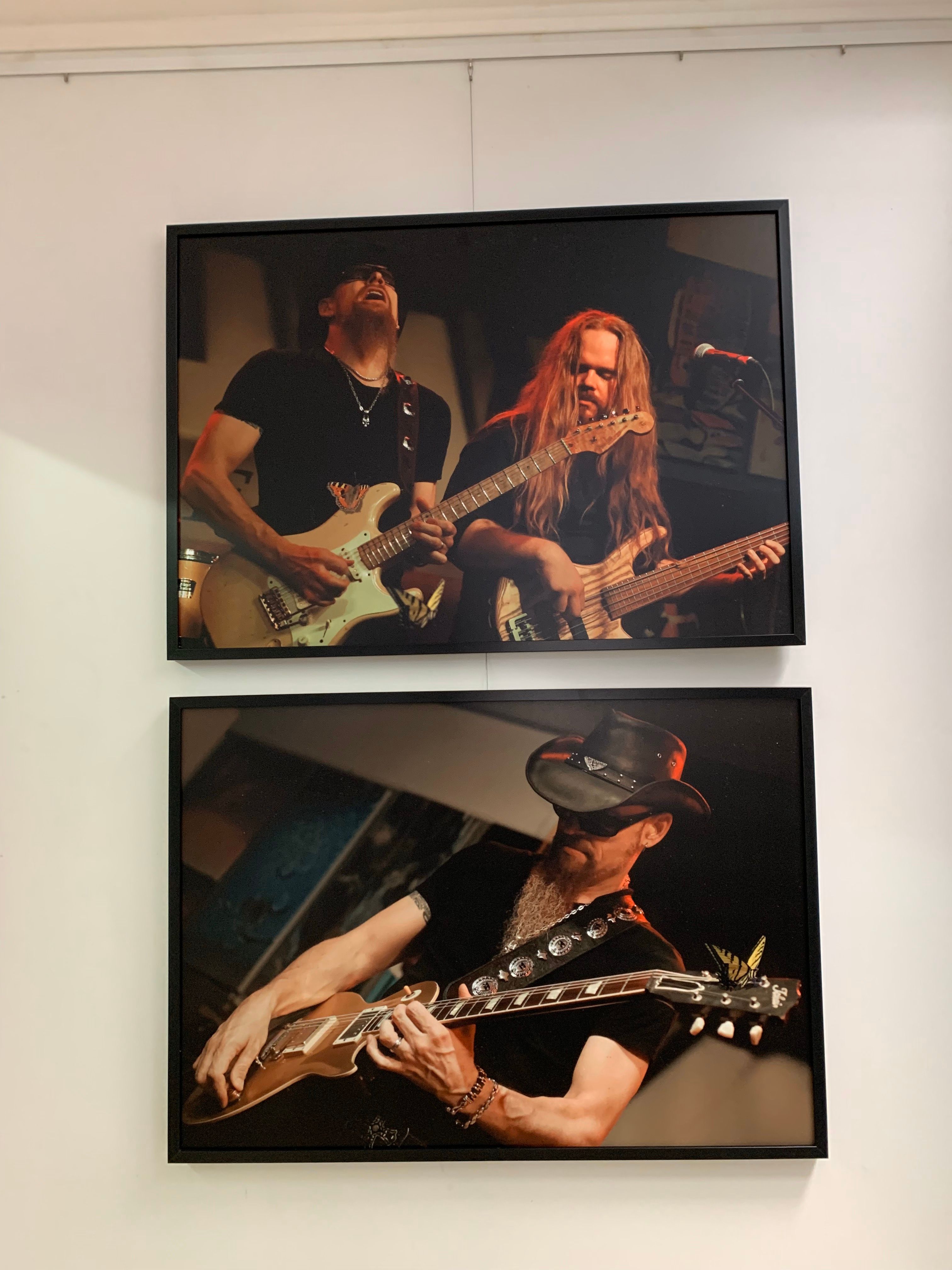 The owner of the Jazz club, Tom Hejan takes these photos and adds a butterfly to each one!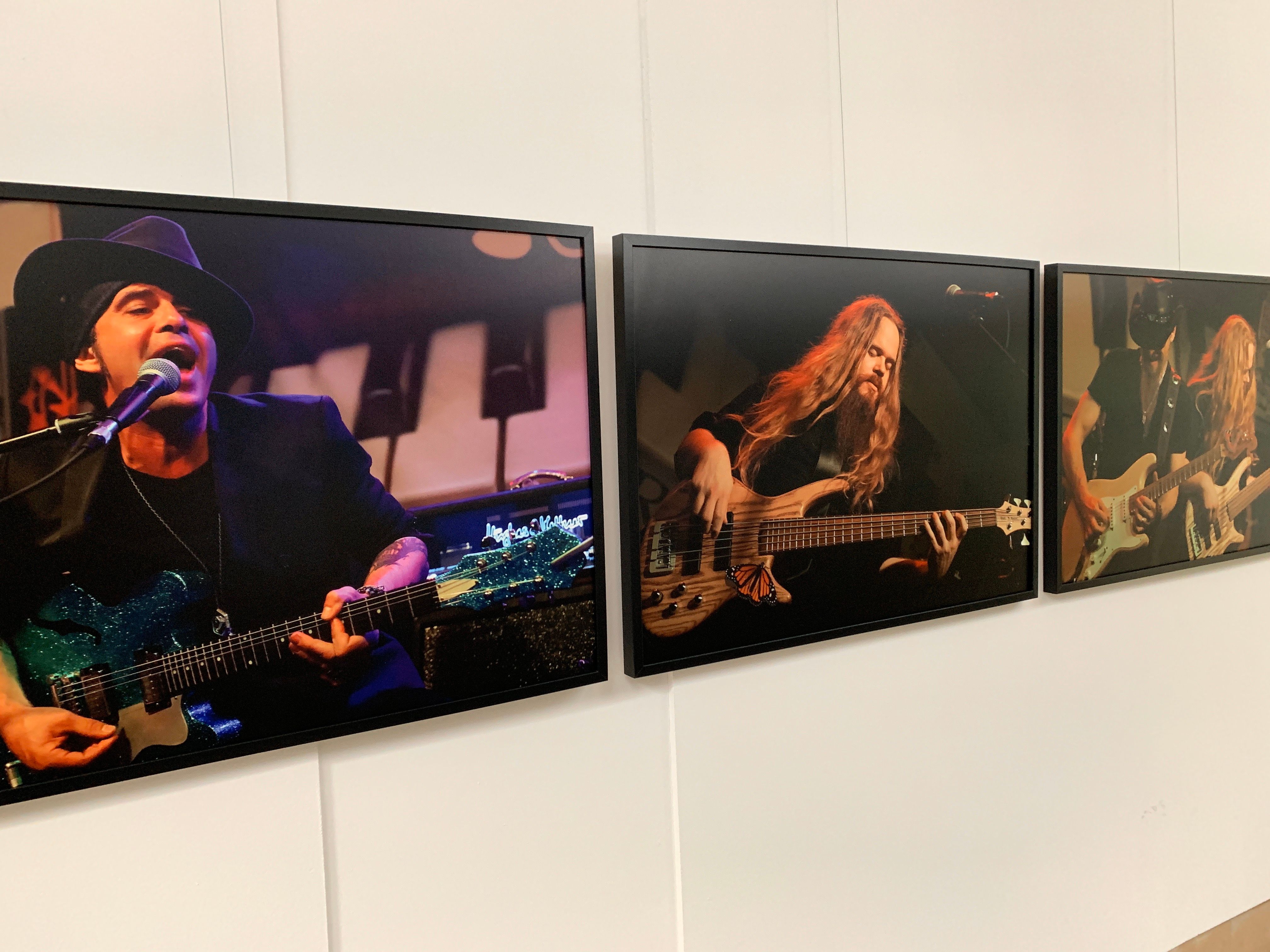 And there's Manu Lanvin again! Hahaha
The next day we drove to Tarnobrzeg for our third appearance at Victor Czura's Satyr Blues Festival. This is the festival where I met Jay Jesse Johnson who lives near Cincinnati, and who plays with me in the Four Aces, and also Manu Lanvin, a French blues rocker who pretty much dominates the blues rock scene in France. We became great friends, and he was to play the following day. After an early load in and sound check, we headed to Hotel Evva for a press conference Victor had set up. At the table were most of the artists that were there to play the festival which now had become two days long. Ron "Bumblefoot" Thal of Guns 'n' Roses fame was there along with fellow American Anthony Gomes from St. Louis, Jacek Kieller, Doghouse Sam, etc… I realized I knew more than half of the people in the press conference attendees by name. After four tours in Poland I have amassed quite a few friends there!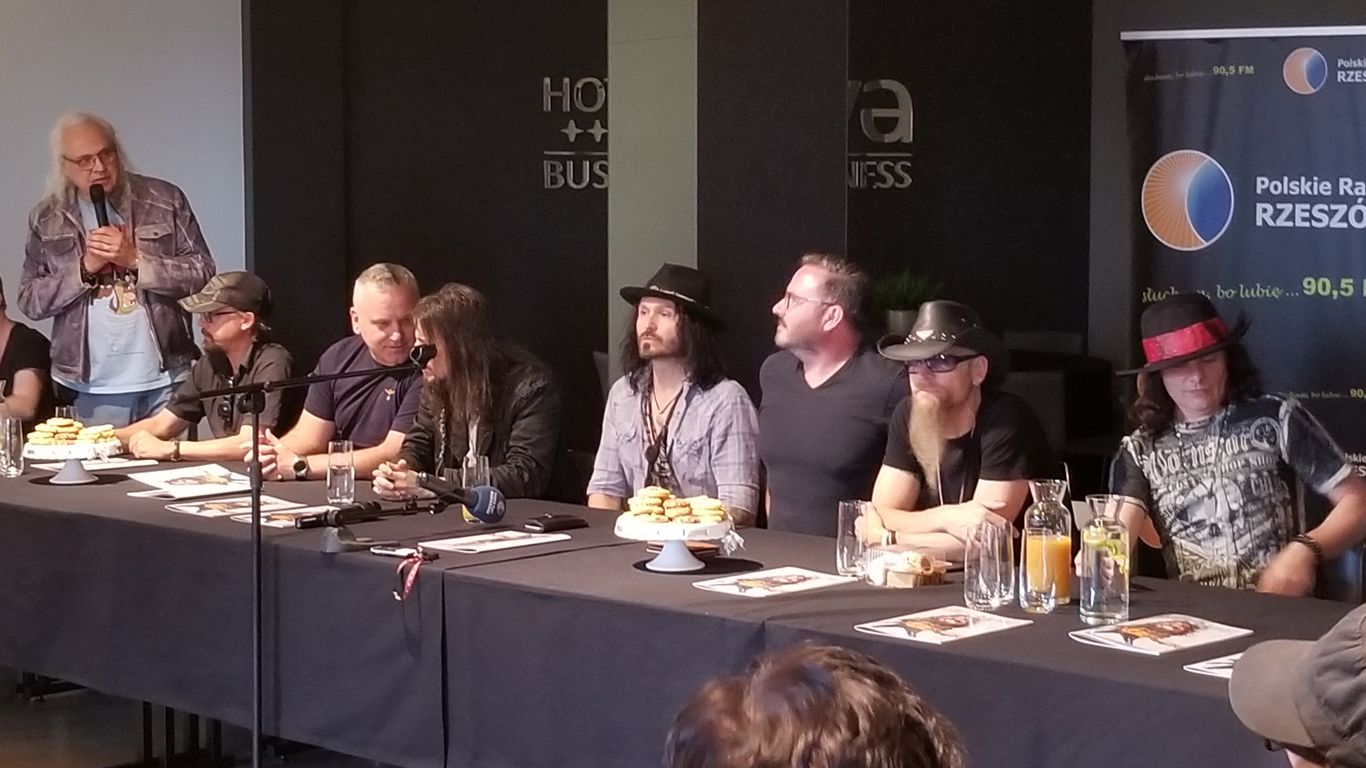 Victor Czura (with the microphone) and men in hats
Our gig was great – we played in the middle of the lineup (good timing for sales) and sold more merch than I ever have before at a single show. I was busy for at least 45 minutes after the set taking pictures and signing autographs. Marika Swat, whom I met on my first visit to Poland helped me and we sold a ton of LPs as well. You know, they were a real pain-in-the-ass to make and ship to Europe! But all that effort paid off. We also had a new t-shirt design made from a picture that Robert Wilk had taken of me a few years before at a Przeworsk blues festival that I headlined. Fellow Pole Andrzej (uh, Andrew) Swat added a cool effects pedal on the back that fit in with the Simple Life album concept. It was fun to have the new shirts there for Robert and Andrzej to see!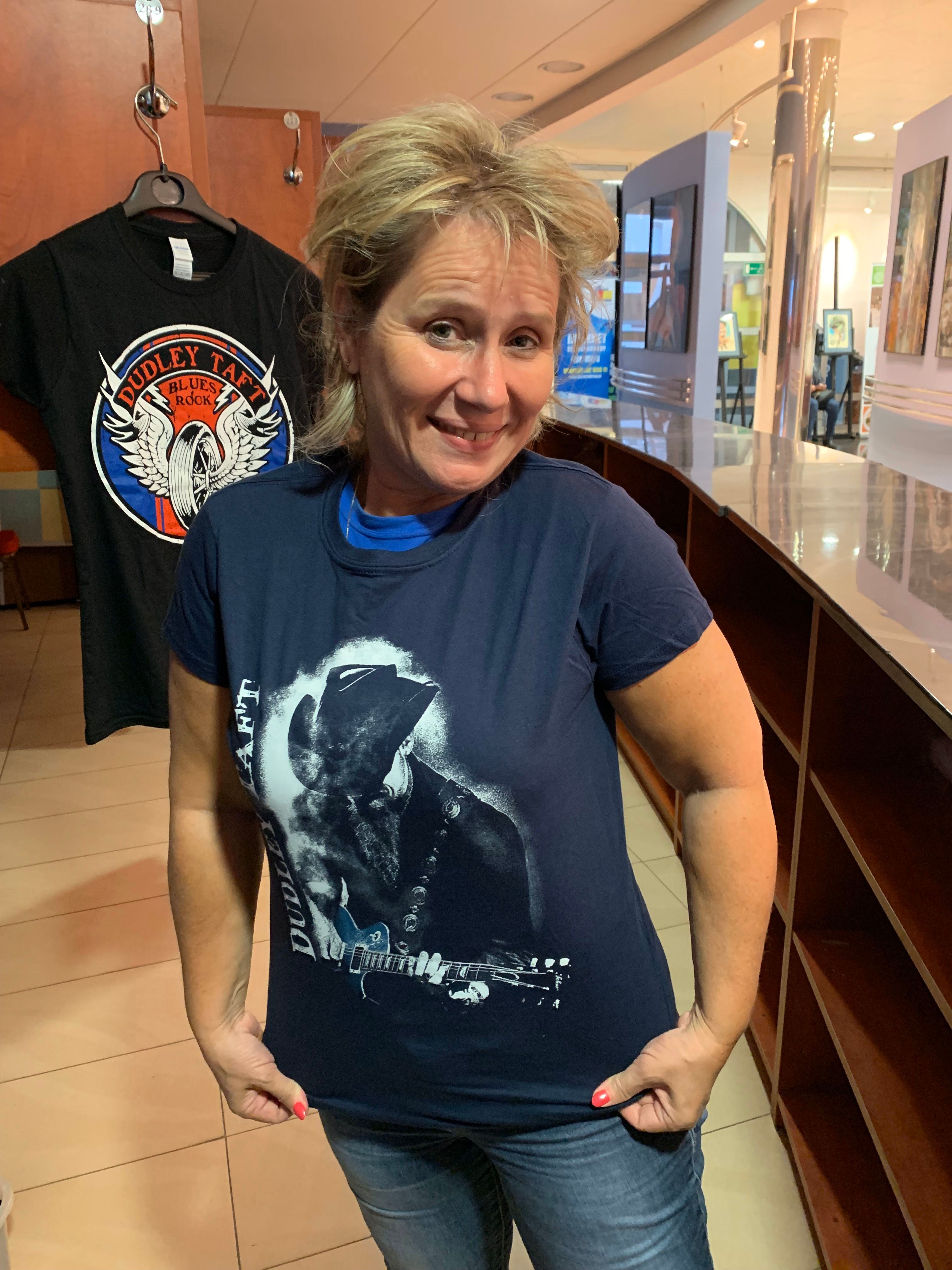 The lovely Marika Swat Showing off the new t-shirt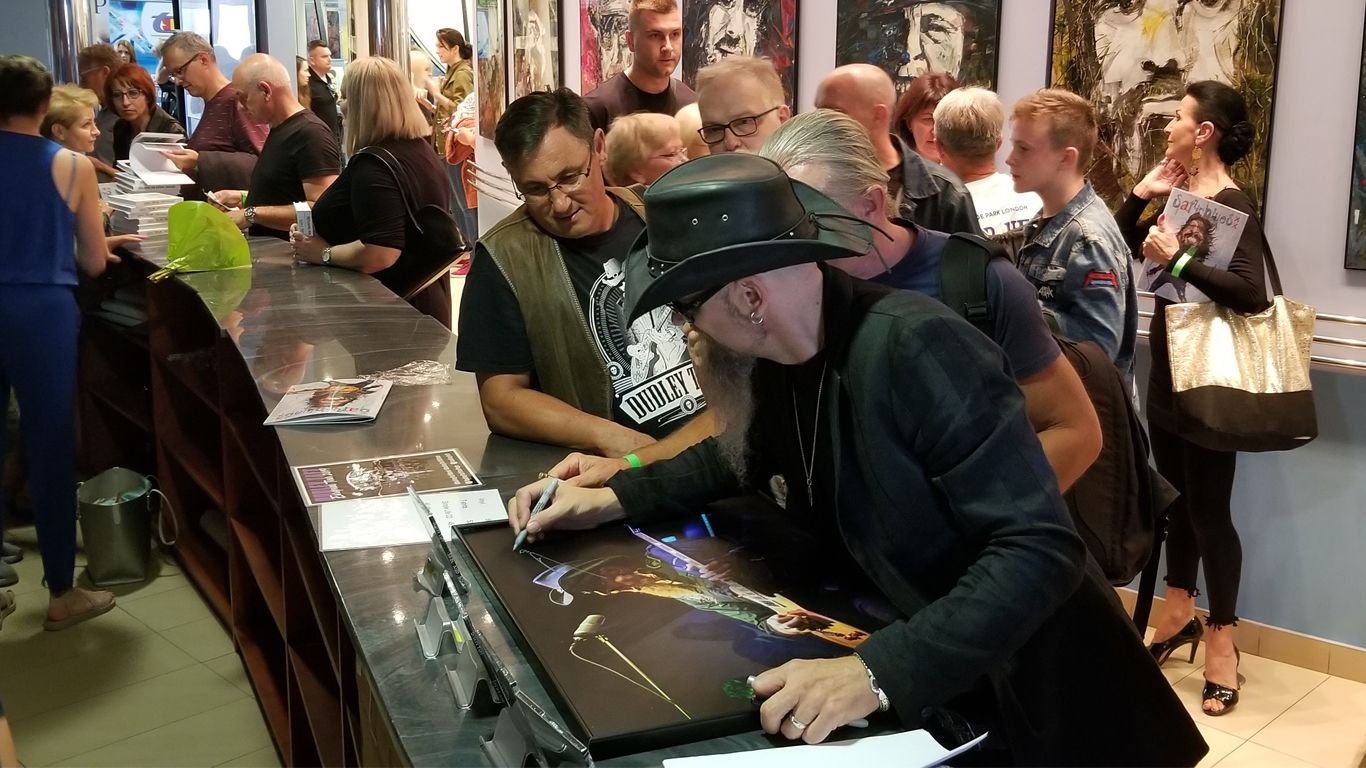 Signing autographs at the Satyr Blues Festival in Poland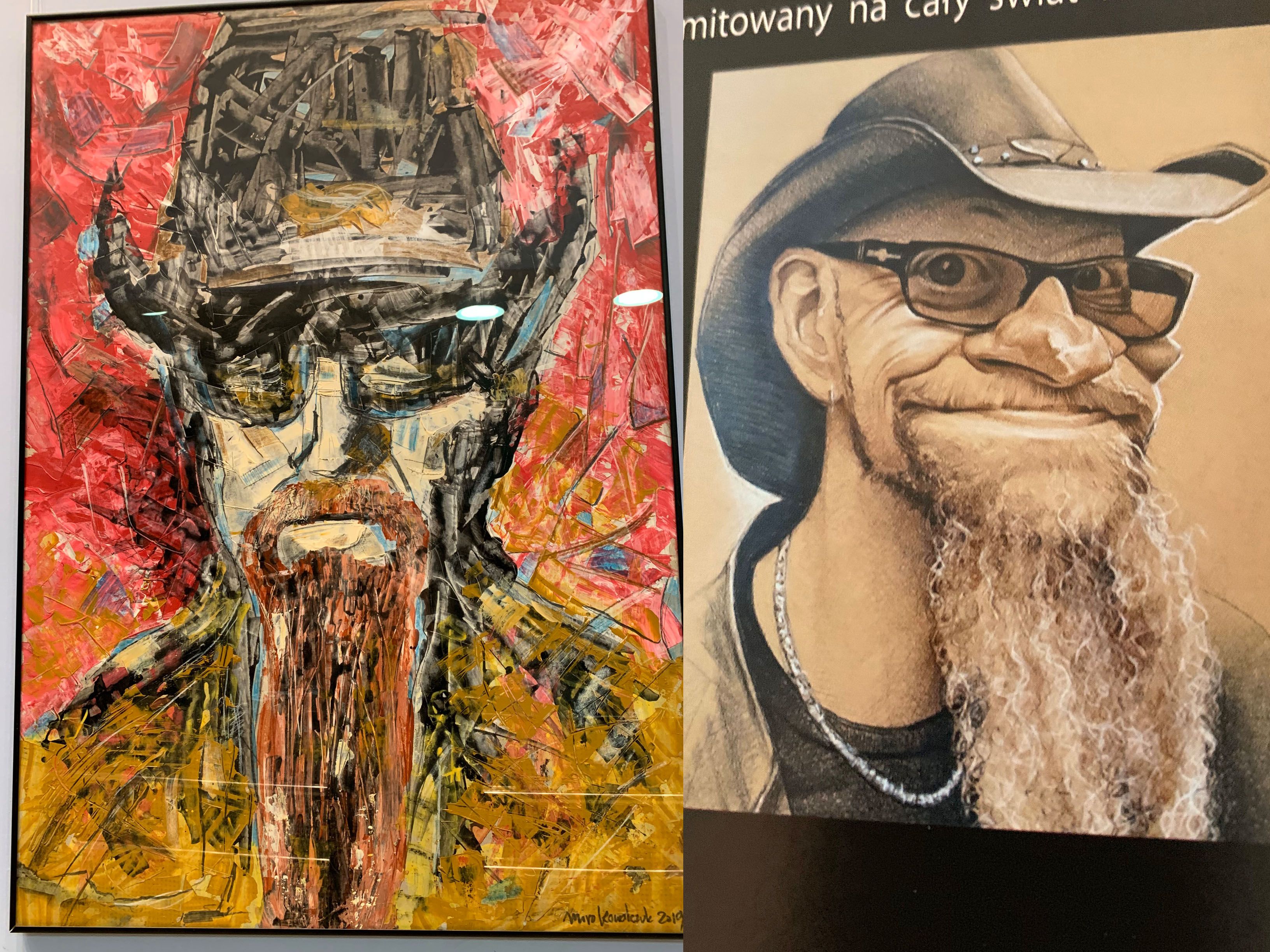 The "Satyr" part of the festival! I hope I really look more like the guy on the left!
The festival is as much about artwork as it is the music. The great caricaturists of Poland draw wild pictures of the musicians and other celebrities. I have quite the collection of these at home.
We have some great audio and video from this show. You can see these videos (as of this posting there are two) HERE. Scroll down to the LIVE playlist.
We had fun watching the rest of the acts play. After the show there was a big banquet at the Hotel Evva. Unfortunately for this lactose-intolerant guitar player, there was almost nothing I could eat. Hahaha. 
That Sunday, we had an afternoon gig at an event hotel called Mansion on the Hill. That was a strange gig – we played outside under a tent attached to the main building and our most energetic fans were two five year old boys who danced around like Mexican jumping beans!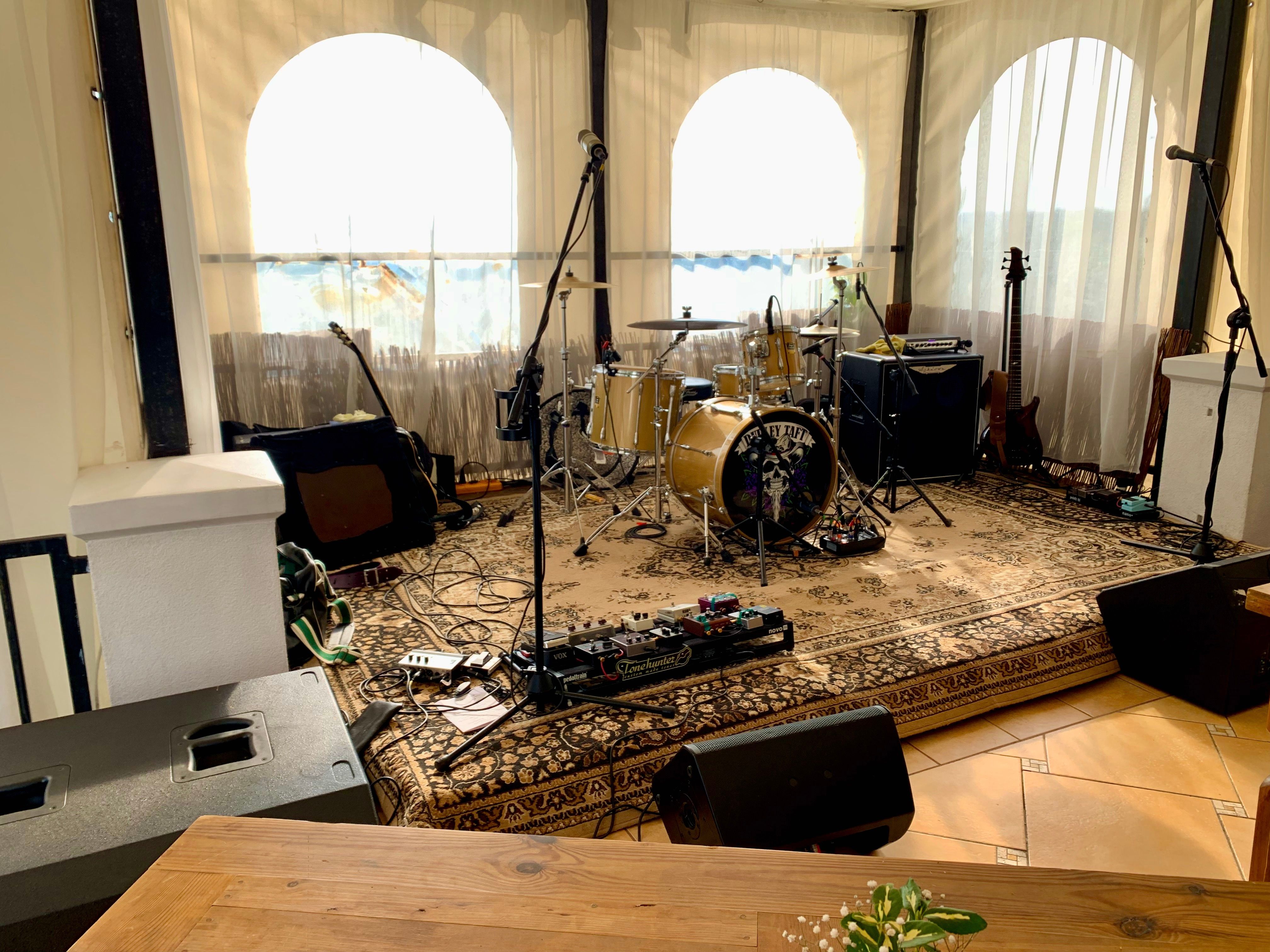 The stage here at Mansion on the Hill was a far cry from the Satyr Festival stage!
We finished around 6:30 and hightailed it out of there back to Tarnobrzeg to join Manu Lanvin for the finale. I joined him for "Blues, Booze and Rock 'n' Roll" which is one of his best songs, and a couple of cover tunes. It always fun to play with his band – they are so energetic, and he puts on a great show, jumping into the crowd every few songs. Again there was an after party at a different hotel – and we all had a great time catching up with each other, telling jokes and drinking frozen Polish vodka.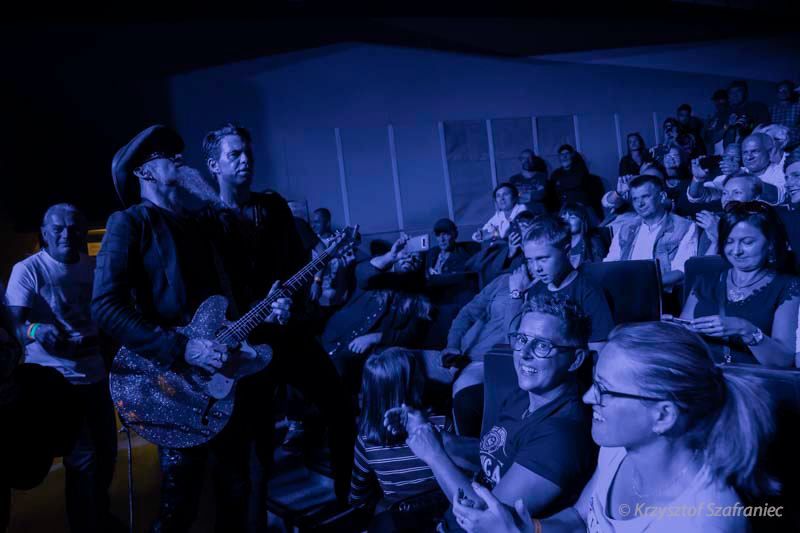 At the Satyr Festival Manu Lanvin jumps into the crowd and hands me his guitar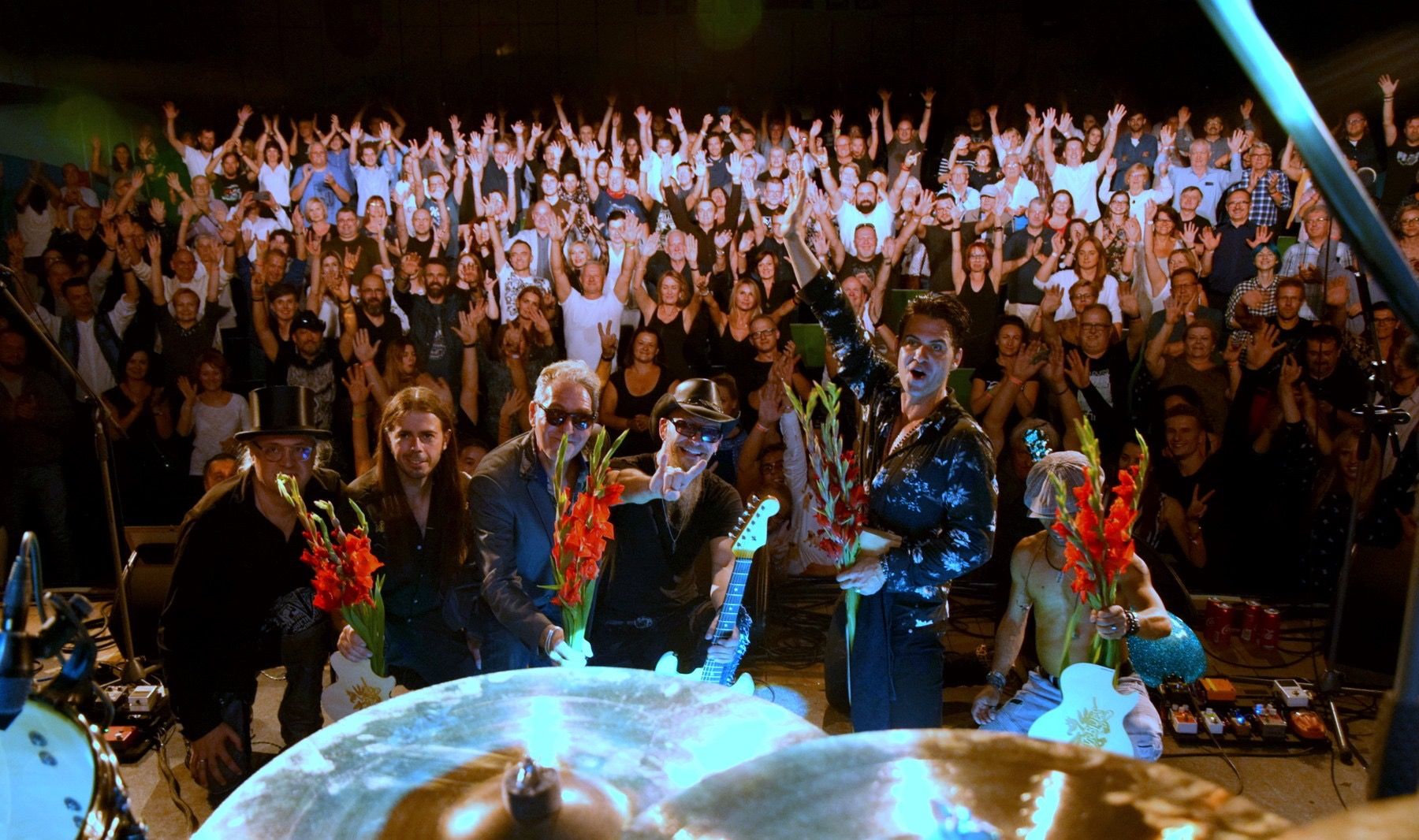 Me with Manu Lanvin and the Devil Blues and Victor at the Satyr Festival in Poland
We have some great video from our set from this show, but this I have to share with you - I jumped up on stage at the end of Manu Lanvin and the Devil Blues' set (that's why I am in the picture above) and jammed a few songs with him, including "Blues, Booze and Rock 'n' Roll." This clip is the very end of that tune when the whole place is chanting the "de do do do doo" melody!
Having fun at Satyr with Manu Lanvin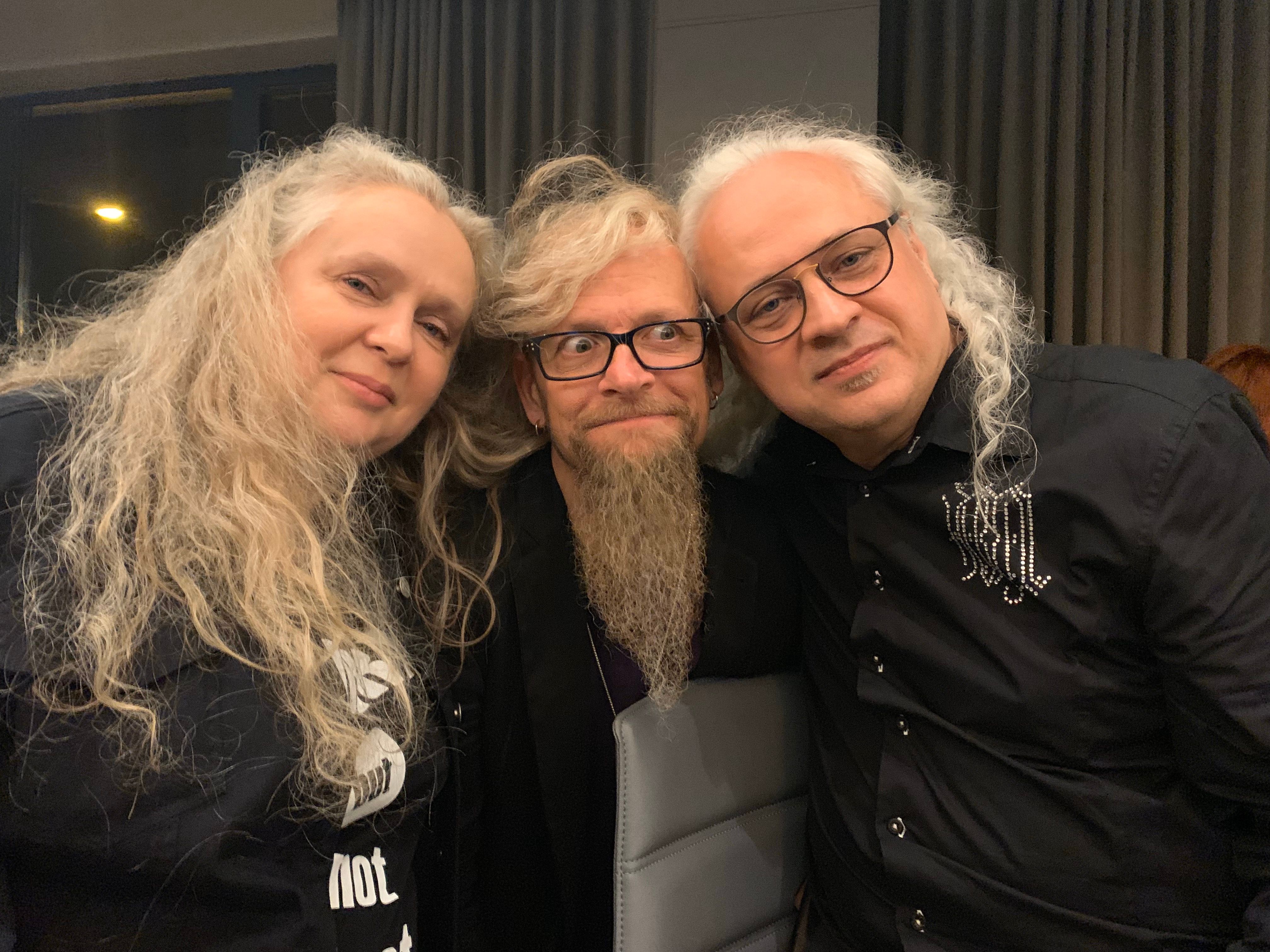 The Satyr Blues Festival organizers Ewa and Victor Czura lend me their hair at the after party (and after some vodka)
We had a pretty long haul to Berlin, where we stayed at a Marriott. Kasey liked that. I am not sure what to make of Berlin; so many people have told me it's amazing, but I guess I need someone to show me. Yeah, we saw checkpoint Charlie and what's left standing of the Berlin Wall, and there certainly are some good restaurants but I really don't get it.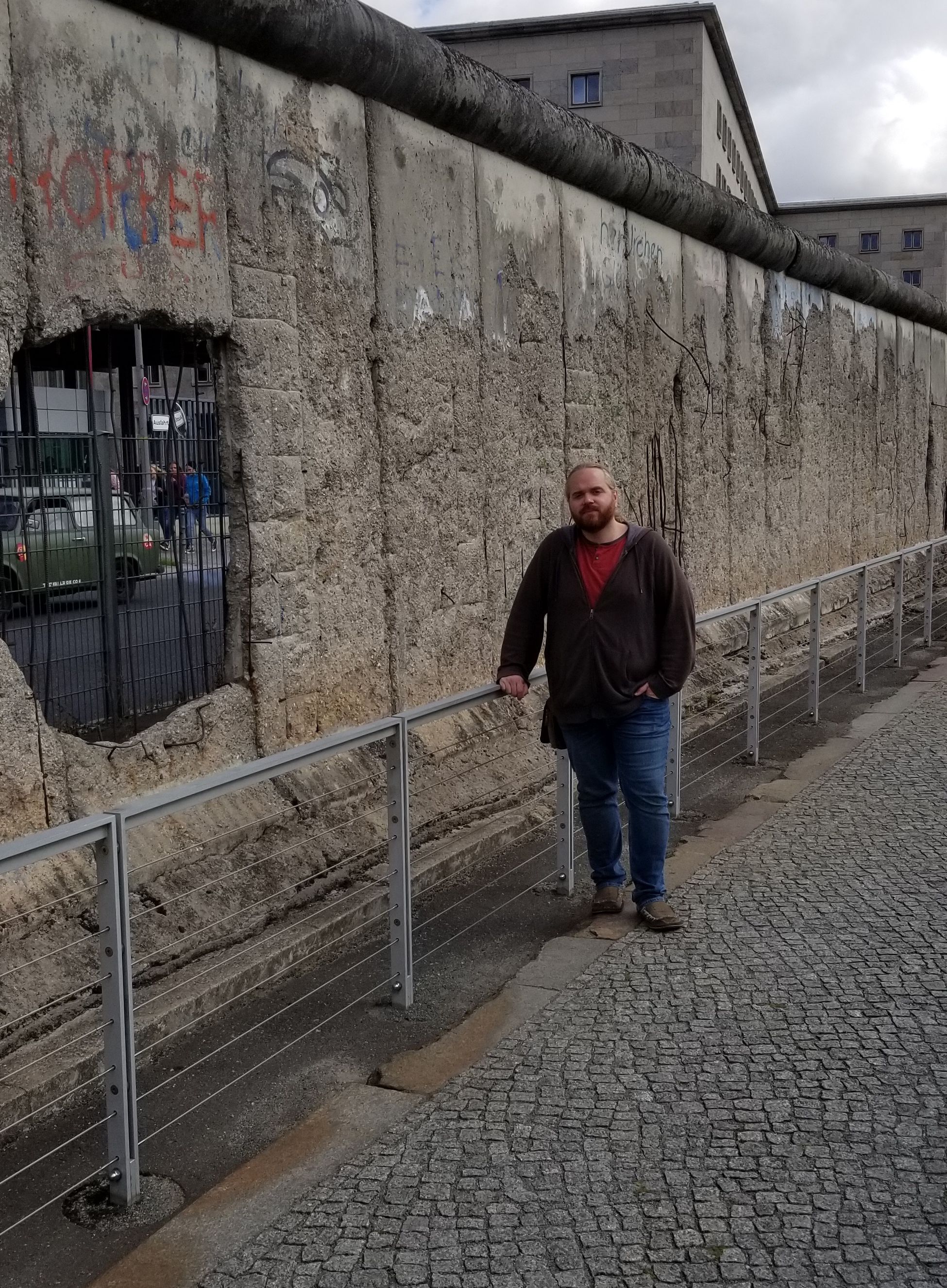 Kasey at the Berlin Wall
We saw a bit of rain – the first of the trip on our drive back to Castle Lammers. No big deal though, and we passed through the system. After doing some much needed laundry, we played an in-studio radio show nearby, where oddly, they set up mics like a normal recording studio, but there was a guy in the room with us shooting video with a small camera. He posted most of the videos from the show. So, uh, what was the point of the other setup? I guess it was streamed live, but I think about 12 people watched it. Oh boy.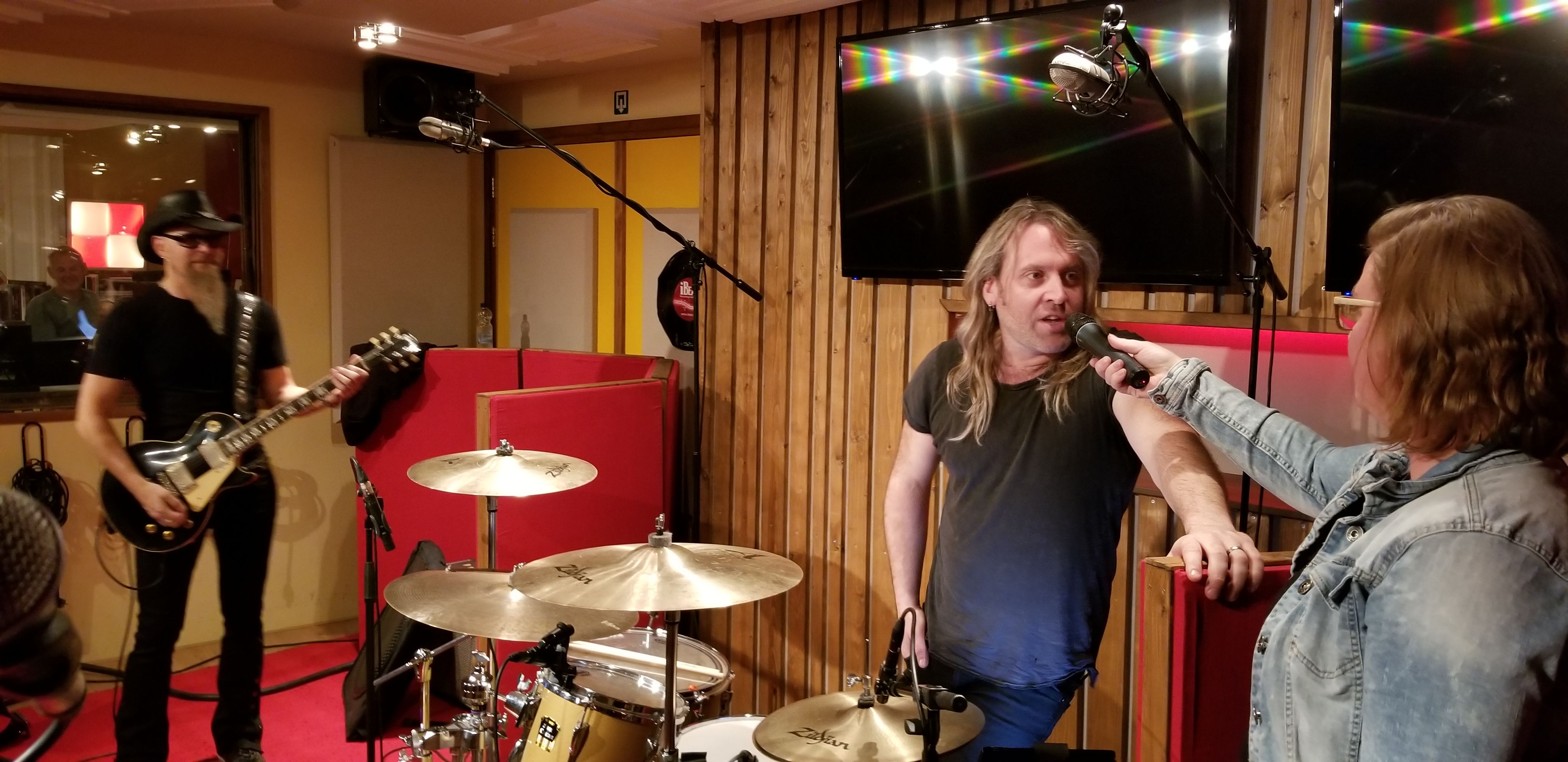 Darby answers questions at the iBeat Radio Show in the Netherlands
Bluescafé Apeldoorn was our next stop, and it wasn't far from Anko's. We had played there twice before, and it was an okay place to play on a weeknight. But somehow things were amiss with the owner. Did he not remember who we were? The first odd thing was that the sound man wanted me to put my Fender Vibroluxe on a chair. This is a bad idea, because that fucker is LOUD and I told him so. There's no master volume, so really all the volume control does is add gain. I usually put it behind my other amp and baffle the hell out of it. So, I put it on the chair like he wanted, played about three notes and he was yelling at me to turn it down! Of course, it was too loud like that, you dummy! I did the usual baffling and it was ok. There weren't many people there, but 80% of them had Dudley Taft t-shirts on. They were ready for our show and knew our songs. But the owner seemed really upset at how loud we were. He walked through the crowd, but no one was complaining. After our first set we noticed that the obnoxious white LED lamps were not turned off – odd because they have some nice lighting in there, and the LEDs ruined the effect. So, before we started our second set, we asked the sound guy, who was working the lights, to turn those off. He said he didn't have control of those, so Kasey unplugged one, and I was about to do the same on my side when the old owner dude started yelling at us to plug it back in! Kasey did as instructed and the owner got a broom stick and angled the light towards the back wall, which was only slightly better. The audience felt uncomfortable with this confrontation, as did we. If there were fewer people there I might have said "fuck it" and left, but they were there to see us, so we soldiered on. After finishing our last song, the crowd was clapping and hollering for an encore (happens at every show) but Mr. Asshole owner dude turned the house music on immediately. What a dick. Our fans were disappointed. Bummer. I felt like I should give him a piece of my mind, but I really believe that these confrontations are to be avoided. Two reasons: one; it's a bad use of energy and accomplishes nothing and two; I don't want to be a band that is known for complaining and starting fights. As you could imagine we loaded out immediately and got the fuck out of there. I am never playing that place ever again! 
I was really looking forward to that Friday's show at Metropool in Hengelo. It's a nice big venue, and a bit of an achievement for us to play there. We had a 60 minute opening slot for King of the World, a very popular Dutch blues band. The whole place was run well, and totally professional. We played our best twelve songs and crushed it, in my humble opinion. Our enduring hosts Anko and Helga were there, as well as our good friend Nineke Lodeman from the Dutch Blues Magazine. I think the band gets better each tour and wanted to show them off!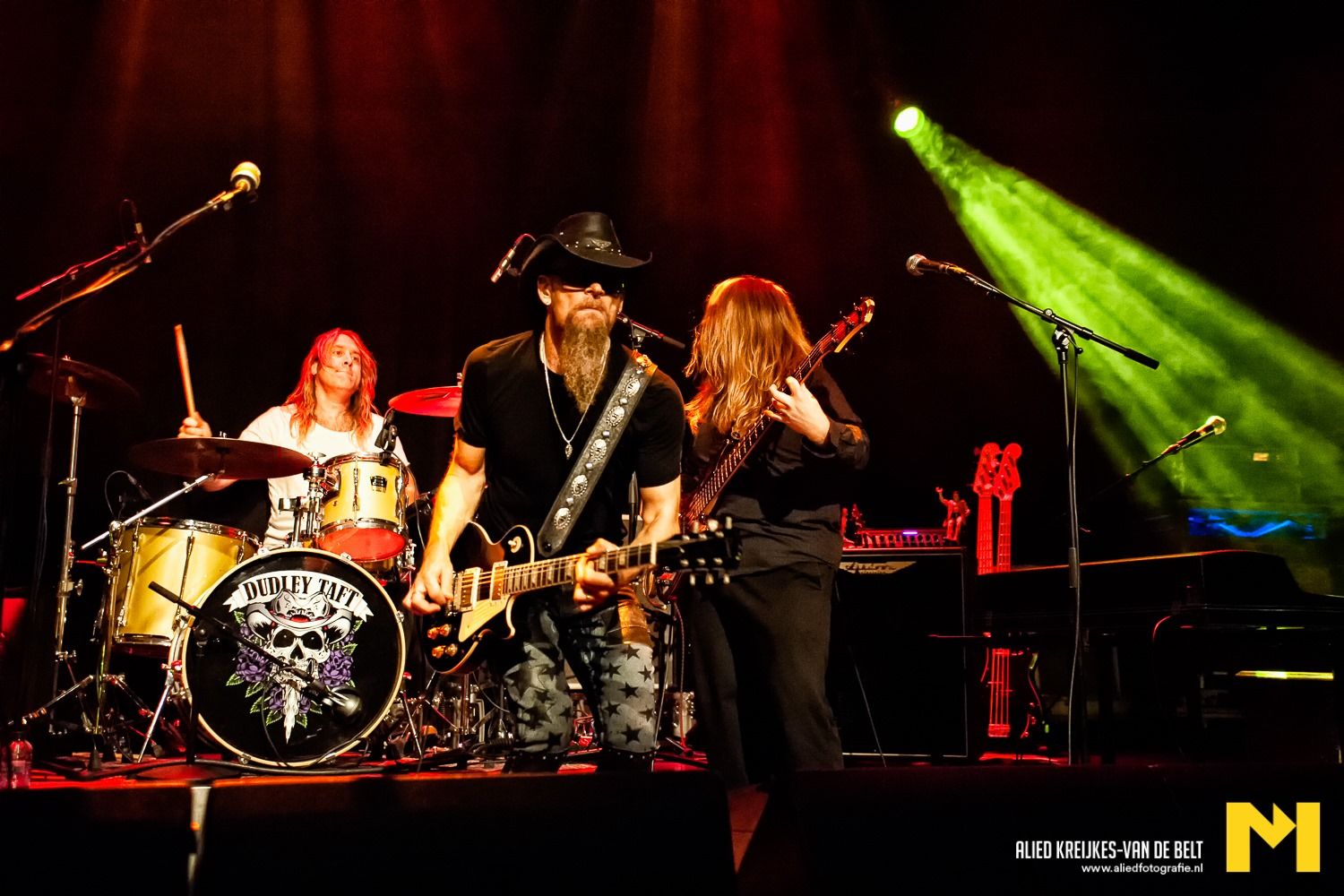 Rocking the blues at the Metropool in Hengelo, Netherlands
Saturday night's show was in Melle – a small town in between Dusseldorf and Hannover. It was one of those juke joint looking places that could have been someone's barn at some point. It had two floors and a small bar. Like our show in Wetter, it has a bit of a subscriber base and we had a great turnout which included our great friend Marco Zwillich who has seen us about six times. If you read this blog, you may recognize him! The sound man was recording us on multi-track and supposedly going to send us the tracks he recorded, and we always shoot video so we might get a couple high quality audio songs for YouTube. (Update: we have some videos and are working on getting the multi-track recording of the gig so I can mix it.)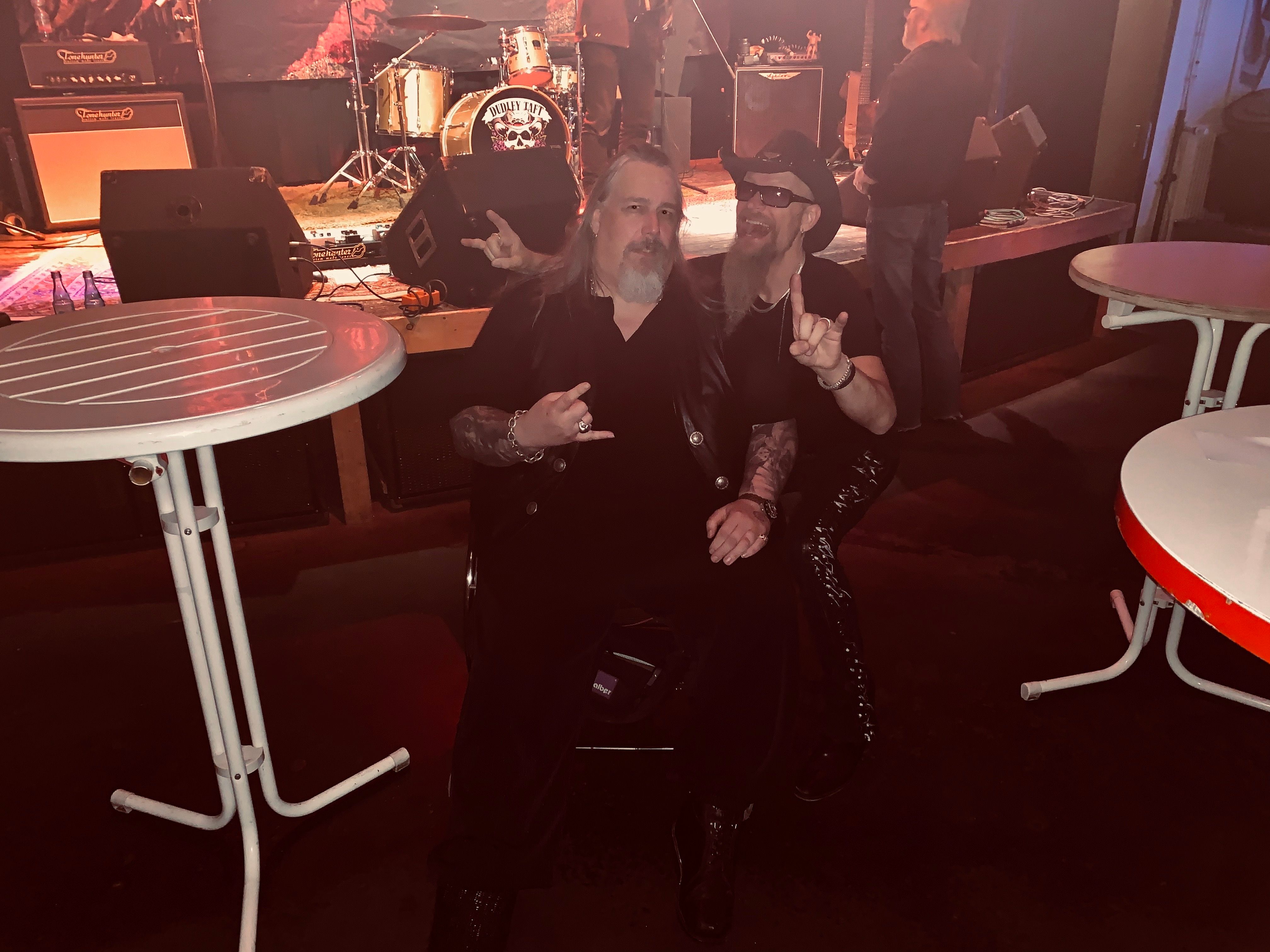 After the show in Melle, Germany with Marco Zwillich
We had Sunday and Monday off so I thought it would be nice for the boys to spend those days in Amsterdam, especially since Darby had never been there. We stayed downtown at the Radisson BLU, and our van just barely fit in their garage! Hahahaha. We had a great time hanging out at the outdoor cafes, checking out the Rijksmuseum and having some great meals. Darby and Kasey decided to do the "Sensational Swing" atop a building that overlooks the Amsterdam train station.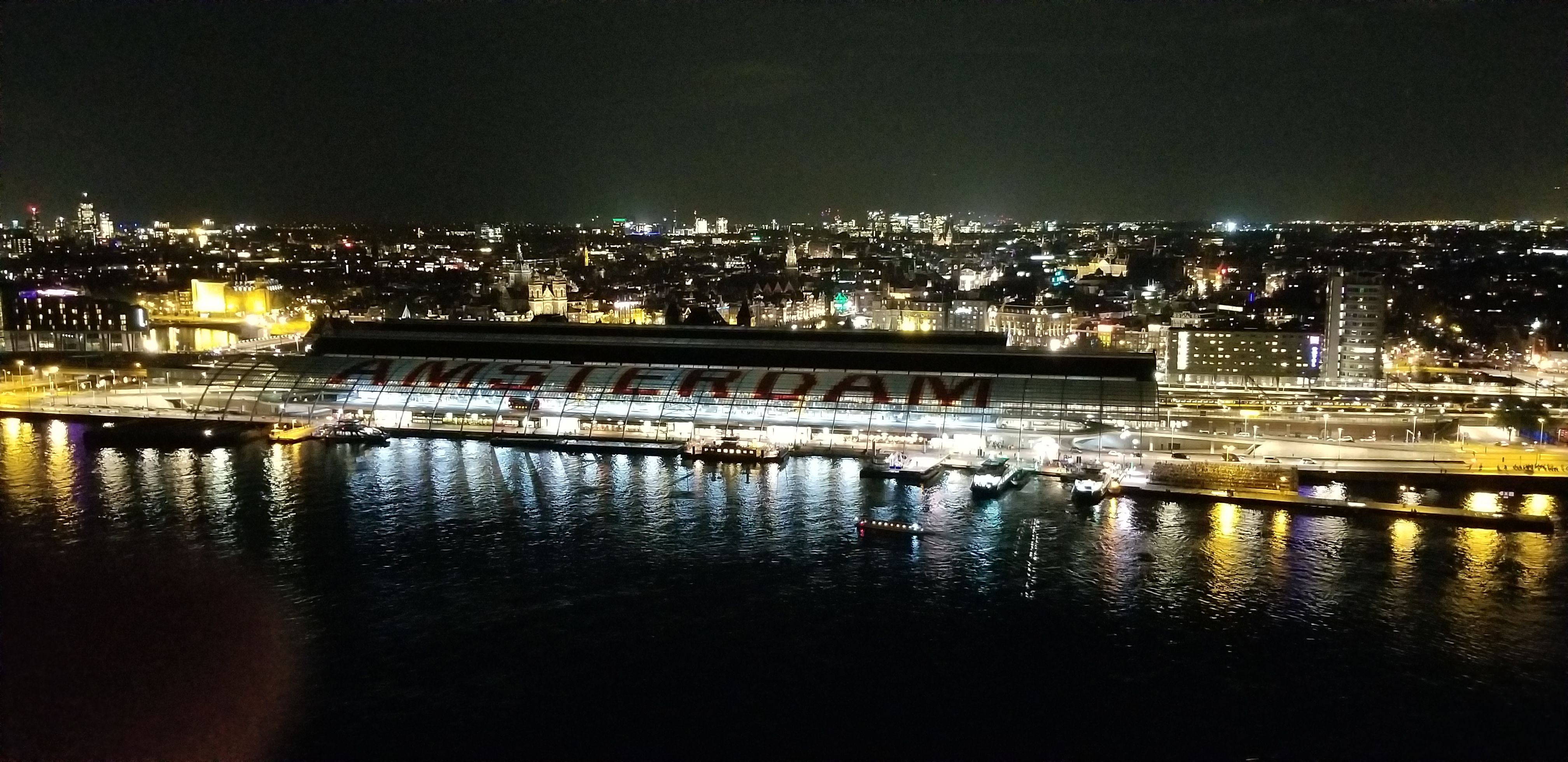 The view from the Sensational Swing in Amsterdam
Preparing for Amsterdamage
Our next stop was Oberhausen, where there ia a club run by a Polish man called Gdanska. (Poland seems to follow us!) We played there 18 months ago, and were happy to be back - it's a decent place to play on a Tuesday. It has a strange decor, and we stay upstairs, which I don't like to normally do, but the rooms are nice.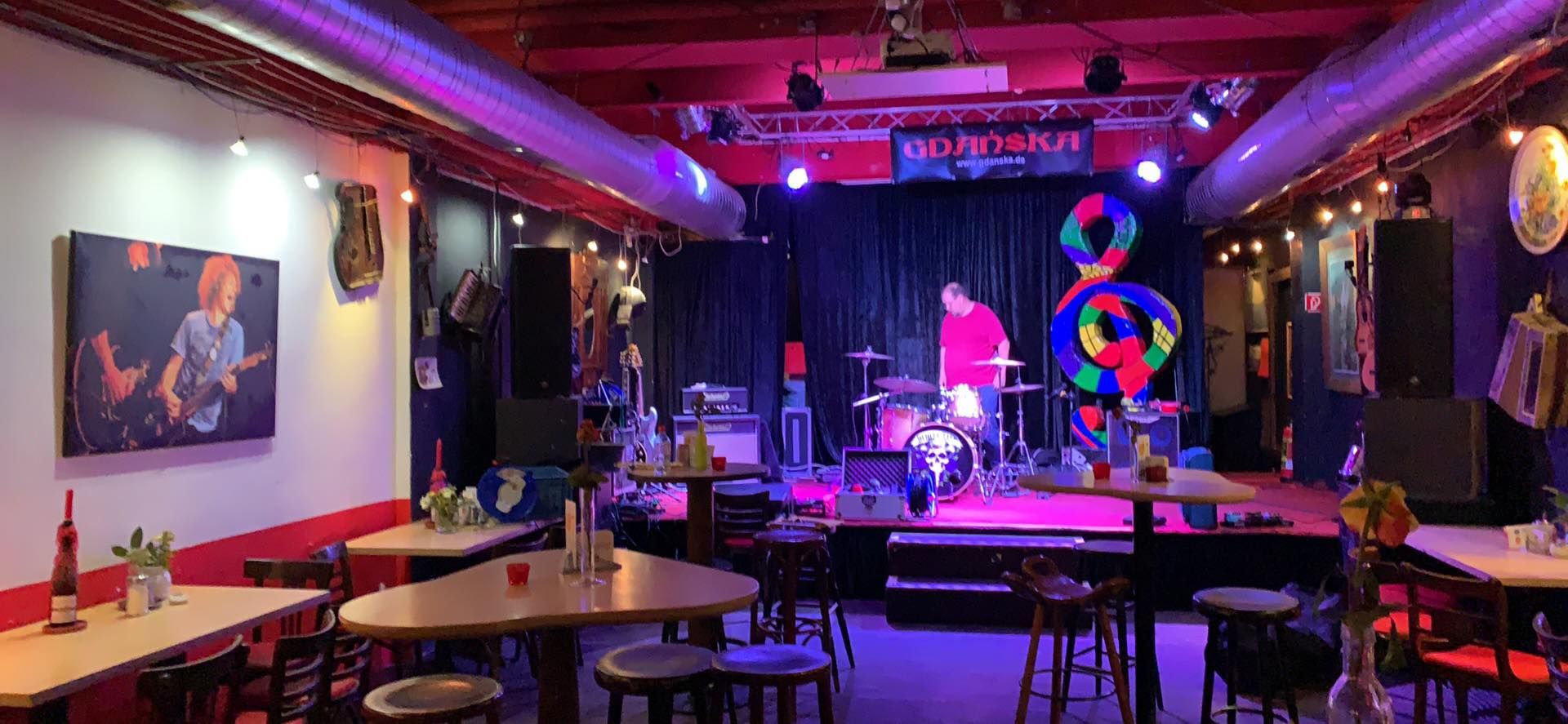 Gdanska club in Oberhausen, Germany before the show
From Oberhausen we had a short drive to Frankfurt where we would stay for the next two nights. I sprung for a really nice hotel (Jumeirah) because my wife Michelle was to join us the next day. She flew into Frankfurt and after a short nap, we all had a fancy dinner nearby! Frankfurt looks very different than other German cities I have visited. There are much taller buildings there and tons of Americans! Hahaha... We had some great Indian food the night before, and there seems to be lots of excellent restaurants everywhere. Our hotel was so nice, we just hung out there most of the time! 
We only had two shows left, and the Friday night show wasn't far from Frankfurt, but the last show in Austria was about a six hour drive - really at the limit of what I am willing to do on a show day (well, because I do ALL the driving, by choice). We headed to a small town called Reichenbach an der Fils, where we had played three times before. It is a bit out of the way, and fans travel from all directions to get there. After all of these years of touring I recognized a few faces out there! The venue is called Die Halle (the hall) and sits on the top of a hill. The parking is terrible there, and I don't know how they handle more than 100 people!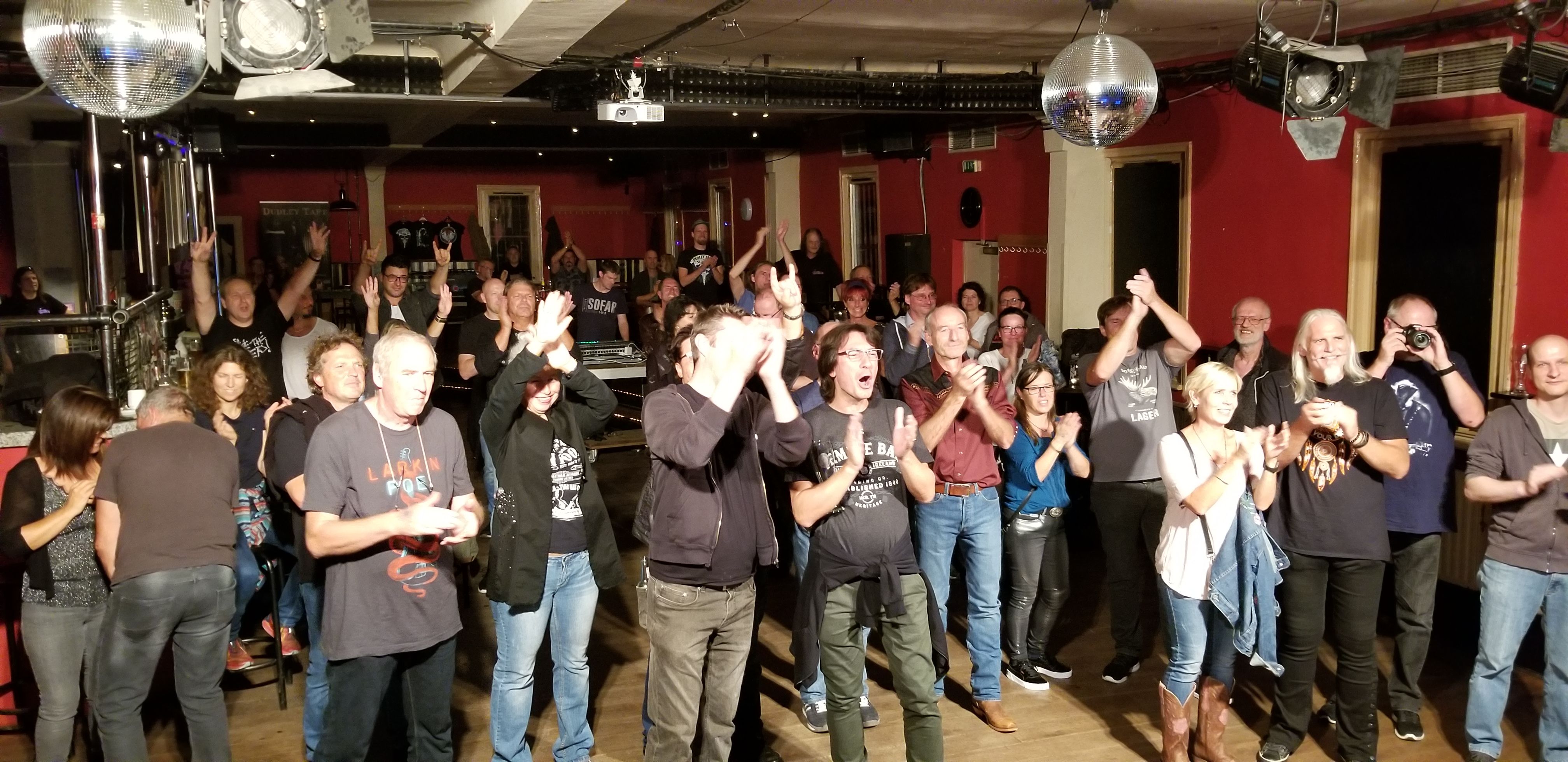 Our good friends in Reichenbach!
Michelle was with us now, so that is a big help with the merch sales! Plus, she makes sure that whenever we hit a gas station that all of the trash is emptied out! Hahaha, Darby had quite the pile going in the back seat! 
The show was a lot of fun, and at this point in the tour the band was a well-oiled machine! This usually happens; we play our best right before it's all over, hahaha. 
The next day was an interesting one, full of problems! But I will take a moment here and tell you that a lot of things broke on this tour. Much more than any of the previous ones. I almost called this blog the "Broken Tour" but that would be a misnomer – the tour was great! We do have what I call a "save the gig" kit with extra parts, tools and tape. The first thing to go was my delay pedal; it started making weird digital noise. Then Kasey's strap holder came right off while we were playing! The screw just gave up and left the bass horn. We eventually fixed that with some glue. Note to self: add glue to the kit. Then Kasey's bass wah-wah (very important for monster sounds during his bass solo) just died. My old Fender amp blew a tube before I got on stage with Manu (which is why he handed me his guitar in the clip above). But somehow (!) I thought it would be a good idea to get an extra tube and fuses just in case, so I was able to fix the amp and continue playing. Also, when we were in Cologne, I was doing some yoga and stupidly took my glasses of and put them on the floor, where I stepped on them and broke the frame. I suppose I was lucky that I found an optician that put those lenses in another frame that didn't look too bad. And it only took an hour!
Somehow I had it in my mind that our last show was on Sunday, and only when my good Austrian friend (thank you Peter Prammerdorfer) messaged me that Saturday morning did I realize that our show was THAT night, not Sunday. So I had to rally the troops to get the hell out of there and on the road so we could comfortably make the gig!
Well, the van had a different idea, and died on the autobahn  - and in the left lane. There was no shoulder either, and I had to merge very quickly to the right with no engine power, heading uphill. Somehow we got lucky, and one of those big orange vehicles with blinking lights they use over there to have cars merge was fortunately right behind us, and they stopped and diverted traffic! One of the occupants came up to the window and spoke to us in German, and he didn't speak any English, so Google Translate to the rescue! "Emergency Services?" the screen said! "Ya, gut!" was my reply.
Now this is where things happened much more quickly here than it ever would in the US: within 15 minutes there was a guy there with a flatbed. He hooked up the van and drove us all to a Ford dealership. 30 minutes in: the mechanics there started working on a diagnosis. We walked a few hundred yards to get some food. 1:10 in: the dealership called and said the fuel injector was toast (and on a new van!) and it could not be repaired quickly. I walked back to the repair shop. 1:25: The owners of the dealership were a husband and wife. The wife called the rental agency, explained our problem (including the inconvenient fact that we take most of the seats out, and they were back in the Netherlands) and called her son to come give me a ride to the Hertz agency at the nearby Stuttgart airport. 1:50: the son and I depart for the airport. 2:20: I am in the new rental van heading back to the dealership. 2:55: we are unloading the broken van, and loading the new one. 3:15 we are back on the road! I drove like a madman for 5 1/2 hours, AND, we made the gig! Well, we had to go DIRECTLY to the venue and set up in front of the crowd that was waiting. But we made it, and I am glad we did because some fans had driven up there from Venice, Italy and also from Slovenia!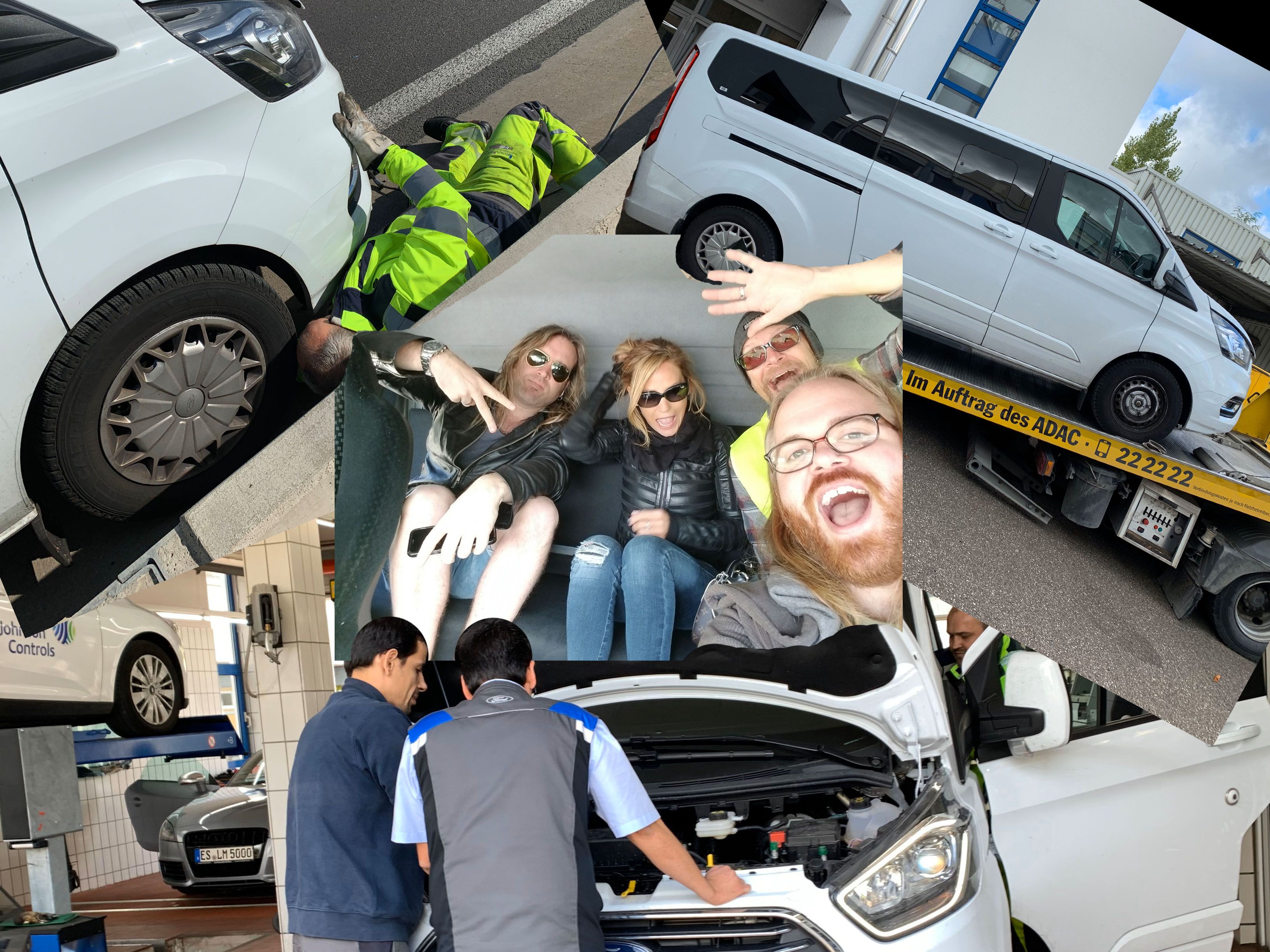 Van breakdown and German efficiency!
The next day was great - we had the whole day off and the weather in Velden, Austria was perfect! It's a nice little upscale vacation town on the Worthersee lake. Very beautiful! I dropped Darby off at a nearby airport where he caught a flight back home and we started our journey back to drop off all the gear. Of course we say goodbye to everyone, and we had a great dinner in Cologne with the Reichens, and our writer friend Vincent Abbate.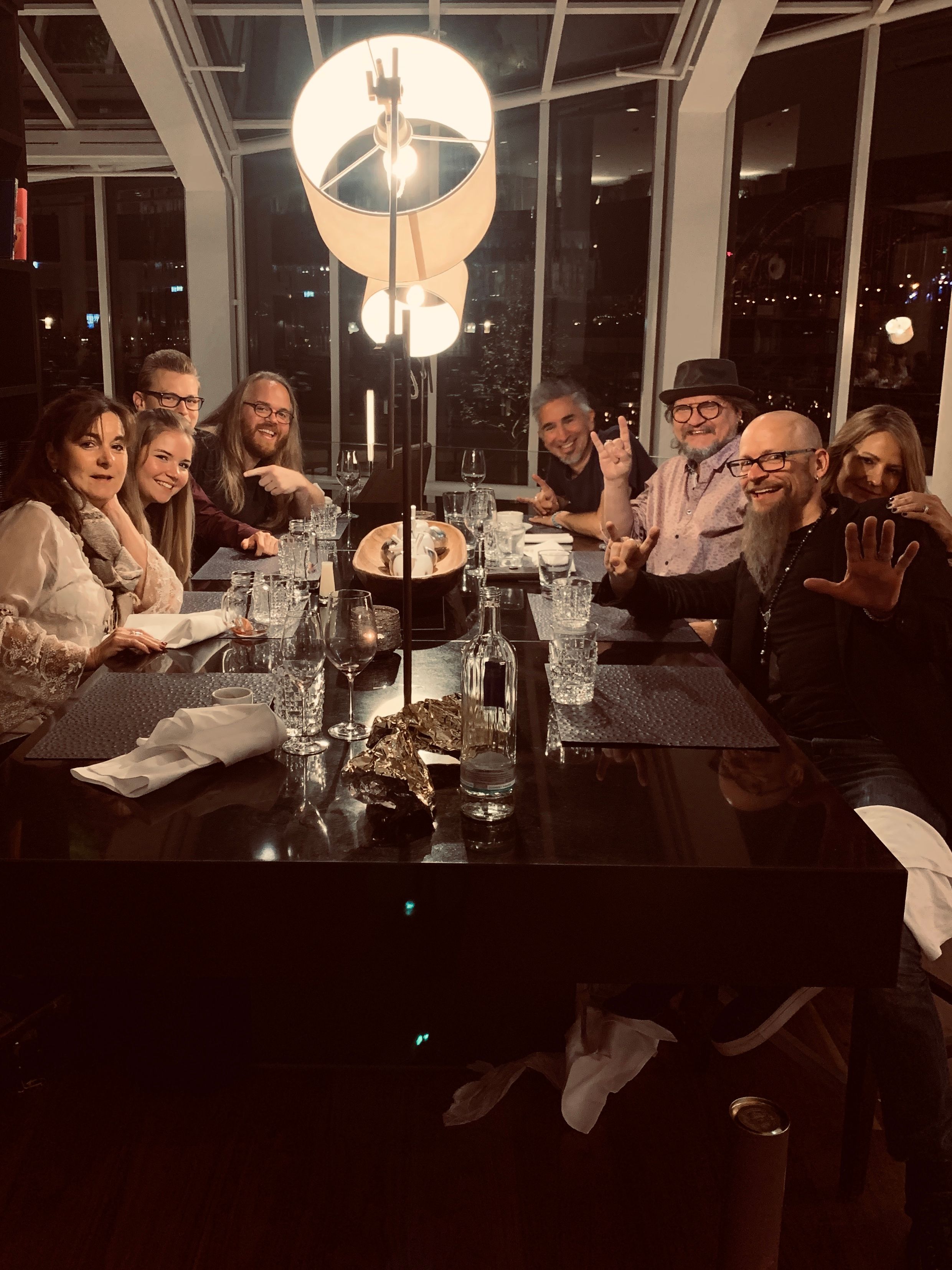 L to R: Kristin, Tarika, Nico, Kasey, Vincent, Ralf, Michelle and yours truly
And then we said goodbye to the Lammers!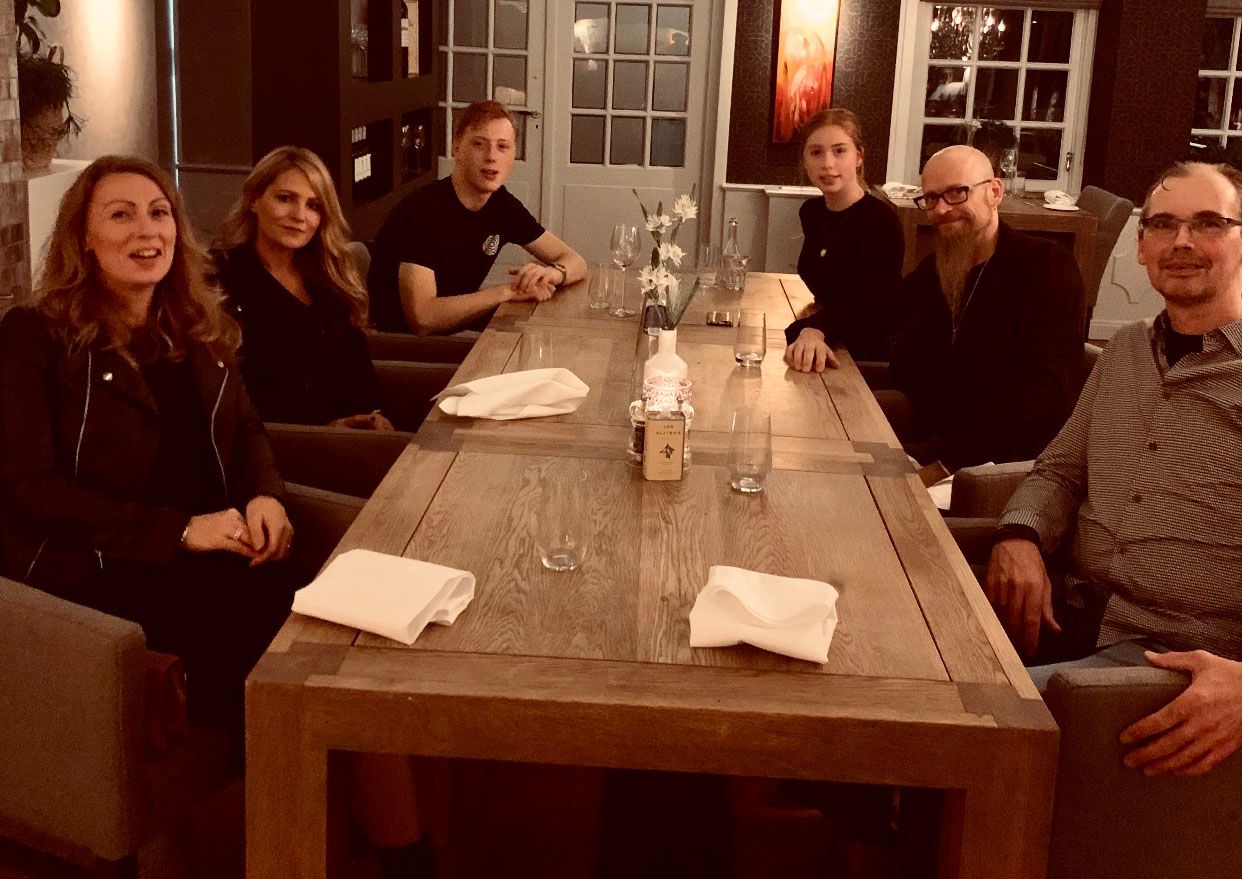 L to R: Helga, Michelle, Rens, Jenta, me and Anko
Until next time... (March 2020!) goodbye.