Dudley Taft Band Spring European Tour 2018
March 26 - May 6, 2018
Often enough, it all starts and ends with a bottle of whiskey. This being the tenth tour of Europe since 2012, I know this well. It was a Dun Bheagan Islay Single Malt Scotch Whisky called the Glenallachie: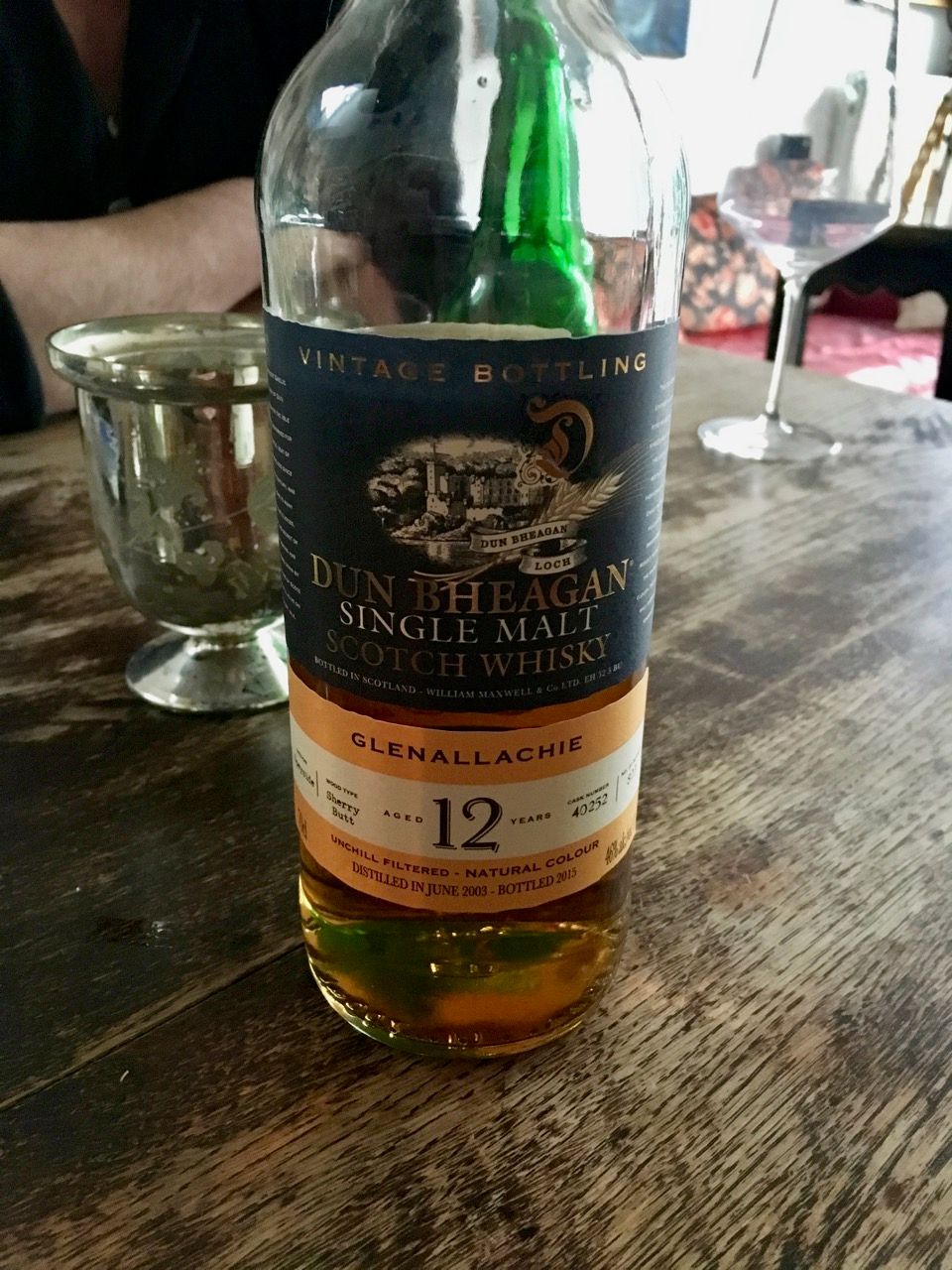 I remember it was pretty good. Because of Ralf and Anko I have been introduced to some great whiskeys!  Normally I like tequila, but it's tough to find over there. The Glenallachie did a good job of sending me off to slumber.
After a direct flight to Paris and a connector to Dusseldorf, I drove an hour to Cologne and met up with Ralf Reichen at his shop to gather some of the gear. I am now keeping most of what you see on this pedalboard at Ralf's.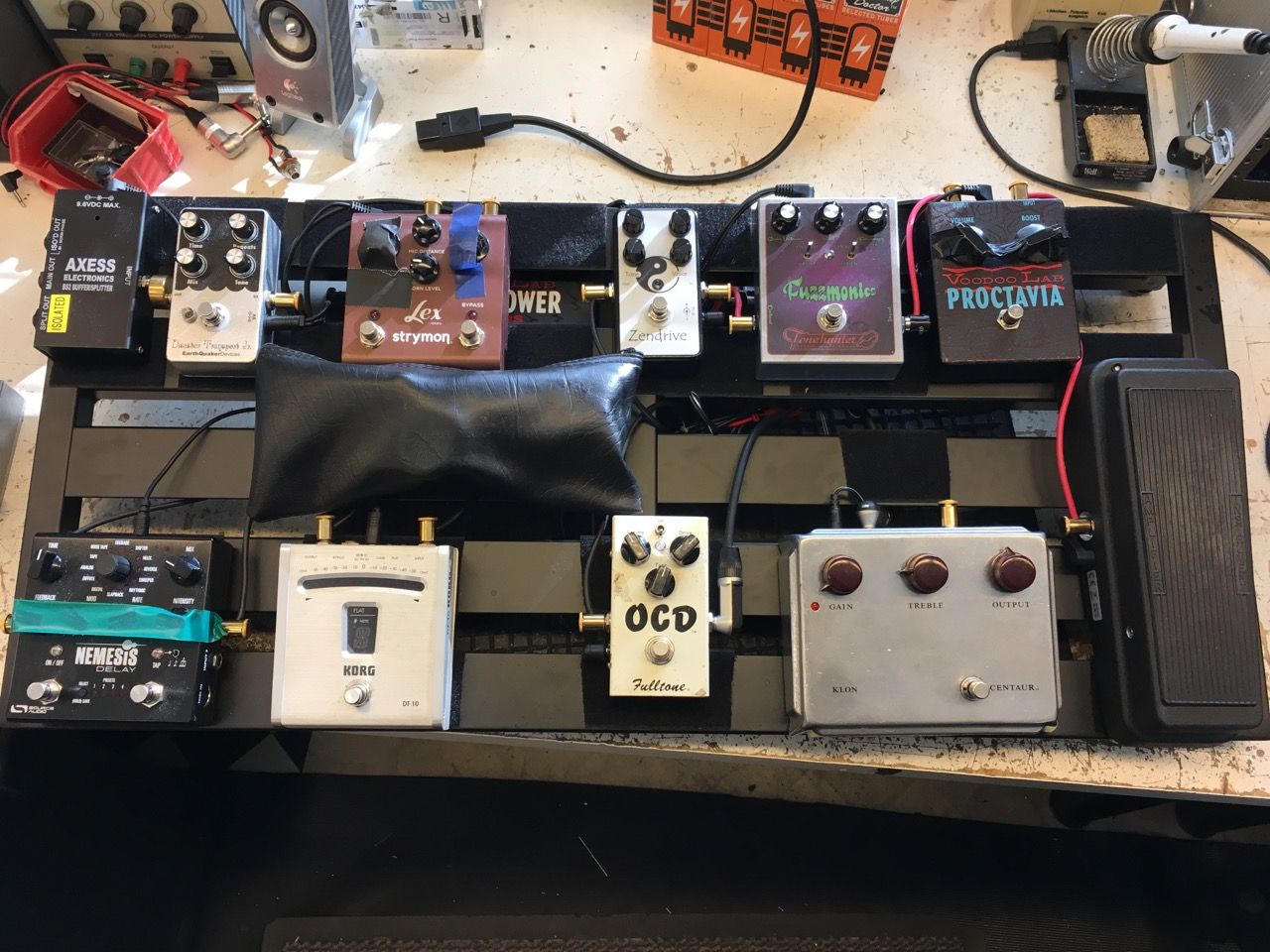 I arrived with the Klon and the OCD. After a few minutes of wiring, it was ready to rock, thanks Ralf!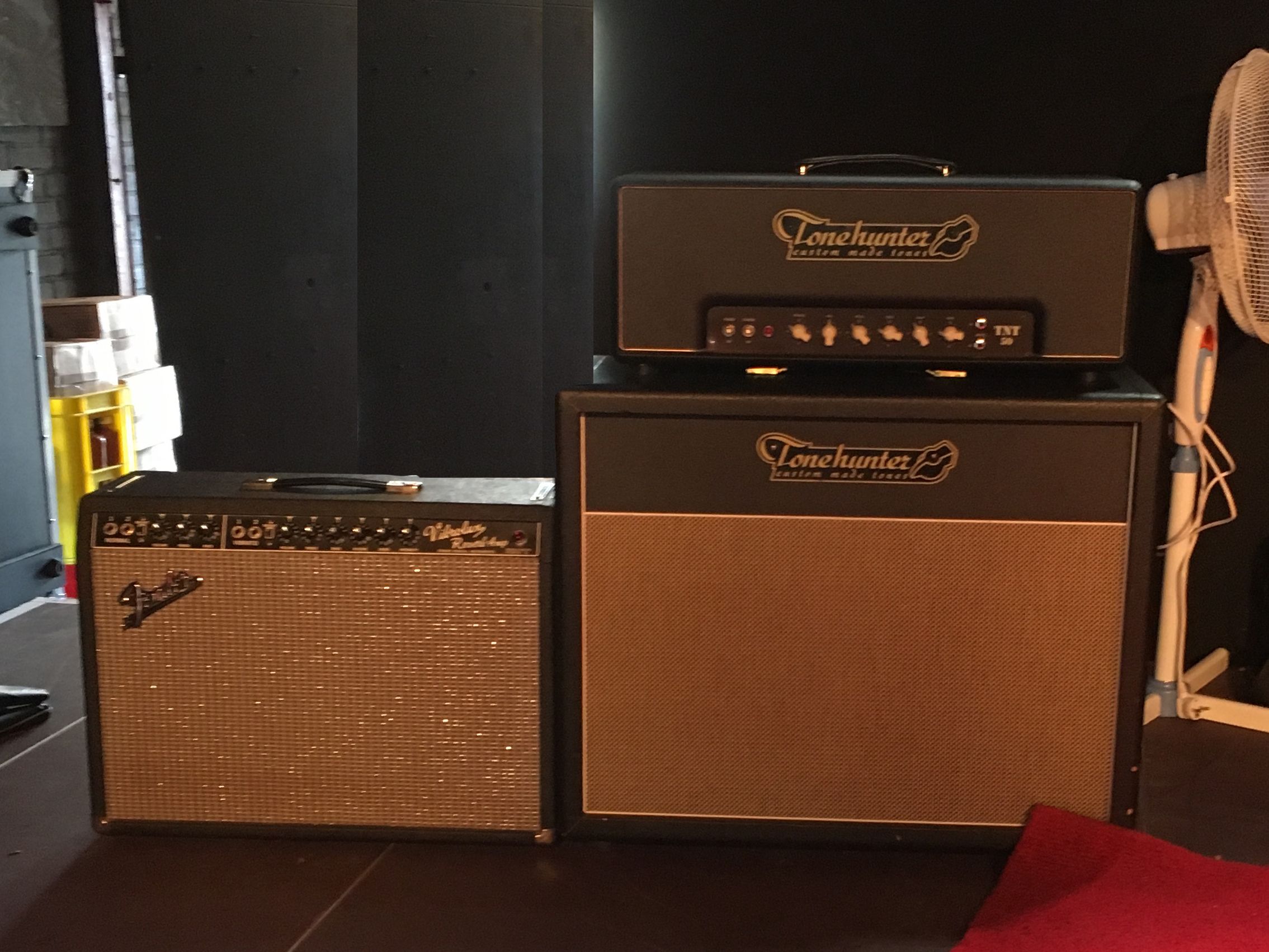 1967 Fender Vibrolux and Ralf's TNT head and cabinet
For this tour, I added another 'weapon' to my arsenal: a 1967 Fender Vibroluxe Reverb! I sent it from the states, and Ralf changed the output transformer (220v over there!) and installed 2 10" Celestion greenback speakers. It is the perfect mate for a Tonehunter TNT head and cabinet.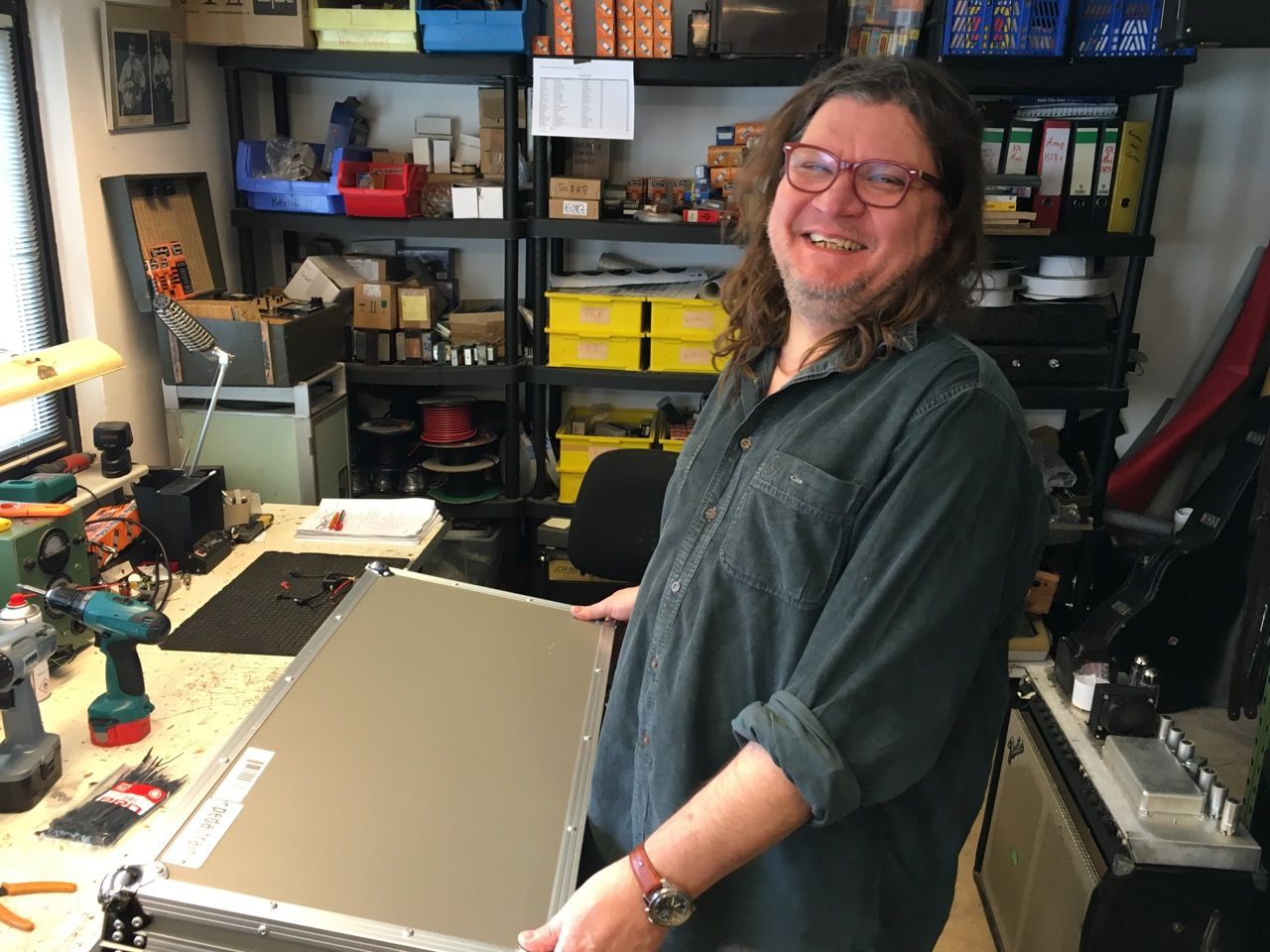 I had a nice dinner with Ralf and the family to end my long day of travel.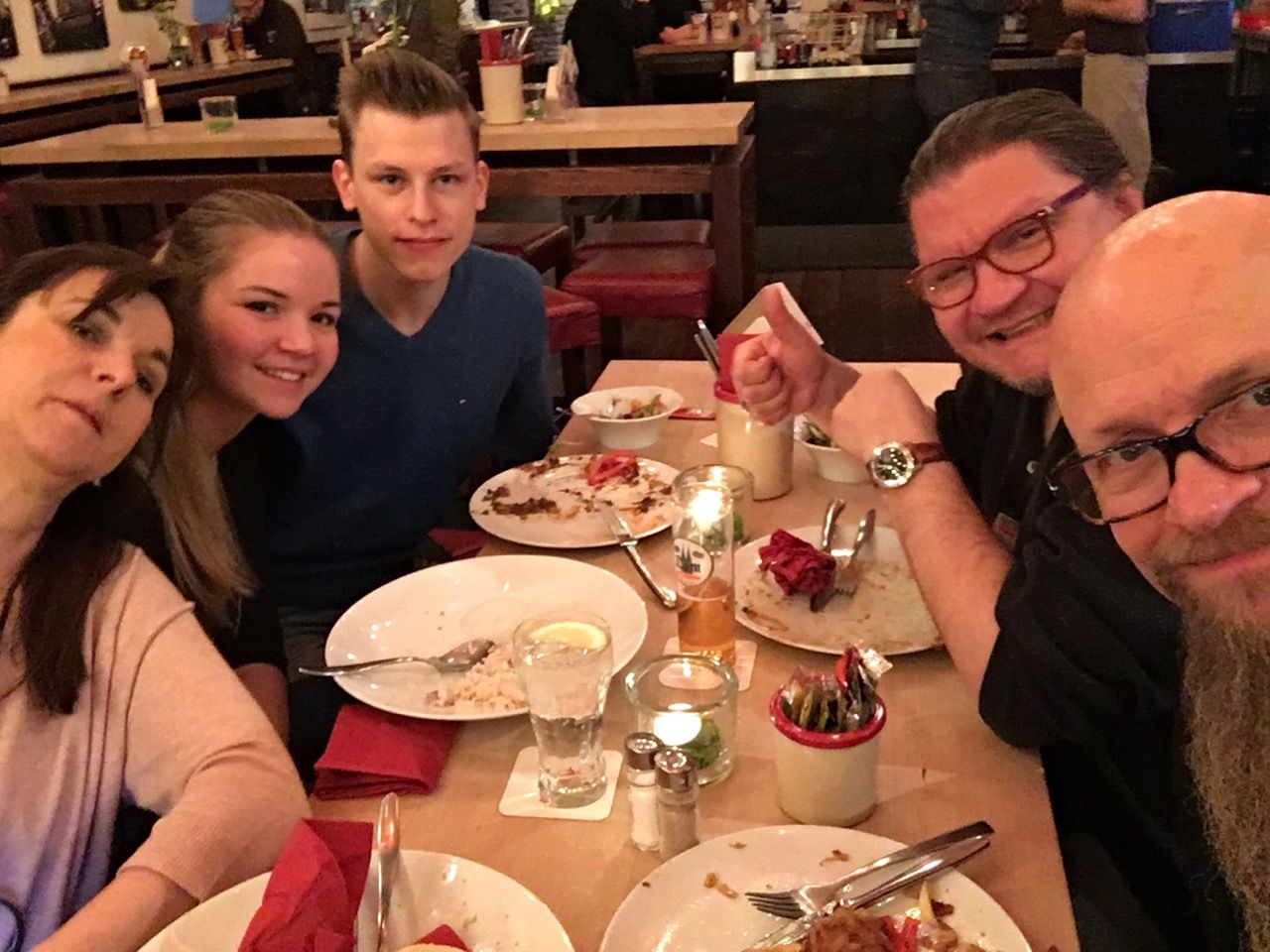 L to R: Kristin, Tarika, (boyfriend) Nico, Ralf, me.
It was time to get my schnitzel on, have another sip of whiskey and get a good night's sleep because the next day I was off to the Lammer's.
It was the usual schedule of events: I drive to Anko and Helga's house in Vriezenveen, and make trips to the nearby Almelo train station to pick up the boys. Kasey was the first to arrive and we headed straight back to get him settled in. Kasey knows the drill.  This was his third tour.
We welcomed a new member to the team for this tour, Irishman Marty McCloskey. I met Marty in 2017 when we did a gig with Simon McBride and Marty was their drummer. We hung out a bit after the show that night and I made a mental note to get hold of him for the next tour. Initially I thought he could recommend someone he knew to play with us - as we are starting to get some "fly away" festival offers and would benefit by only having to pay for two flights from the US for those.  However, Marty was able to free himself up and play for us. 
Marty arrived later that day and we set up and rehearsed for a couple of hours before heading into Almelo for dinner. Typically we would eat at the Shamrock, an Irish bar and restaurant. I realized that might be funny for Marty, being Irish. Hahaha . . .  , but they were closed so we ate somewhere else.  We were determined to have Marty give us his informed opinion of the place. 
We had Tuesday and Wednesday to rehearse before we left for our first gig in France. Wednesday nights are when Anko's band, The Beggars Clan, rehearses. They play Irish folk music so it was fun to watch Marty's reaction. He seemed to know all of the songs! Hahaha.. . .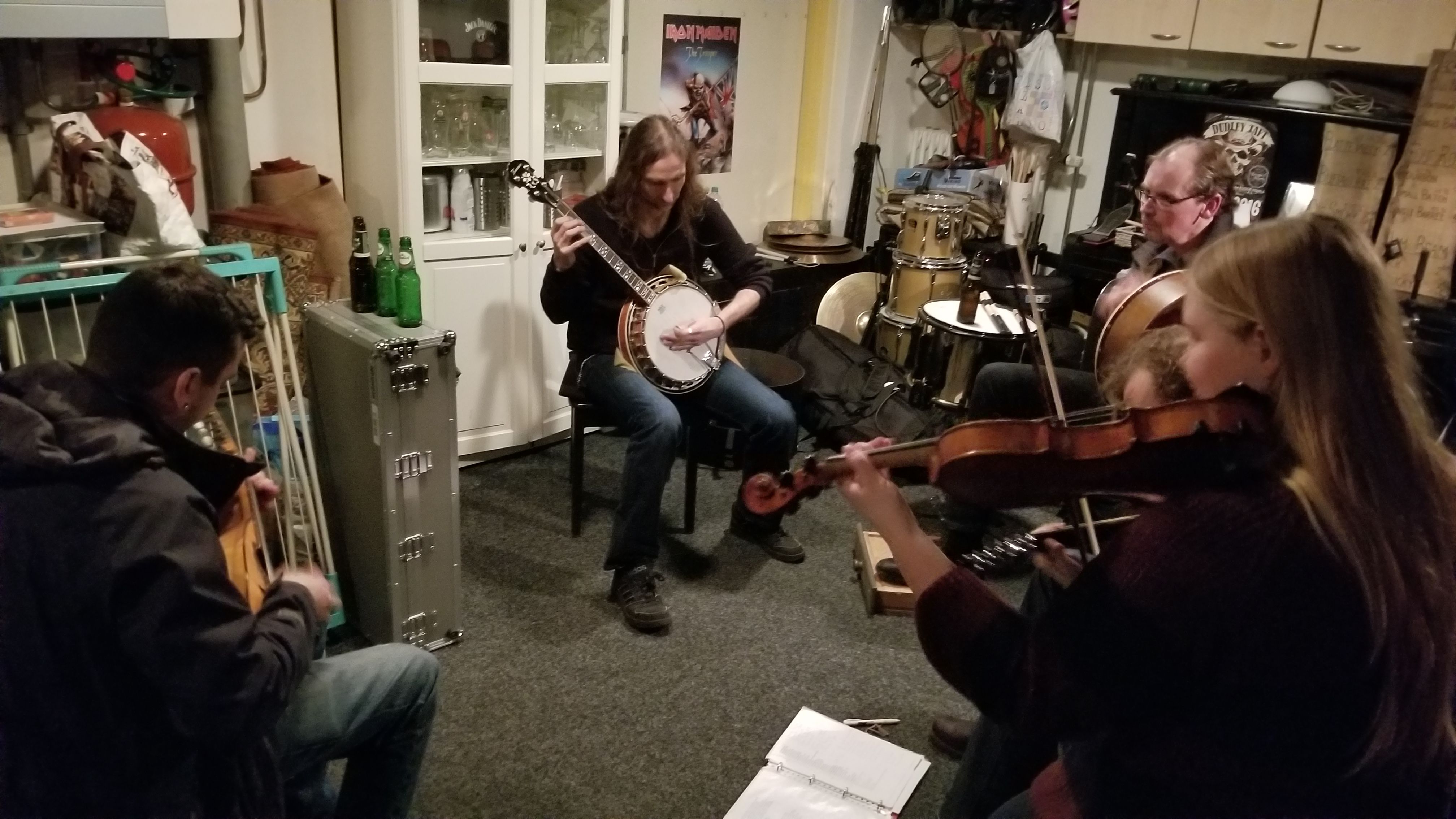 Beggar's Clan Rehearsal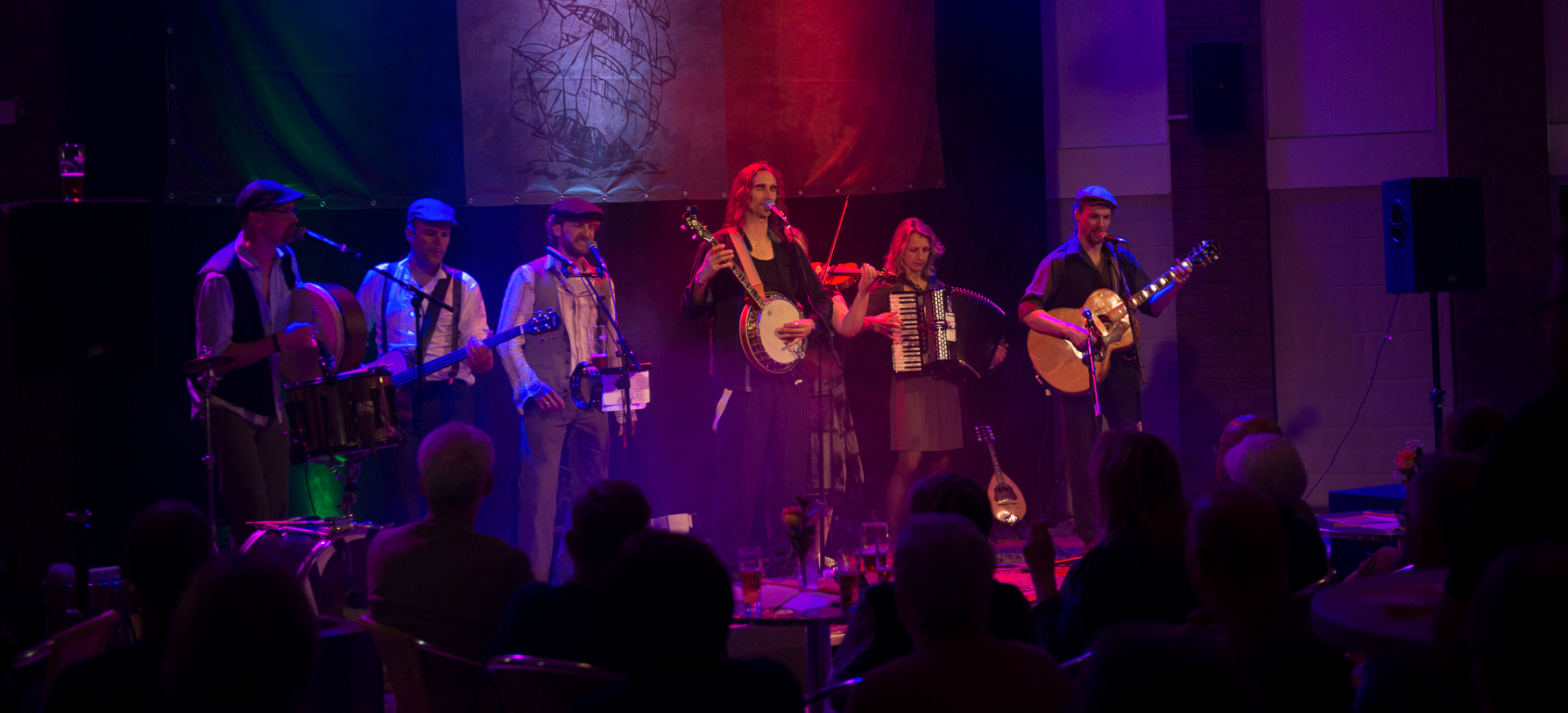 The Beggars Clan
When working a new drummer into the band there are challenges. Some guys play only from memory thus repetition is the only way to know the songs cold. That can work just fine IF the drummer in question has spent enough time with the songs. We had one guy who told us that he "listened to the songs a lot on the plane ride over here" and of course that raised red flags! But Marty took detailed notes and kept them in a book with plastic liners for each song. If we wanted him to do something different - different than what he was playing, he would carefully remove the note form the sleeve and make changes, carefully putting it back into place. So, no red flags! Hahaha, he was well prepared! 
With the van totally packed to the gills, we headed out toward our first gig -  our premier gig in France!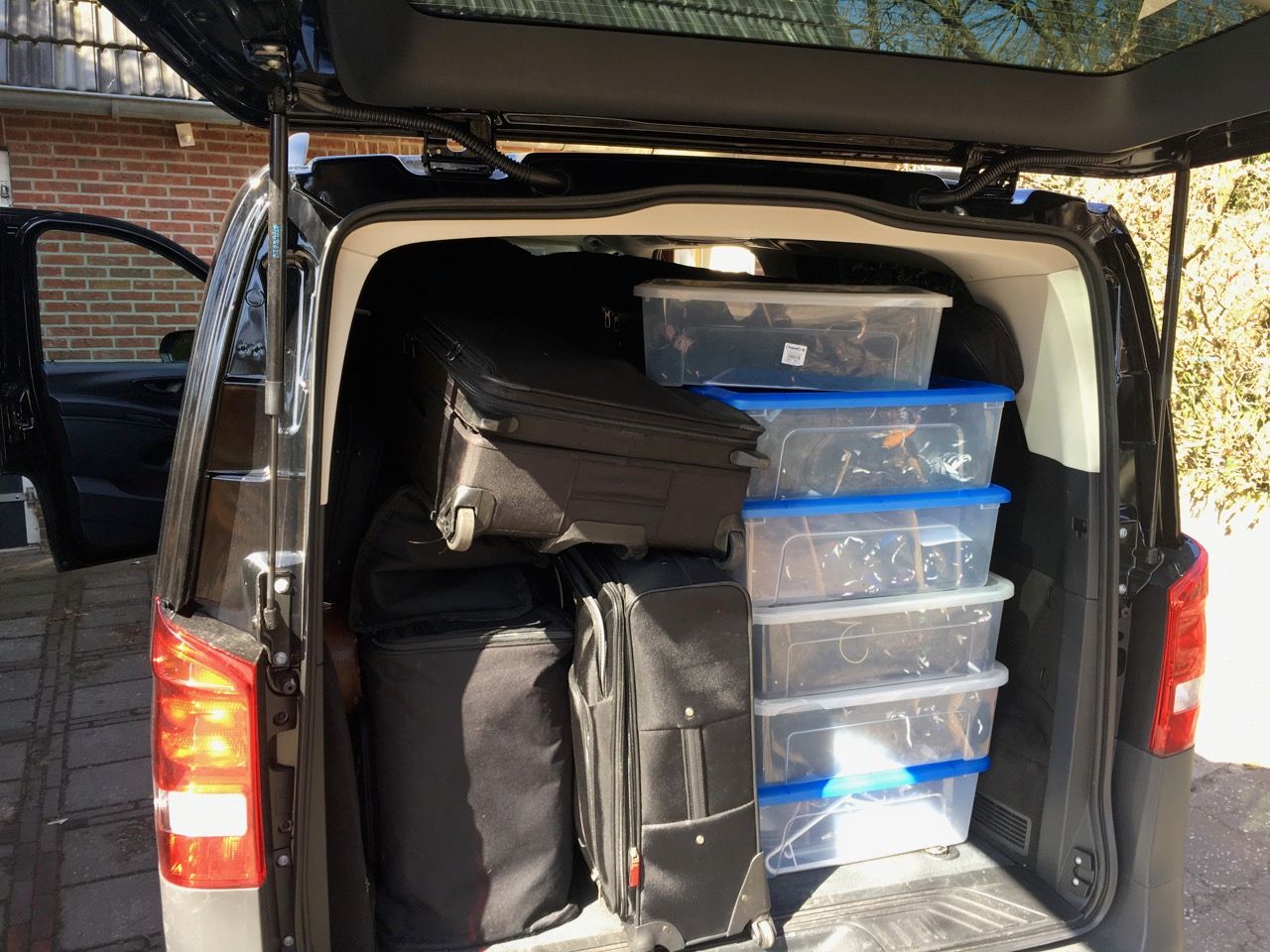 Packed to the gills!
It was to be about a 12 hour drive to Samoëns. We didn't want to kill ourselves before our first show, so we drove about eight hours to Dijon. I wish we had more time to check out the town, but sadly we did not. We saw a sign on the freeway saying Dijon was the culinary capital of France, but only kebab was available at 10 pm when we arrived. (bummer)
The French freeway system is in great shape and not terribly crowded probably because the tolls are so expensive. I think we spent about €100 on tolls driving around there!  
When we arrived in Samoëns we found a quaint skiing village. It was overcast and raining, but apparently that didn't stop droves of skiers.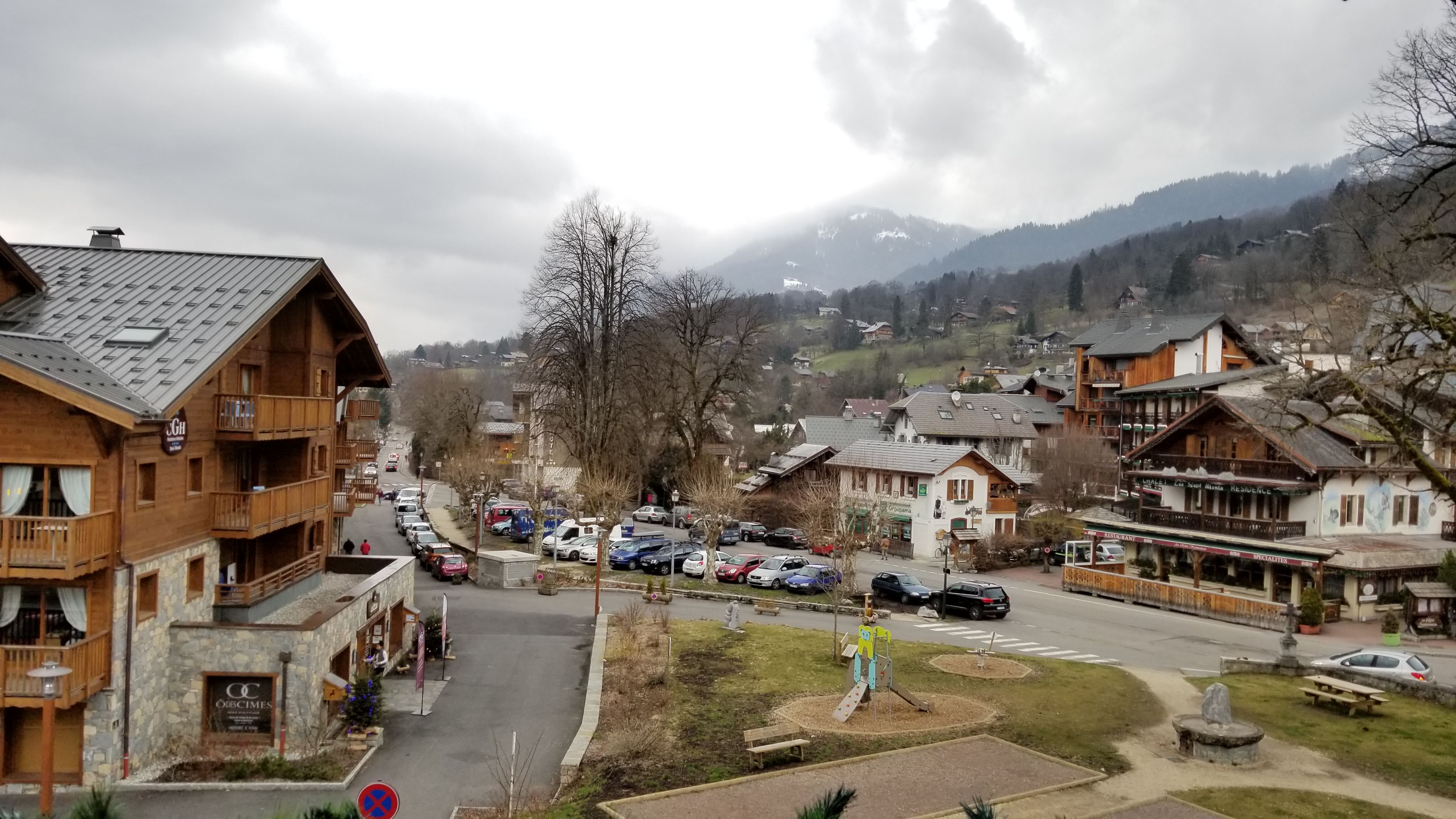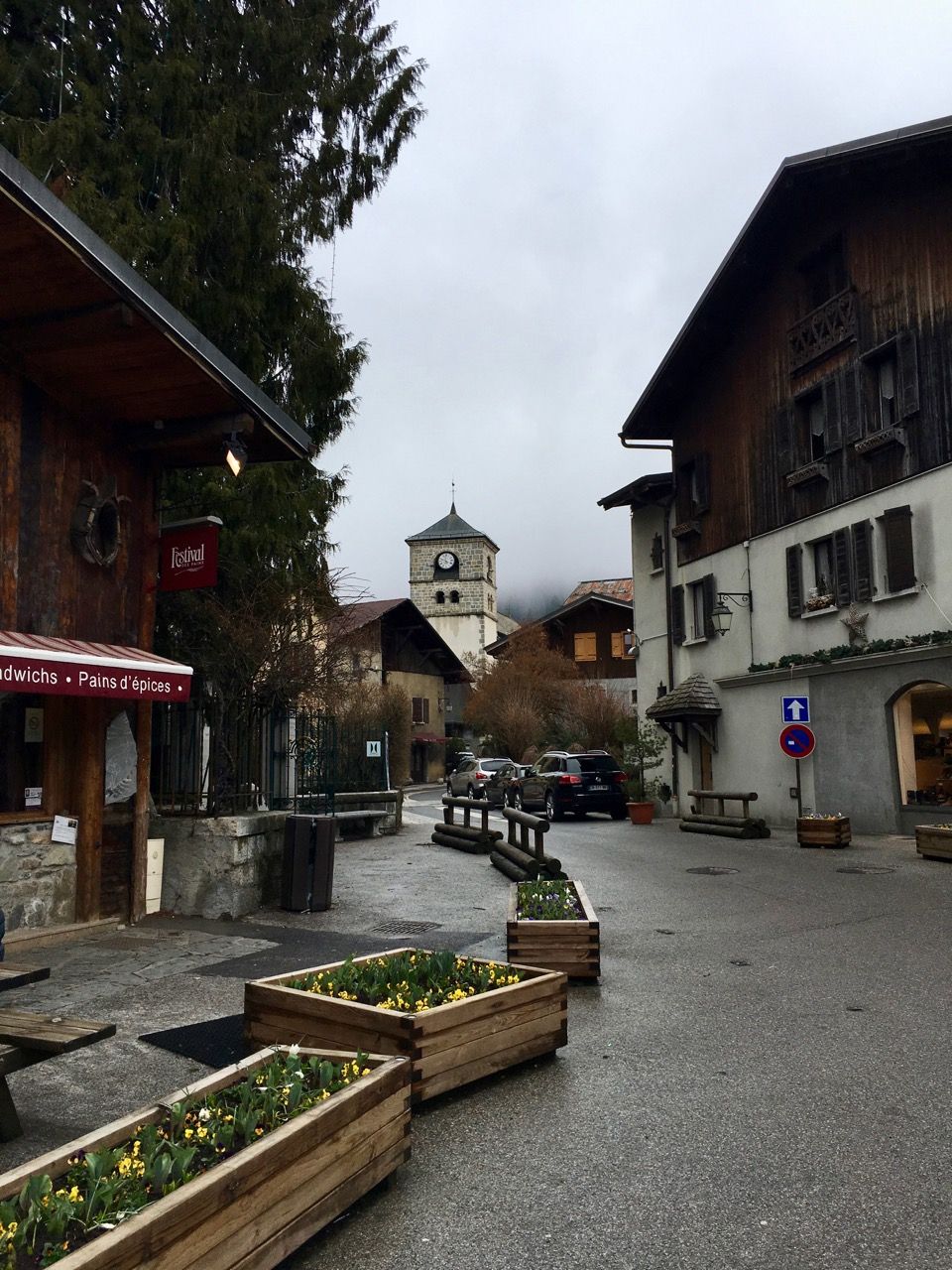 Samoëns - French Alps
Our French hosts took great care of us by putting us up in a nice hotel for three nights! The festival lasted for three nights with French bluesman Fred Chapellier headlining the first night. He played mostly Peter Green (early Fleetwood Mac) songs, and I was asked to get up and jam with him. We were the headliner for the second night, and my friend Manu Lanvin was the big act on the third. I had met Manu in Poland the year before, and he thought I would be good for festivals like these (merci Manu). Manu arrived on the first night and we all jammed with Fred.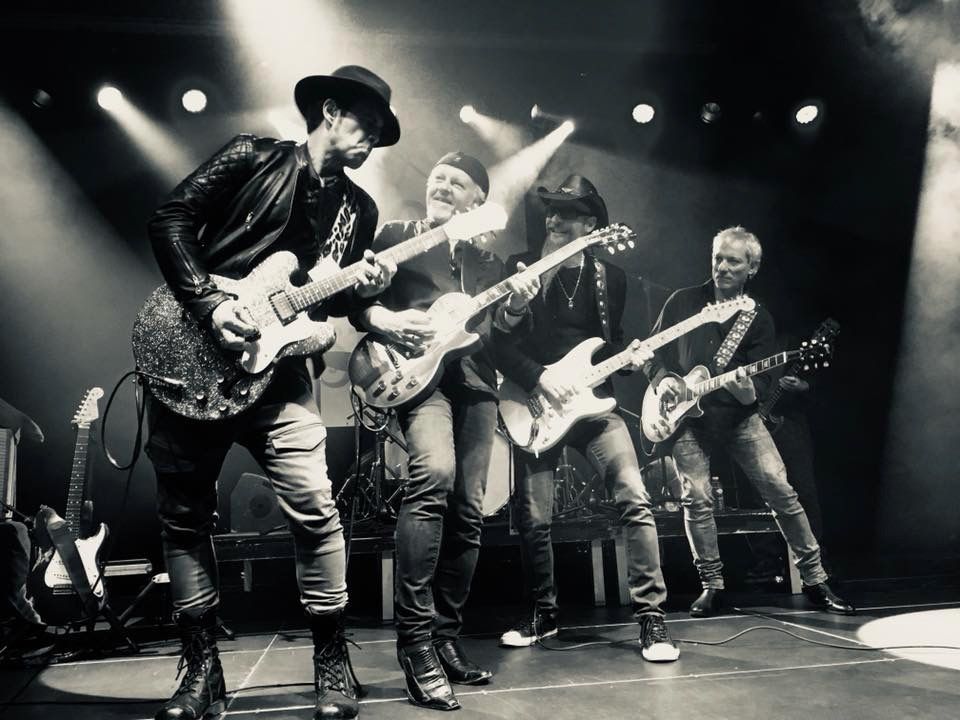 L to R: Manu Lanvin, Fred Chapellier, me and another guy
The venue was large, and we put our banner up by the bar.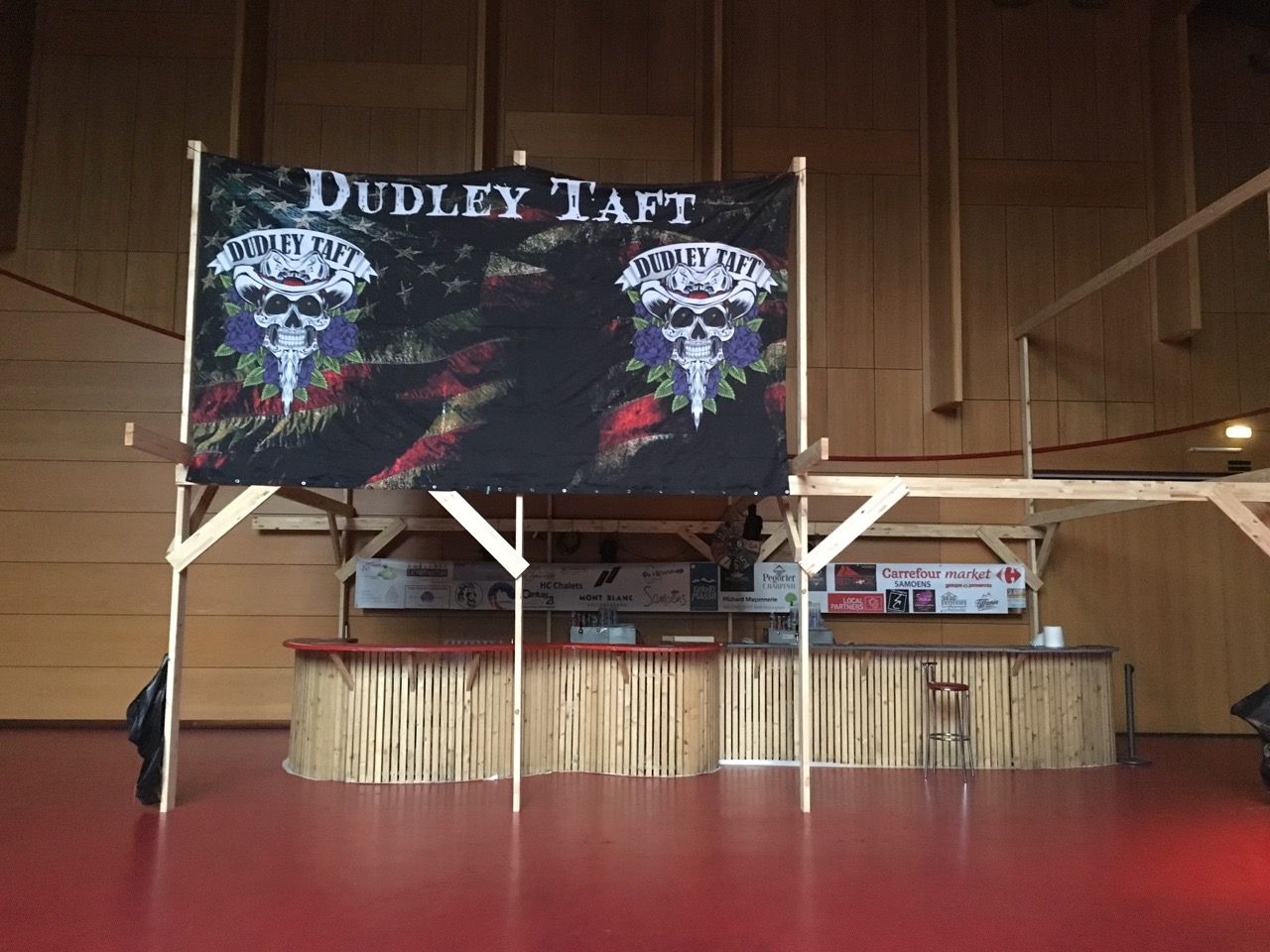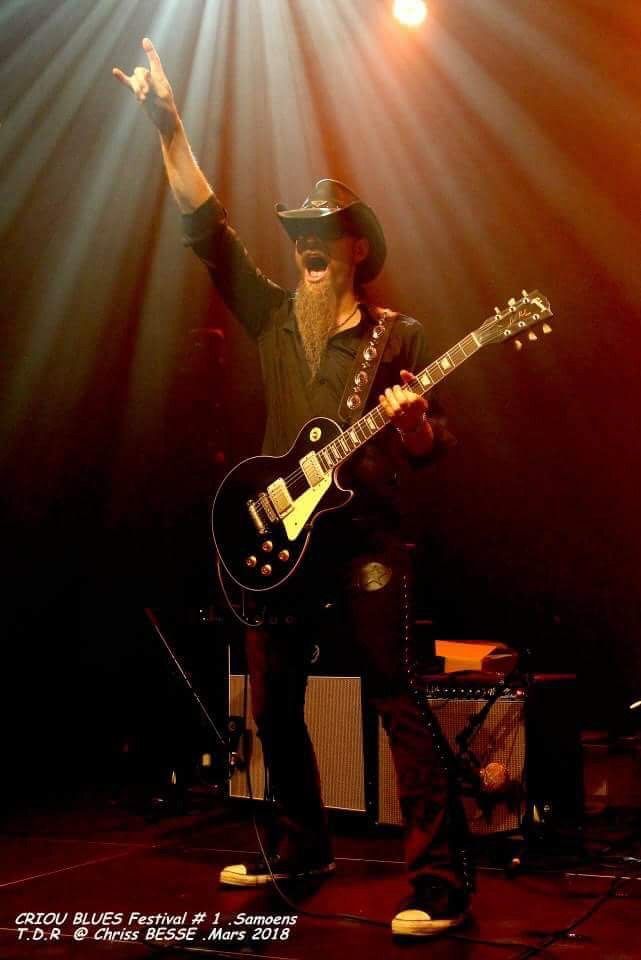 We had a great first show in front of a packed house!
"Dark Blue Star" Live in Samoëns, France
It was great to have a few days in the Alps - we added this show to the tour after most of the dates had been booked, so it was our only show for that week. We hung out with Manu and his posse and had a great time.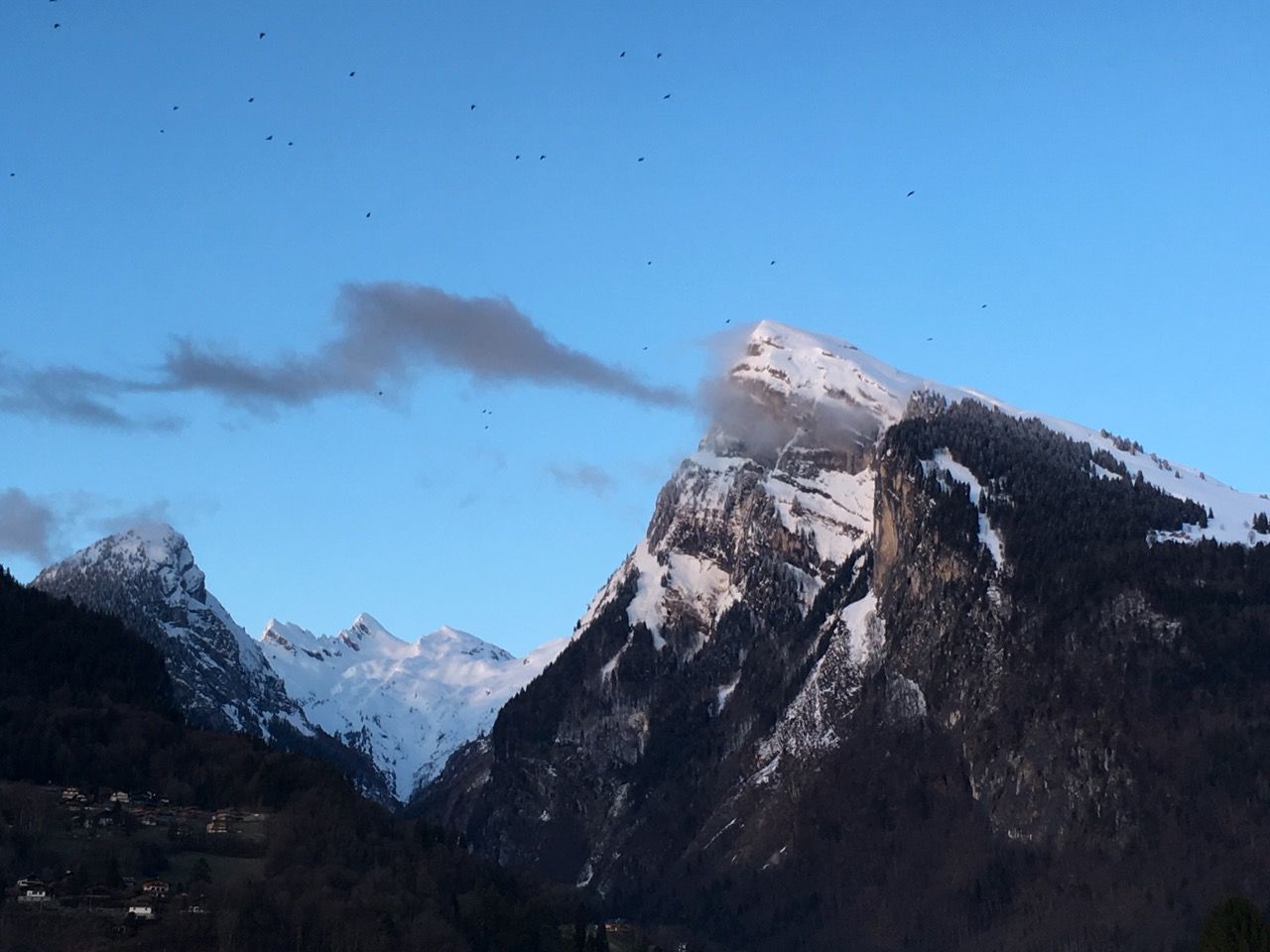 Finally the sky cleared and we could see the mountains!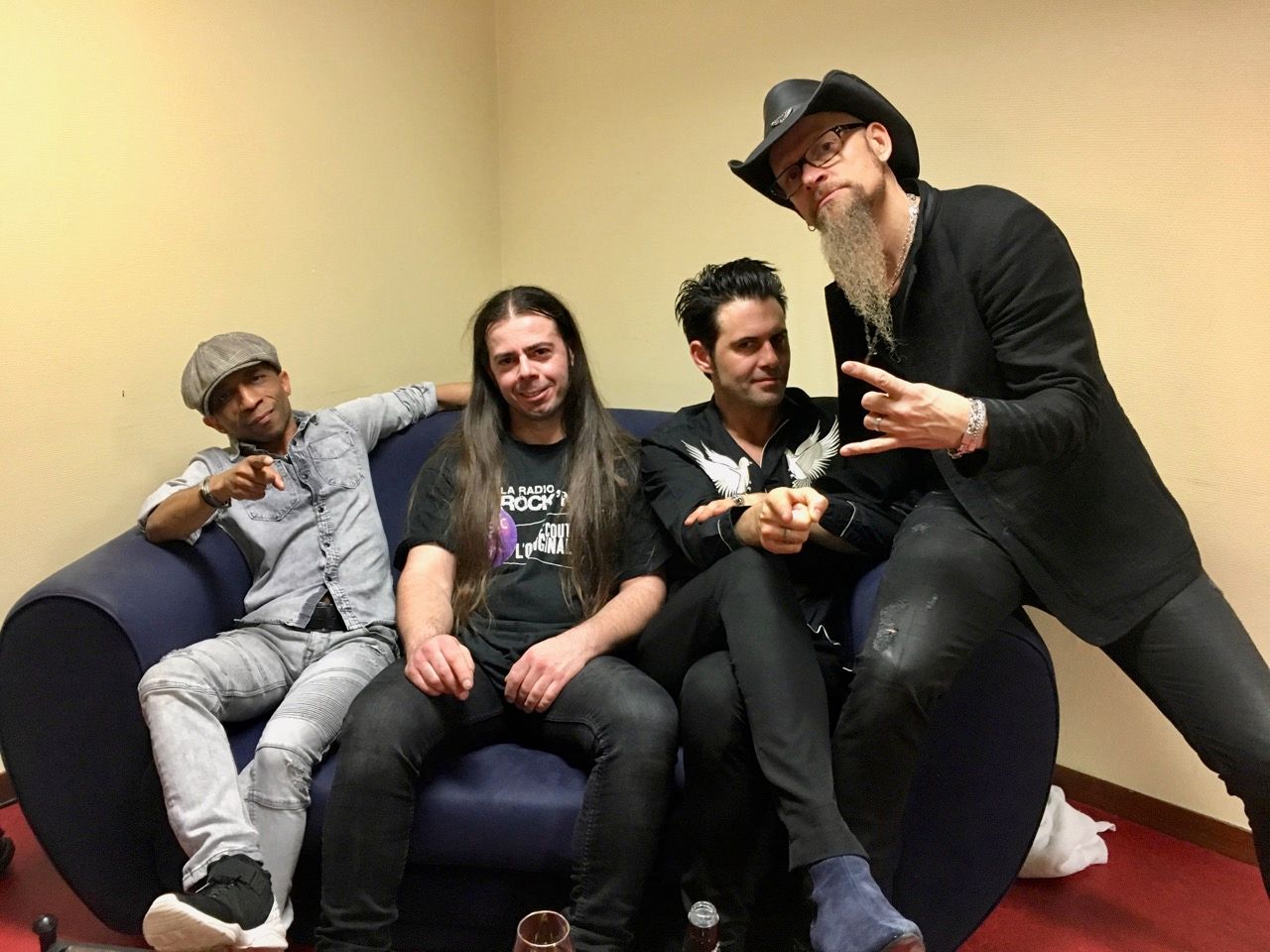 L to R: Jimmy Montout, Nicolas Bellanger, Manu Lanvin and me
A bit sad to leave France, but fully recovered from jet lag, we headed back to Anko's stopping for a night in Saarbrüken, which is a nice small town on the boarder of France and Germany. This is the home of our good friend Udo Löw, guitarist for Thorny Roses, and the emissary to Alex's House of Torture (for those who follows these BLOGs). One of my all time favorite steak restaurants is there - Gusto.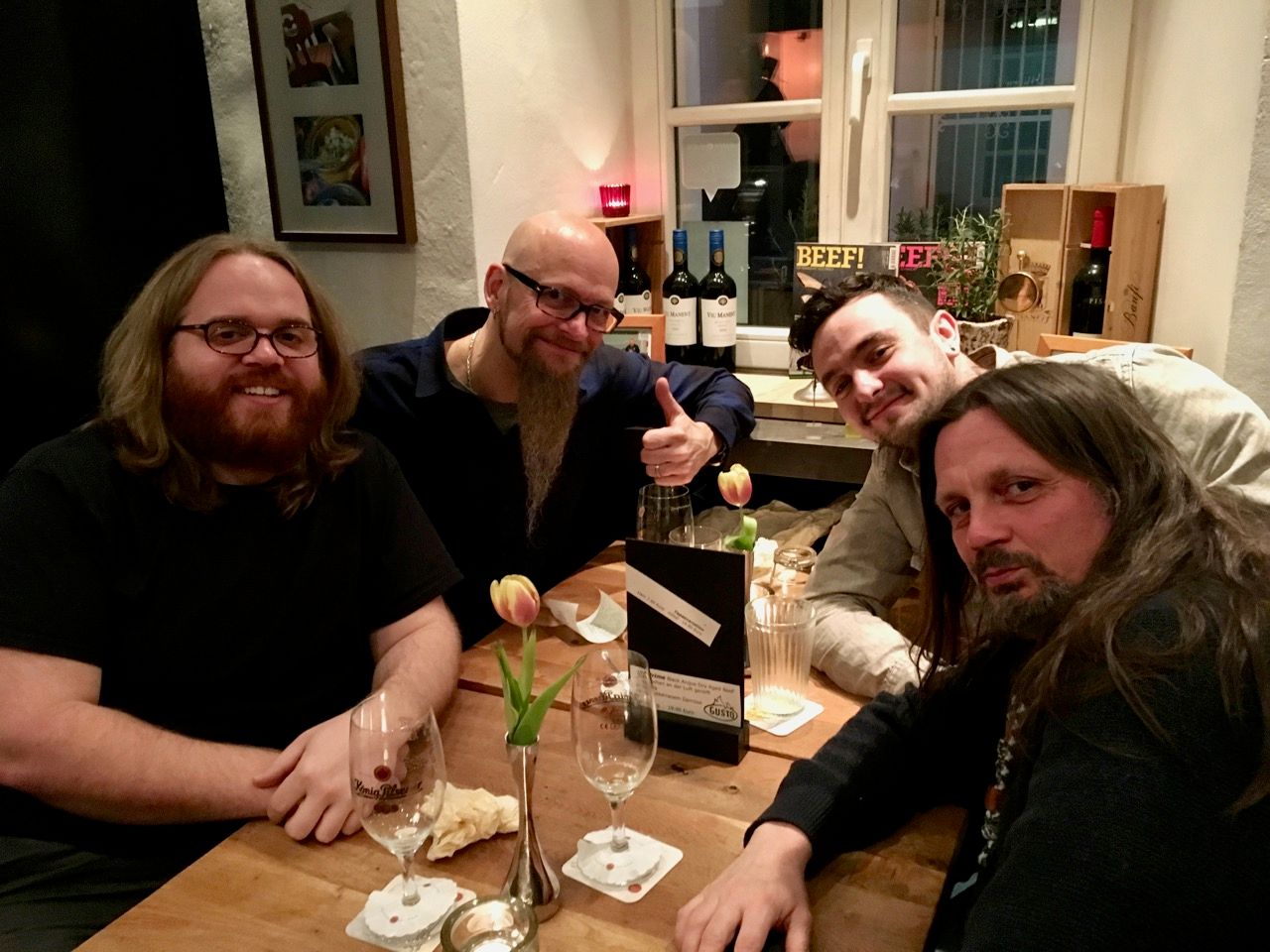 L to R: Kasey Williams, me, Marty McCloskey, Udo Löw
We returned to Anko's house and had some rehearsal -- some for our set list songs, and some for the original tunes I had been working up. After the coming weekend of shows, we were headed to Nicolas Bellanger's studio outside of Paris to record a bunch of these new tunes, and I wanted to get a jump on the arrangements. Of course, days off at Anko and Helga's always includes the occasional night of Whiskey sampling, and we did just that - trying some rare blends made in Corsica!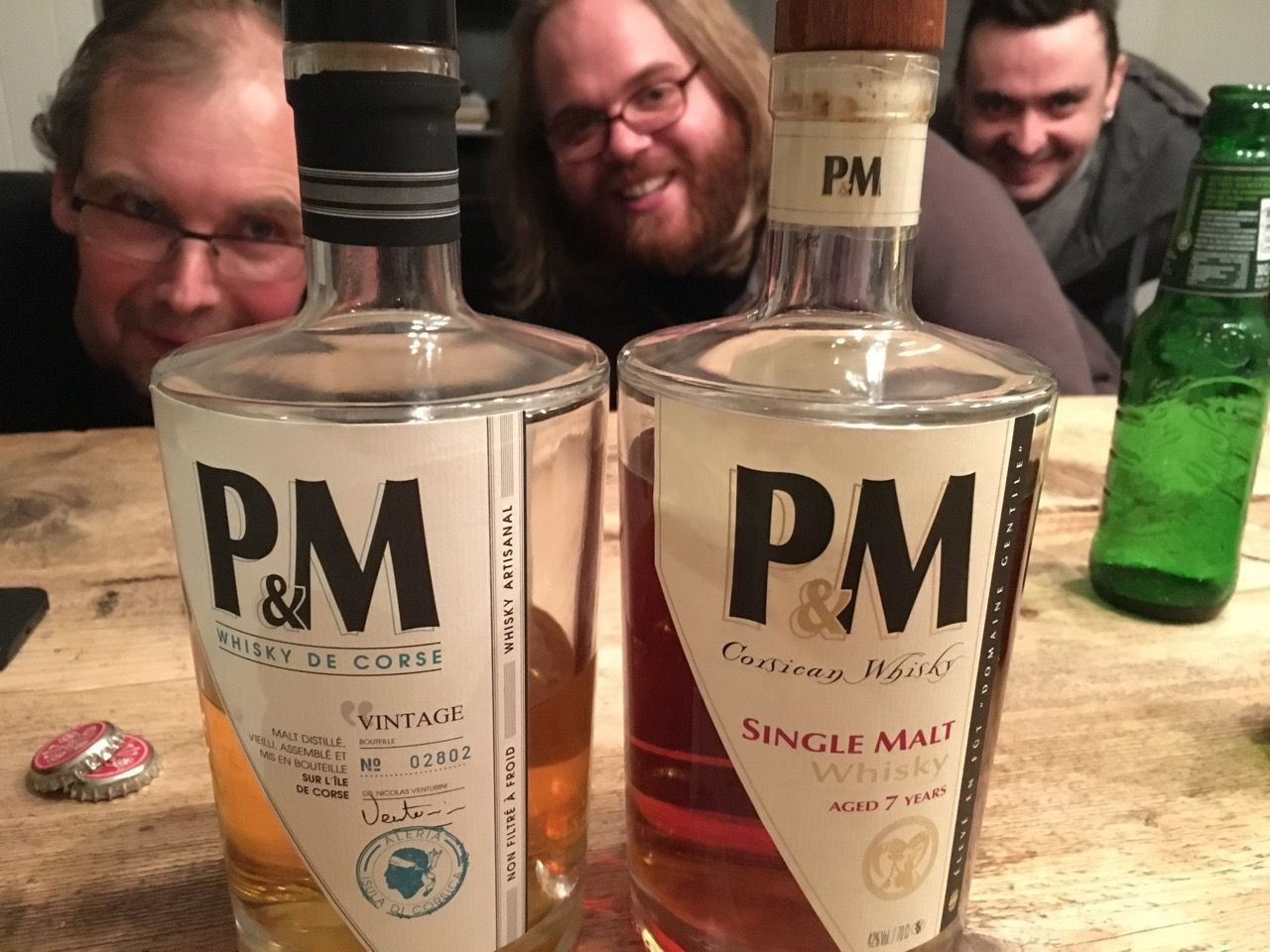 Anko (L) and Corsican Whiskey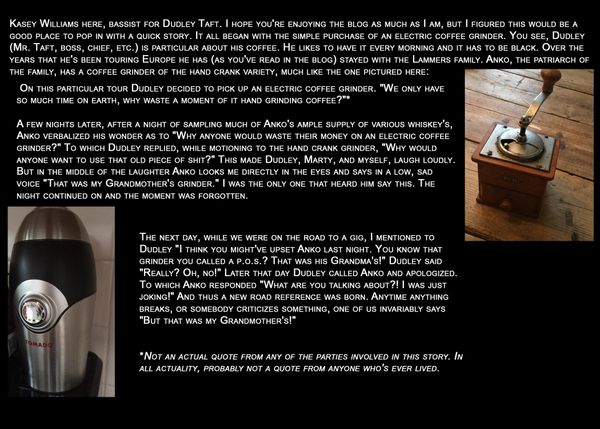 After a few days of practice and fun with the Lammers, we headed out to Belgium to play a show in Stekene, which was close to a town called Sint Niklaas, where we stayed. Pulling up to the venue, I had the feeling it was going to be grim; we were driving around a light industrial area with no street scene or walk-by traffic. Oh boy.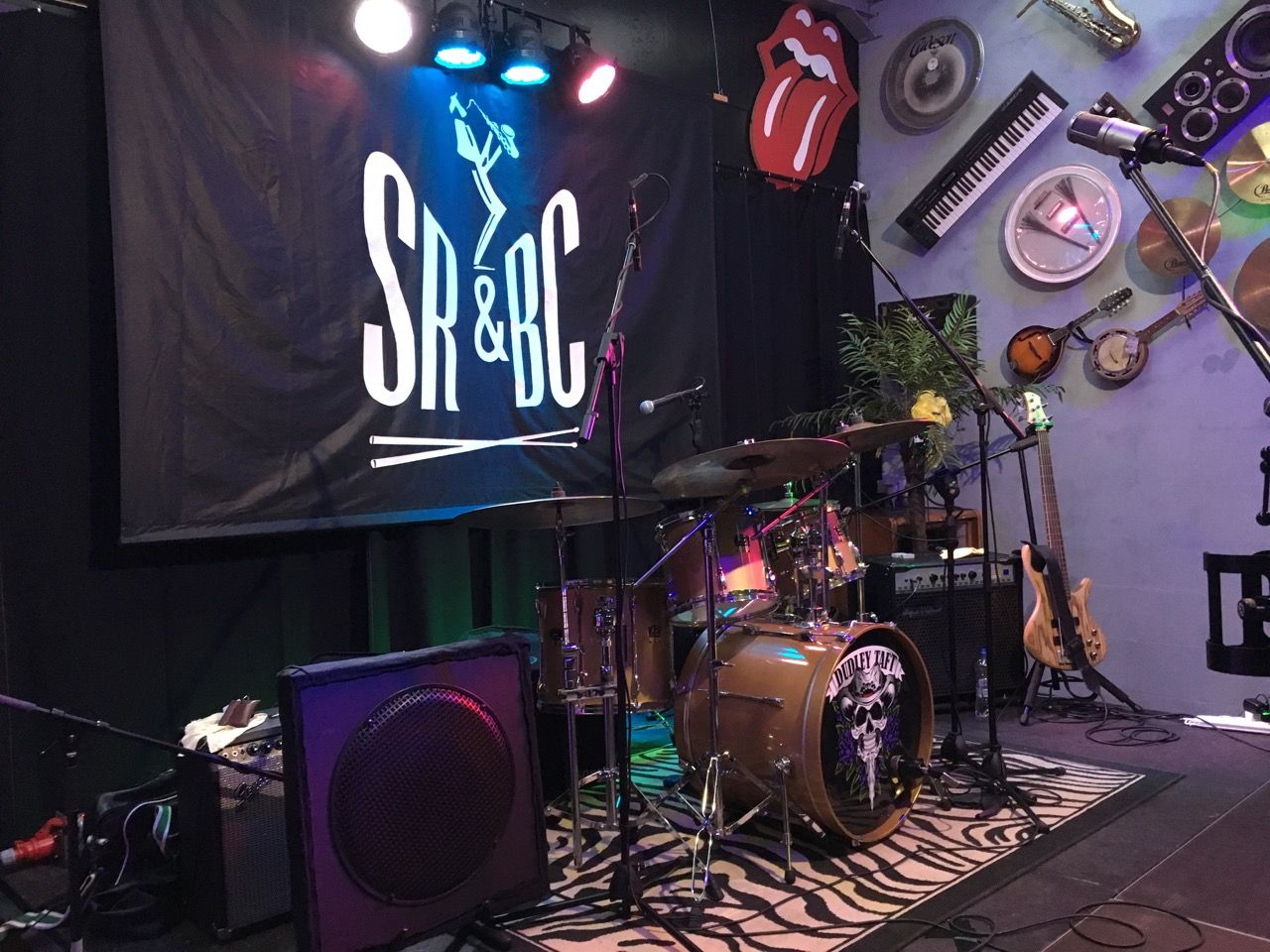 Stekene - Willy's Place SRBC - Belgium
But it turned out to be a great gig. It is one of those 'destination' venues where blues rock fans go to get their fix. Well, we were happy to give it to them! The organizers liked us so much he wants us to play a festival nearby in 2019.
The sun was out with a vengeance now and everyone was out in it! Our next two shows were a short drive to the north - Waalwijk (wall-why-ke) and Tilburg.
The Saturday night show in Waalwijk was better attended - the stage was closer to the front door where people were congregating outside. We played there last year, and the owner, Jeroen, was a cool guy and took great care of us.
The first two songs of the second set - "Dark Blue Star" and "Pistols at Ten Paces"
We had a few weekdays off, so we arranged to head to La Chapelle Montligeon, a small town west of Paris to record a few new song demos at the studio of Nicolas Bellanger, bassist for the Manu Lanvin Devil Blues Band. Nicolas has a nice old farmhouse outfitted with a fantastic recording studio, and we got right to work. Setup was easy - he had all the microphones ready and a drum kit set up. There were tons of guitar and bass amps around as well.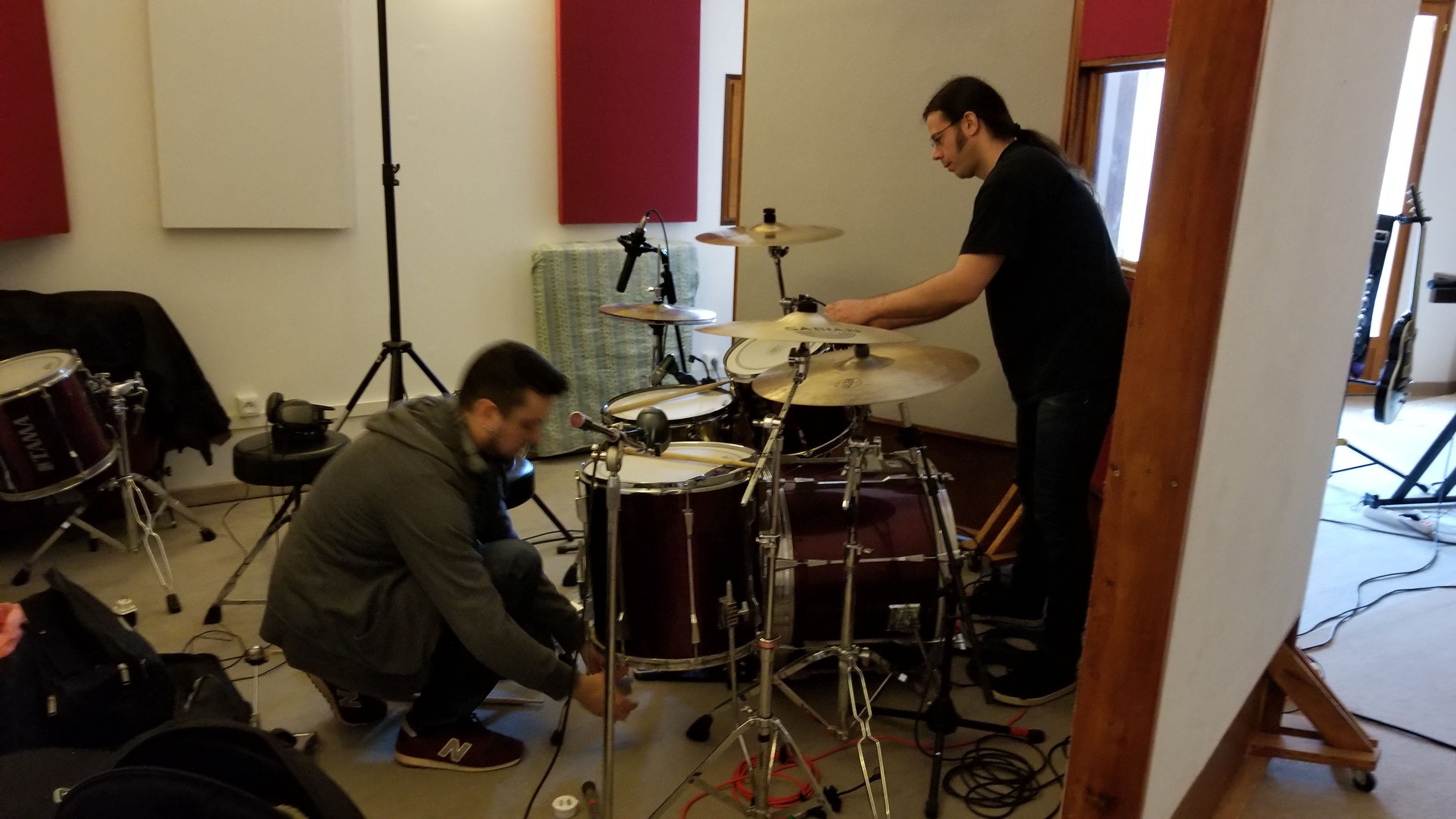 Nicolas and Marty setting up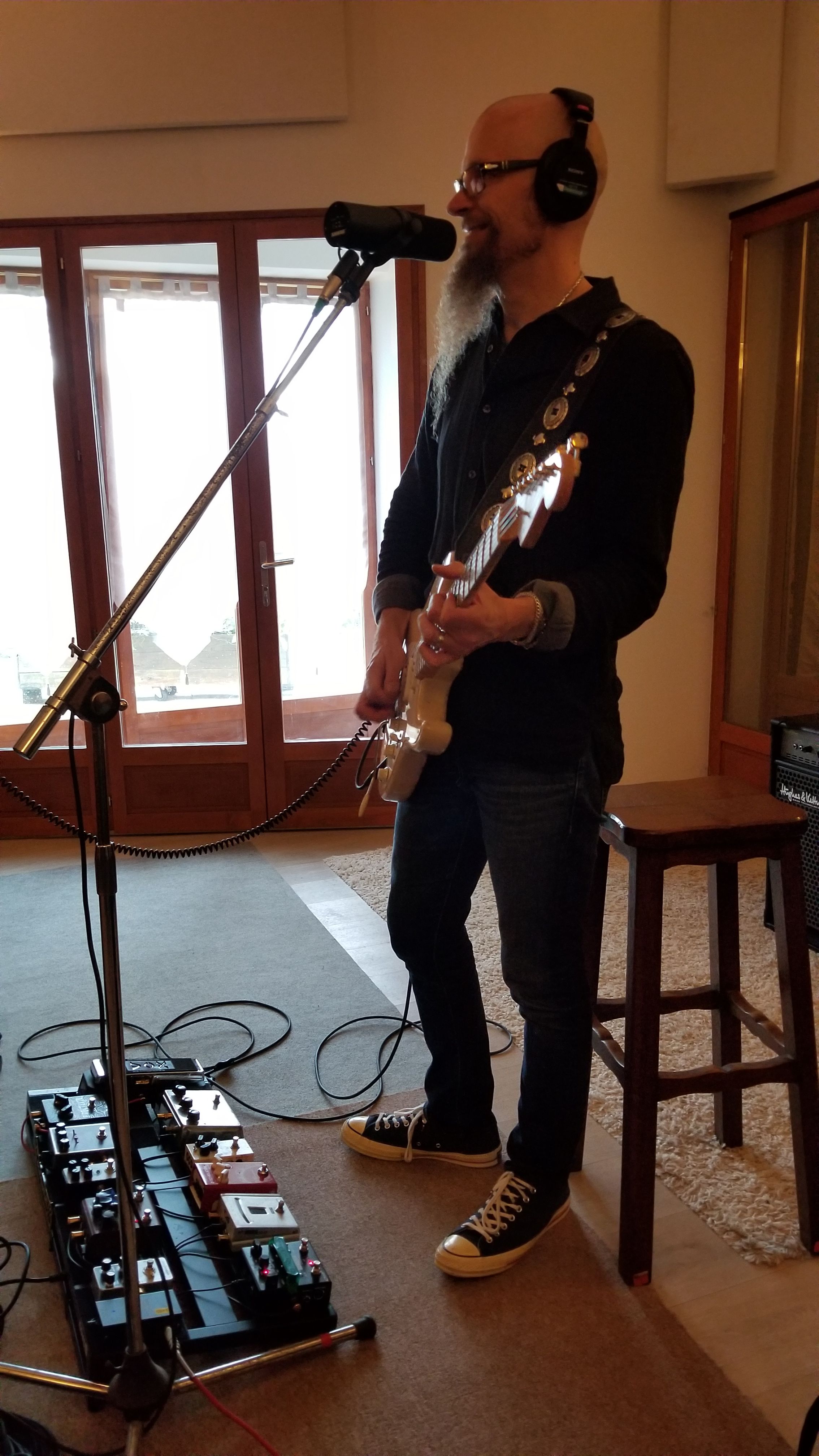 Laying down the new songs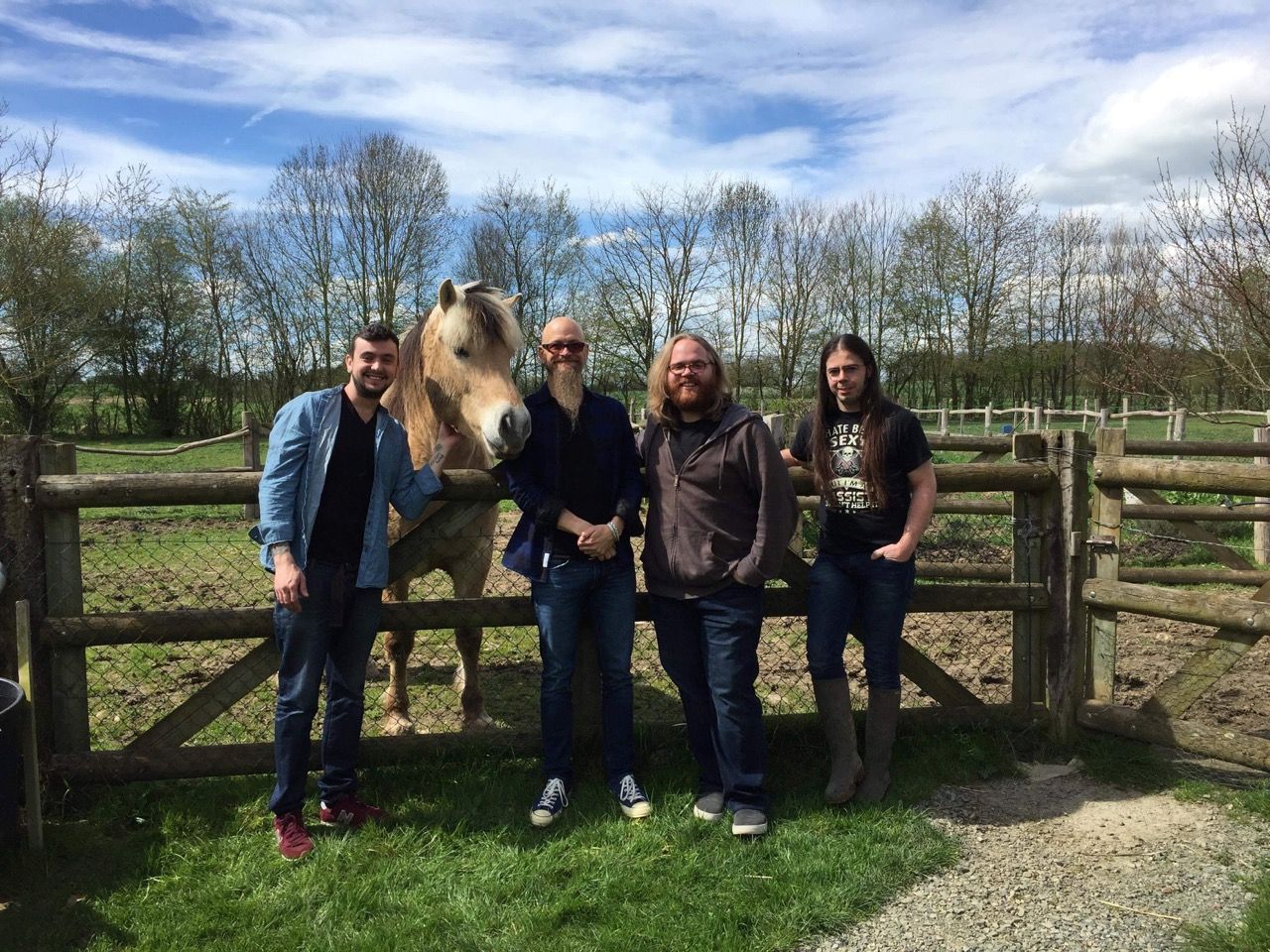 Hanging out with Carl, the horse. L to R: Marty, Carl, Me, Kasey, Nicolas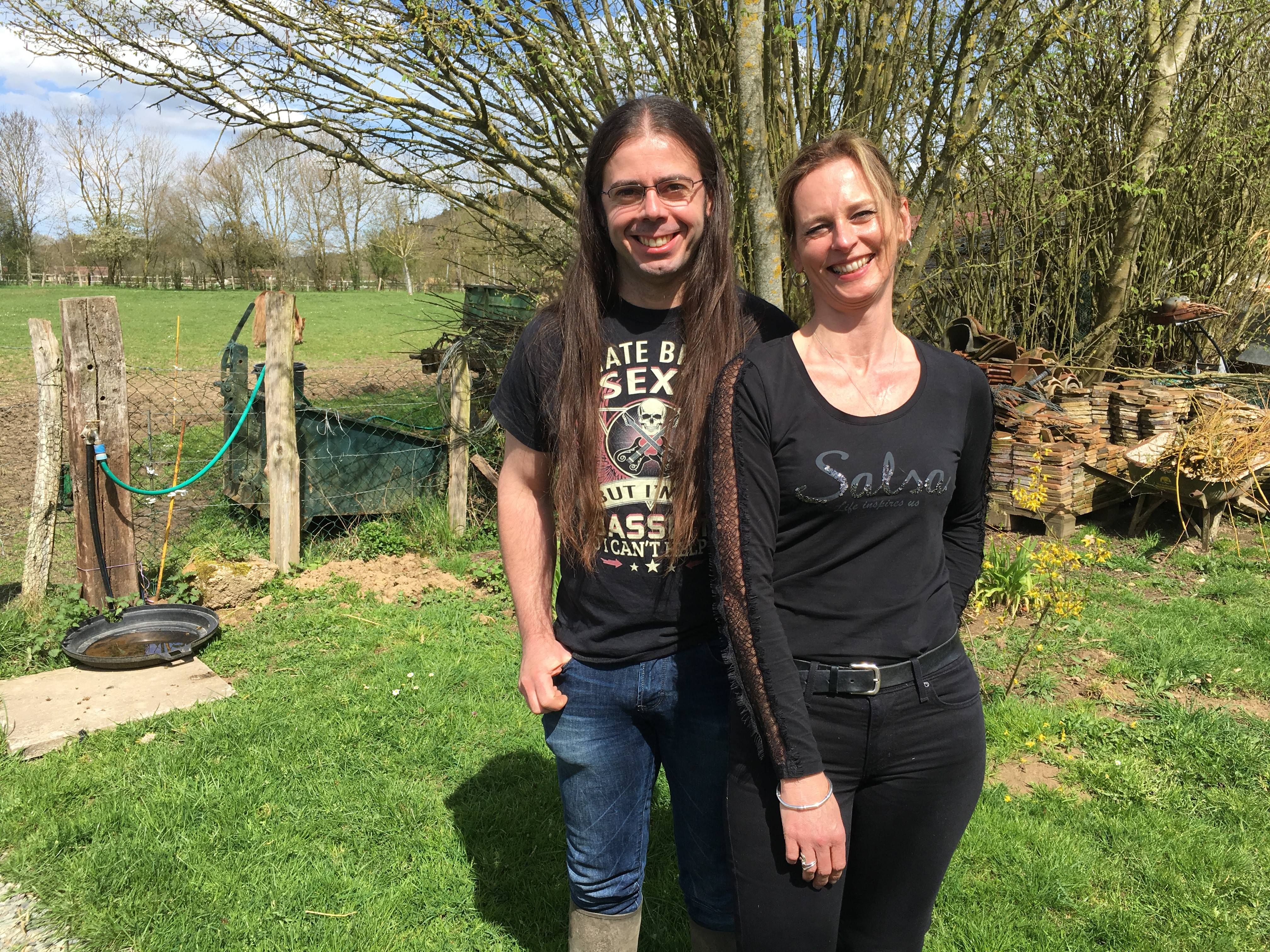 Nicolas and Lawrence took great care of us in Montligeon!
We worked from late morning through dinnertime, and had some fantastic French food out there. A big thanks to Nicolas and Lawrence for their hospitality.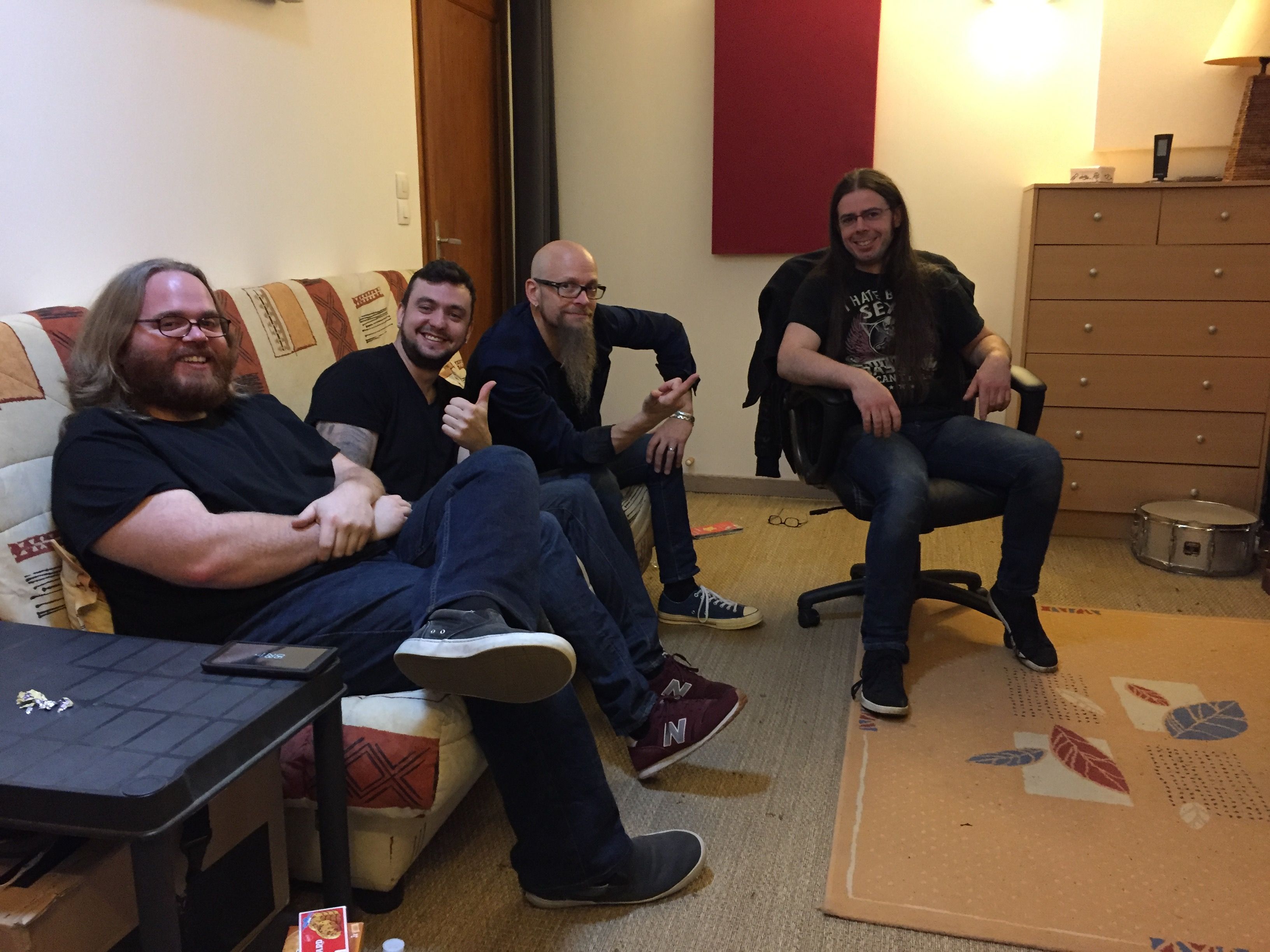 Studio boys, Montligeon
With the demo files loaded onto a hard drive, we left for our weekend of gigs, starting in Oberhausen, Germany. We rolled in the night before and had plenty of time to get ready. The club in Oberhausen was called Gdanska, after the Polish port city. It is owned and operated by a Polish couple who were surprised to hear me speak a few words to them in their language, hahaha. This gig was one of the more memorable ones from the tour for several reasons. First, the venue was interesting, with an eclectic hodgepodge of decor, including a painting of their dog: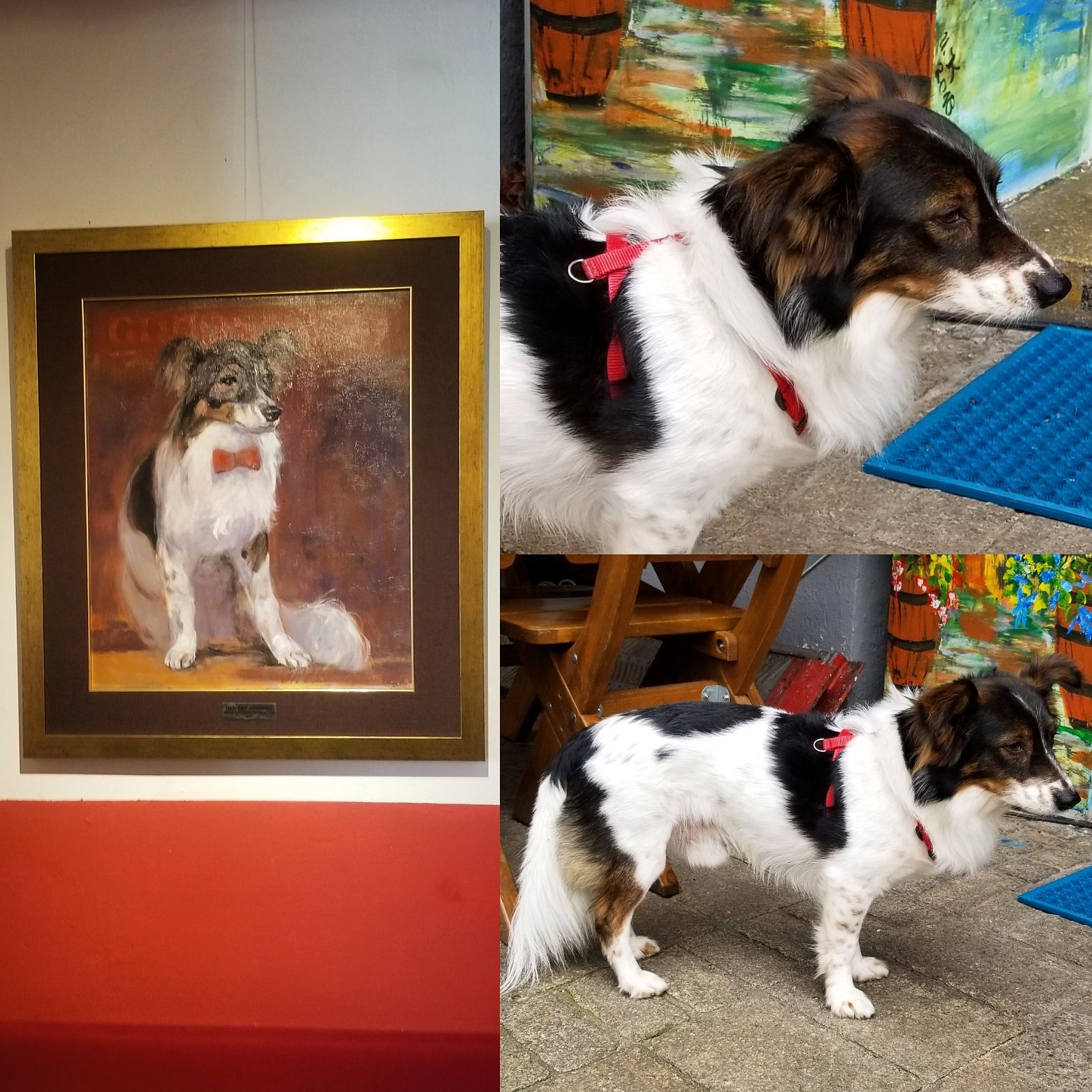 Gdanska doggie
Another thing about the gig; it was one of the German shows where we were hoping for a good review to help us find a better German booking agency. My current agent did very little to get us gigs (incredible, huh?). We metv a guy named Sven who said he was a jazz critic. I wasn't sure if he was there to review the show or not. I think our brand of Blues Rock might be a bit lumbering and flashy to a jazz lover! Before we started, I was introduced to another reviewer, Frank Ipach who gave me a grave 'hello.' Oh boy.
Also, the promoter guy said he had only sold about 20 tickets in advance, so I was worried that there would be a poor turnout. I guess that's a natural feeling for any band! But somehow the Germans figure out where we are playing and show up in droves, as they did that night. The small venue quickly filled up, and after the first song I could tell we had an enthusiastic audience. About 10 days later my publicist (great German guy named Dirk Osterhaus) sent me two excellent reviews from the show! 
Our next stop was the town of Raalte in the Netherlands. This is the home of a big festival called Ribs and Blues, which I would like to play sometime soon... We played at Taverne Tivoli which is a fantastic place - great food, nice relaxed atmosphere and right next to the American Motorcycle Museum, home to hundreds of old Harleys. After sound check, we were allowed into the museum to take a look.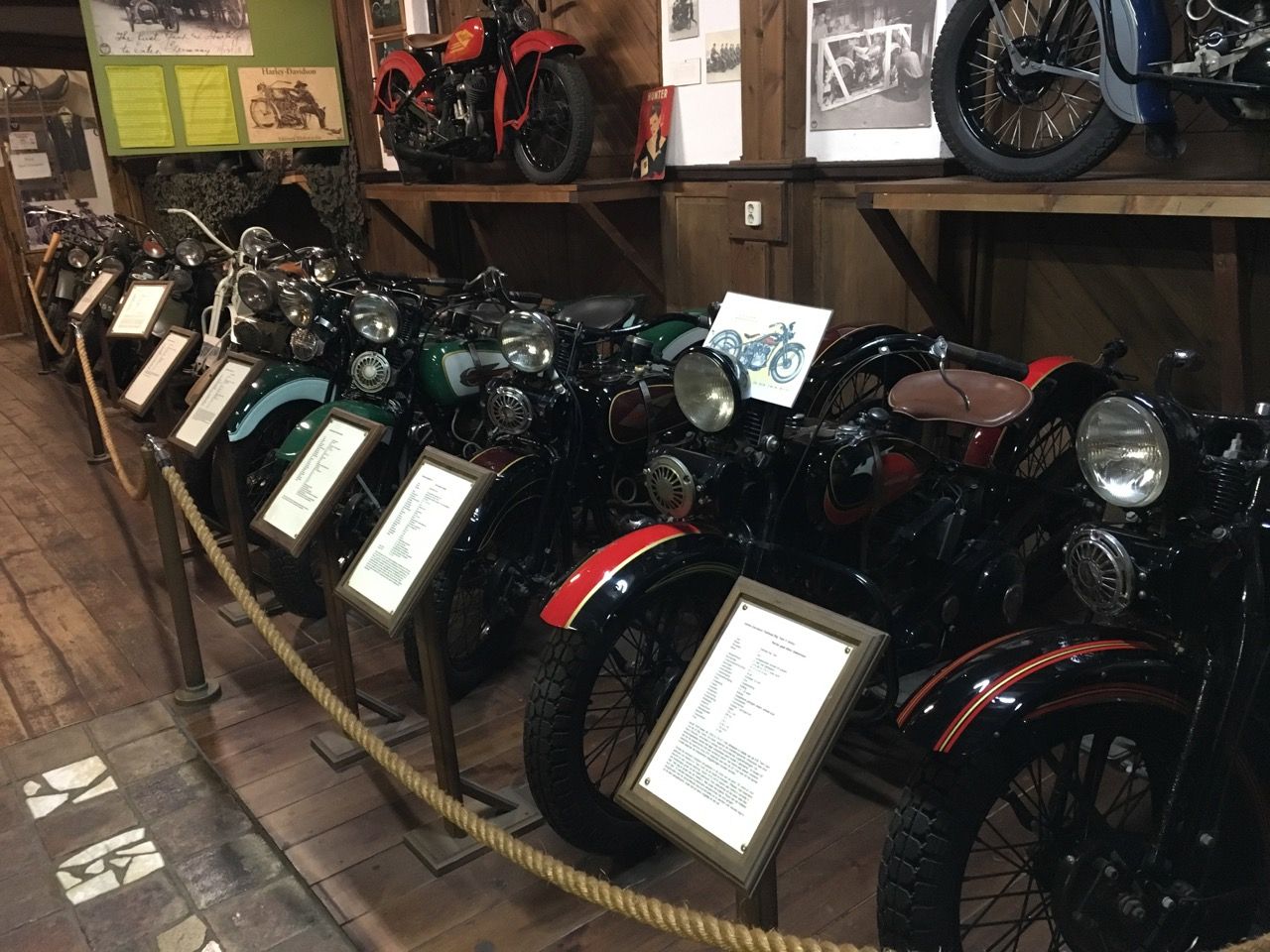 American Motorcycle Museum - Raalte, NL
I hurt my back loading gear and was really struggling on that gig not to do anything to make it worse. Wearing a guitar when your back is enflamed is tough. One bad move and you might have to get horizontal for a few days. But somehow the Dutch beer kicked in and I made it through. That night I discovered a great way to position my guitar amps. I use a Tonehunter TNT head and 2 x 12 cabinet and a 1967 Fender Vibroluxe Reverb. Placing them side-by-side works well if on a large, wide stage. When the stage is not so wide, what do you do? I put the Fender behind the Tonehunter cab this night and discovered absolutely freaking killer tone! The Fender is loud - and you can't really turn it down, as the volume knob works more like a gain knob. If you set the volume on 2 or 3, it sounds terrible. So I put it behind the 2 x 12 cabinet so it could blast away but not directly aim at anyone. The sound bounced all around and complemented the TNT head well! I was so happy to discover this. Check out the video below - we were having a great time, and I was in guitar heaven.
"Going Down" live in Raalte
I guess the third time is the charm. We headed back to Anko territory to the town of Eibergen to play outside of Café de Stier. They close the town for a long weekend twice a year, and we played the last two holidays. We had a better spot - headlining on Sunday (the festival runs through Monday) and had a decent crowd. I recognized a bunch of the crowd from the previous gigs there, like this crazy guy: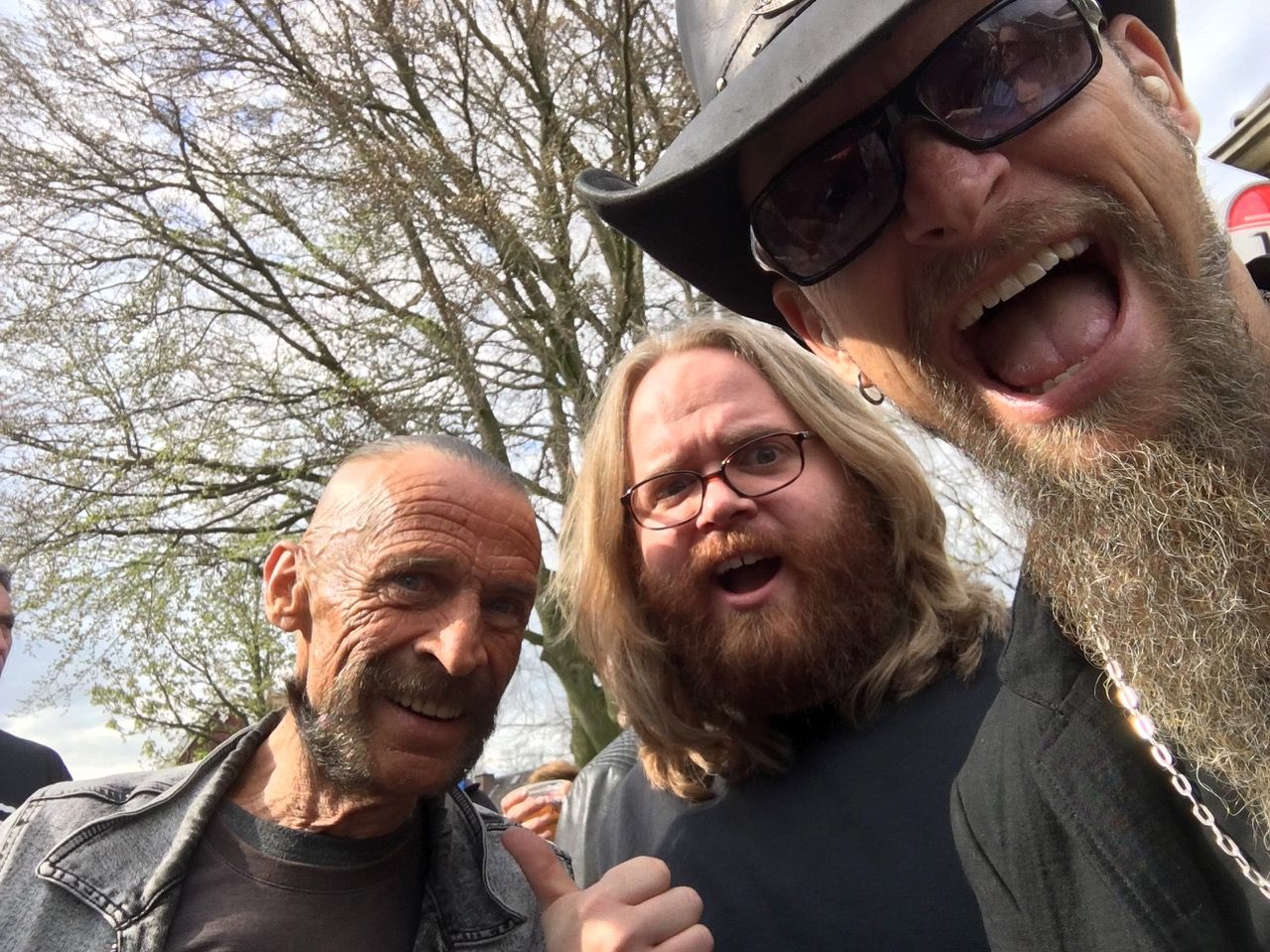 L - R: Crazy Eibergen dude, Kasey, me
The outdoor festivals are cool because younger people end up seeing the show. We made some new fans that day!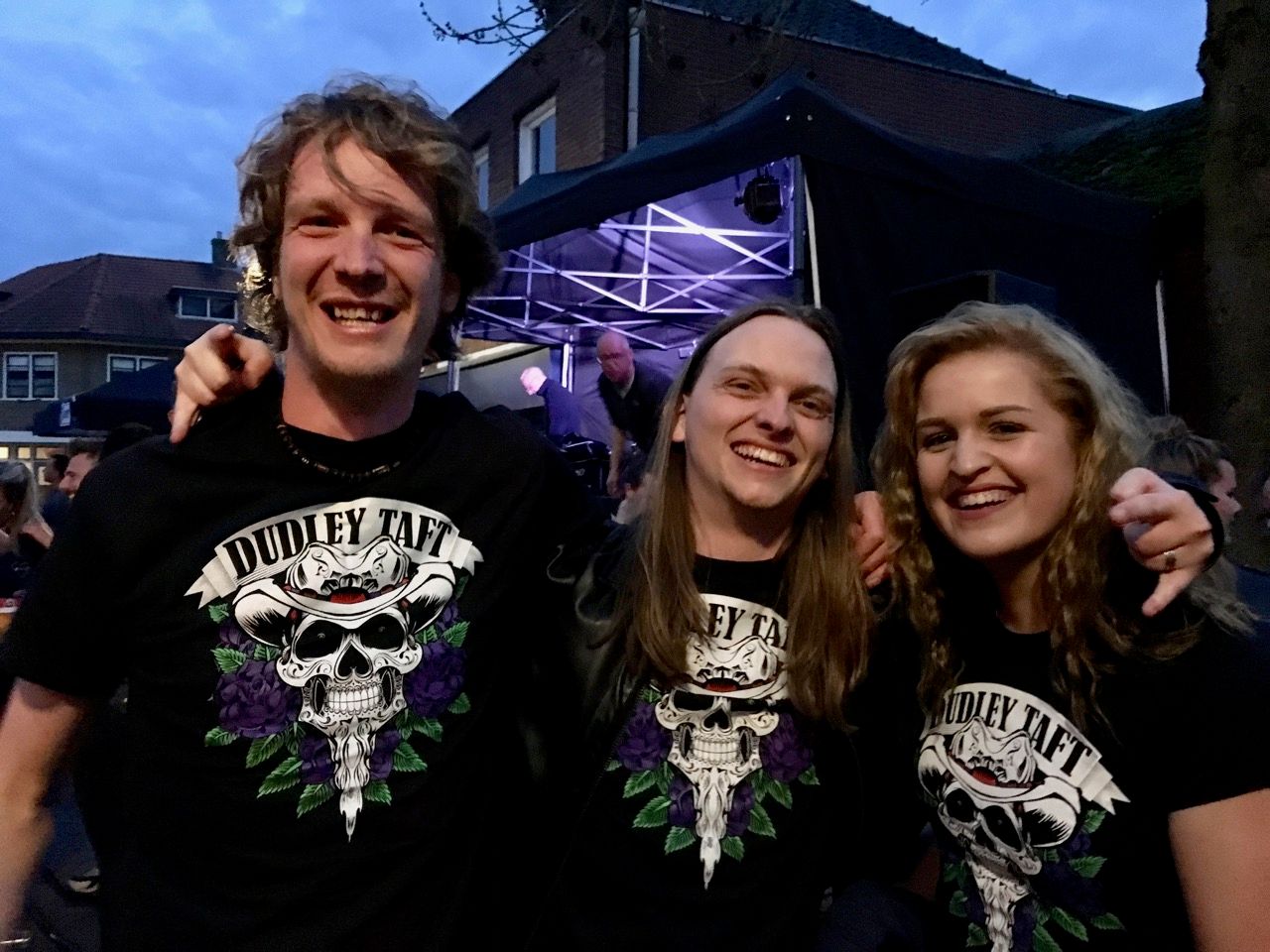 Bringing blues rock to the younger generation in Eibergen, NL
Our next show was one I had been really looking forward to as we had never played Austria before. I quite enjoy southern Germany so I was hoping that Austria would be just as interesting, and it was. We had a couple of days off, so Marty flew back to Ireland to see his girlfriend and Kasey and I drove to Munich. Munich was on the way, and I had never been there before. My back was still bothering me and walking was the ticket to relief (and beer helped too). Kasey and I walked all around Munich checking out the old buildings and an art Museum.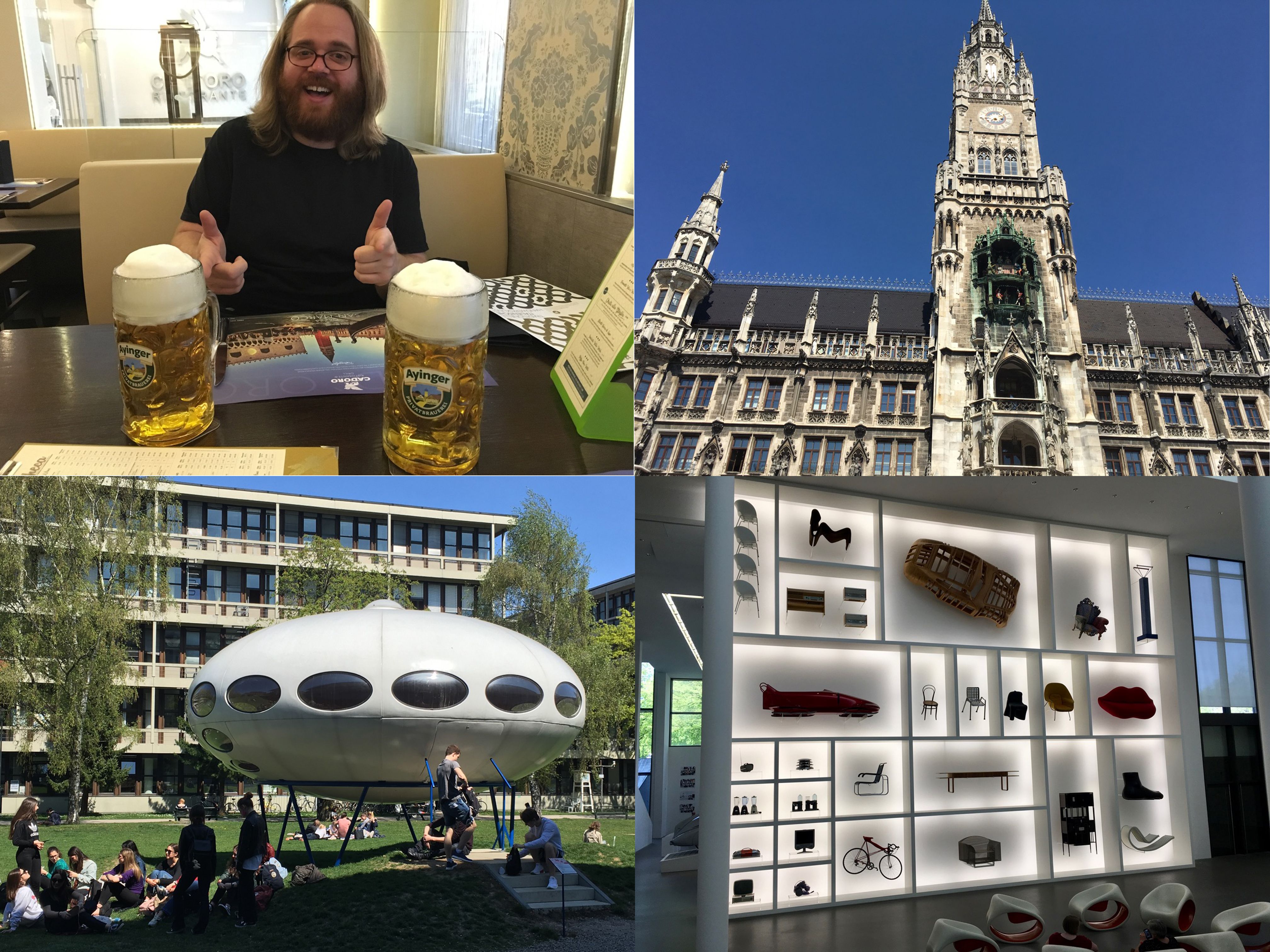 Giant beers, New Town Hall, Pinakothek Modern Art Museum
Thursday morning after Marty arrived from the airport, we headed to Austria, first to be the guests on "Live with Friends," a video show like "Live at Dary'ls House" in a town called Veit an der Glan, near our Friday gig in Velden am Worthsee. The weather was fantastic, which made for a beautiful drive through the mountains and tunnels of Austria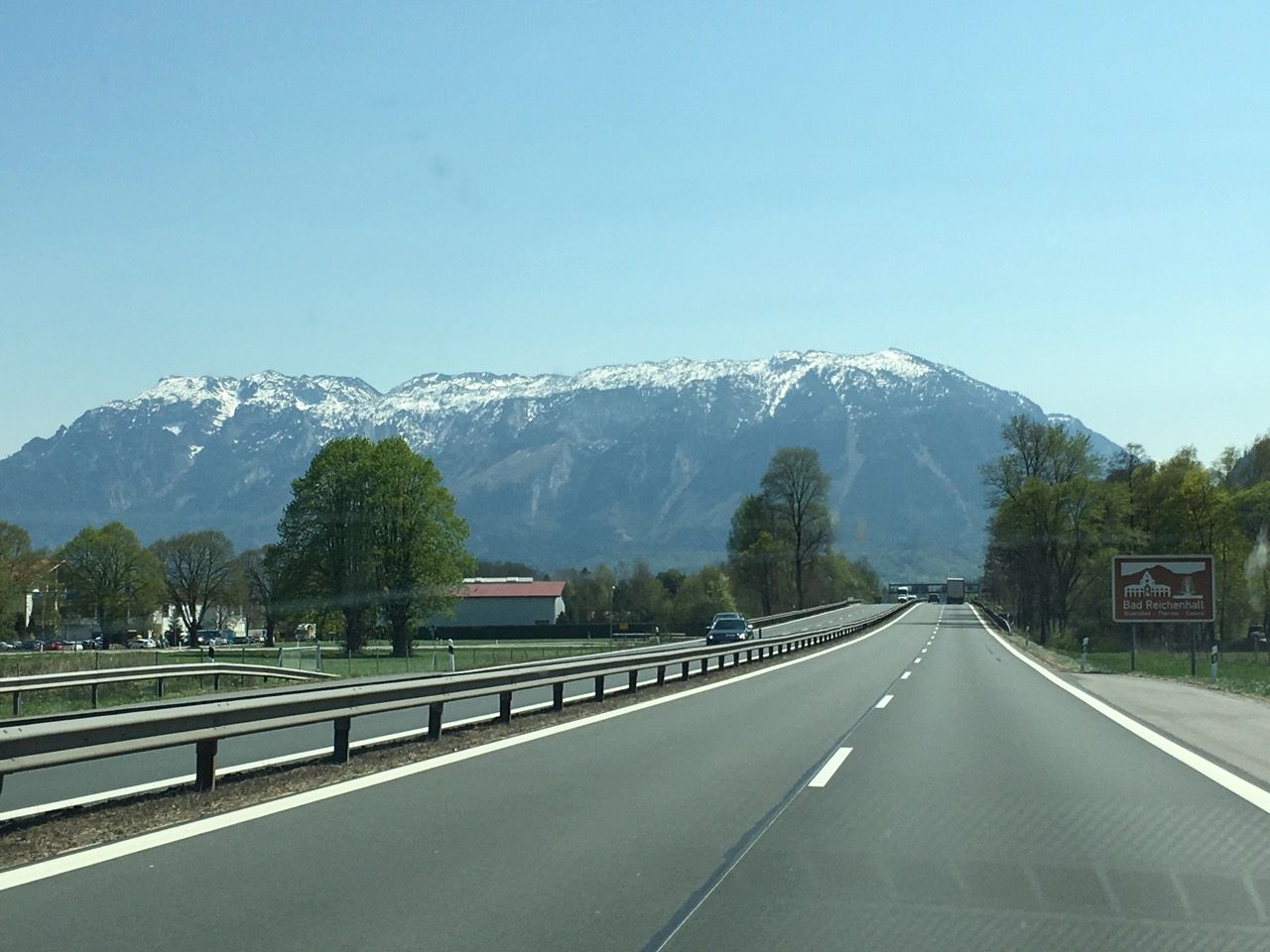 Driving to Austria
The "Live with Friends" guys put us up in a nice hotel in Viet, which strangely featured lots of Kevin Costner pictures (I guess the hotel owner is proud of the association). Peter Prammerdorfer and his friends learned three of my songs, and I played on one of theirs. They shoot with multiple cameras and post the videos on their YouTube page.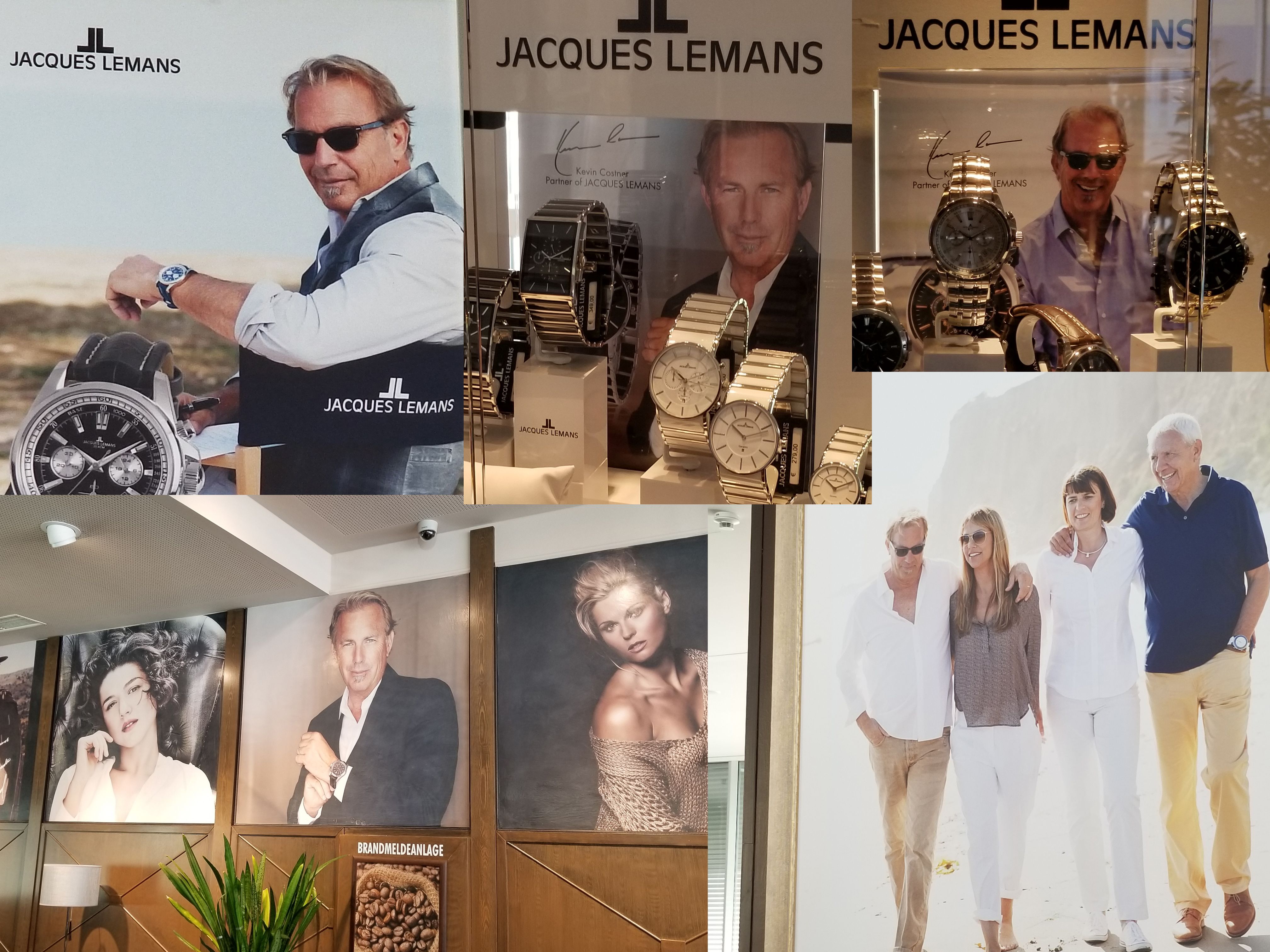 Somebody loves Kevin Costner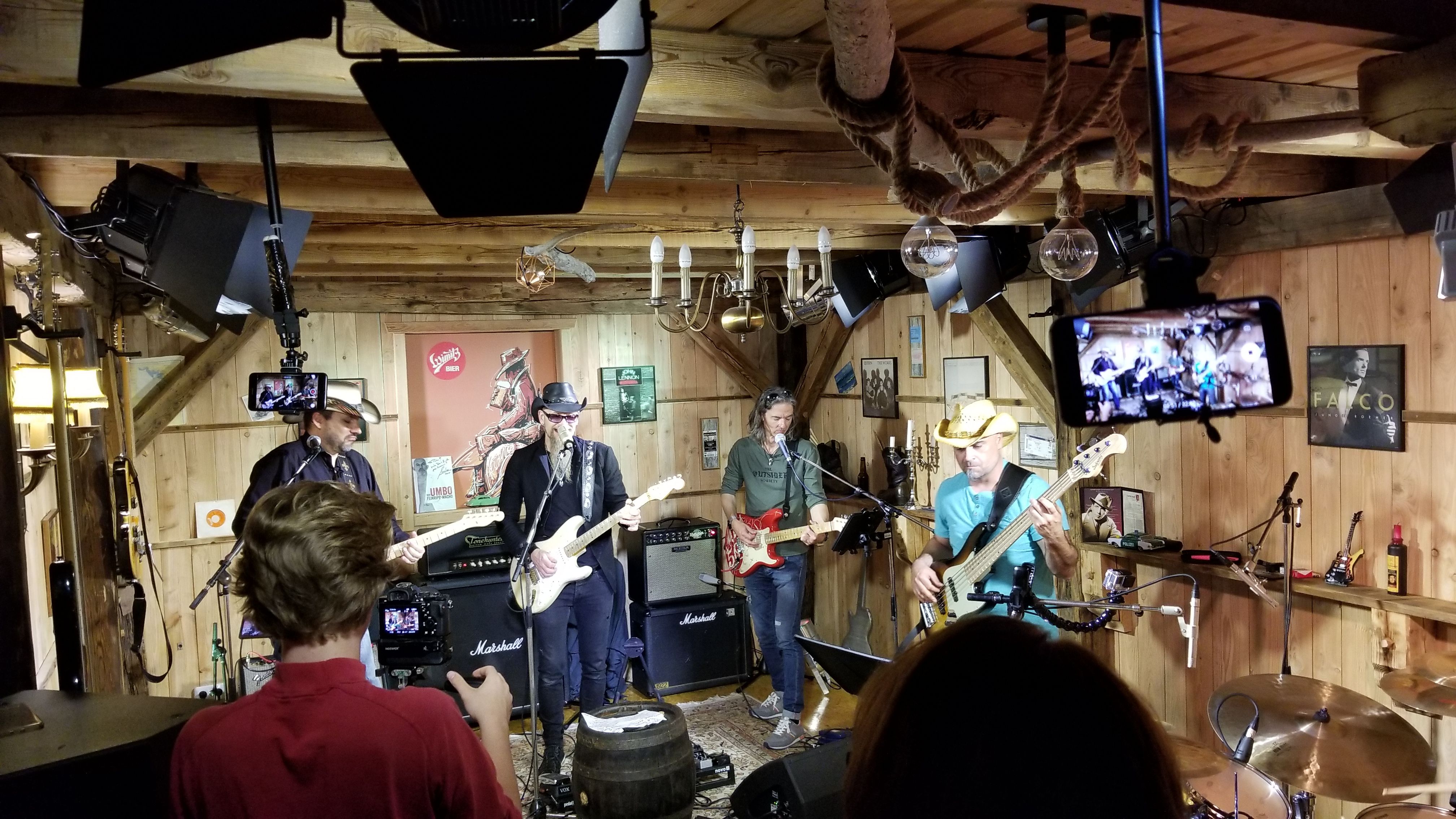 "Live With Friends" show 
Friday morning we only had a 30 minute drive to Velden for our show at Bluesiana. Velden is a nice little holiday town on a lake with some nice hotels and a casino. Mercedes, BMW's, Jaguars and Porsches were in great quantity as were high-end Harleys and leather motorcycle gear. The shops in the town had very upscale clothing and decor items. It was a perfect day to walk around - sunny and 75º.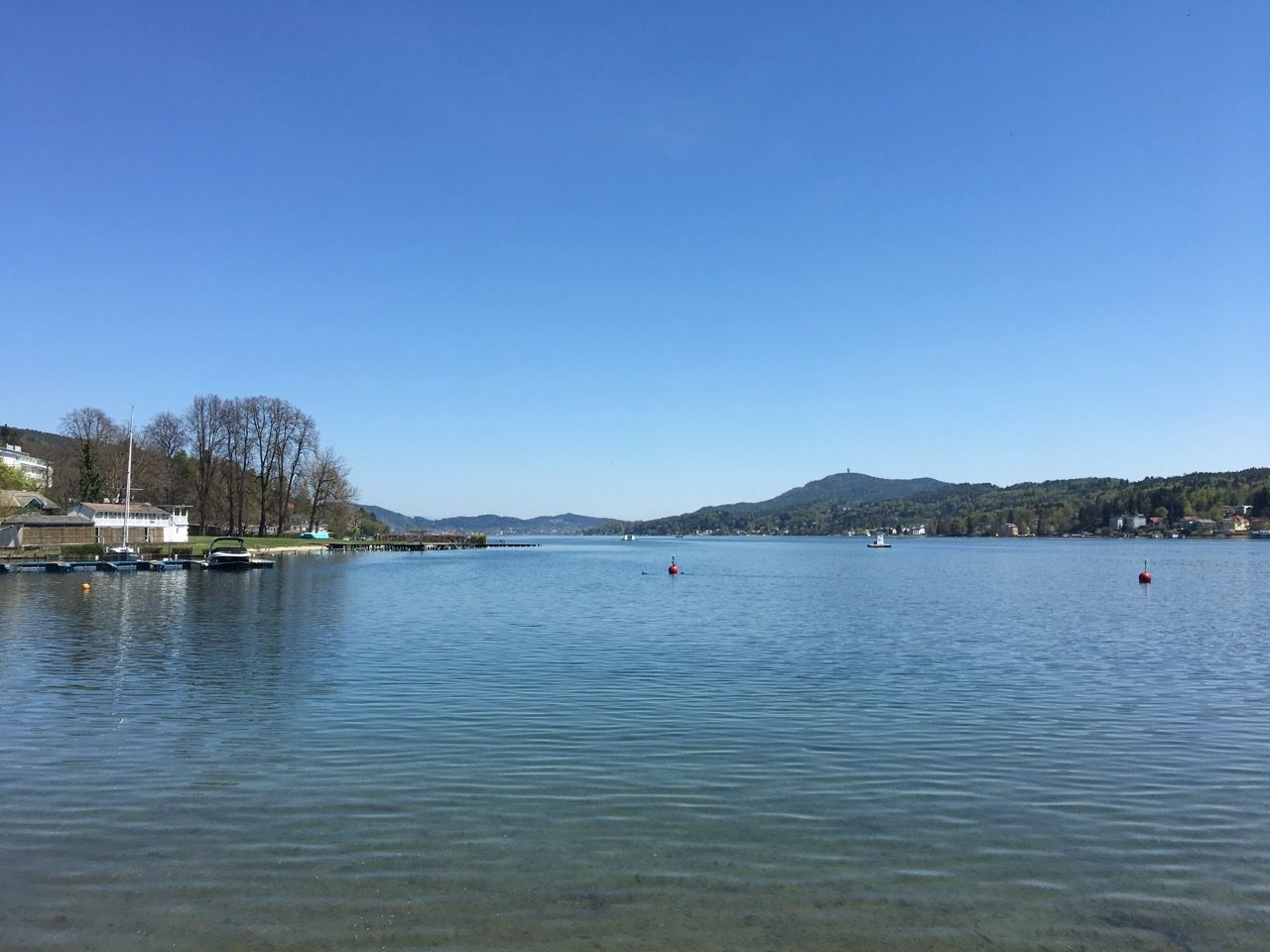 Velden am Wörthersee, Austria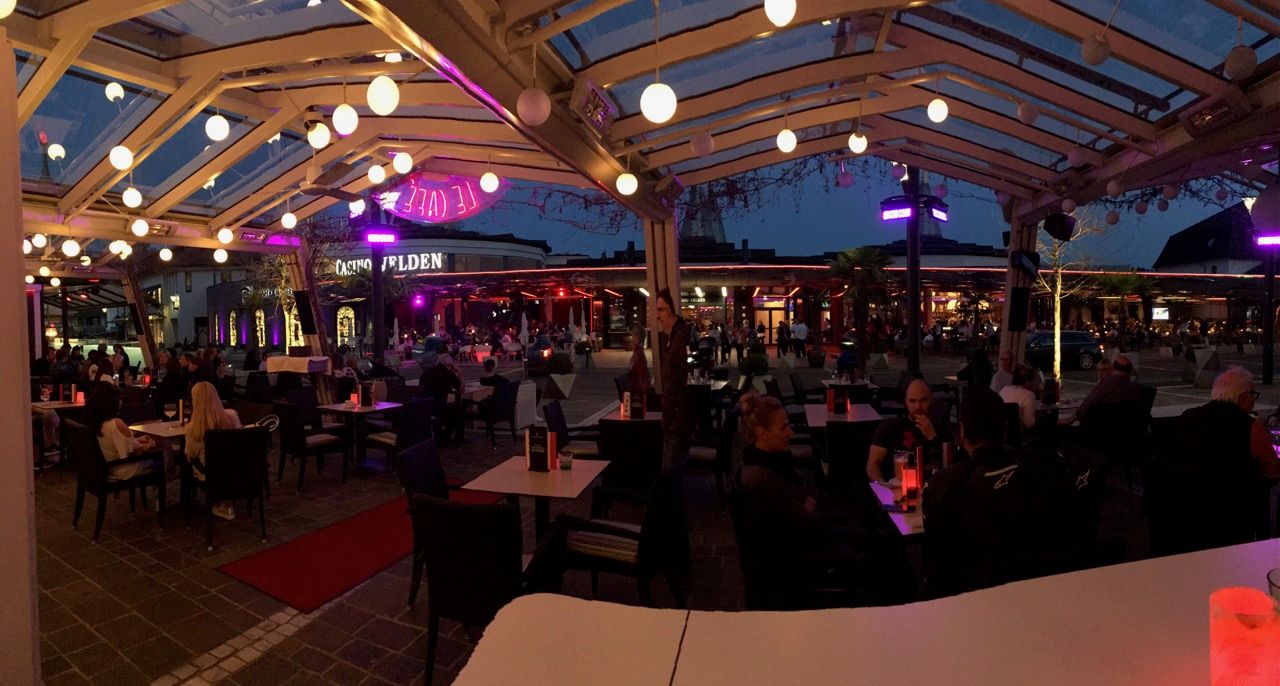 Nightlife in Velden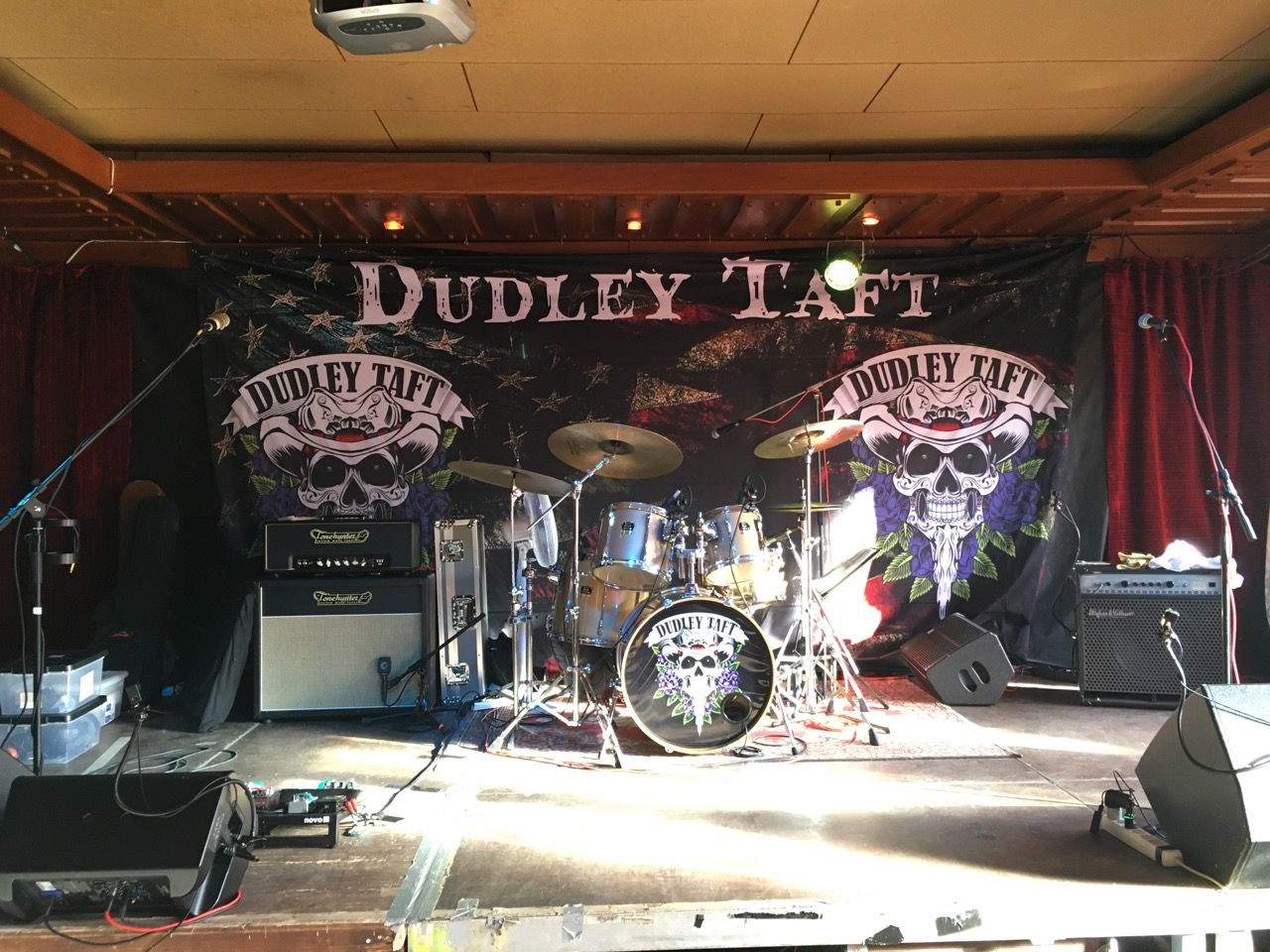 Our stage setup in Velden at Bluesiana
"Lonesome Memphis Blues" live at Bluesiana Rock Café in Velden am Wörthersee, Austria
We were a bit sad to leave Austria after this fantastic, but short visit. The drive back north into Germany was just as spectacular. The sun was shining bright as we weaved our way through the mountains and tunnels. On Monday, we would start a seven day gig schedule, so we relaxed in Nuremburg for a couple of nights. None of us had ever been there and the weather was perfect for walking around the town. Around since the middle ages, Nuremburg sits on the river Pegnitz and has a population of about half a million people. 90% of it was destroyed by allied bombing in World War II, but later rebuilt, including the wall that surrounds it. It certainly is picturesque and was a great place to spend a couple of nights.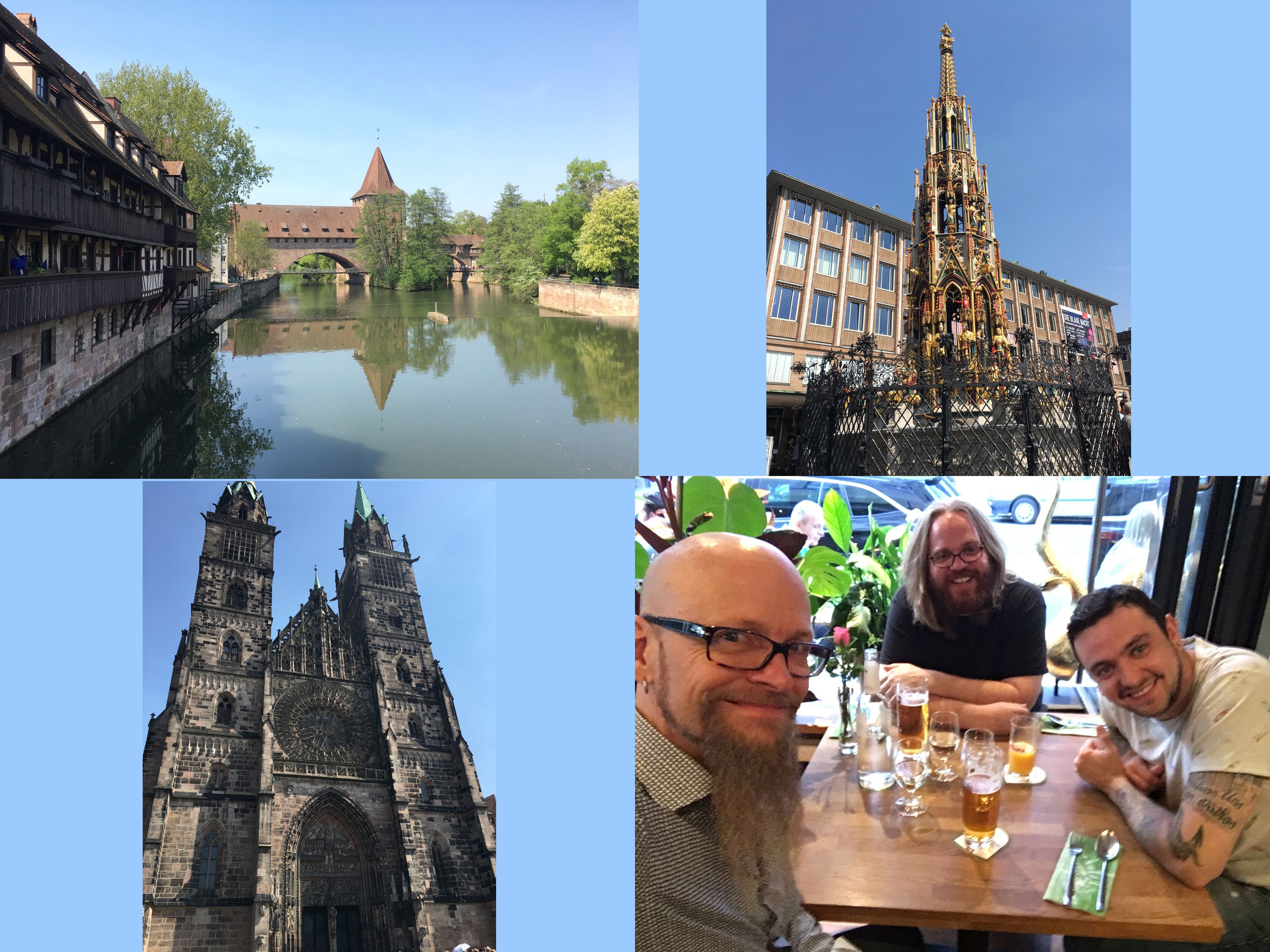 Relaxing in Nuremburg
Don't try to go shopping there on Sunday because EVERYTHING IS CLOSED except for restaurants. It was pretty warm and I didn't bring any shorts. We all bought a pair in Velden, but mine didn't fit well and I thought I could snag another pair and get some white socks. No dice. 
We drove less than an hour to our next gig in Bamberg, a small college town 60 kilometers to the north. Our gig that night was interesting; we played two sets, the first one attended by our regular demographic (40 and up) and the second one to an additional crowd of college students who were there for the half-price drinks and the DJ that started after we finished.  
Tuesday morning we rolled into Cologne for a show/interview at a small theater. "Talkin' Blues" is a show hosted by Vincent Abbate (who also writes for Rocks magazine) and Richard Bargel, a folk/blues guitarist. They had a backing band that played a few songs first, then I did a ten minute interview (speaking slowly for the German audience) followed by four songs by us. Then there was an intermission, then another short interview followed by some songs by Richard Bargel, a few more by us then both bands participated in playing Freddie King's "Going Down," which was cool - two drummers, two bassists, etc. That was fun.
Full interview/show at the Urania Theater in Köln, Germany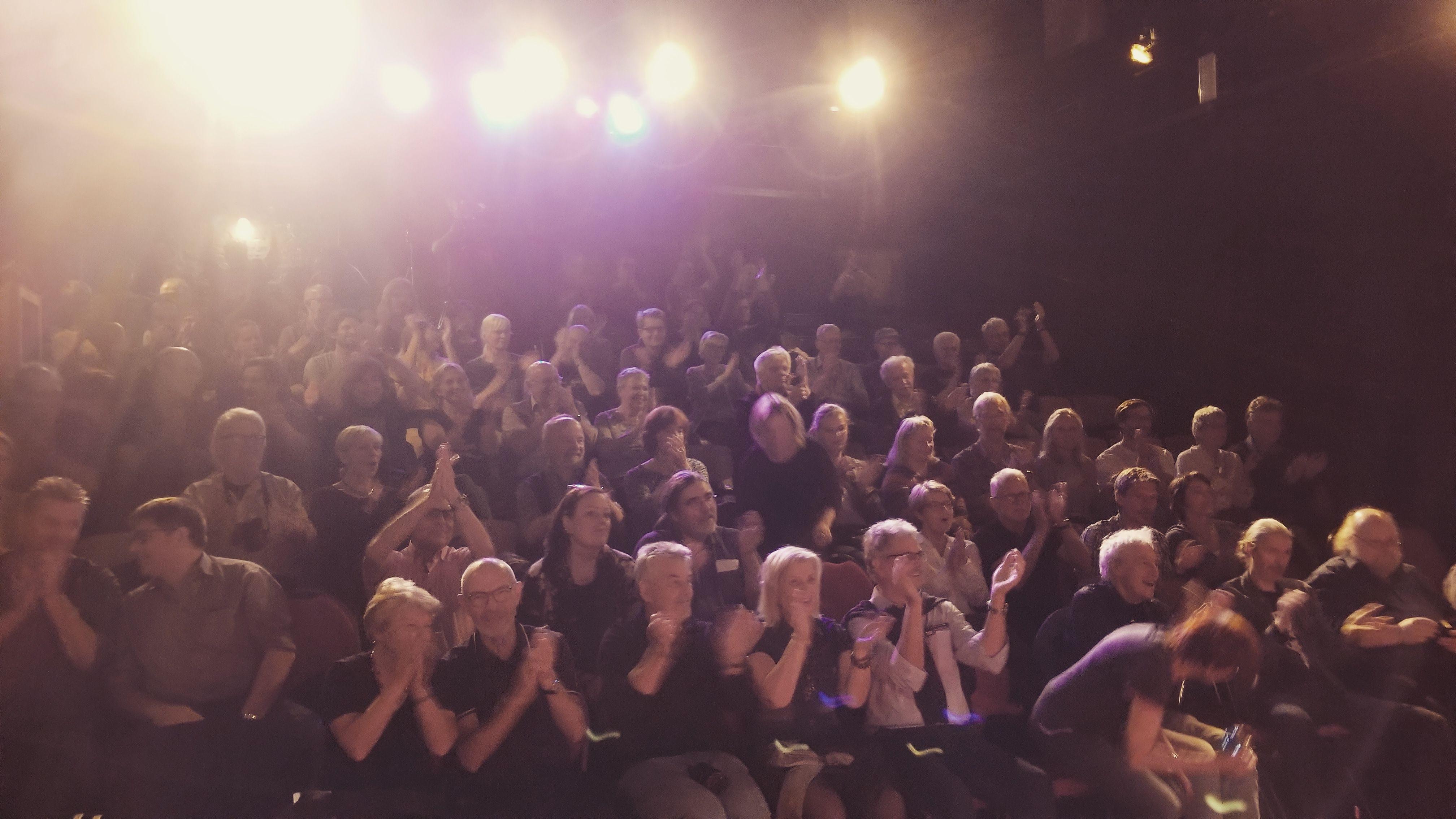 Urania Theater Crowd
Two shows down, five to go in our seven-day-in-a-row run. We headed north to Hamburg to play a bar called Cowboys und Indianer on the Reaperbahn, the area of town known for the Star club where the Beatles honed their act before recording their first album. I wasn't sure what to expect but found the Reaperbahn to be a sleazy part of town filled with brothels, sex toy shops and clubs. We were booked to play Wednesday and Thursday, and it's hard to tell what the crowd will be like on weeknights. We set up right in front of the bar.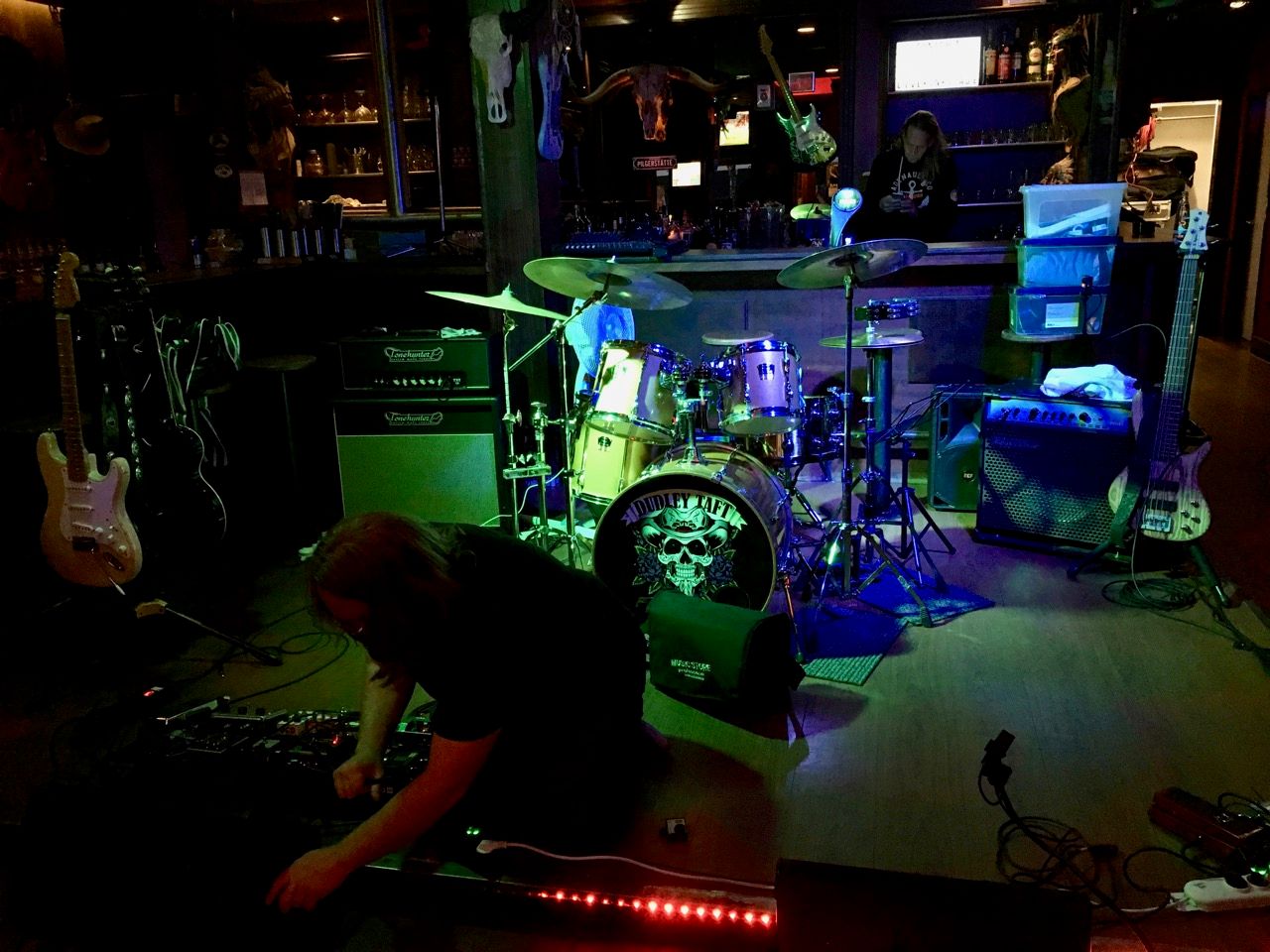 Setting up right in front of the bar at Cowboy und Indianer in Hamburg on the Reaperbahn
The turnout was pretty good for a weeknight, but these gigs were very unpleasant because the owner allowed smoking in there. After the show that night I put my stage clothes in a closet in the hotel room and kept the door closed until I needed to change for Thursday night. It reminded me of the days before smoking bans - how did we all suffer through that?!?! 
I did have a good time in Hamburg though. A college mate of mine, David Zeller, had moved there about 15 years ago and was happy to show me the town. We started at the Elbphilharmonie building where the Hamburg Orchestra plays - on a small strip of land called the Strandkai. The area is still developing so it has some very modern apartment buildings. We checked out the town hall that has a beautiful rathaus, and walked around the surrounding area with its upscale shops.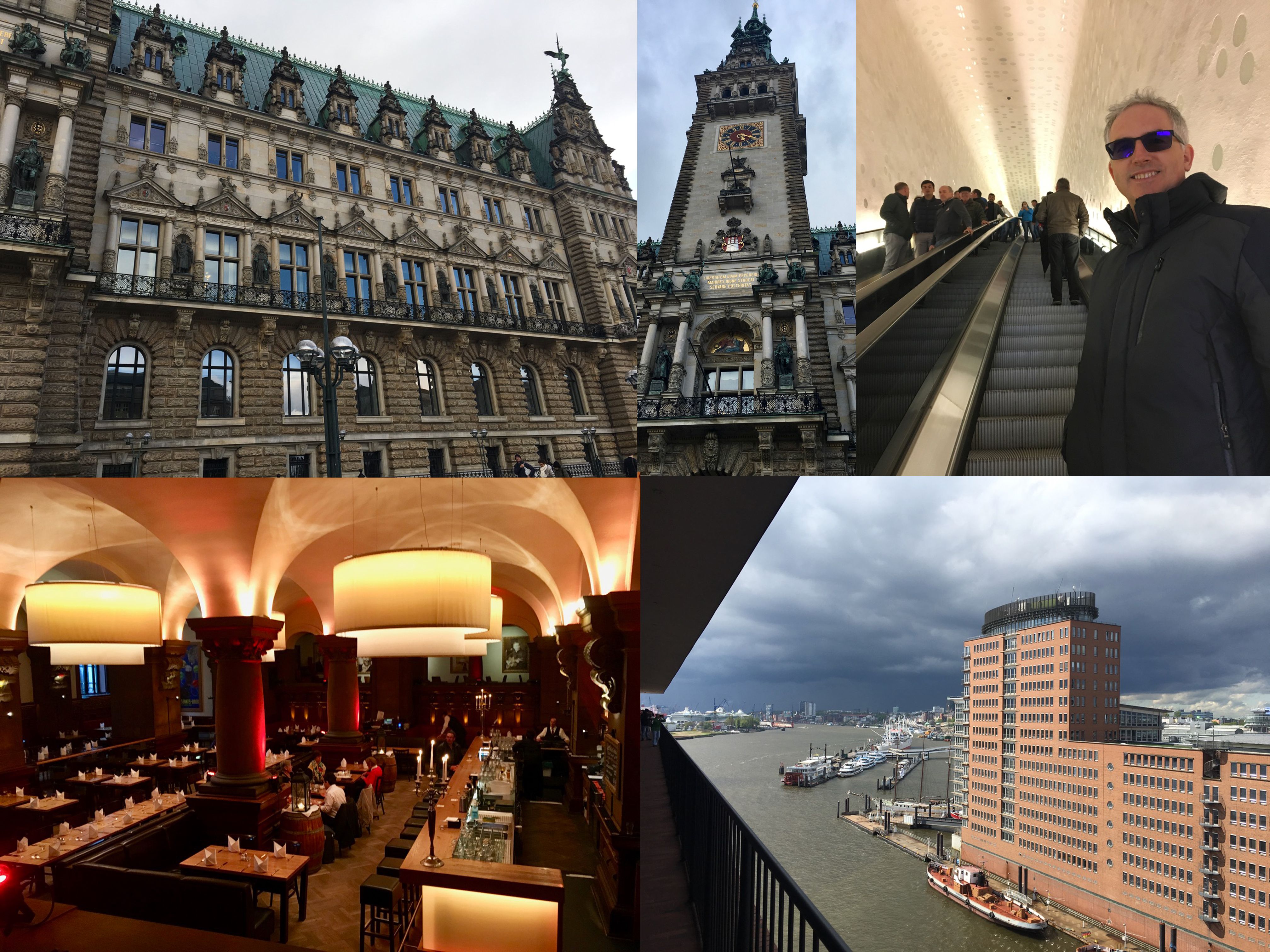 Hamburg, Germany and David Zeller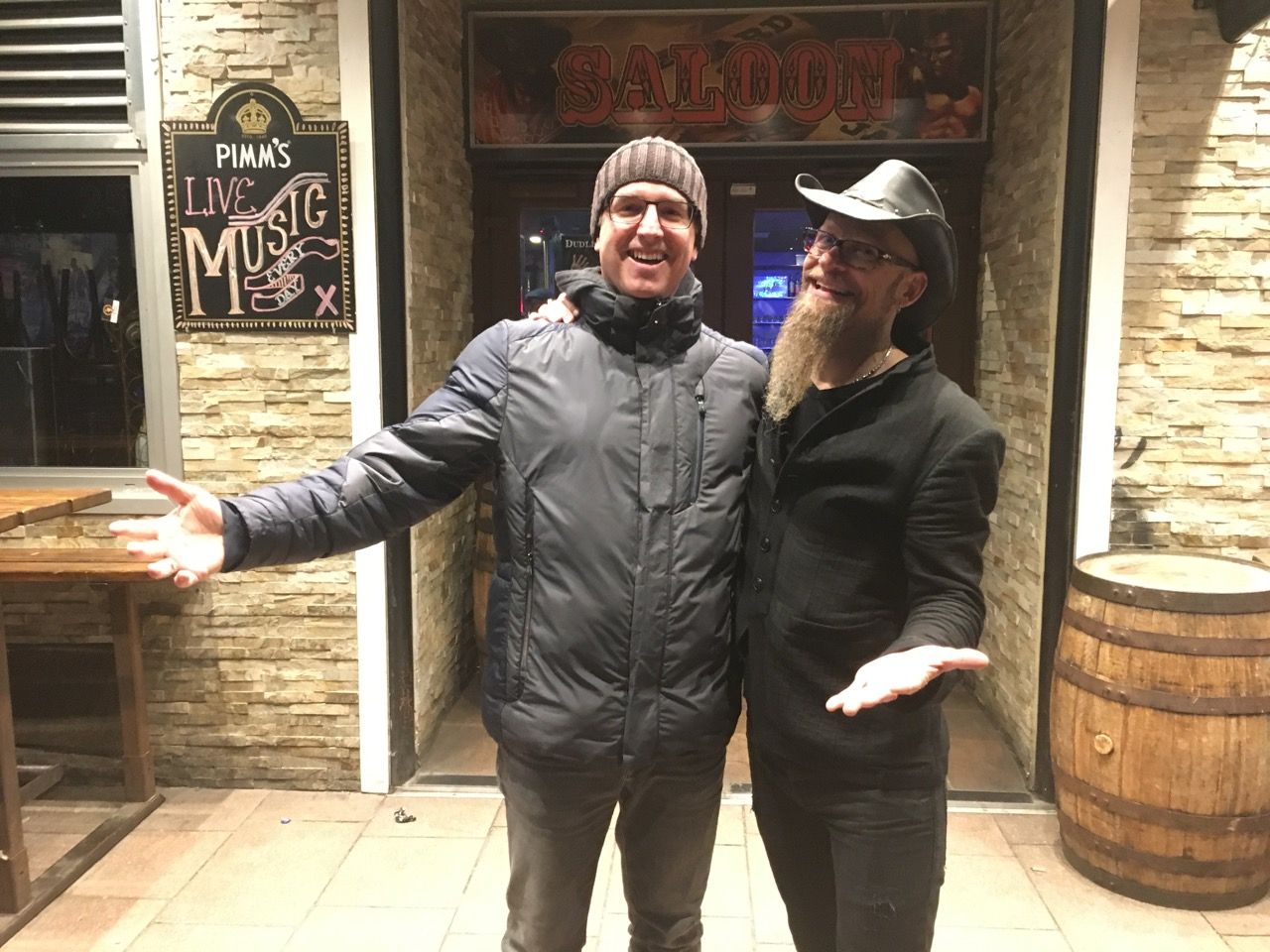 David Zeller and Me
After the big city of Hamburg we drove to what seemed the middle of Nowhere, Germany: Wetter. This small village sits between Dortmund and Düsseldorf and the venue was in a light industrial park like our gig in Belgium. Again, I wondered who the hell would come out to this place. It is more of a studio and pro audio showroom, but it does have a huge stage, PA and light system. Upon arriving, Günter Erdmann enthusiastically told us how great the room sounds, and that it was Carl Verheyen's favorite venue to play in Germany. Well, if it's good enough for Carl Verheyen, it's, uh, good enough for me? Hahahaha. Well, it turned out to be one of the best shows of the tour - nice big crowd, great big stage, and we were treated like kings. We shoot video of our sets every night, and were a bit bummed out when we got the audio from the front-of-house mixing console because it was very distorted. We do have some room mics, but the room was so big the sound is cloudy and muddy. We are trying to salvage some audio so we can post a video or two from this show. 
Another great thing about the show was that my good friend Dirk Osterhaus and his lady Christiane were there, and they took over selling the CDs and T-shirts. We had the best sales of any show this year! It makes a big difference to have someone help with that, and these guys kicked ass. We also had a visit from our good friend and superfan, Marco Zwillich: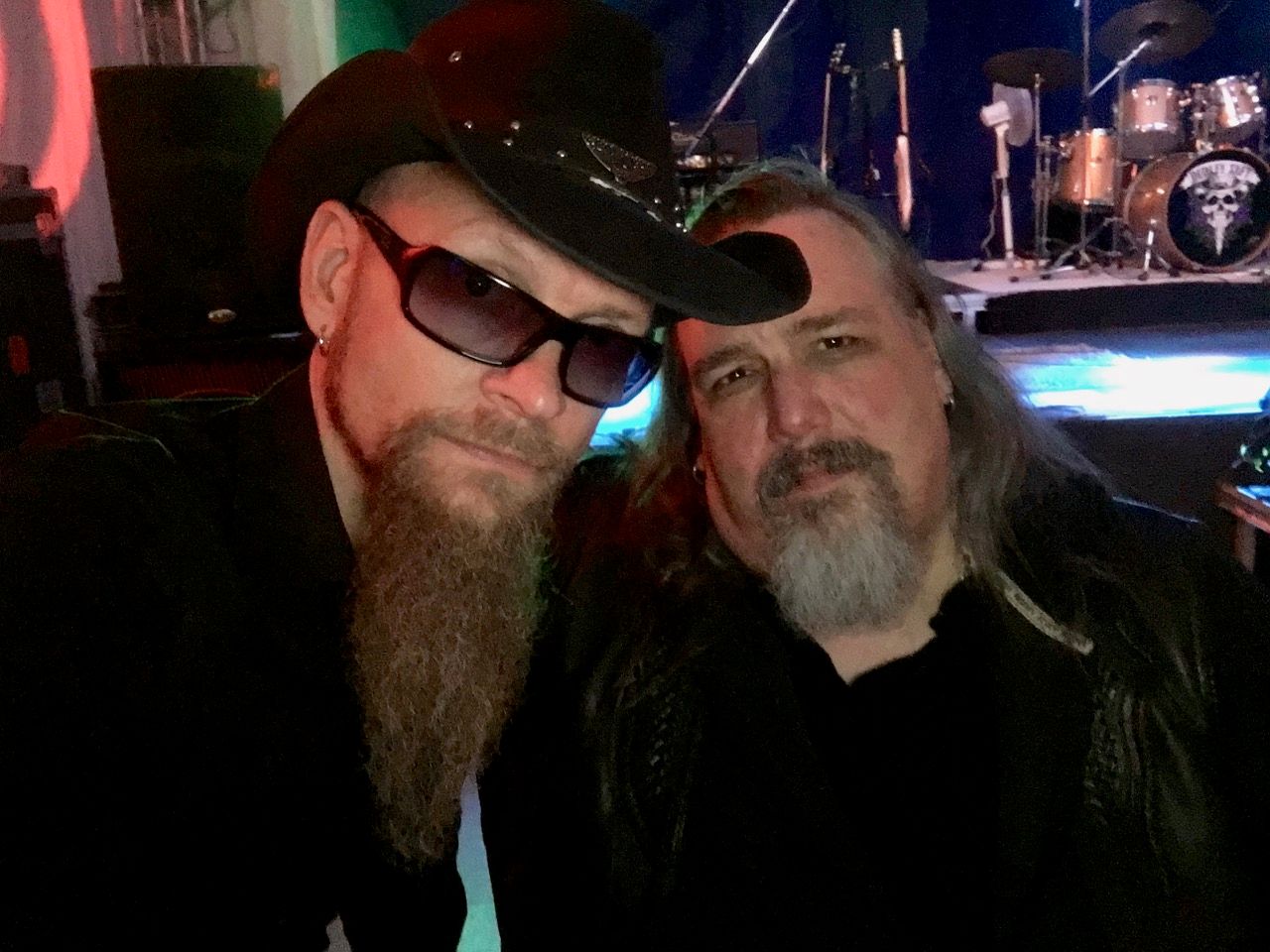 Me and Marco Zwillich
With five shows down and two to go of our seven in-a-row schedule this week, we headed to Amsterdam for a very interesting gig! Every tour, someone asks if we played Amsterdam. I think it's like playing New York, Nashville or LA in the US: tough, indifferent crowds comprised of tourists and jaded locals. Also, the pay sucks and it is a logistical nightmare getting the gear into the thick of the town with the narrow streets and aggressive bicycle traffic! 
I was right:. It was quite tricky to get to the venue because it is within the canal that surrounds the city. A road was blocked off, and we had to back a couple of blocks down the street. When we finished loading in I asked Jur, the owner, where to park the van. I loved his reply: "This is a problem." I then asked him if he thought backing up and leaving it against the barrier would be a problem with the Police. He said, "No, but the people walking around and on bicycles are more of a problem."  
LOVELY. 
We took turns checking on the van every 20 minutes or so and between sets. Supposedly there is a noise maximum of 95bd, which is about the level of a loud-talker. We did our best to keep the levels low, watching the decibel meter which was mounted directly in front of us. But after the first song Jur told me to TURN UP THE GUITAR. Yeah, I don't hear that often enough! Hahahaha. There was a decent little crowd, with some crazy guy with an afro dancing like mad - even during the break. We had to get some of him on video (see below) All in all, it wasn't a bad night, ignoring the stress of parking the van and Jur was quite happy trying to give us all shots after the show (bad idea). 
"Dancing Afro Guy"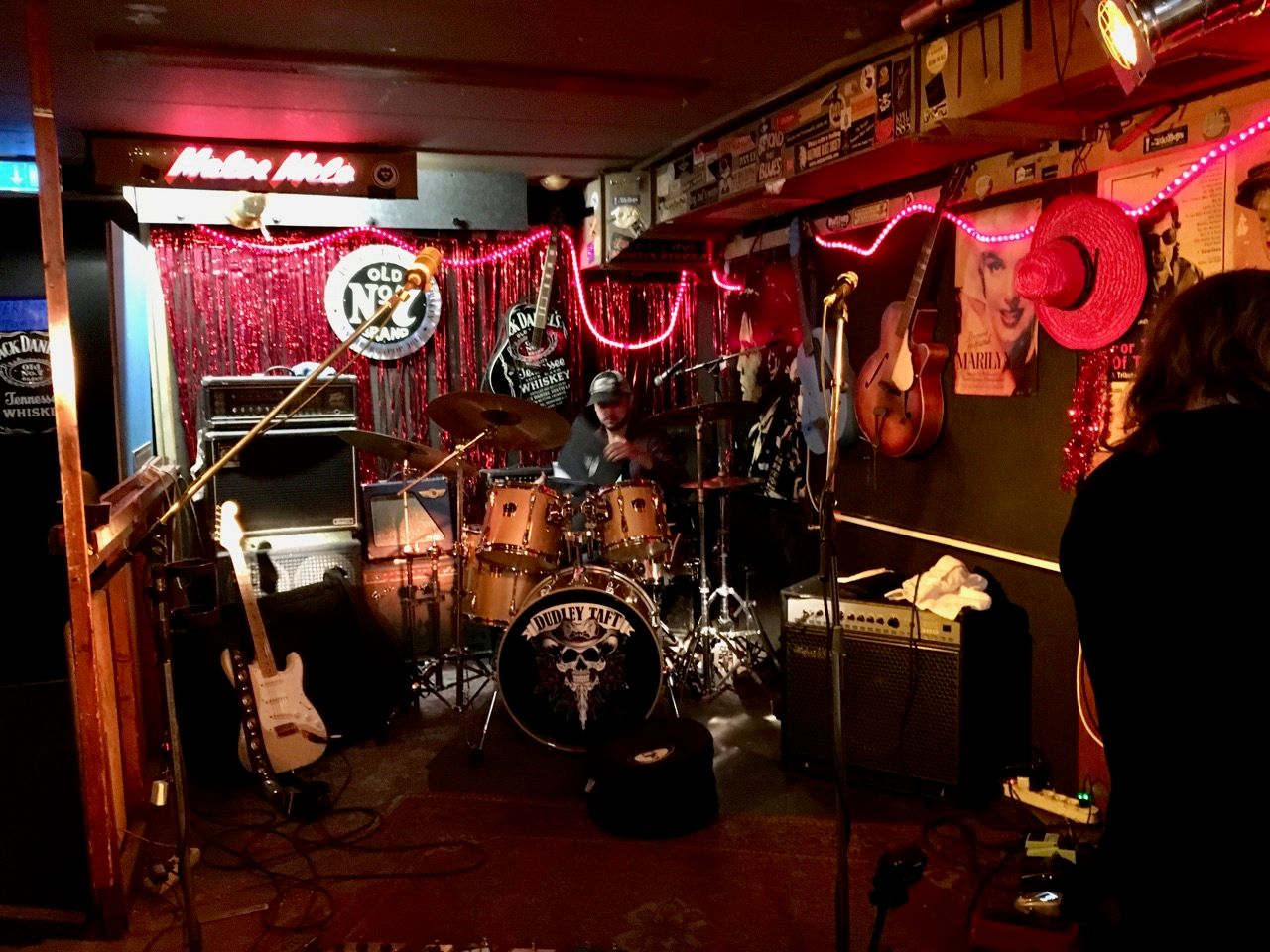 Tiny Stage at Maloe Melo in Amsterdam
I was a bit worried that I would be exhausted and not be able to sing and play seven nights in a row, but I was feeling good as we headed south to a small town south of Spijkenesse called Heenvliet. We played a place with the hard-to-pronounce name of Café De Gouden Leeuw. The stage was on the second floor (ugh) but there were lots of people there to help us load in. There was an opening band that night - friends of the owner Hugo, I think. They played 95% Stevie Ray Vaughan songs, which was interesting. We rocked our sets, and I kept the energy up through most of it, only getting fatigued on the last few songs. I do all I can to keep in good shape - three tough workouts per week and lots of vocal exercises. But when the tour starts, all bets are off and I ride my fitness wave through the tour (in other words, no workouts). Playing every night really does get one in shape, and is also fantastic for the band. We get to know the songs inside and out, and evolve our interpretation of them.  
That wrapped up our busiest week, which was a hell of a lot of fun. We only had a few shows left, and I felt we really had our material mastered at that point. I was really looking forward to that last week because my wife Michelle would be joining us for the last few shows.
For some reason, the subject of Anko's 1970's-looking clothing came up. Helga brought a couple of wild specimens downstairs for us to see and we got motivated! The next day, we had our own fancy shirts (very 2018-looking). Now we just needed somewhere fancy to go . . .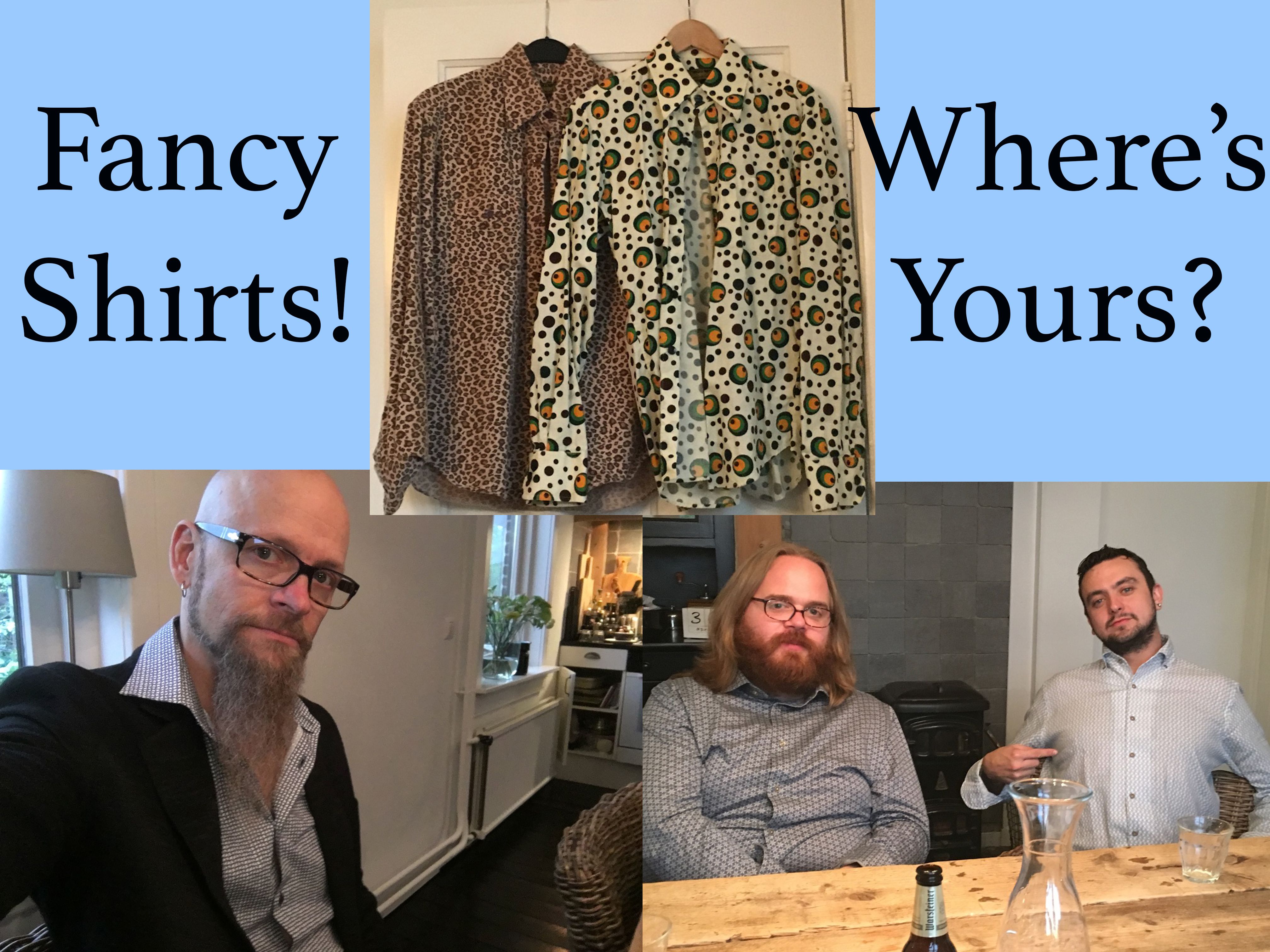 Top: Anko's fancy 1970's-looking shirts. Bottom: Dudley, Kasey and Marty rise to the occasion
So, with "fancy shirt" Monday behind us, we made the short drive across the boarder to Uelsen, Germany for a show at the UJC - a rec center of sorts. The weather was fantastic and they were grilling food in the courtyard. We played our sets and people wandered in to watch. Yeah, it was a Tuesday.
Wednesday was a day off and Kasey and I headed into Enschede to walk around the cafés and shops, enjoying the sunshine. Marty stayed back at Anko's and soaked up the rays, getting a brief break from the Americans, hahahaha. 
Thursday morning I got up early and took the train to Schipol Airport (the Dutch say 'skipple') to pick up Michelle. The first day in Europe is a bit tough when traveling form the US because you are essentially up all night, so we let her take a nap while milled about the Lammers compound. Our gig that night was at a place called Sally O'Briens in Zwolle, about a 45 minute drive to the west. After Michelle's nap, we headed out.
It is an Irish pub with a nice stage and decent food. I had the ribs, which were quite good compared to regular bar fare. Eating in the EU for me is a bit tough because of the lack of available fiber. We get a lot of meals that are included with our hotel stay and provided by venues, so we don't always get to choose what we get. Plus, I don't eat any milk, cheese, yogurt or mayonnaise which can be tough if the venue has prepared lasagna or some such. We do have a rider that asks for a lactose-free meal, but not everyone reads it. Also, Kasey was doing his best to not eat meat which was tricky as well. Every once in a while a French waiter will look at me like I have leprosy or something when I tell them that I don't eat cheese. "Sans fromage?!" Usually I lose a few pounds on tours, but somehow I must have eaten enough fries this trip (it seems that you get fries and mayonnaise with every meal whether you want it or not).
The show that night was good for a Thursday, and I especially enjoyed showing off our "skills" for Michelle while she struggled mightily to stay awake. She handles the merch sales for us, which is great because we sell at least 25% more stuff!
The next day was a holiday across Europe celebrating winning the war against the Nazis, and we participated by going to a service at a Canadian cemetery nearby. The service was delivered in Dutch, French and English which was interesting and certainly good for us so we knew what they were saying. The weather was perfect, and we were glad to have gone. We capped the day with a fancy dinner where we all wore our fancy shirts!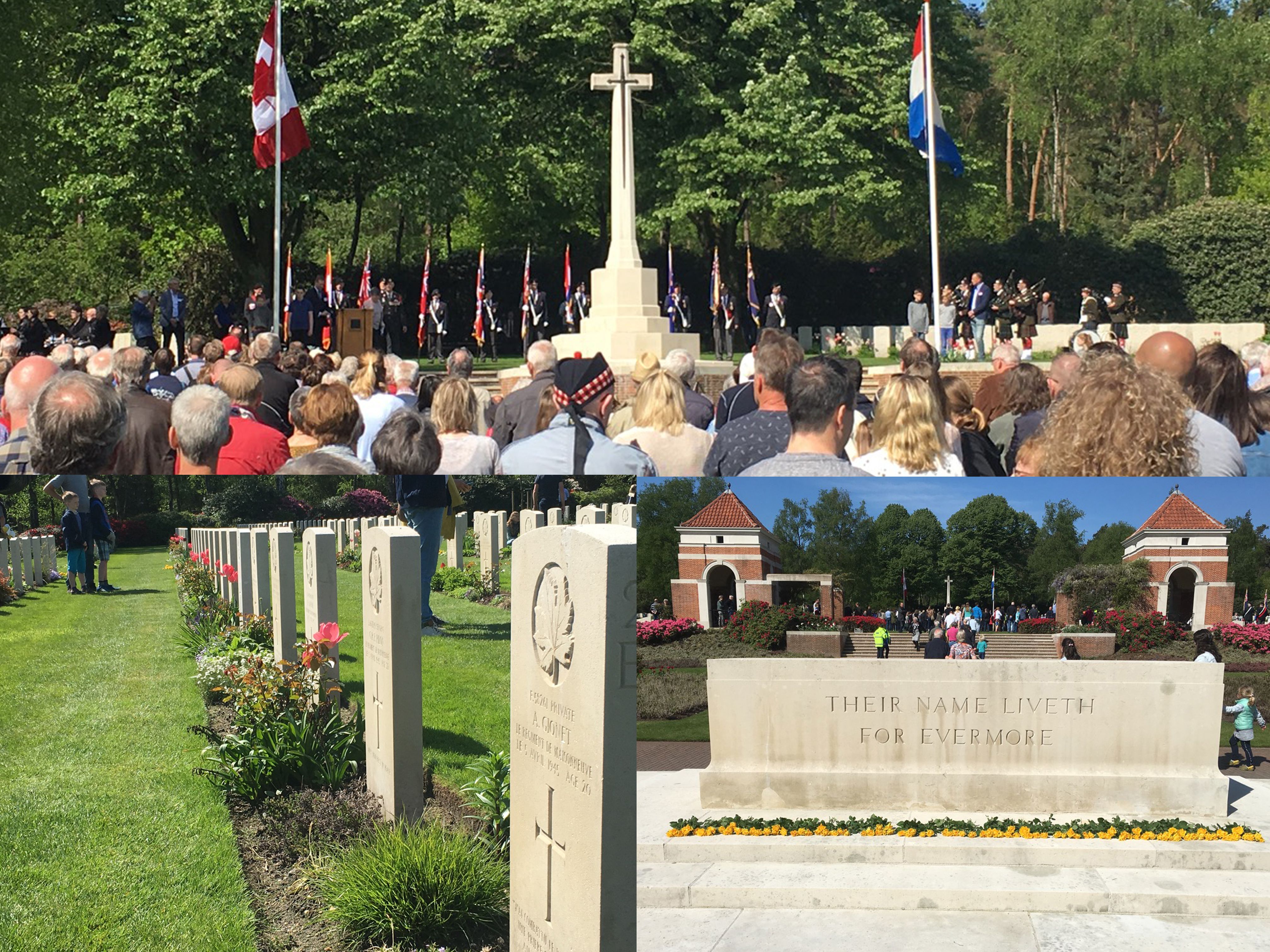 Canadian Cemetery
Friday we made the two plus hour drive to Rotterdam and checked into the Marriott. Every once in a while I spring for a higher-quality hotel and this seemed like a good night to do it. That day was a mixture of deep sadness and joy for me. I learned on the way to the venue that my mother had just passed away. I knew that she was close to death and expected that she would pass while I was on this tour. I visited mom for a few days before the tour started because she had just been admitted to the ICU. She had advanced alzheimer's and the disease was really taking it's toll on her. Even though I was expecting to get this news, receiving the call from my brother was heartbreaking.
I was in a bit of a fog as the boys loaded in, but I knew the best thing for me to do was carry on. So we played the show that night, dedicating the performance to my mom, Allison Eden. Somehow it was the best show of the tour. I imagined her watching us play, and being proud of all of us for doing a good job. Though the venue, l'Espirit, was small, it was packed and the crowd was the most enthusiastic one we had played to on the tour. We will be posting a lot of videos from that night on my YouTube page.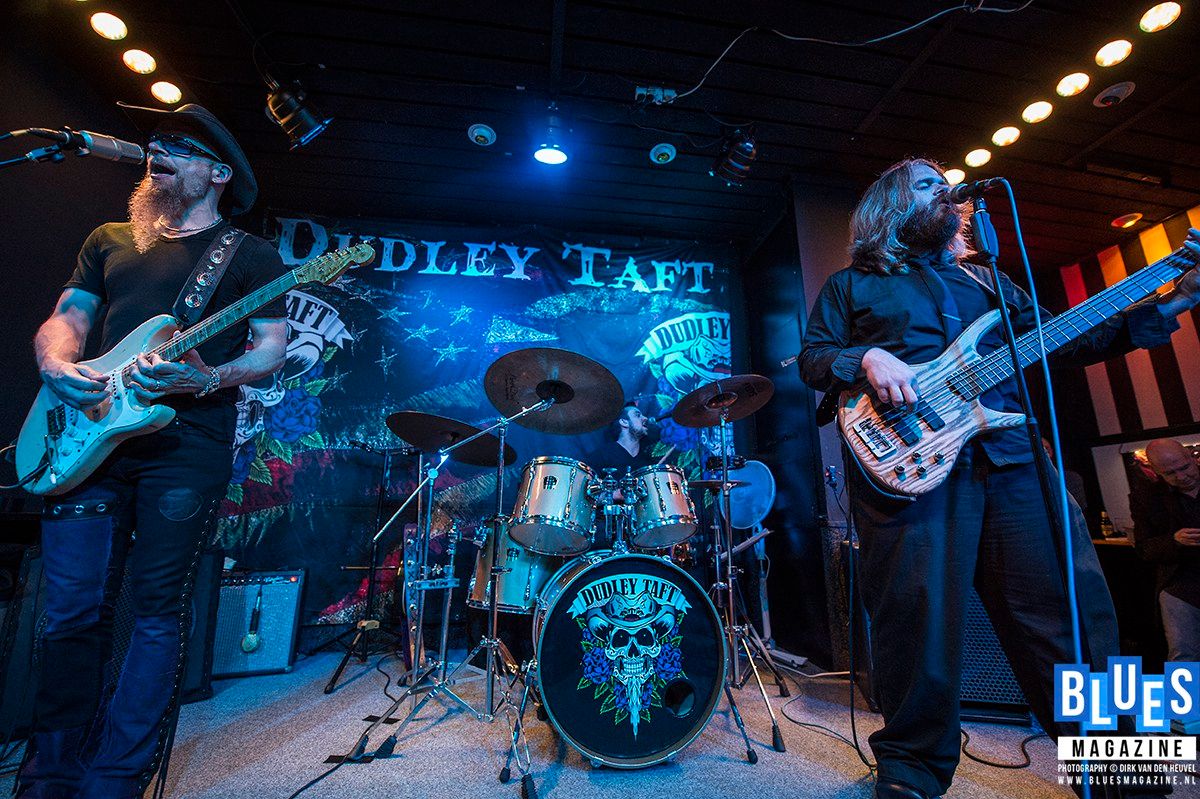 Me, Marty and Kasey playing l'Espirit in Rotterdam
The last show of the tour was in our "home town" of Almelo. We have played Almelo at least five times over the years and twice before at Café de Stam. Anko and some of the Beggar's Clan guys were there along with a nice Sunday afternoon crowd. It was a great way to end our six weeks of shows and traveling. 
While the boys headed back home, Michelle and I made the most of the excellent wether with a few nights in Prague before returning to Cincinnati.
Me and Michelle in Prague