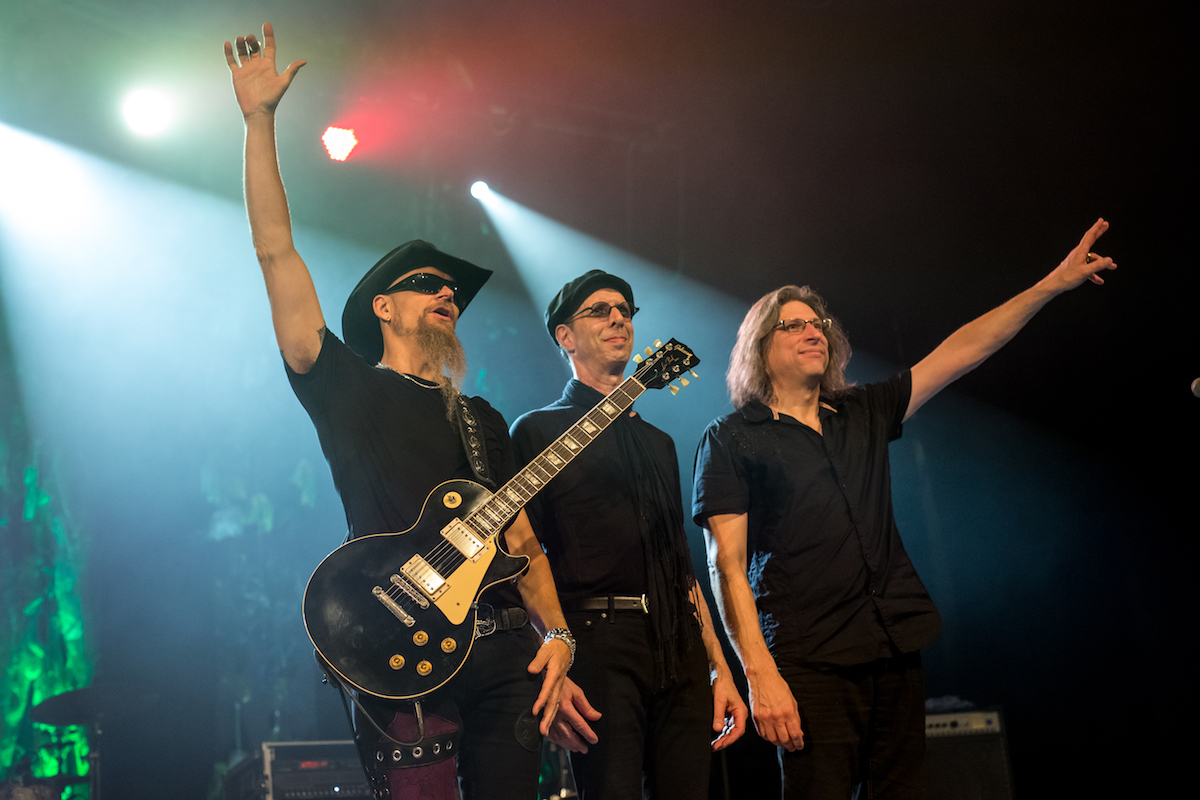 After touring around northern Europe seven times, I felt quite comfortable starting the eighth tour. I was a bit intimidated driving around these foreign countries at first, but now I have the hang of it and even know what most of the road signs mean, heh. I know when to obey the speed limit signs, and when to get the hell over in the right lane on the Autobahn (ALWAYS keep an eye on the rear-view mirrors!) 
Every time I play there I win a few more fans, and the shows get bigger and bigger. I see a lot of the same smiling faces, and get introduced to new ones. I have gotten to know the people that work at the hotels and venues, and know the best places to sight see, eat and shop. Several times on this last tour I recognize people on the streets of Almelo, NL and catch up on the latest news. 
But the coolest thing is developing great friendships with the people I work with. I count my European friends among my best. These are the kinds of things that you just don't get as easily as a tourist. With each subsequent visit, the pleasure of it all increases greatly! 
And the big bonus this time was having my lovely wife Michelle come out for the last four gigs, which was a first for her! Now that our kids are grown and out of the house, we don't have to hold down the fort during the school year. 
For this tour, the lineup included John Kessler on bass and Carl Martin on drums. 
NOTE FROM JOHN:
This was my 6th trip to Europe with Dudley and we had such a busy performing schedule there was very little time for sightseeing. In the past we've had days off in Amsterdam and Berlin, but this time the few days off were reserved for driving, eating and driving. And laundry. 
Don't take this simple thing for granted. 
It's not customary in Europe to find coin laundromats like we have in the US. Luckily we have Anko and Helga, our Dutch friends in Almelo, who have been our saving grace on these trips. In addition to feeding us, and giving us a place to rehearse and stay, they have an actual washing machine. The labels are all in Dutch and I don't think we've ever really figured out what all the buttons do but we somehow always manage to make it work. 
Of course, it's also not customary in Europe to have a clothes dryer, so laundry day also means finding creative ways to hang things to dry. They have a large drying rack but not nearly enough space for a week's laundry for 3 guys. So curtain rods, microphone stands, bicycles all become essential aids in getting things dry in time to pack up and head out for the next run of shows. - John Kessler
I arrived a day earlier than usual to get the time-change recovery started and work with Ralf Reichen at Tonehunter to set up a permanent pedalboard for me. After so many tours, I felt it would be good to have my own after borrowing Ralf's stuff for so long! I brought a few pedals that I knew I would end up leaving there, along with ones that I couldn't (hello Klon Centaur). 
The first night I stayed with the Reichens at their house in Cologne, Germany. We had a great dinner at one of my favorite restaurants in the area, Restaurant im Bitzhof. Their schnitzel is fantastic, and they have a great selection of beers and whiskey. (Normally a tequila drinker, I switch to whiskey in the EU.) Joining me were Ralf and Kristin and their daughter Tarika and her BF Nico. After dinner Ralf and I jammed on acoustics and just about drained a nice bottle of Glenalba. (Note to self: a lot of whiskey + jet lag = not good!) 
The next day Ralf assembled the pedal board for me while I went to the giant (and generically named) Music Store to get some gaff tape and other supplies. 
Here's Ralf with the finished board: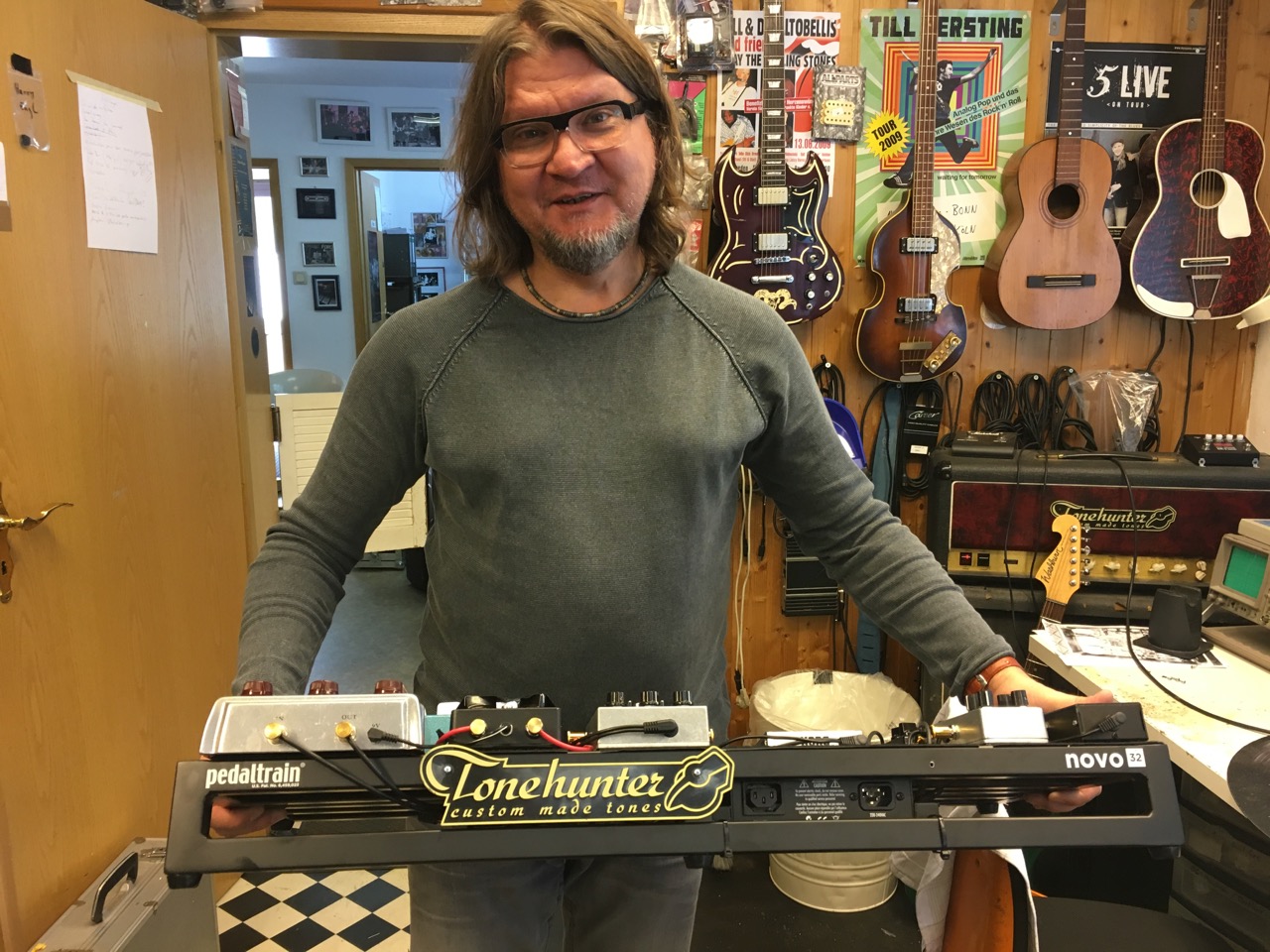 "Tonehunter" Ralf Reichen
Then I drove up to Almelo to pick up John and Carl from the train station and head to Anko and Helga's house in Vriezenveen. They were pretty tired, and faced a nine-hour time change vs my six, but had the energy to set up the gear and rehearse a bit. That night, we had a great time catching up with Anko and Helga, and of course had some great whiskey (note to self: read the previous note to self!).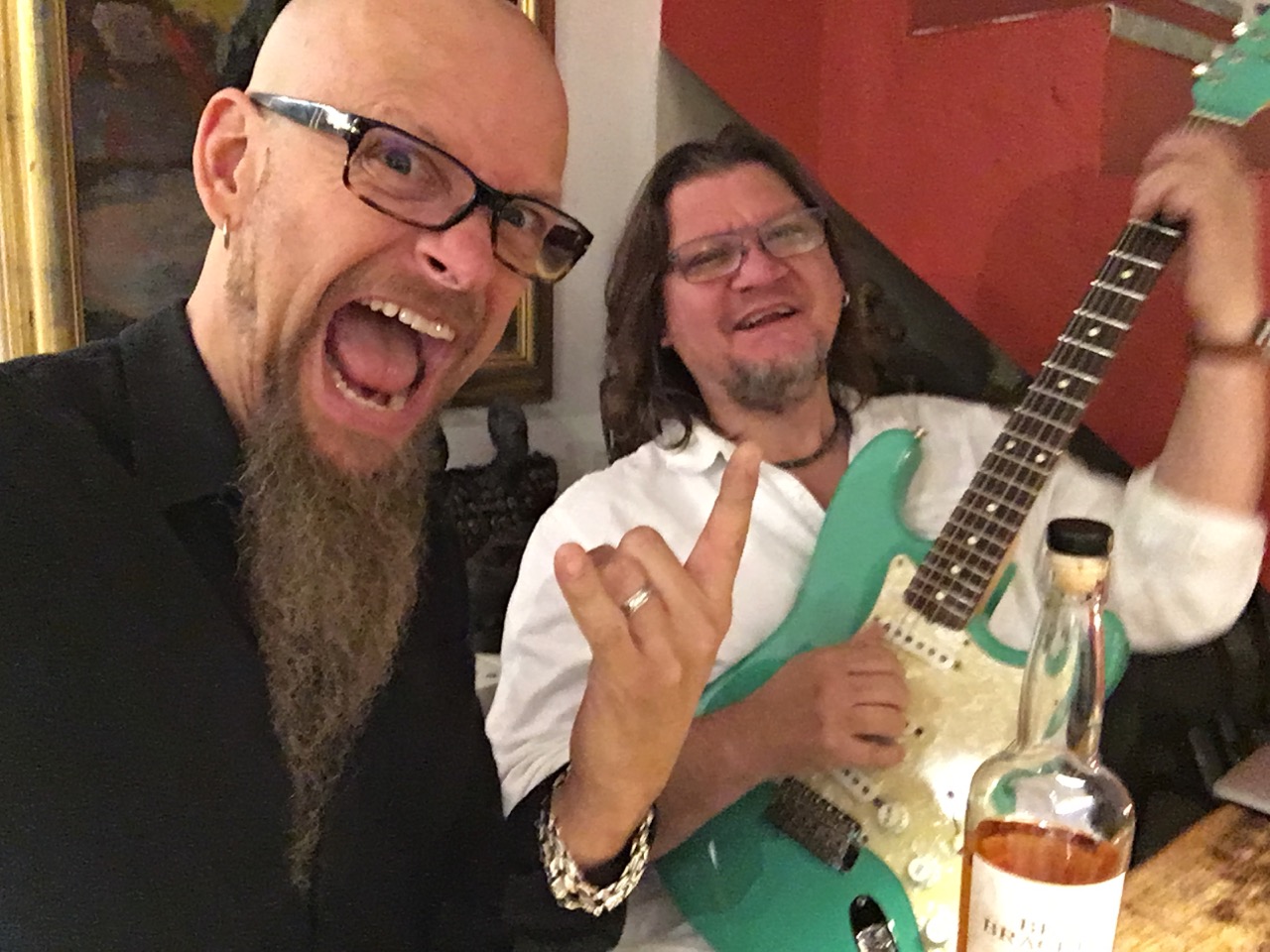 Whiskey Jam with Ralf
The following day we rehearsed for about six hours, going over a lot of songs off the new album Summer Rain to add to the set list. We took a break and had some lunch in nearby Almelo. Downtown Almelo feels like my Dutch 'hometown'. I think I've eaten at every restaurant there, played three clubs, bought jewelry for my wife, dress shirts for me, luggage, plastic bins for t-shirts, etc.. There aren't many tourists, or Americans there so we all stand out. We know many of the restaurant operators by their first names, and everyone is quite welcoming. 
After rehearsing the new songs and recovering from jet lag, we headed to Poland. Our first show was in Sandomierz, which was about a ten to eleven hour drive. That's not a good way to start a tour, so we opted to drive about eight hours to Łódź. (I dare you, try to pronounce that!) I like to check into the hotel before dinner time, freshen up then get a good meal. You have to take care of yourself so you don't arrive to the first gig totally burned out.
Sandomierz was about a 3 1/2 hour drive, so we checked out around noon (very civilized) and arrived in time for a quick tour of the old city. 
NOTE FROM JOHN:
We did get to do some sightseeing on the day of our very first show in Sandomierz Poland, Despite a pretty tall and wide language barrier, our guide Beata conveyed some facts like we were in a 1,000 year old walled city ("millenary" she told us) and the location of endless sieges and conquests for most of those thousand years. Knights in armor, feudal lords, the whole thing. She took us to the top of a castle tower where we re-enacted a scene from Monty Python's Holy Grail. We asked a couple of young Polish women to tell us something about their country they said "We eat a lot of meat". And they do manage to get meat into some unexpected places, like pastries and the milky breakfast soup with tiny sausages- John Kessler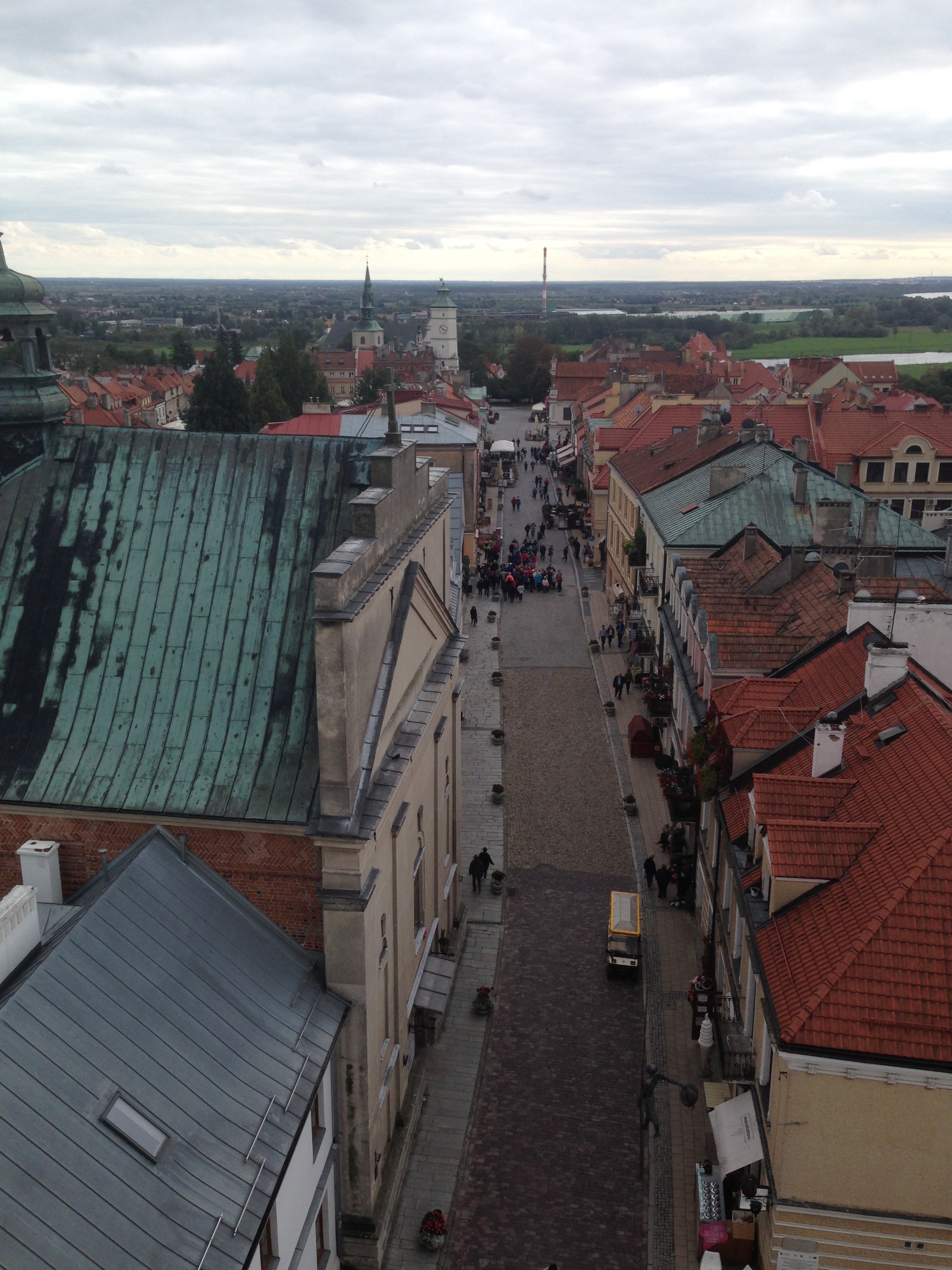 The old Polish City of Sandomierz dates back to the 1200's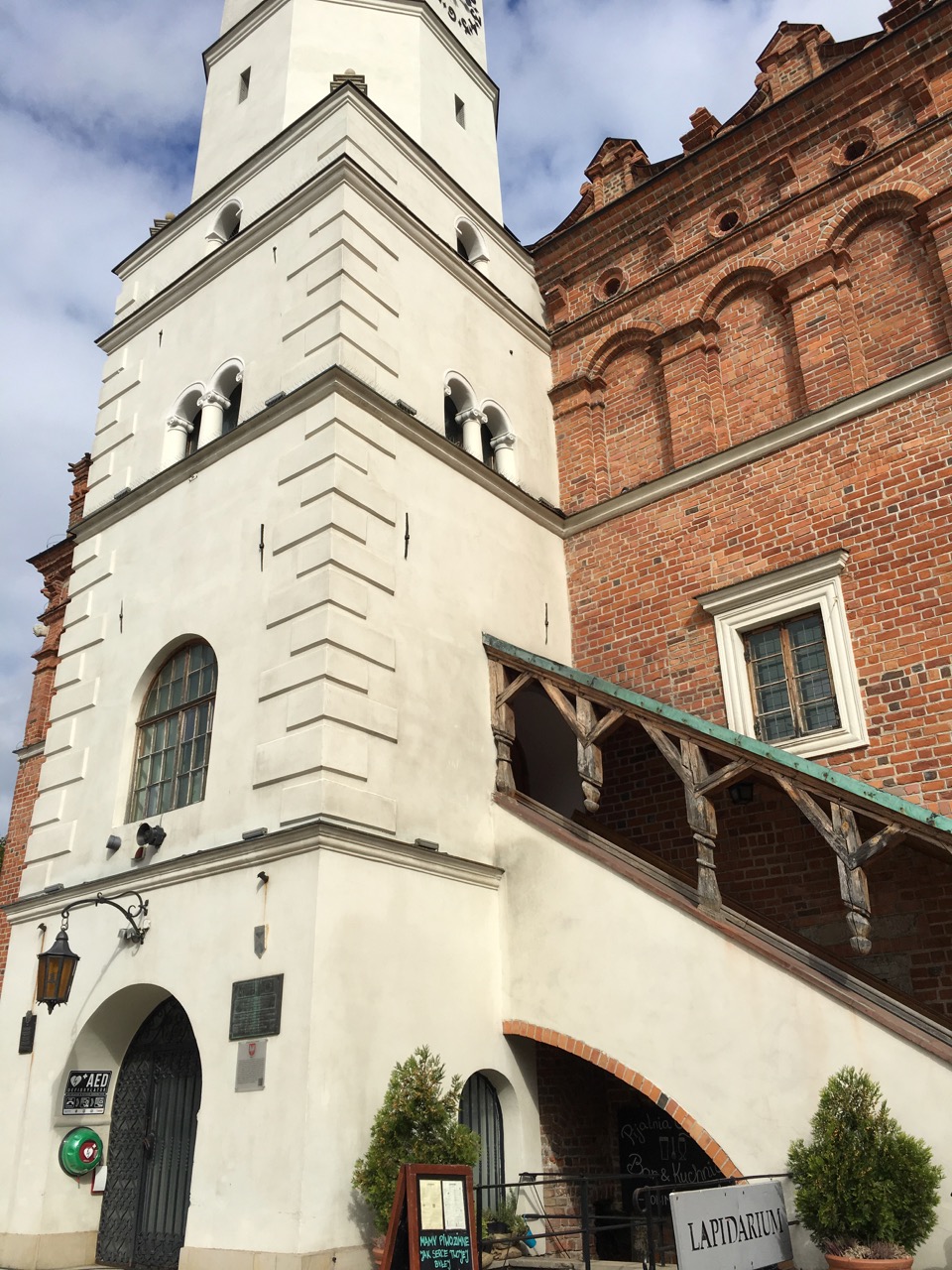 Interestingly, we played in the town hall in the city center...
In Poland they always have excellent sound, staging and lights (technik), even in smaller venues. This place was intimate; when we arrived I thought we would have to set up on the floor and all the hard surfaces would have given us grief when we started blasting away. However, a box truck arrived and the tech guys set up a great stage in about an hour. For some reason, most of the venues we play in Poland have seats, and they set up a bunch of chairs.
The stage in Sandomierz
They packed 'em in that night, and we were off to a great start! The new songs seemed to go over well. We opened with Dark Blue Star into Pistols at Ten Paces off the new Summer Rain album. 
For some odd reason, in Poland there are a lot of doors between where you are and where you want to go. For example, in many restaurants the bathrooms are down stairs. You open a door to the stairs, a door to the bathrooms, a door to the men's room, then a door to the toilets and urinals. Someone is making a ton of money off of hinges I guess. The doors to our rooms in the Cultural Center that night proved to be a bit tricky!
The Doors of Sandomierz
The next day, we headed over to Tarnobrzeg to play the Satyr Blues Festival again and see our main man, Victor Czura! Victor was the guy who contacted me on Facebook back in early 2014, and opened the Poland market for us. He hosts this festival every year, and has caricature artists display their art, and most of them are on hand for the show and do quick sketches of people. He always seems to get on Polish television because his event is so different. He loves blues rock and lead guitar! Hw hosts a radio show in nearby Rzeszow called Blues Attack! I have so many pieces of memorabilia from the 2014 show - my caricature by multiple artists, and Victor himself. I have beer bottles with my face on them, stamps, candy, etc... it really is amazing!
This time we played with a French band called Manu Lanvin and the Devil Blues- a fantastic trio that delivers high energy blues rock. They also had a couple of guitar players join them onstage - Neal Black and Fred Chapillier. Joining our band onstage was a Polish guitar slinger named Jacek Kieller. Lots of LEAD GUITAR that night! Here are a few pics: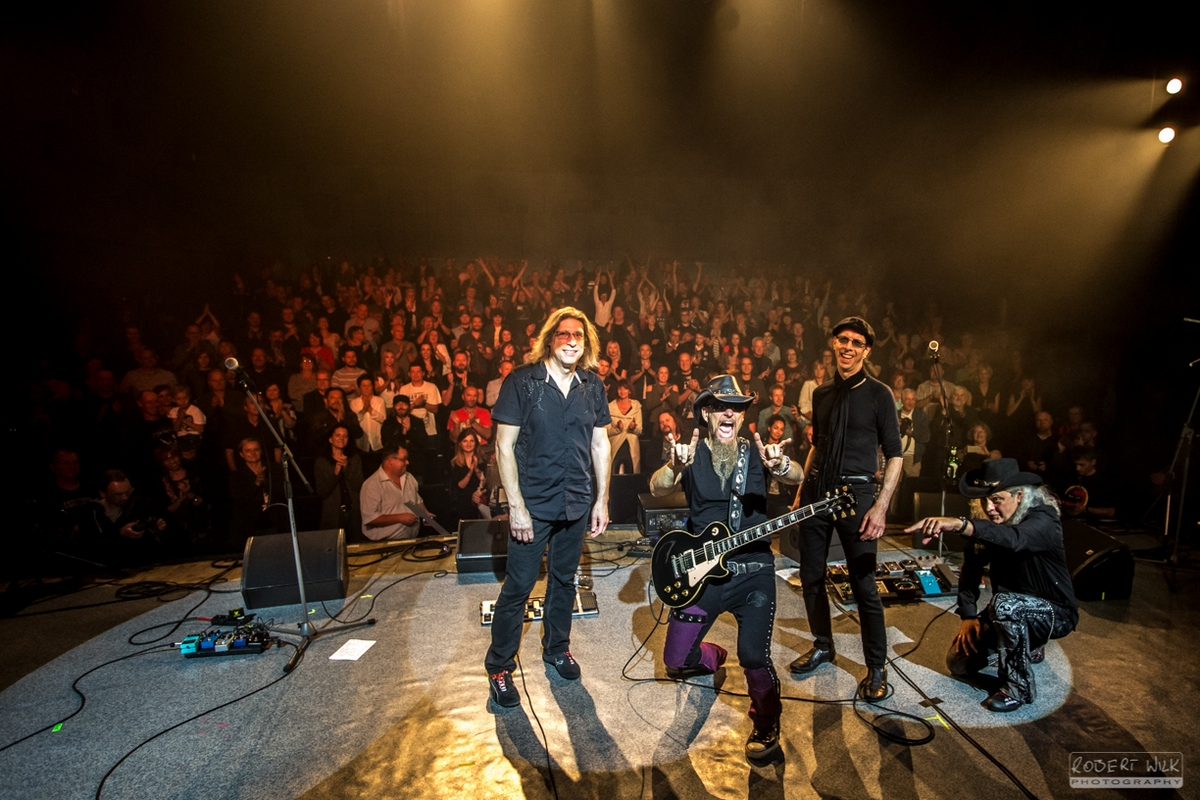 Right before the encore, Victor Czura is on the far right.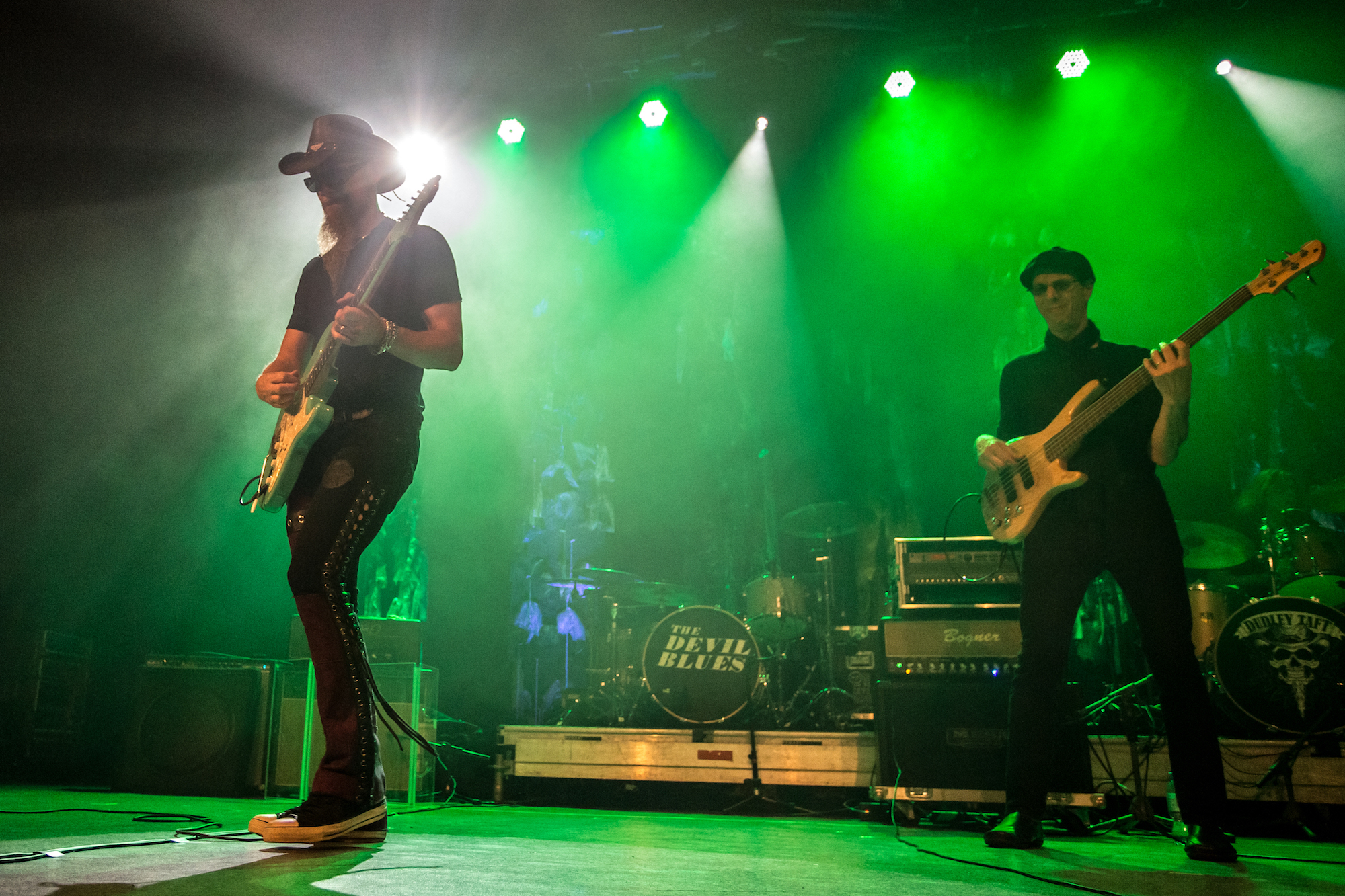 The have a great venue: big stage, great sound and lights
With Jacek Kieller
Of course there were lots of funny caricatures - like these: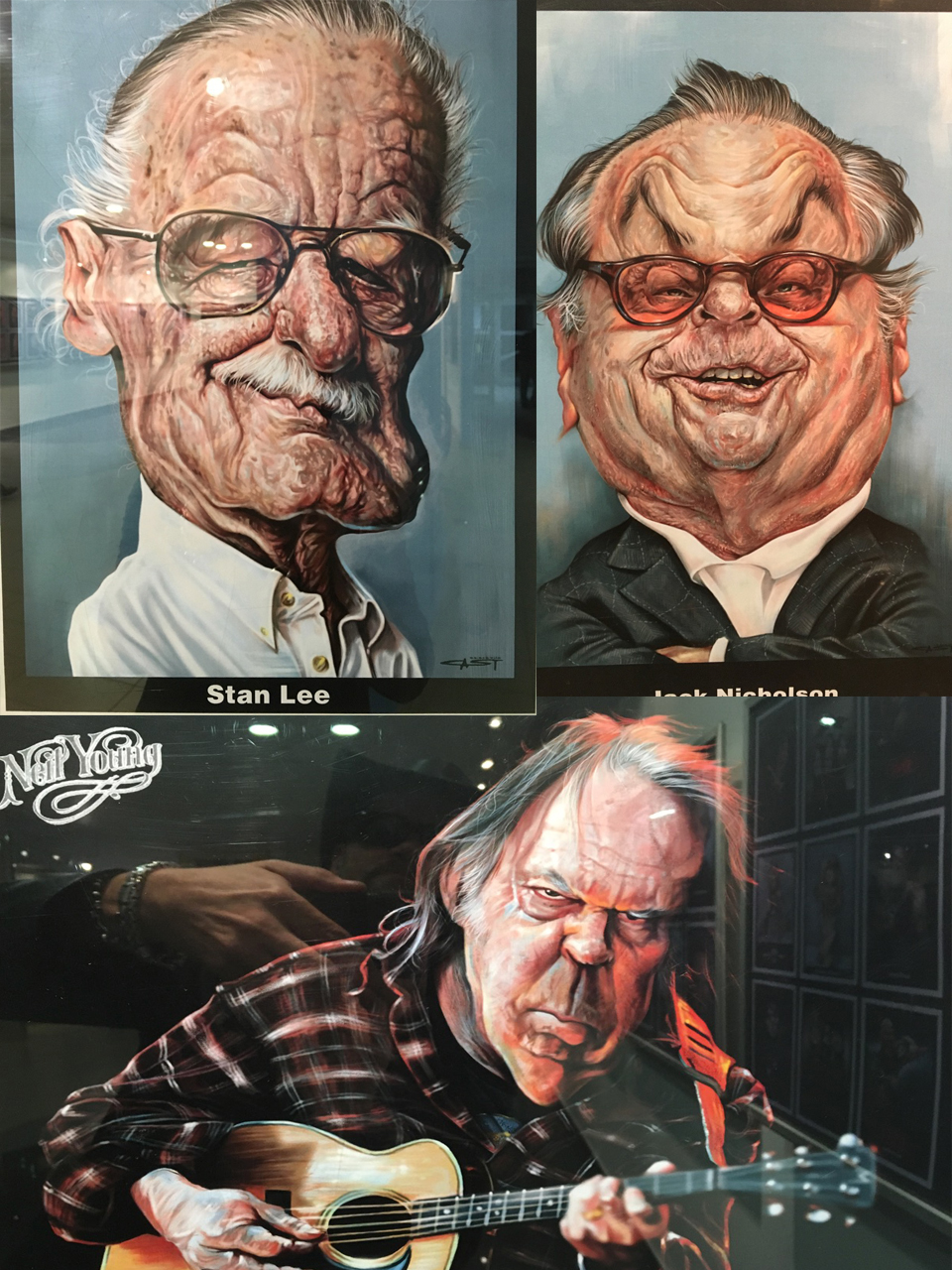 And this guy drew one of me: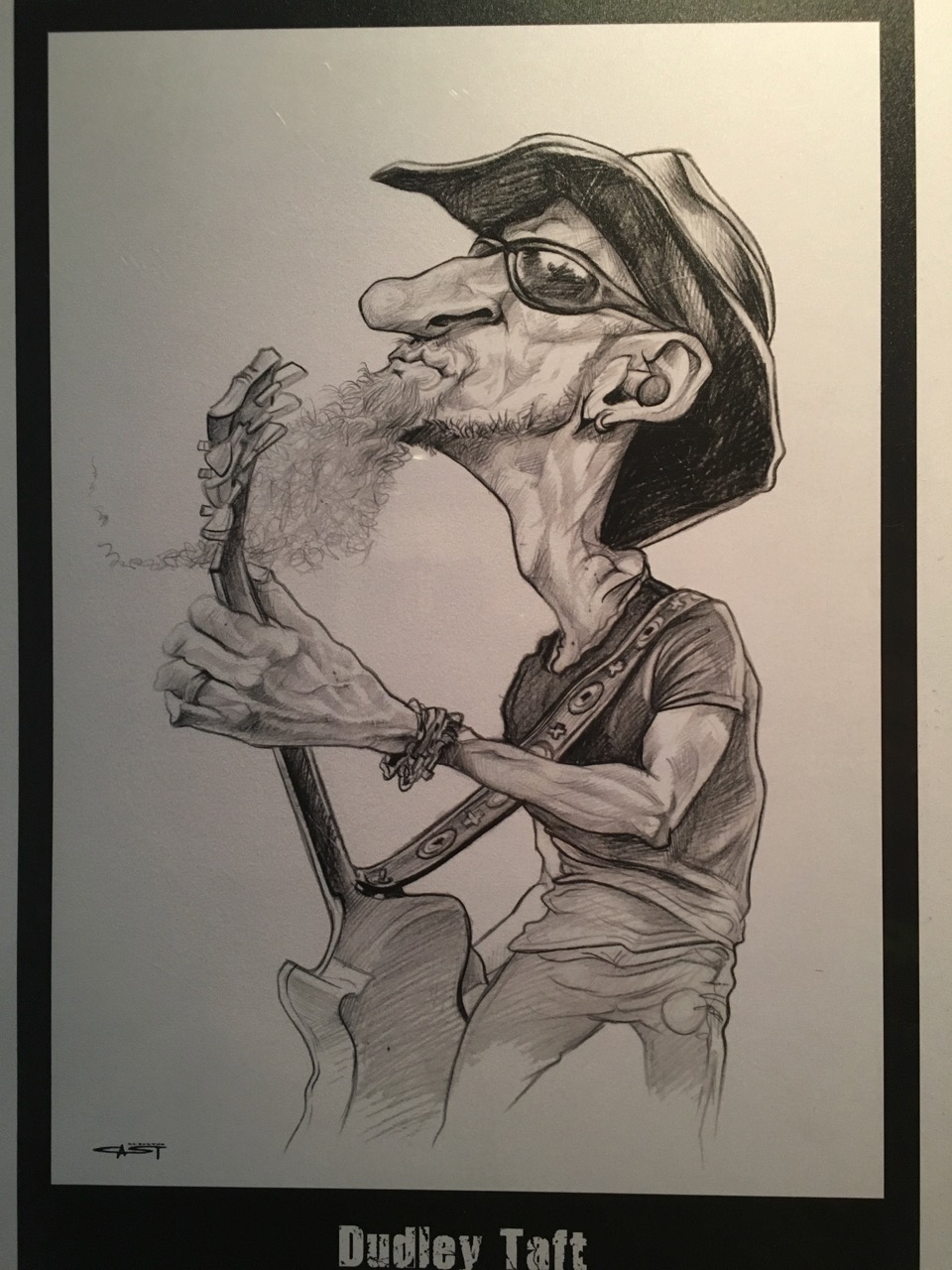 Wow! Look at my nose. Hahahaha
This festival is always fantastic. Victor and his lovely wife Ewa and their team always deliver a well-planned evening of music and art. And they are very sweet people that I count among my best friends!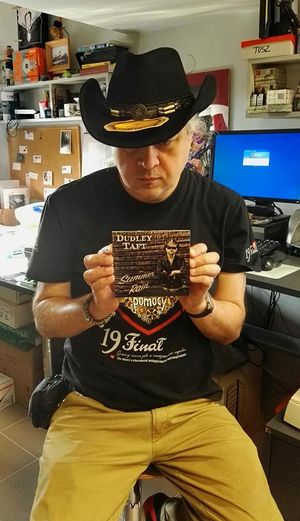 Victor Czura
From Tarnobrzeg, we made the short drive on Sunday to our next gig in Kielce. This would be a the Culture Center- the theater where we played our first gig in Poland back in 2014. We also played that night with Manu Lanvin and Devil Blues. Below is a short video of the drive to Kielce. It gives you an idea of what most of the drives in Poland are like. Lots of country roads like this one. There are big expressways, but if you do any traveling in the country this is what it looks like.
Country road in Poland
We have played Kielce a few time now, and have made some great friends there- it is quite nice to have repeat customers!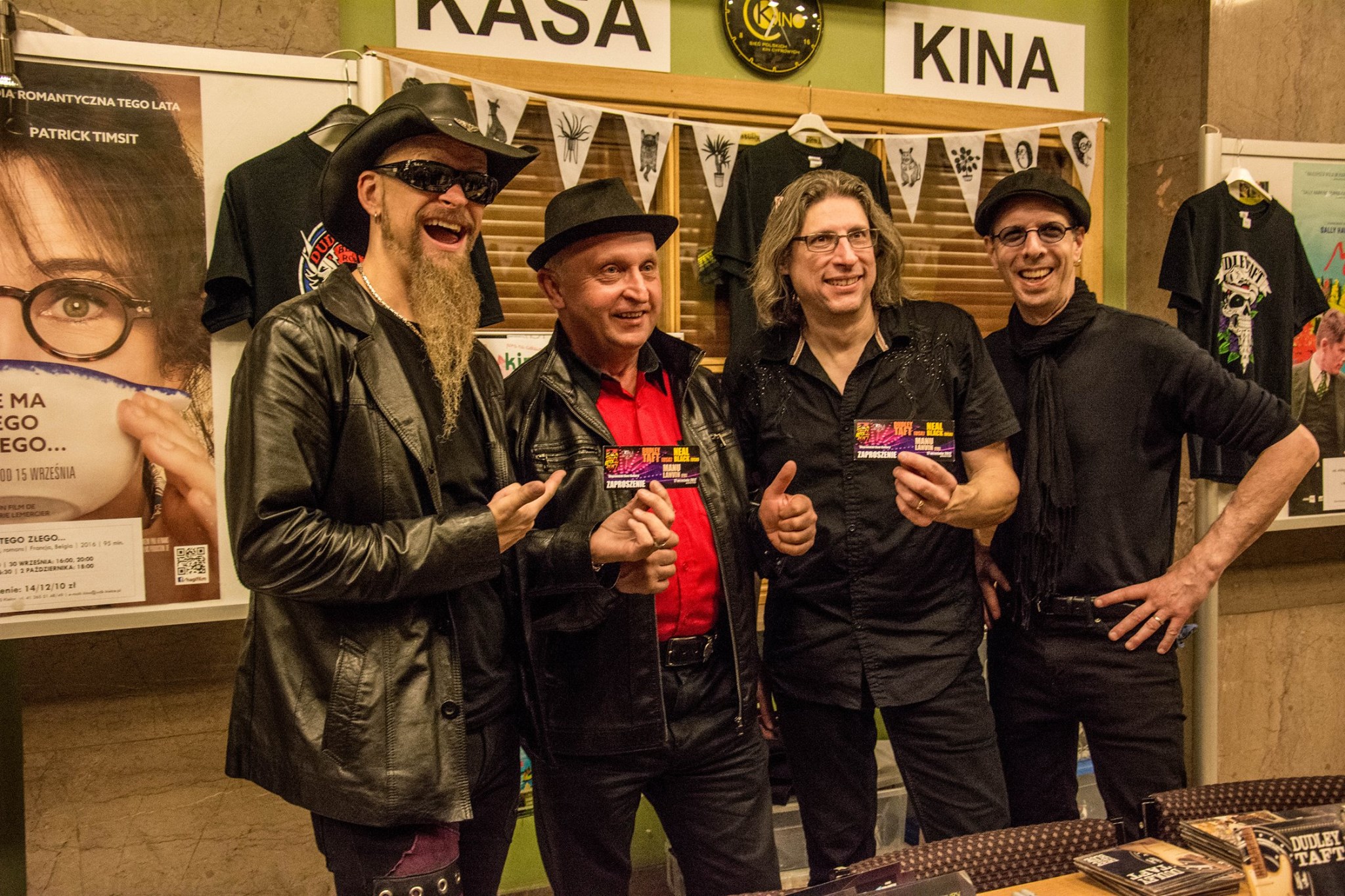 Working the Merchandise after the show in Kilece
After a nice night's sleep, we set out for a day off in Berlin. We stayed at an amazing hotel (thanks to a bunch of Marriott rewards points I used) called the Hotel Am Steinplatz. If you visit there someday, this hotel is awesome. Like I said, killing yourself with 12+ hours of driving is not a good idea. We checked out at noon, hit a music store to pick up a drum head and headed back to Castle Lammers, our Dutch HQ.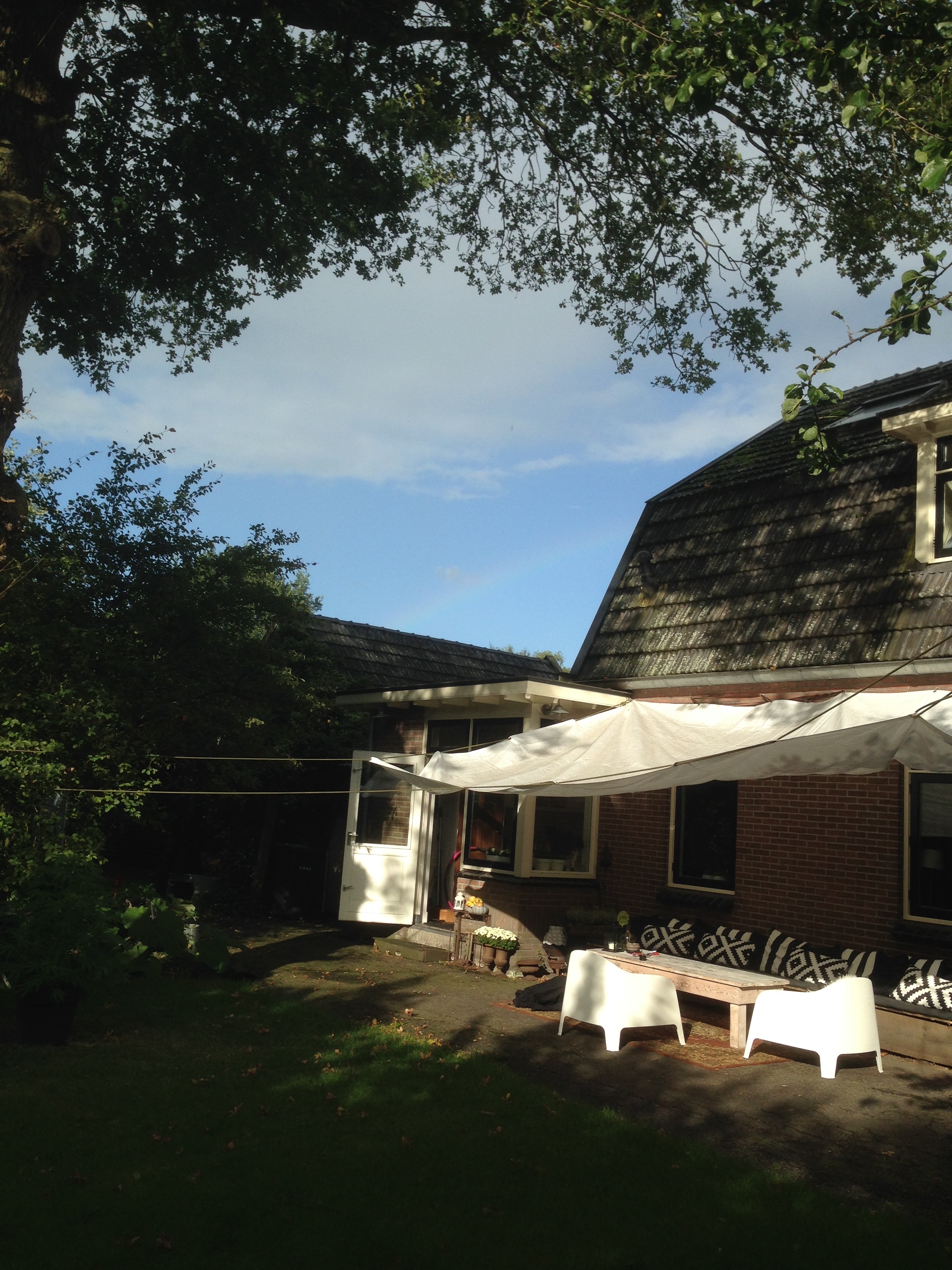 The lovely outdoor lounge at Anko and Helga's house in Vriezenveen
NOTE FROM JOHN:
Eating while on tour is often amazing, but occasionally memorable for the wrong reasons. There was the amazing restaurant that had no menu. The waiter said "You tell us what you would like to eat and we fix it for you. For example you could say 'fish' or 'beef'." When we tried to get more details, he informed us that the dish would be a surprise. It was surprisingly good. - John Kessler
A nice day of rest and a bit of shopping in Almelo, and we were ready for a busy weekend of shows. We started with a Thursday night gig at a record store called Vinylparadijs (Vinyl Paradise) in nearby Geesteren. Irma and Bart Haselbekke took great care of us while we played a couple of acoustic sets. We had a blast pulling out some oldies for this gig. I saw a lot of Neil Young and Lou Reed and David Bowie records, so we played "Needle and the Damage Done," "Heart of Gold," "Space Oddity," "Walk on the Wild Side" and "Sweet Jane" among some other fun acoustic stuff. It was a breath of fresh air among all of the electric blues rocking we do!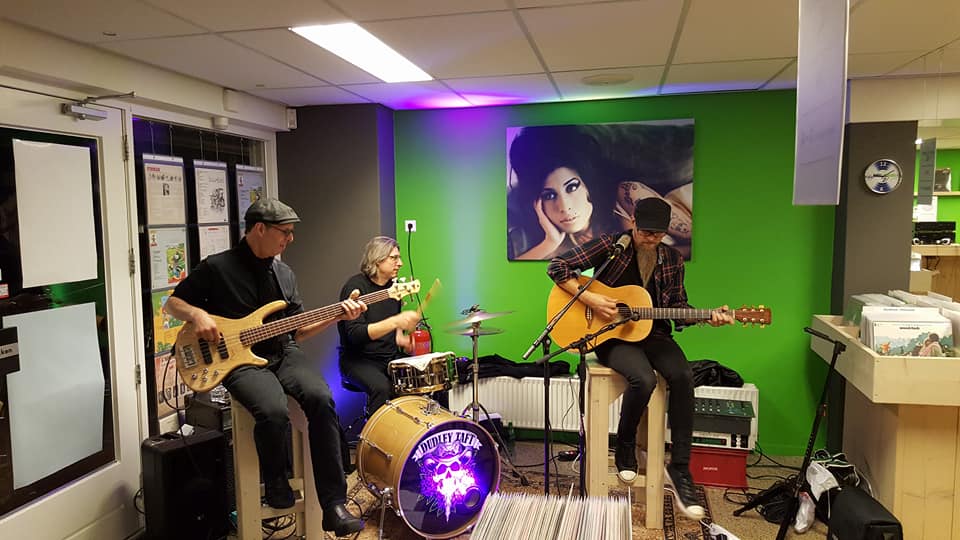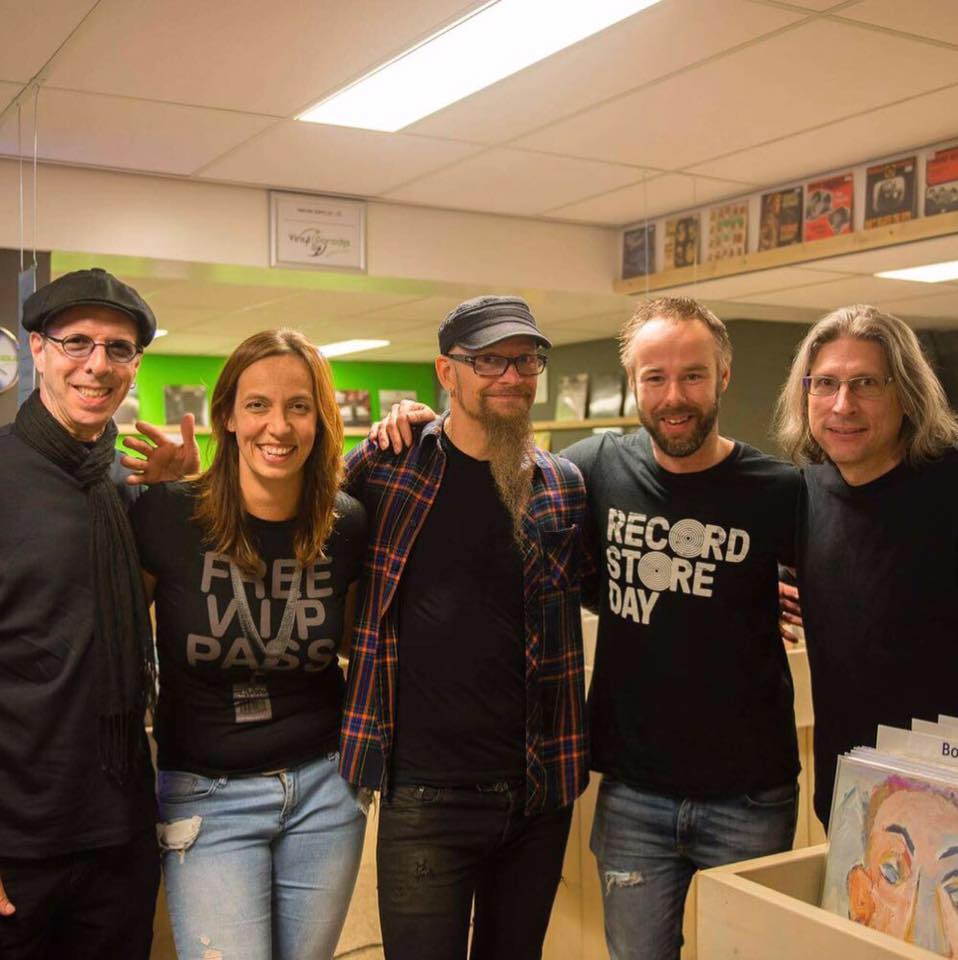 L-R: John Kessler, Irma Haselbekke-Veenstra, Dudley Taft, Bart Haselbekke and Carl Martin at Vinylparadijs
After the Vinylparadijs gig, we drove into Almelo and John and I played a few acoustic numbers for an enthusiastic crowd at the Café Belgie.I got us lost along the way, but we ran into a blues lover named Will. He escorted us to the bar!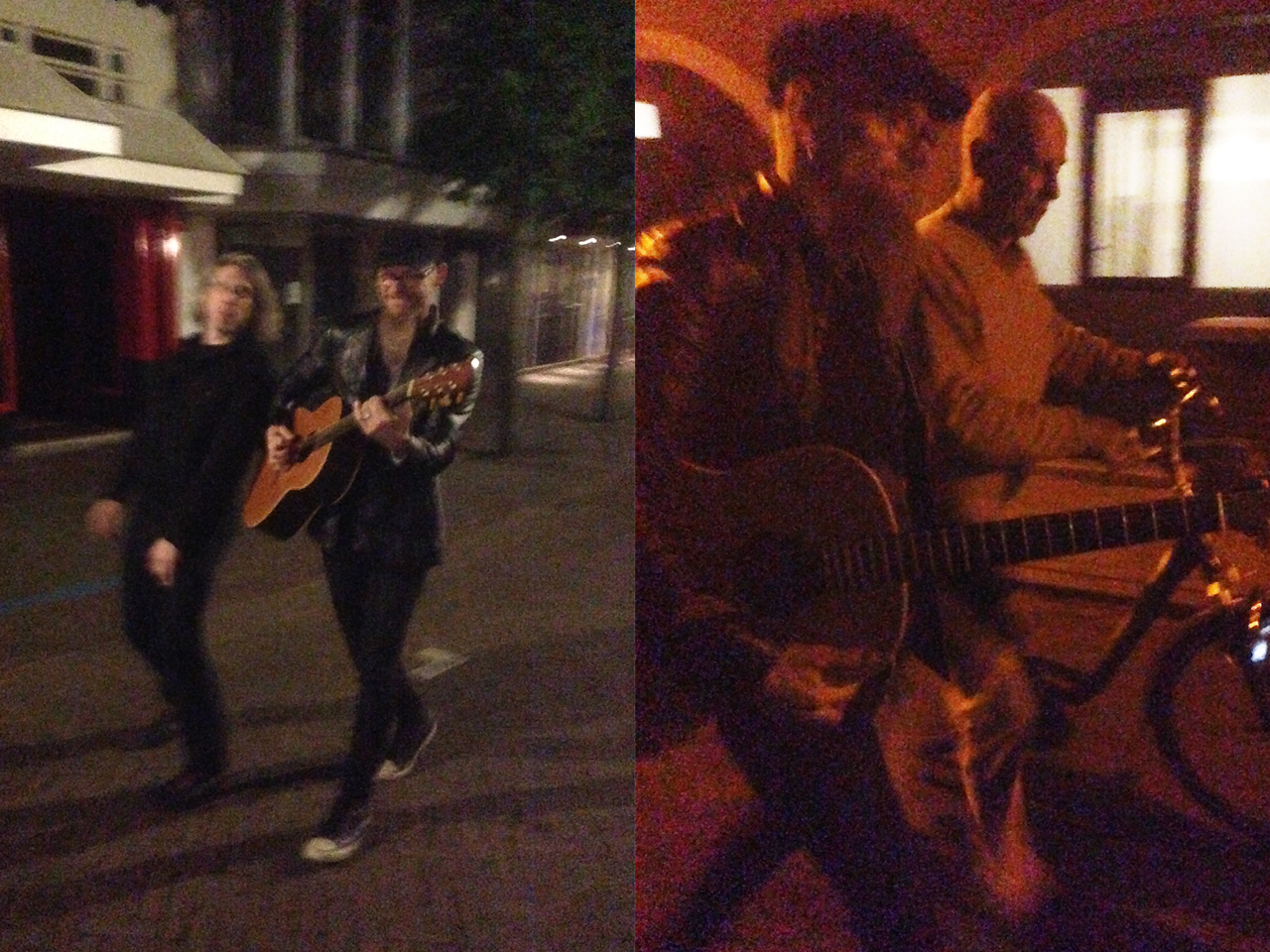 Lost and unlost in Almelo with our new friend Will
The next night we took a short drive up to Essen and played a beer festival. I think our drummer Carl was in heaven. Lots of interesting local micro-brews from the Groningen area. We played a couple of short sets on a tiny stage.
Our next gig was with our good friend Udo Löw in southern Germany, right on the French boarder. We have played with his band, Thorny Roses a few times in and around Saarbrüken, which is one of my favorite German towns to hang out in. They organized a cool show in a school gymnasium with a huge stage and lights. We saw quite a few people that we have seen down there before, including our French friends Noah and Manu Drui. One guy drove his motorcycle all the way down there from the Cologne area- about a three hour trip. He asked me to let him know if we ever play near Cologne, and I said "Yeah, we play Leverkusen next Saturday!" His jaw dropped because Leverkusen is about 30 minutes from Cologne. Hahahaha! 
After a good night's sleep at Udo's farm house, we headed back up to Vriezenveen to play a mid-day Sunday gig at the Het Wapen. This is where we recorded some of our Live in Europe CD back in 2015. This time we played outside, enjoyed some barbecue and beers, and enjoyed the help of Anko & Helga who took care of the merch!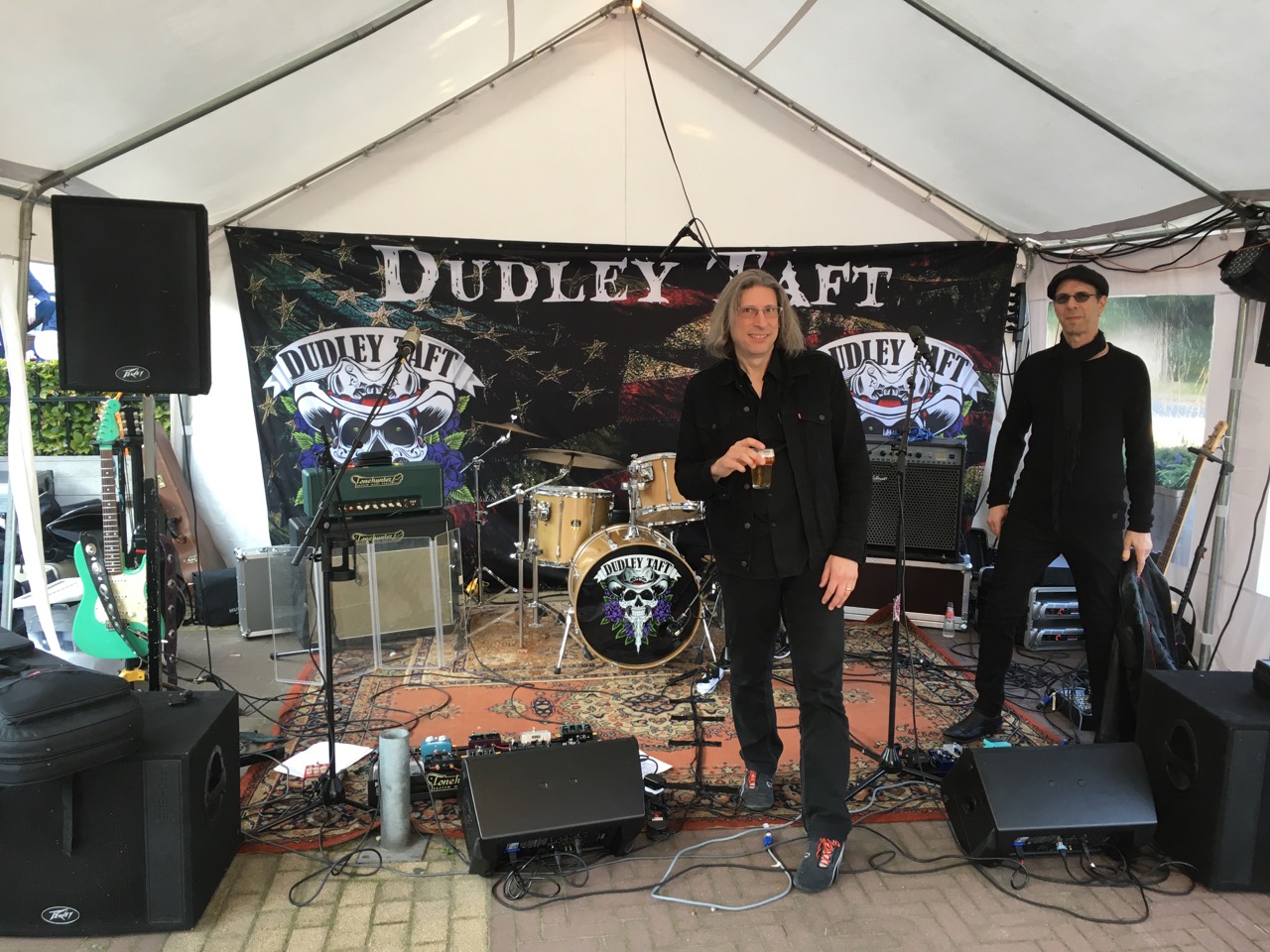 Playing outside at the Het Wapen in Vriezenveen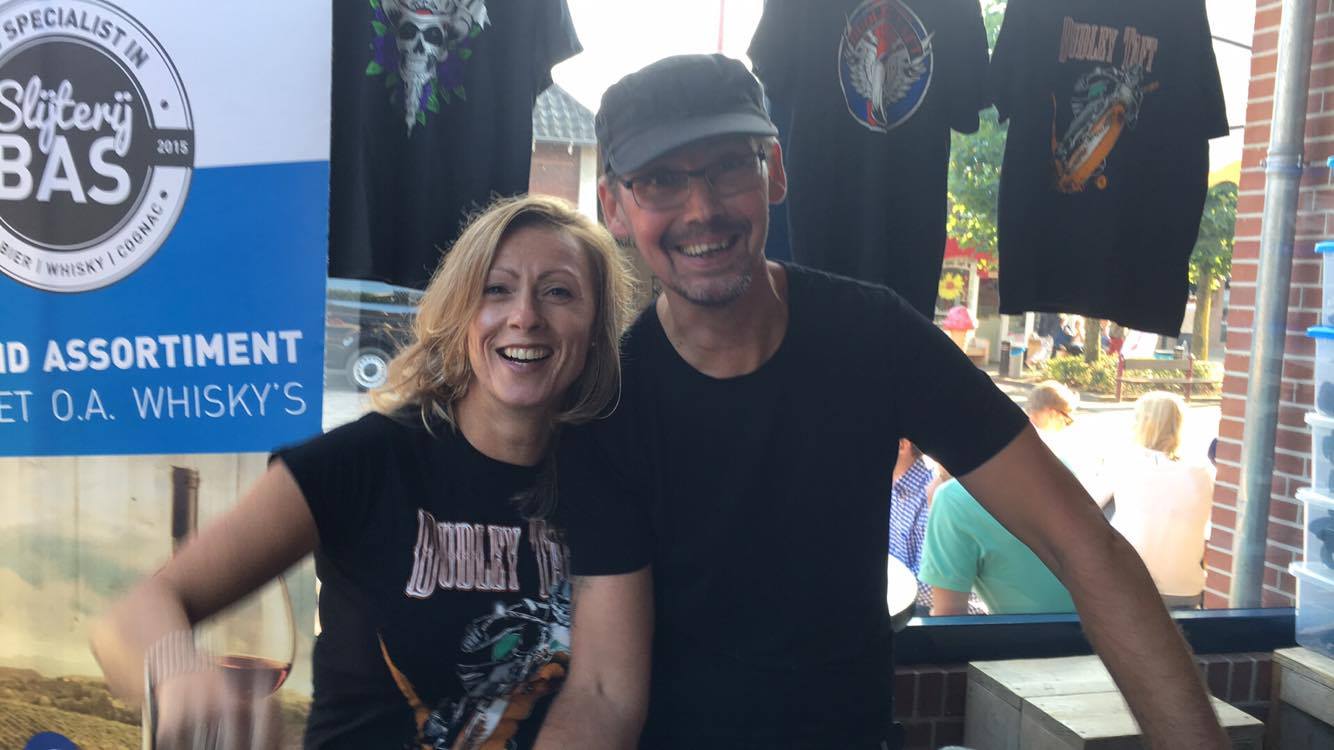 Helga and Anko Lammers (Our Dutch Family)
It is a bit unusual to have a Monday gig, but we were happy to return to Café de Stier in Eibergen, which is a short drive from Vriezenveen. We played there last spring, and they were having the same sort of shut-down-the-town festival that starts on a Friday and runs through Tuesday. (We could use more of this stuff in the US!) It was a bit funny- I asked the guy who runs the bar, Sander, if we could come back in the fall, and he told me that "No, we don't have the same bands play in the same year, or even next year. Every two years is about right." But there we were, six months after our last show there. And after our show, Sander told us that we definitely will come back next year, and headline on a Saturday night! Hahahaha... Like usual, we did see many of the same people as before, but we had a much better response this time, and were joined by our good friend Nineke Loedemann who, along with a couple other people, run the Dutch website BluesMagazine.nl. She was my first interview on my first tour in 2012 before we played our first show in Europe!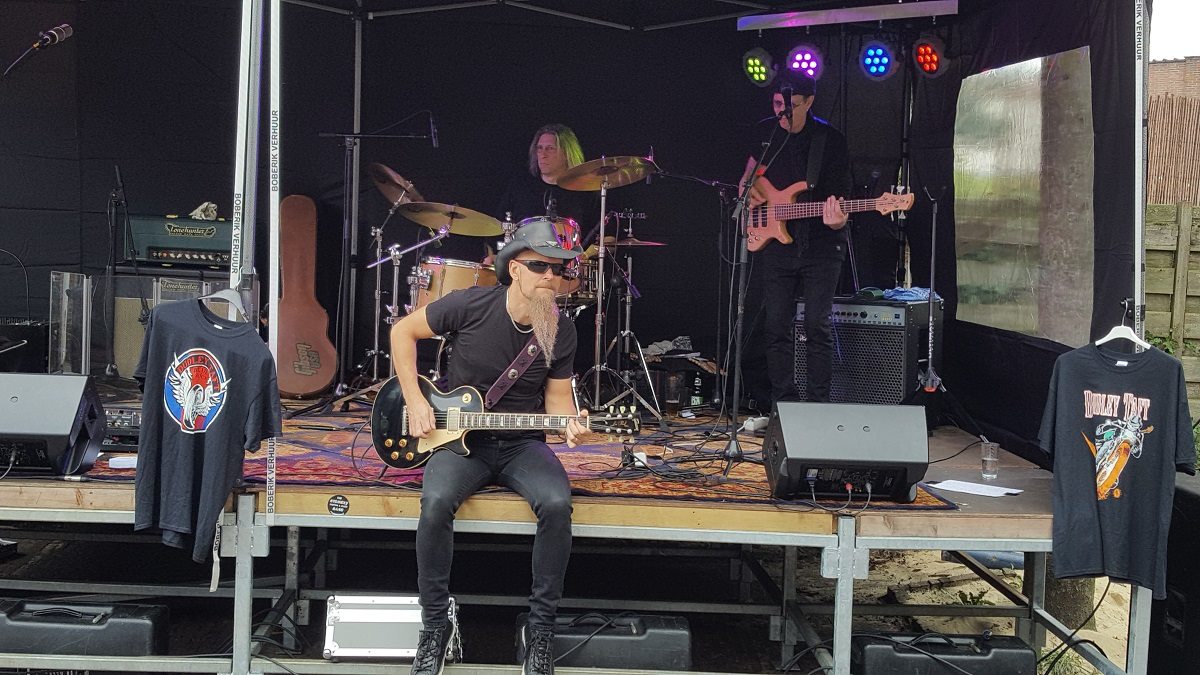 The stage at Café de Stier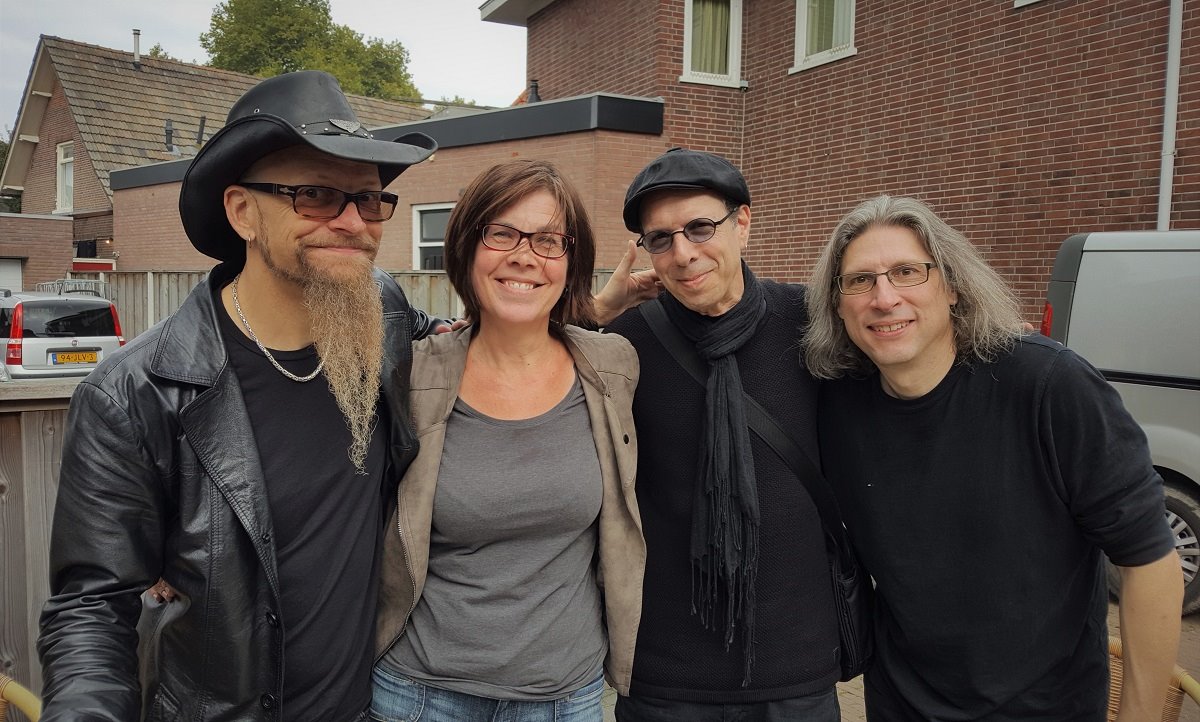 Nineke Loedeman from Blues Magazine NL
The next day, we relaxed at "Castle Lammers" and did next to nothing, which was fantastic. Carl and I decided to get a fire going in their fire pit (Anko was at work), and we enjoyed the fire and tried to drink as much beer as possible.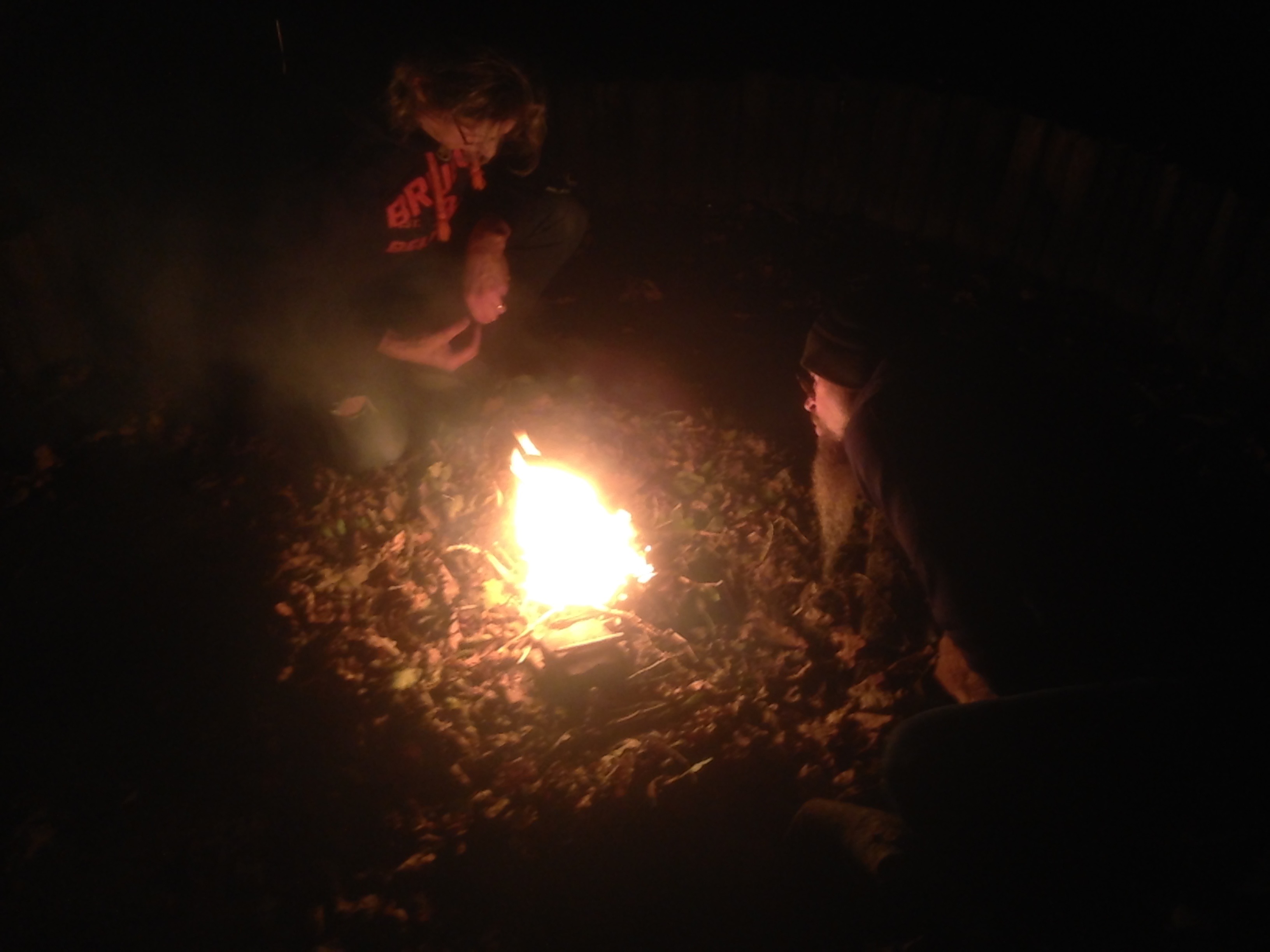 Stoking the fire in Vriezenveen
Then finally, the moment I had been waiting five year for: my beautiful wife Michelle joined us on the tour! She arrived at Schipol Airport in Amsterdam early on Wednesday, and I got up early to take the train out to meet her. She recovered from the time change a lot quicker than John, Carl and I did! That night we were happy to take our hosts out to a nice dinner, but before that she opened a nice gift from Victor and Ewa Czura - a cool amber necklace!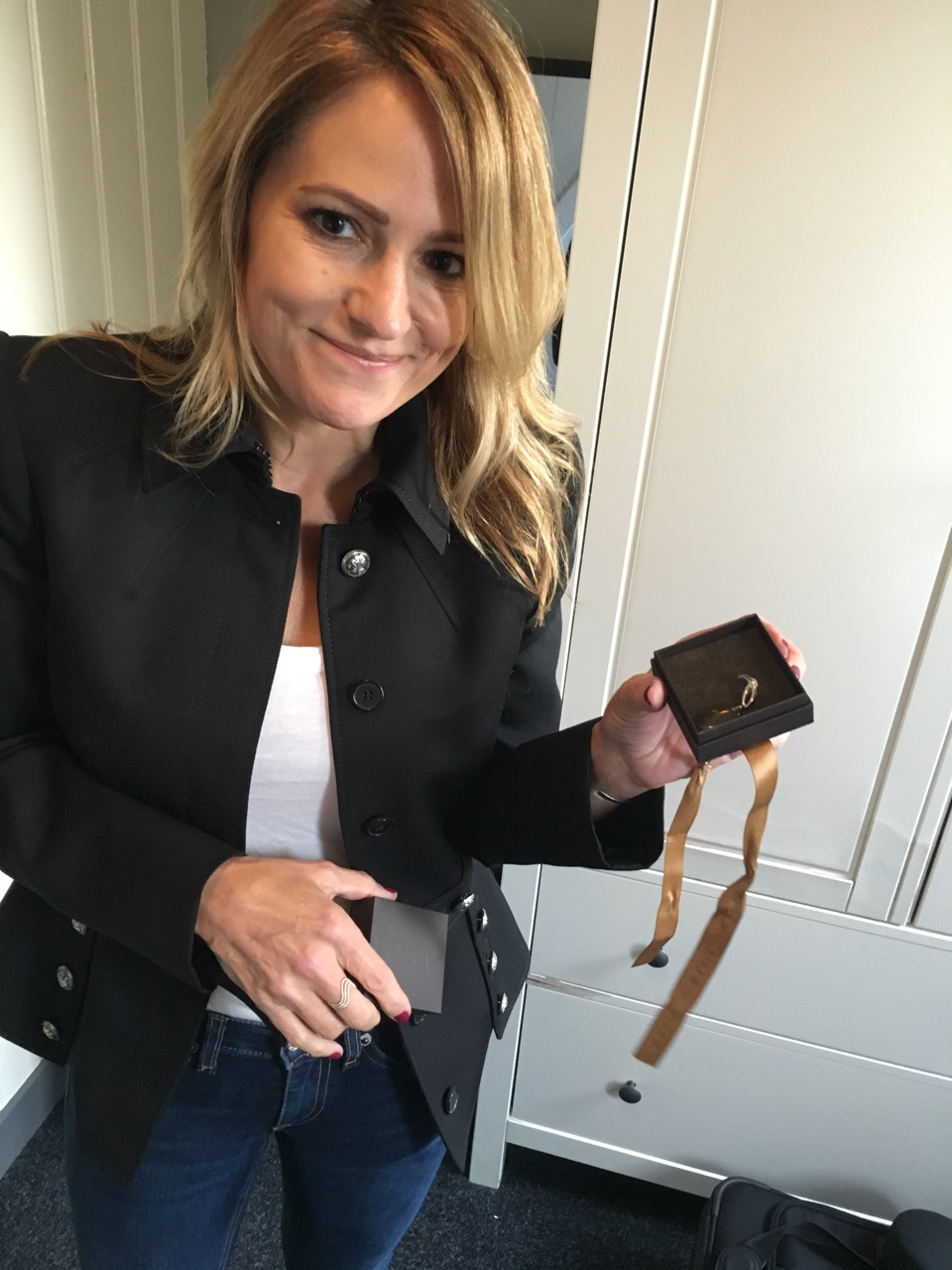 Thanks for the Amber!
I scheduled a photo shoot the next morning with Stefan Schipper - a world-class photographer who is based in Vriezenveen. He has taken the cover photos for my last two studio albums, and I figured we could get some great shots for the next CD. (Stay tuned for that.) He asked Michelle to jump in there, and we got some great shots! Thank you Stefan!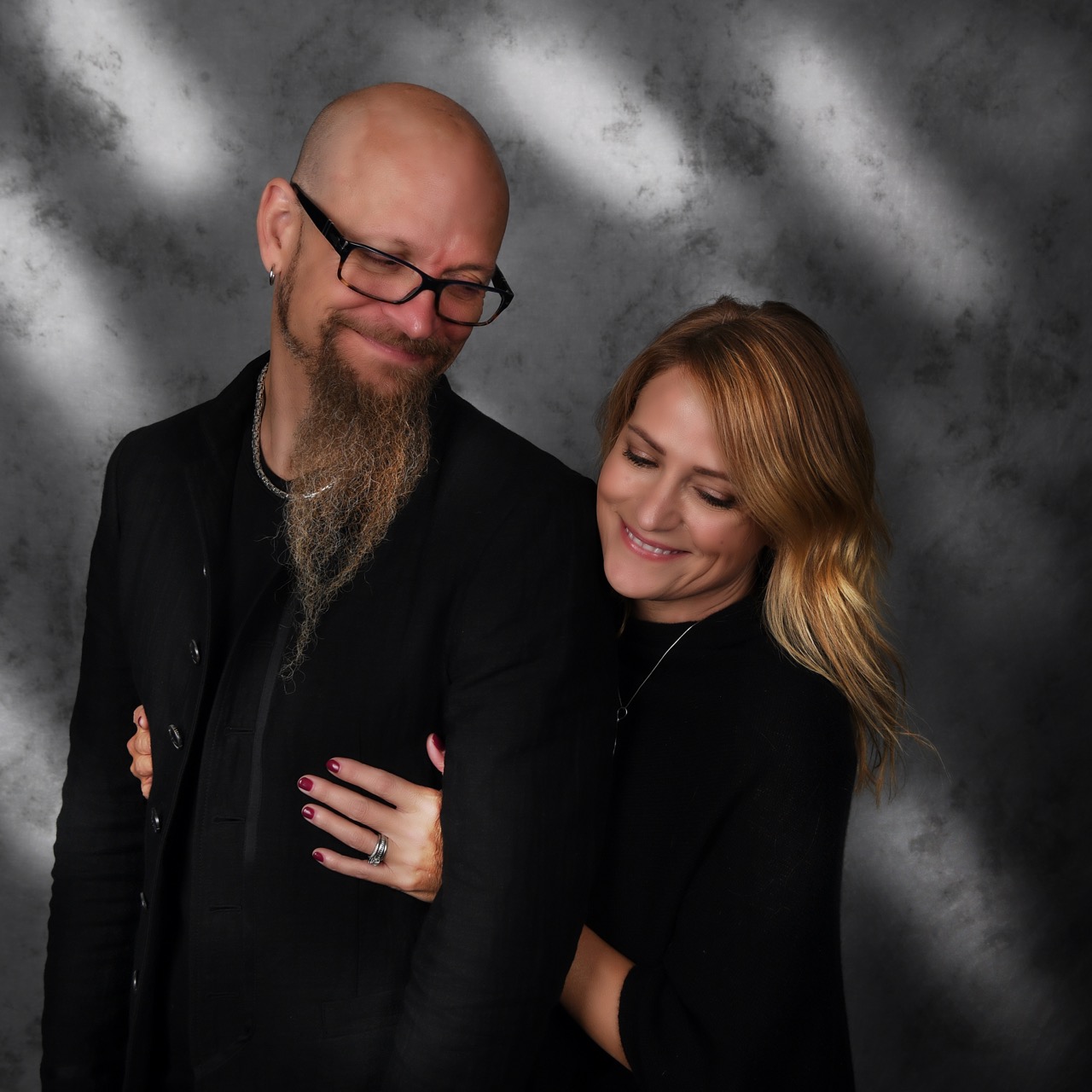 Photo by Stefan Schipper
Our first "show" with Michelle was a live radio performance in Ridderkerk, near Rotterdam. We played for bluezy.nl and did a short interview. Anko and Helga came along, and we enjoyed some whiskey after the show in our hotel. We all slept well, and were able to hang out at the hotel until noon. The drive to Leverkusen was short, and we were able to check in early and walk around the city center and mall. We were ready to go when Topos opened up for load in.
This place has to be one of the strangest venues I have played in the EU. It is very small with a tiny stage, and the seating there is just plain weird. We did pretty well the last time we played there, which was in 2016. But I wasn't too excited to come back - it gets really hot in there, and the pay is underwhelming. Also, the sounds guy told me their new neighbor, whose bedroom shares a wall with the stage (?!) had been complaining about the volume, and if they got another visit from the Polizei the whole bar would be shut down. I thought to myself, "get ready for the LAST show here!" BUT, we did keep he volume down and it ended up being one of my favorite shows from the tour. First, check out the uh, seating arrangement: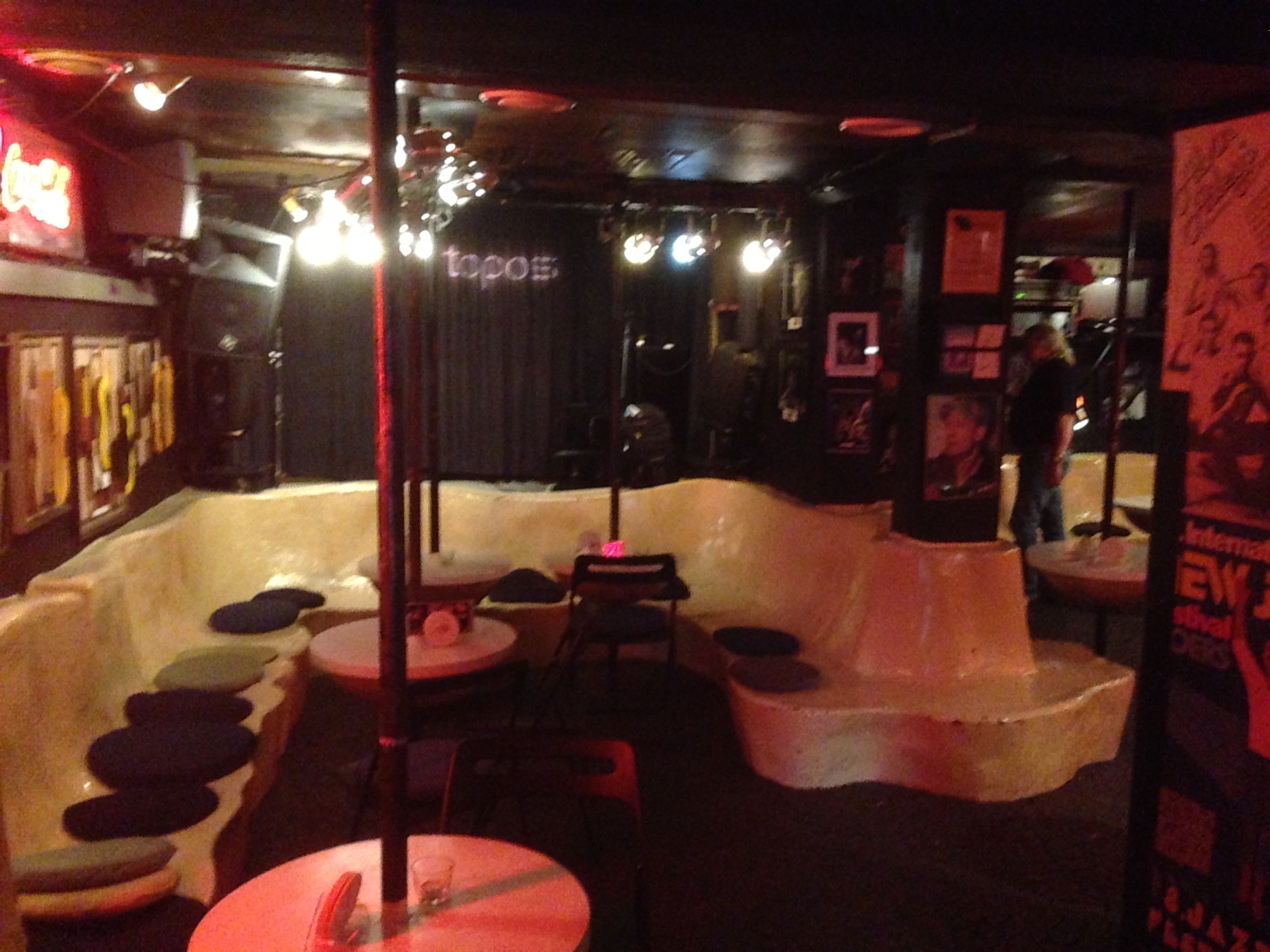 Topos in Leverkusen
Looks like paper mache seating. That can't be comfortable! Somehow they packed about 40 to 50 people in there. In between sets, we sold a ton of CDs and T-Shirts. I barely had time to use the bathroom before we had to start the second set. Our good friend Marco Zwillich, who has seen us on just about every tour, requested we play "Left For Dead" so we did, although we had not played it in quite some time. That went over well, and I remember we played an especially good version of "Deep Deep Blue" that night.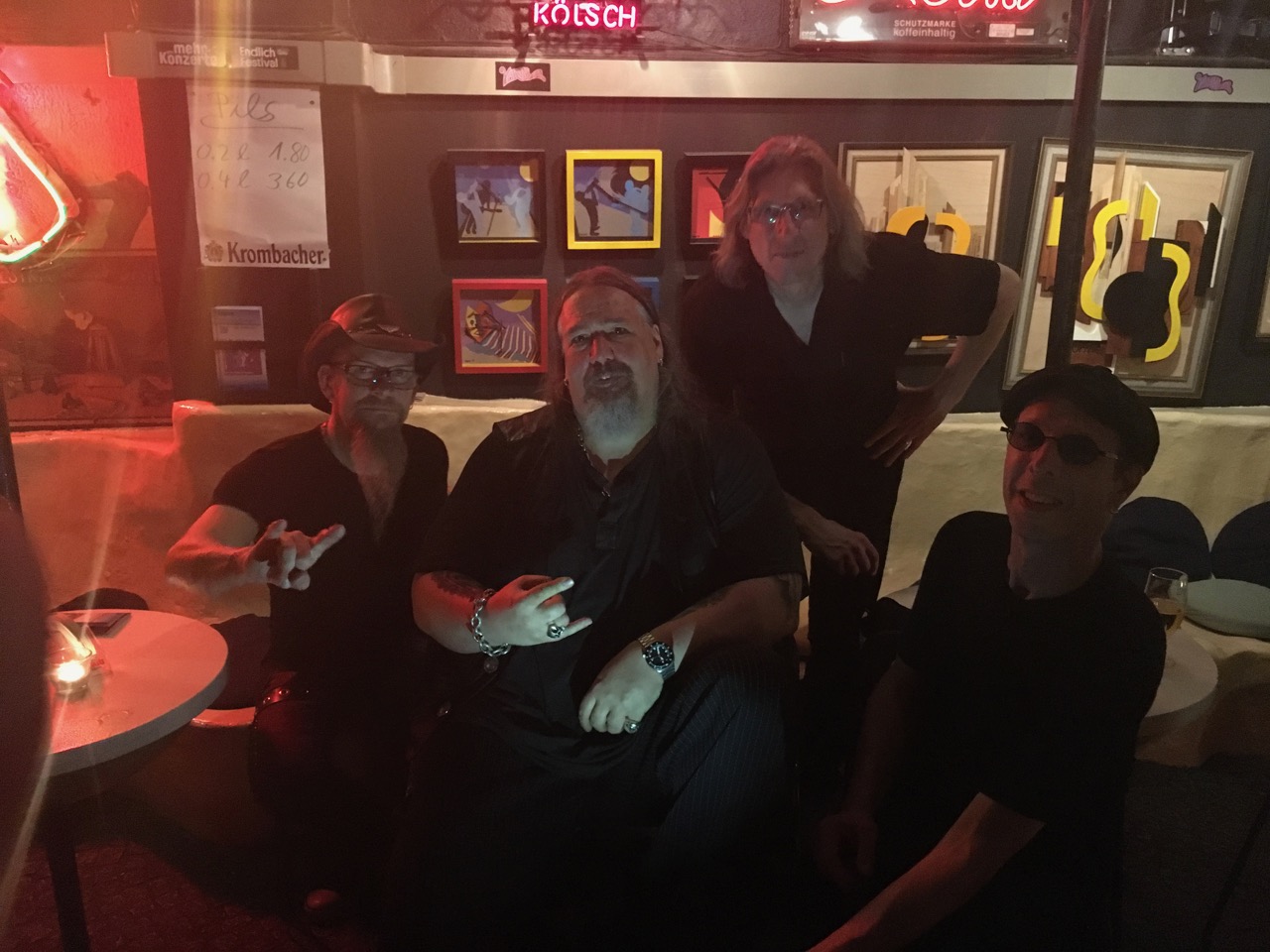 Hanging with Marco Zwillich after the show
The third show that Michelle joined us for was a short drive back the way we came (this happens a lot on tour) to a town called Waalwijk (wall-why-k). We played a small bar called Jay's Biercafé in the town center. There was a small crowd, including a guy that was at the radio show in Ridderkerk at the bar (Jan VanderEnt). The owner, Jeroen Lammers (no relation to Anko) seemed to like us a lot, and asked us if we could play a bigger room next time upstairs, and also at his new bar which will be opening in November in nearby Tilburg.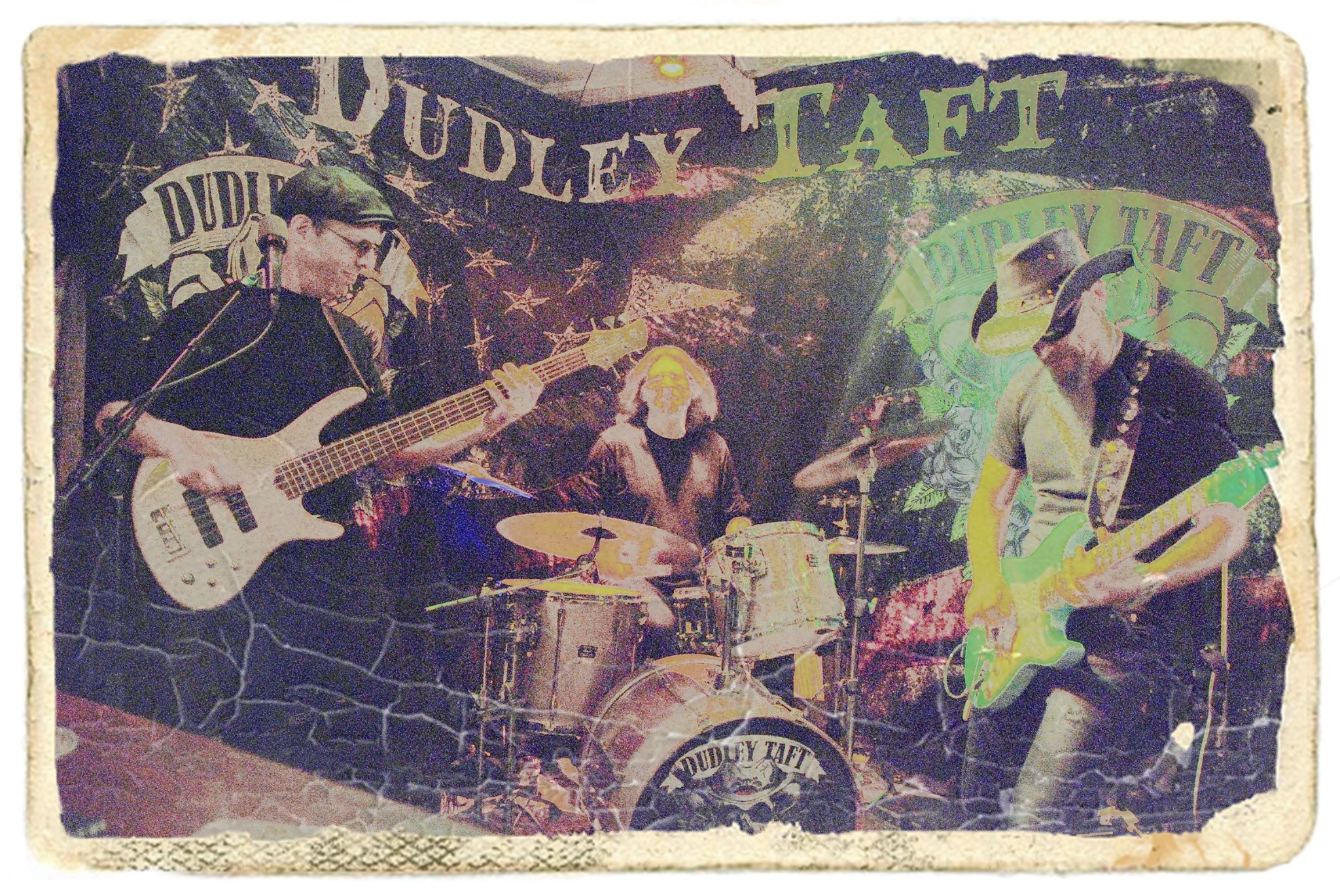 Rocking Jay's Biercafé in Waalwijk. Picture by Jan VanderEnt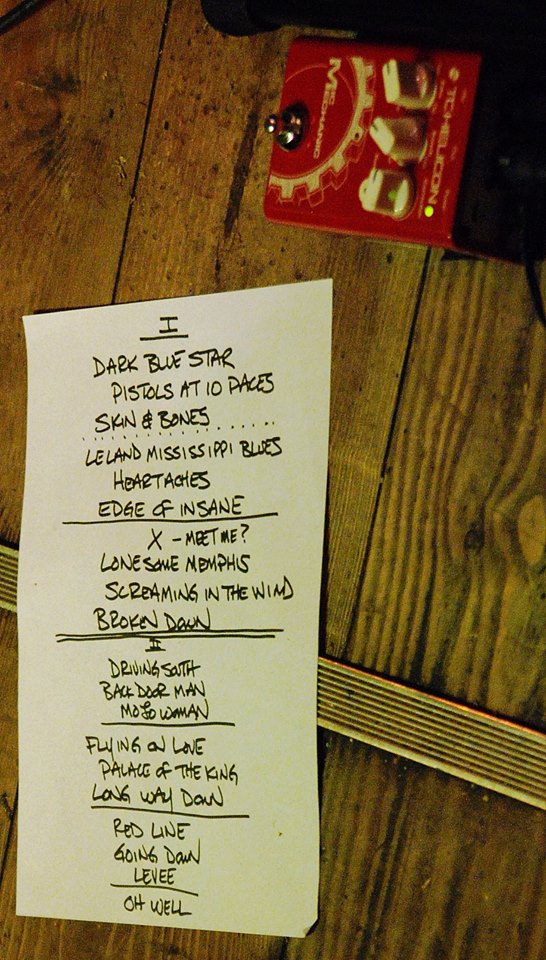 Set List from Waalwijk
For the last show of the tour, we drove back to Germany to a town called Mönchengladbach for an early Sunday show to benefit sick children. We played with Simon McBride, an Irish blues rocker. It was a fun last set of the tour on a big stage. Michelle helped us sell some merch, and afterwards the hosts invited us to a nice dinner at a nearby Italian restaurant, where the owners treated us all like nobility, and served up some killer pasta.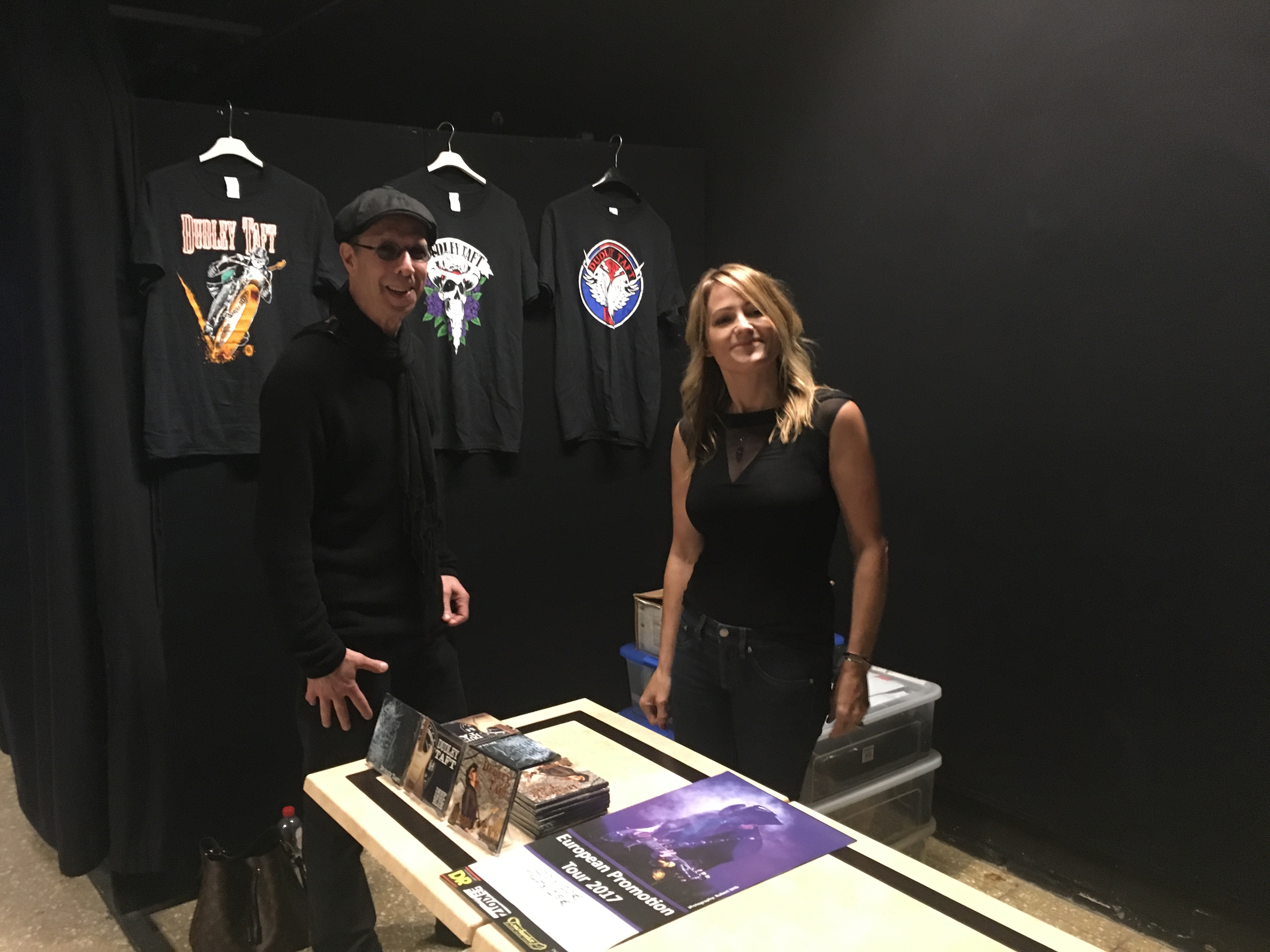 Michelle and John Kessler at the merch booth in Mönchengladbach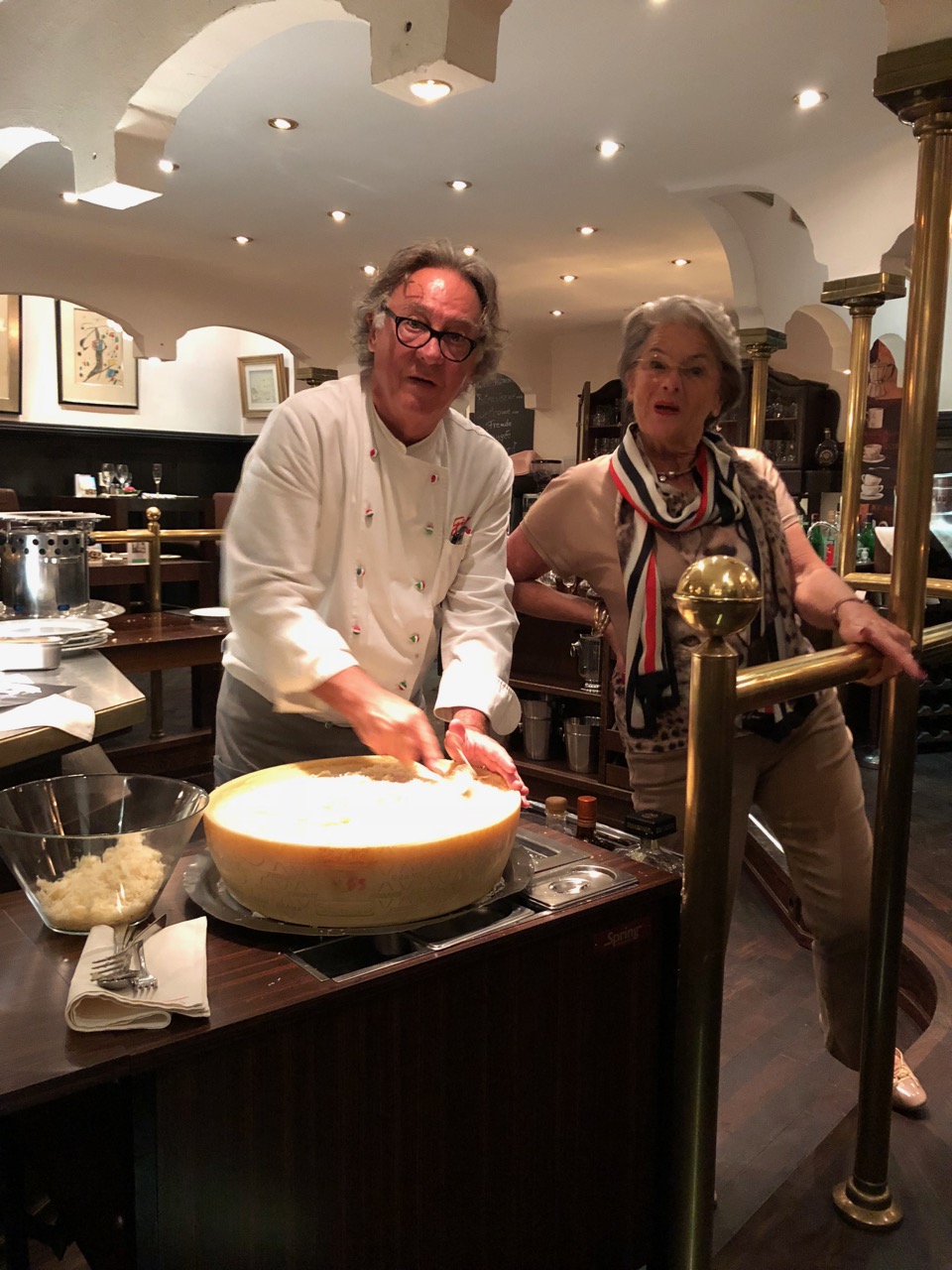 Our hosts at the restaurant in Mönchengladbach carve up some cheese
NOTE FROM JOHN:
There was the amazing midnight dinner at an Italian restaurant where the chef and his wife fussed over us while preparing a dish at the table that involved pouring hot pasta onto a giant wheel of cheese. Speaking of cheese, there was the restaurant where we repeatedly asked for no cheese and received extra cheese. - John Kessler
YES! Another great tour under our belts. As usual, we had a great time. We are quite lucky to have such good friends in the EU. That's more than half the fun - and something that average tourists do not get easily. Planning for the 9th tour is underway, so keep your eye on my shows page for details about the Spring 2018 tour!
So, I kept passing this sign in Almelo, and my brain is not really good at reading Dutch. It tries to make sense of long, weird words. So I kept thinking about the snoring battles that raged every night in John and Carl's room (they are roommates partly because of this specious talent). I thought of them as: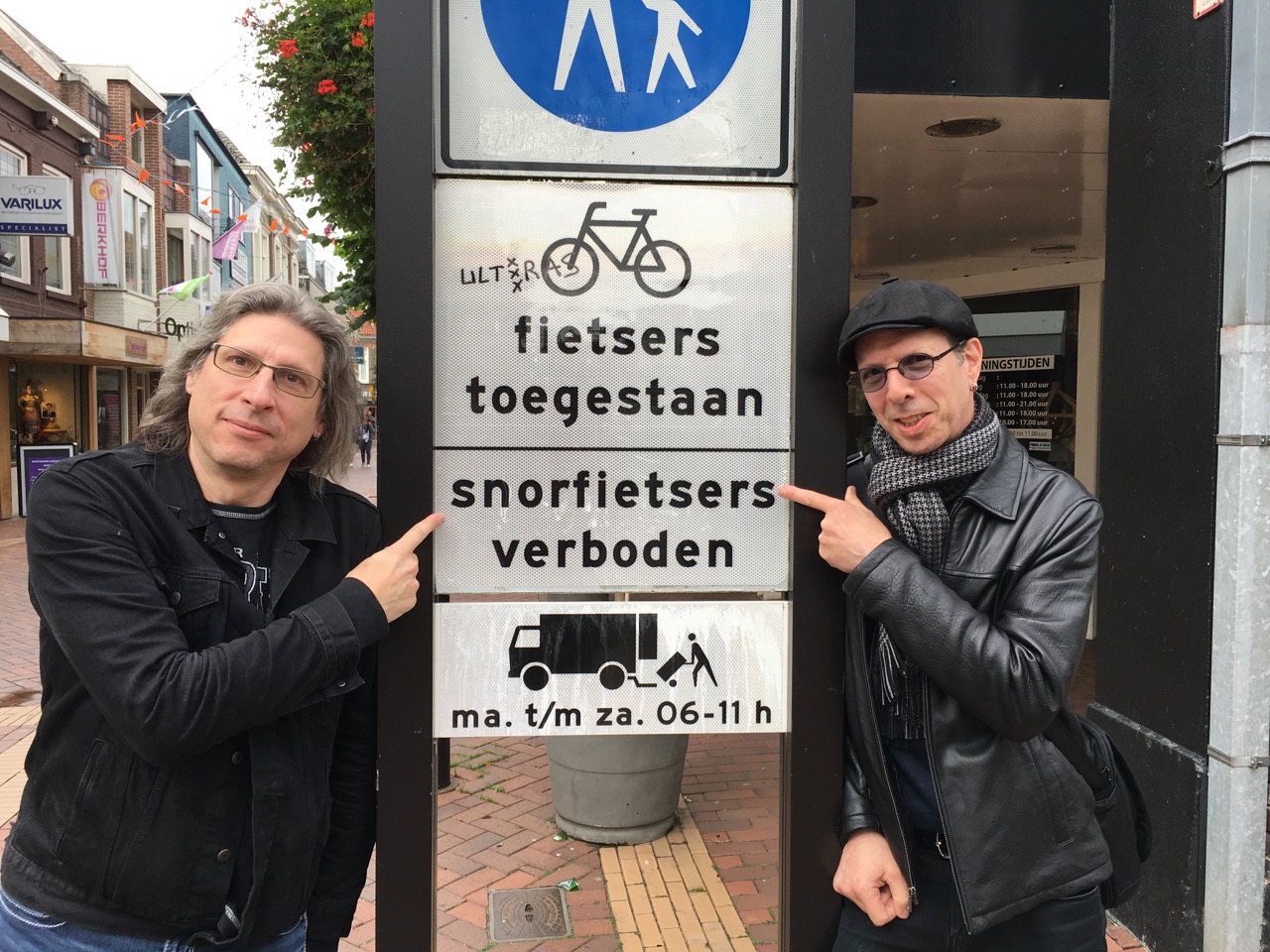 SNORE FIGHT-STERS
NOTE FROM JOHN:
We were occasionally saved by our own PB & J sandwiches, much to the horror of our Dutch hosts. For some unknown reason, in their culture combining peanut butter and jelly is like putting horseradish on ice cream, literally horrifying. They eat peanut butter and they eat jelly but never together. We find that it tastes best at 2 in the morning. With beer. - John Kessler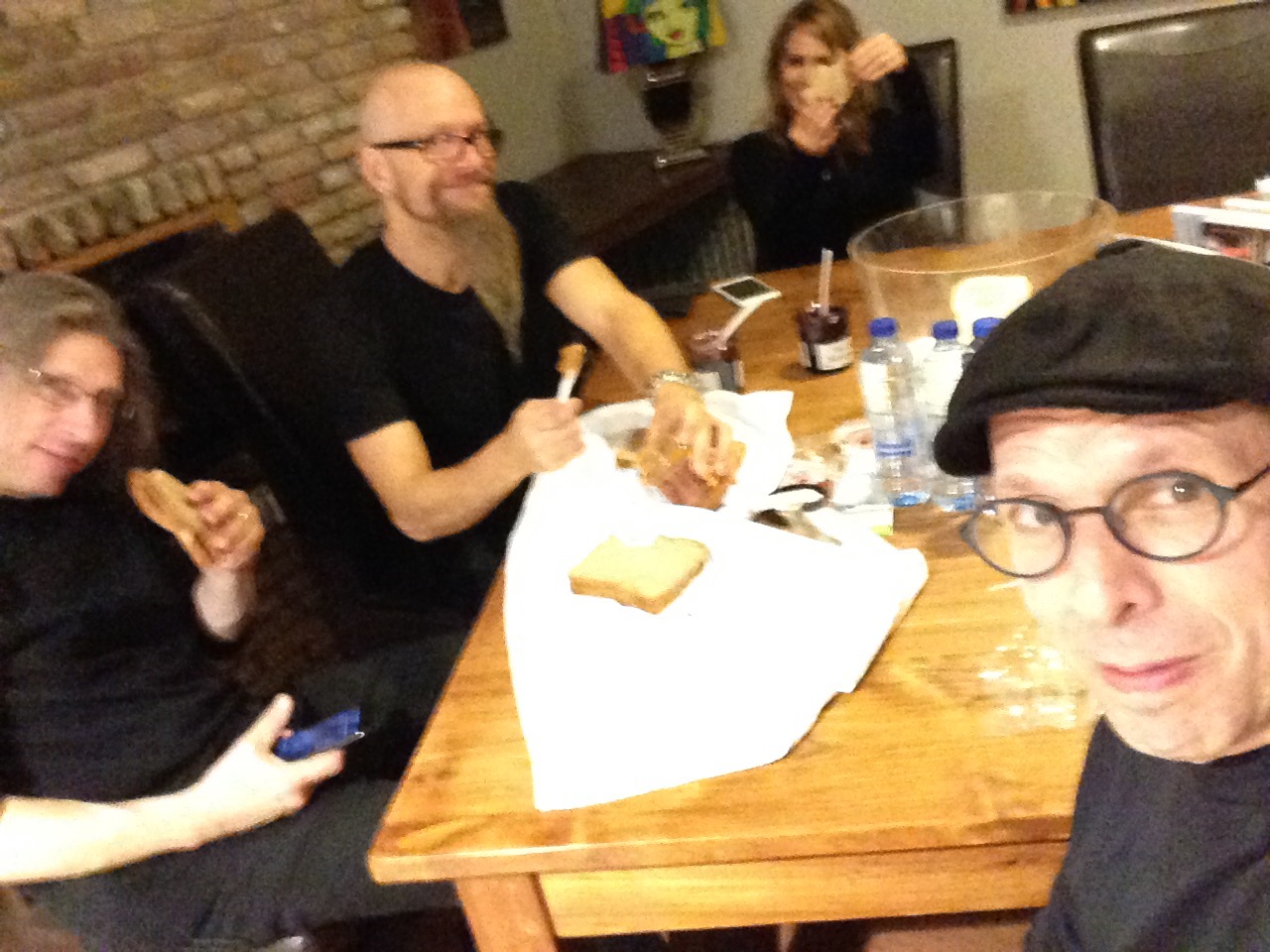 Peanut Butter and Jelly at 2 AM
SEE YOU NEXT YEAR!