After our first few Polish shows and a long drive, we made it back to our Dutch HQ: Castle Lammers.  Our hosts, Anko and Helga always take great care of us. We had one day off there to do a little laundry and get organized.

One thing that I really messed up on this trip was making sure I had an accurate accounting of what merchandise we had to sell at our shows. Luckily, we had enough CDs but I made the mistake of thinking we had a lot of t-shirts left, which we didn't. Oops. When we were in Poland we sold a lot of CDs, but I had no t-shirts whatsoever! So I called my buddy Heiko at Hamburg Records. They have done the shirts for all the tours, and had all the designs and silkscreen masters saved there. They made us 150 shirts in very short order and had them shipped to Anko's. They arrived on our day off, and we were able to get those organized for the rest of the tour.

A local newspaper guy named Tom van den Berg came out and interviewed Anko and me about our friendship over the years: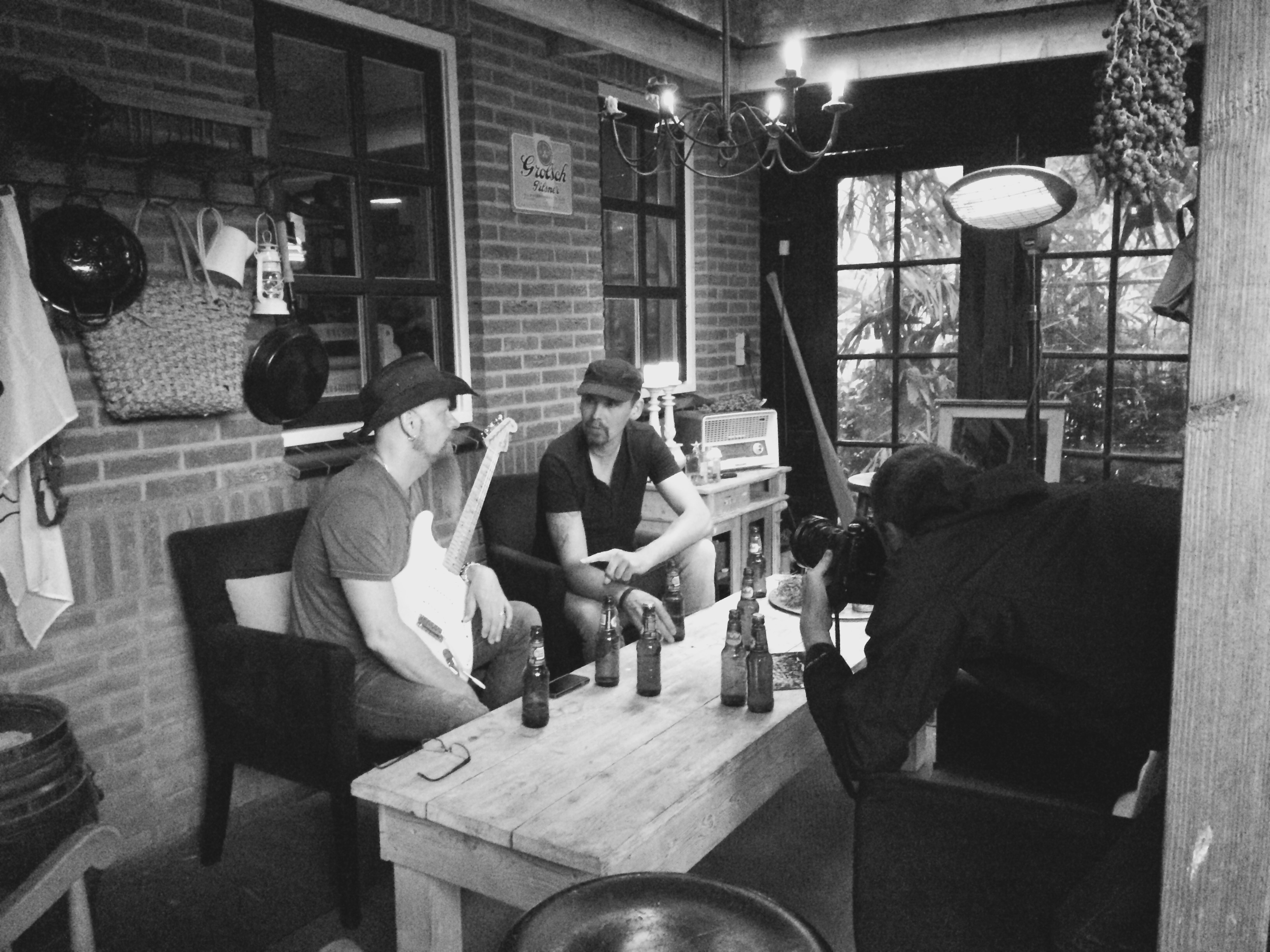 Interview and photos at Castle Lammers

Our next gig was a short drive away at the famous Bluescafé Apeldoorn- they have some hardcore blues fans that frequent this place, and it has been hosting 200 shows a year for more than twenty years. We played on a Wednesday, and the turnout was just ok, but we had a lot of fun...


"Oh Well" at Bluescafé Apeldoorn. Using our new LED floor lights for the first time! Hahaha

We had tried to fill that Thursday, but nothing came through so we spent another day at Castle Lammers. The weather was really nice and they have a great yard there, so we hung out outside a lot and watched the squirrels.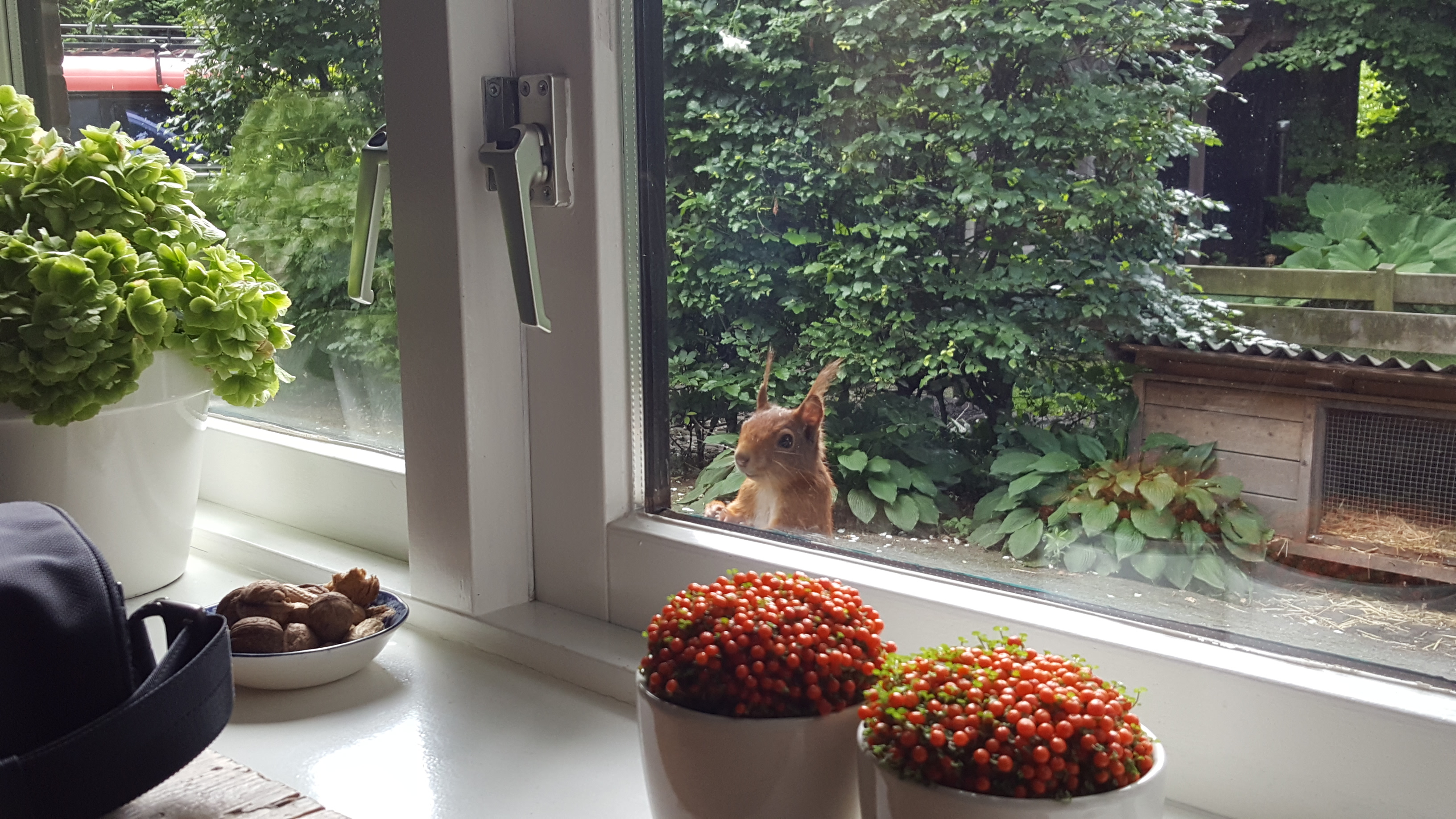 The Squirrel of Lammers

That weekend we drove out to the coast to Middelburg, Zeeland which is south of Rotterdam and The Hague. We played there last year at another bar, and had a good time, so we thought this would be a good gig. However, it turned out to be one of those crappy gigs that I would like to forget about. The bar was small, with almost no room to set up (so stage to speak of). We set up by the emergency exit, and loaded in through the back door brining our stuff through a very trashy alleyway and garbage filled back patio. 

Middelburg is one of those towns where it is challenging to park- it gets a lot of tourists because it is on the coast near the ocean. The bar owner told us we could just park in the alley "Don't worry about it," he said. Well, it only took about an hour before we got a €99 ticket. He told us not to pay it! The parking people are scoundrels he said. "Uh huh, great," was my reply. He also wanted us to play 3 sets which we never do. But we ran though a couple of extra songs that we knew, and planned on 3 sets (we aim to please). The gig was ok; the small crowd was happy. At least they had some interesting artwork: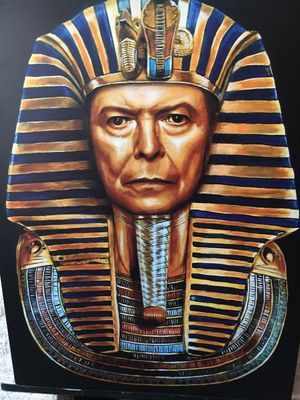 Now, I would love a print of "King Bowie-tut" at home...
And the bathroom in Middelburg was pretty interesting: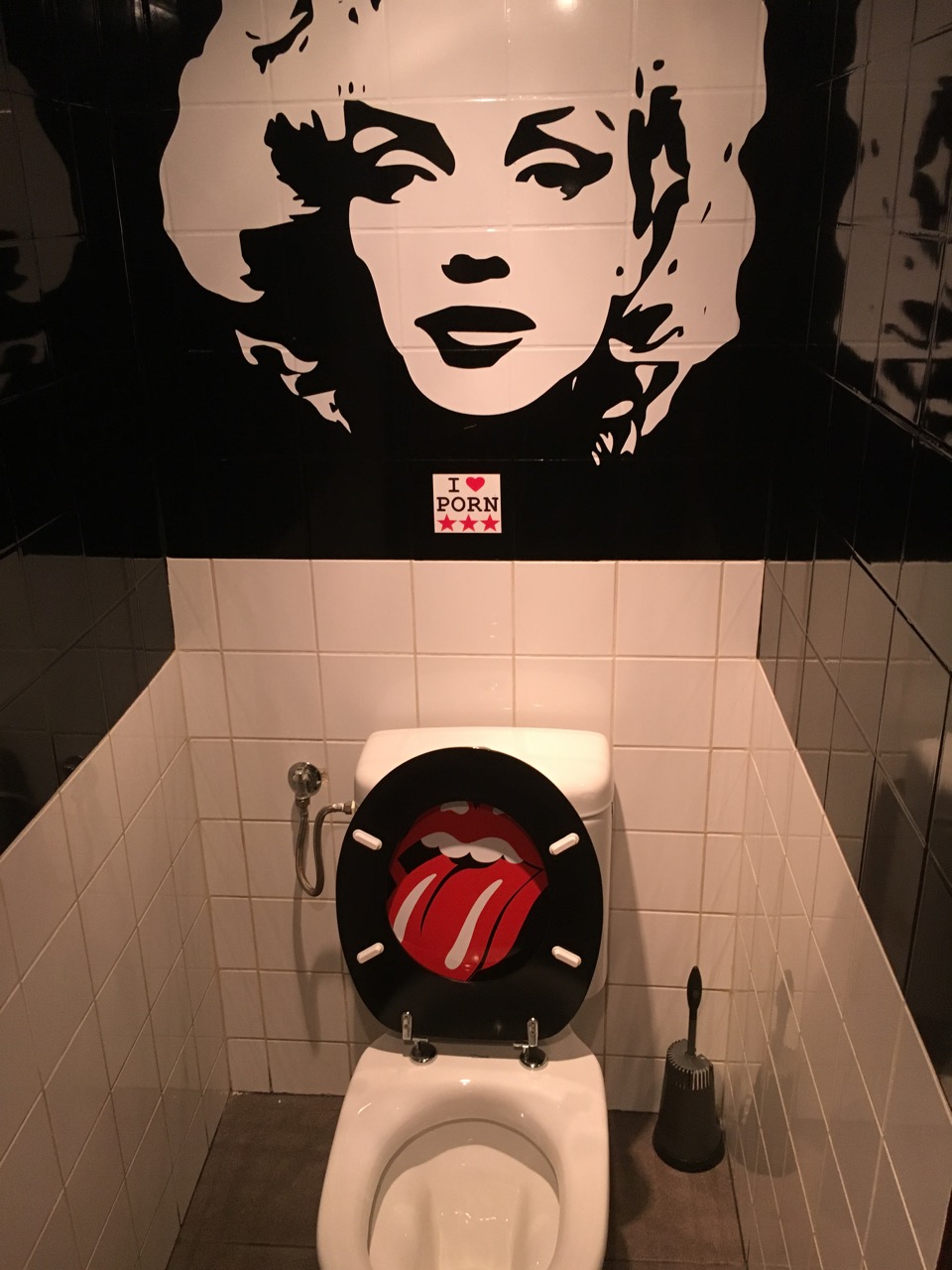 Marilyn Monrolling Stones

Sometimes we leave our gear at the venue when there is no real secure parking, and we did so this time. But the owner showed up an hour late as we waited in front of the locked club the next morning to get our gear. "I overslept," he said. Oh boy. And, we got another ticket that morning. Damn! We were ready to flush that gig down the toilet and move on...

It was a short drive to Wateringen, near The Hague the next day and we arrived early. The venue was a podium provided by local government for shows and rehearsals and had a big stage with a nice sound and light system. We played last out of three bands, so it was nice to do just one 90 minute set!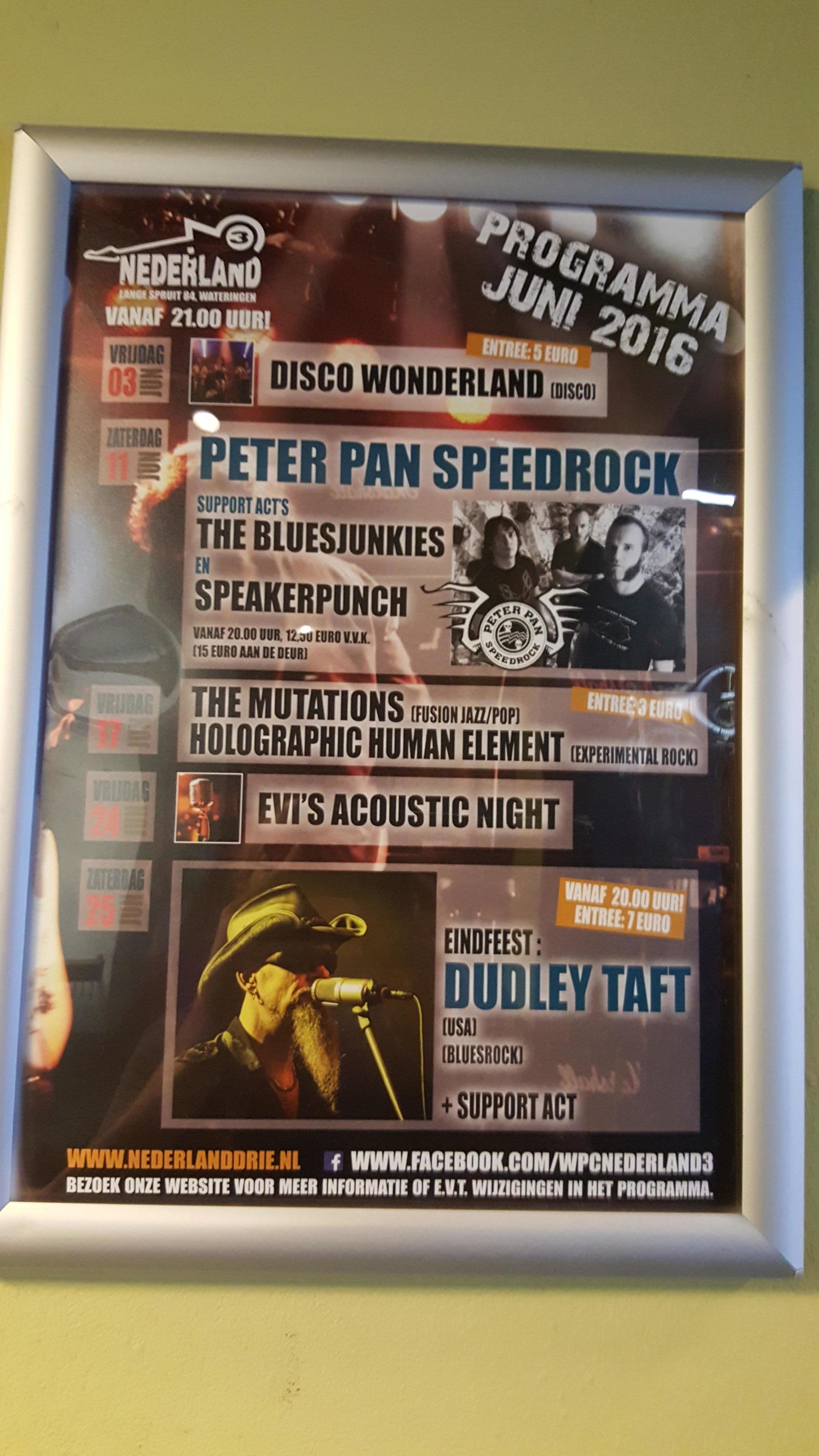 Nederlander 3 Show in Wateringen, NL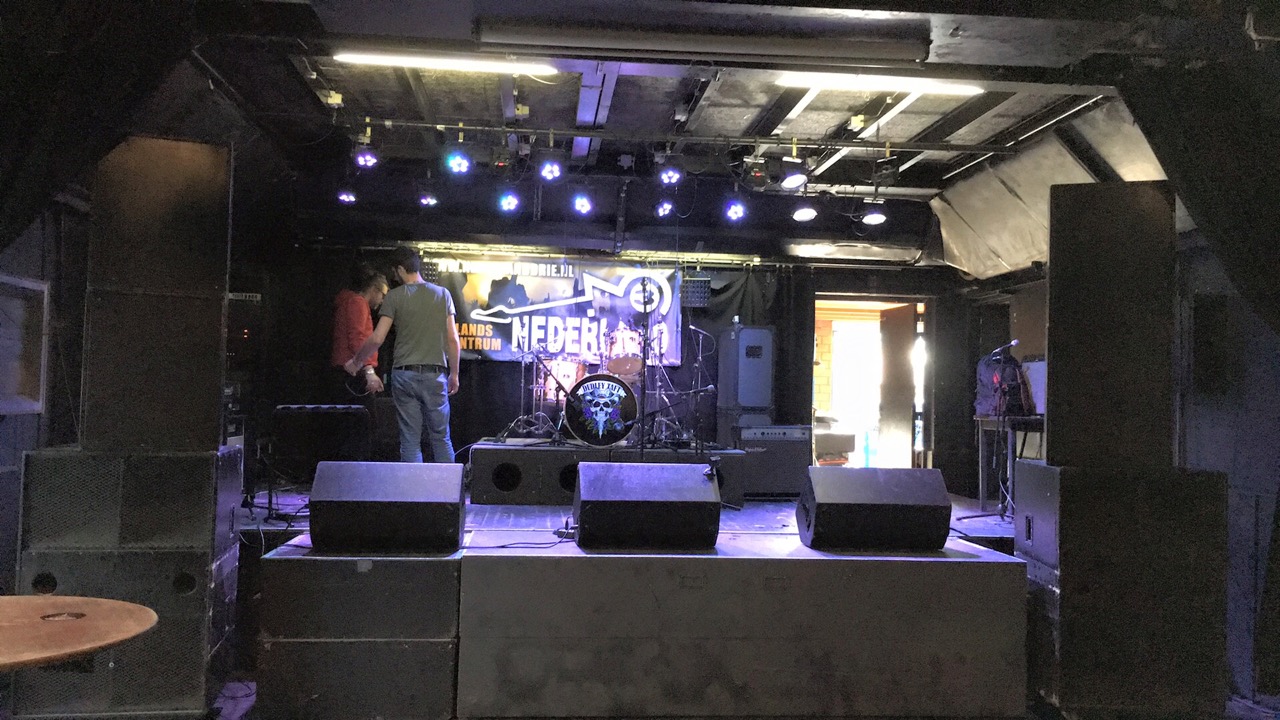 The Stage at Nederlander 3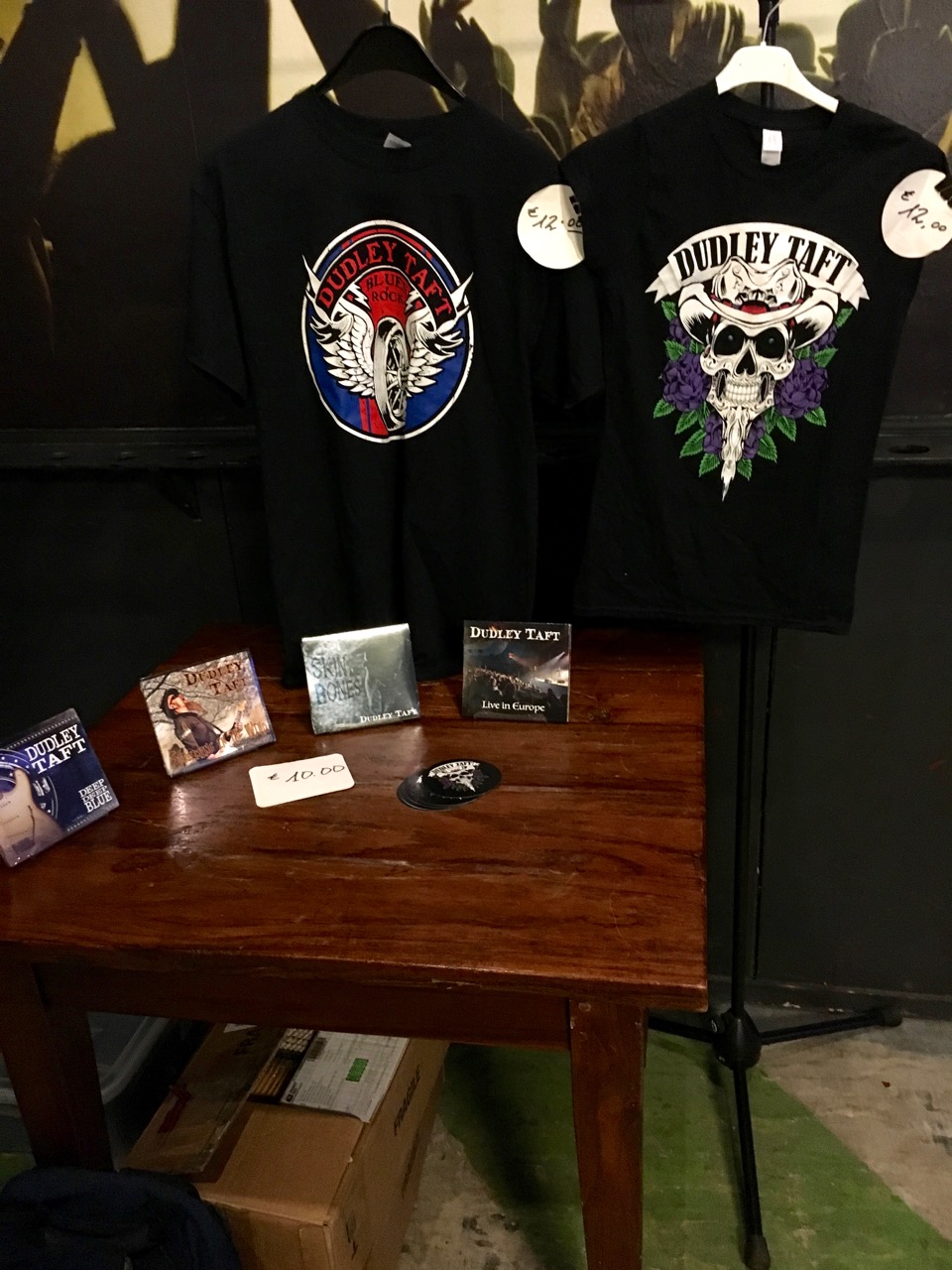 Our Merch setup at Nederlander 3
It is important to mention that we had our new album,
Live in Europe
ready to go for this tour! We rely on merchandise sales to help pay the bills, and it was great to have four CDs and a couple of t-shirt designs. 
Our show that night was great with an enthusiastic crowd. The opening band was Never Trust from just north of Milan, Italy, and I excitedly told them I was going that way soon to celebrate my 50th birthday. They were doing a short string of dates, and its always good to compare notes with other bands that tour Europe. If you get a chance, google them.
The next day we drove up to a town called Bergen, on the peninsula north of Amsterdam to what would turn out to be one of my favorite gigs of the whole tour. This village was more 'upscale' than most Dutch villages, with high-end couture boutiques and fancy restaurants. The place we played was generically called De Taverne. It looks like we set up in grandma's living room... well, if grandma was into nude paintings.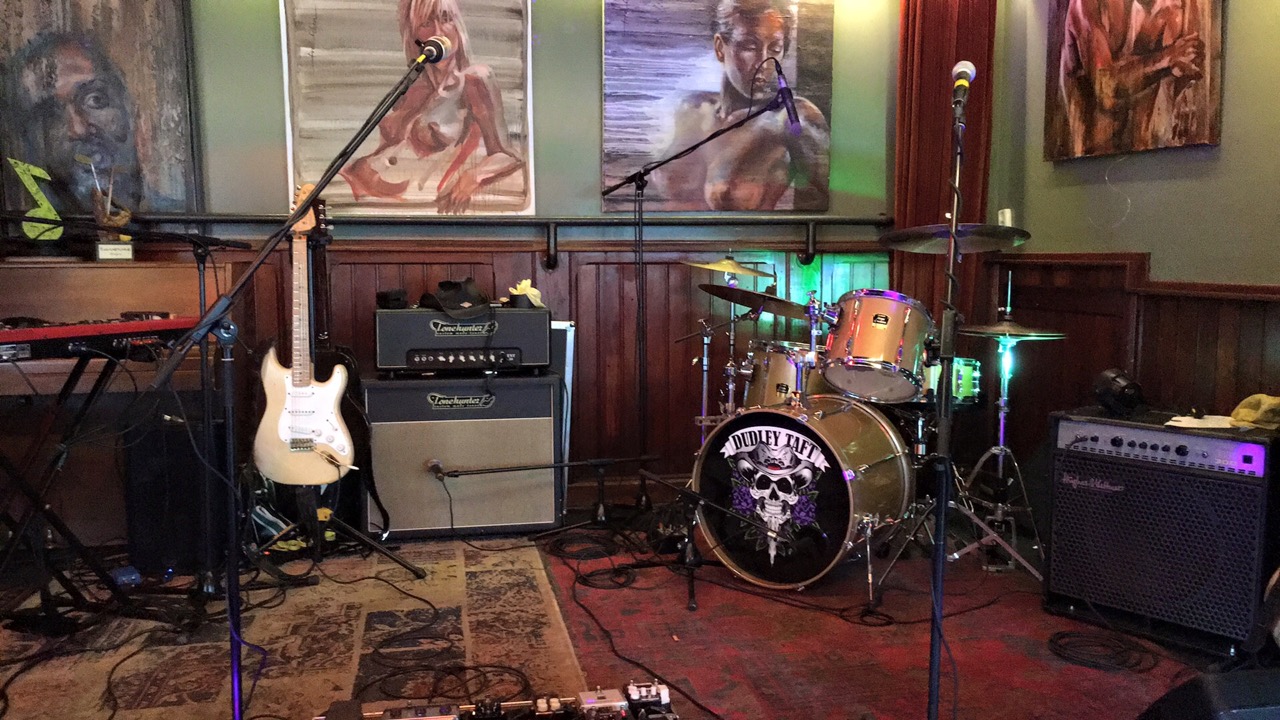 The stage at De Taverne in Bergen, NL
It was one of those shows where everything went well- the band was very comfortable with the songs at this point, and I think we really killed it. There were about 110 people crammed in there and they were all engaged and enthusiastic. The weather was perfect! Kasey and I walked around for a little while in our black stage outfits and got some interesting looks... hahaha. We found a restaurant with a really unfortunate name: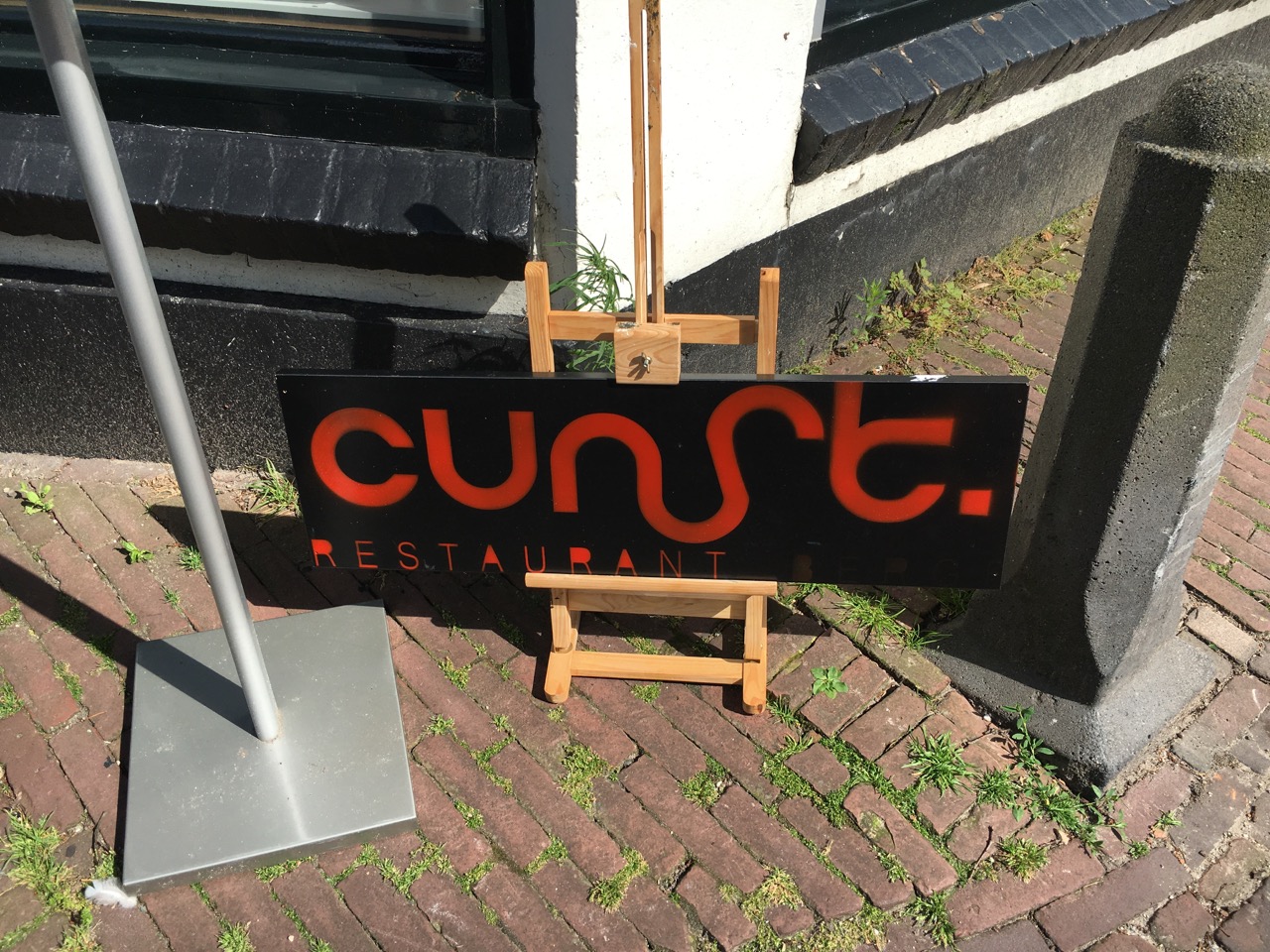 We DID NOT eat there.
Here we are before the show getting our set list together: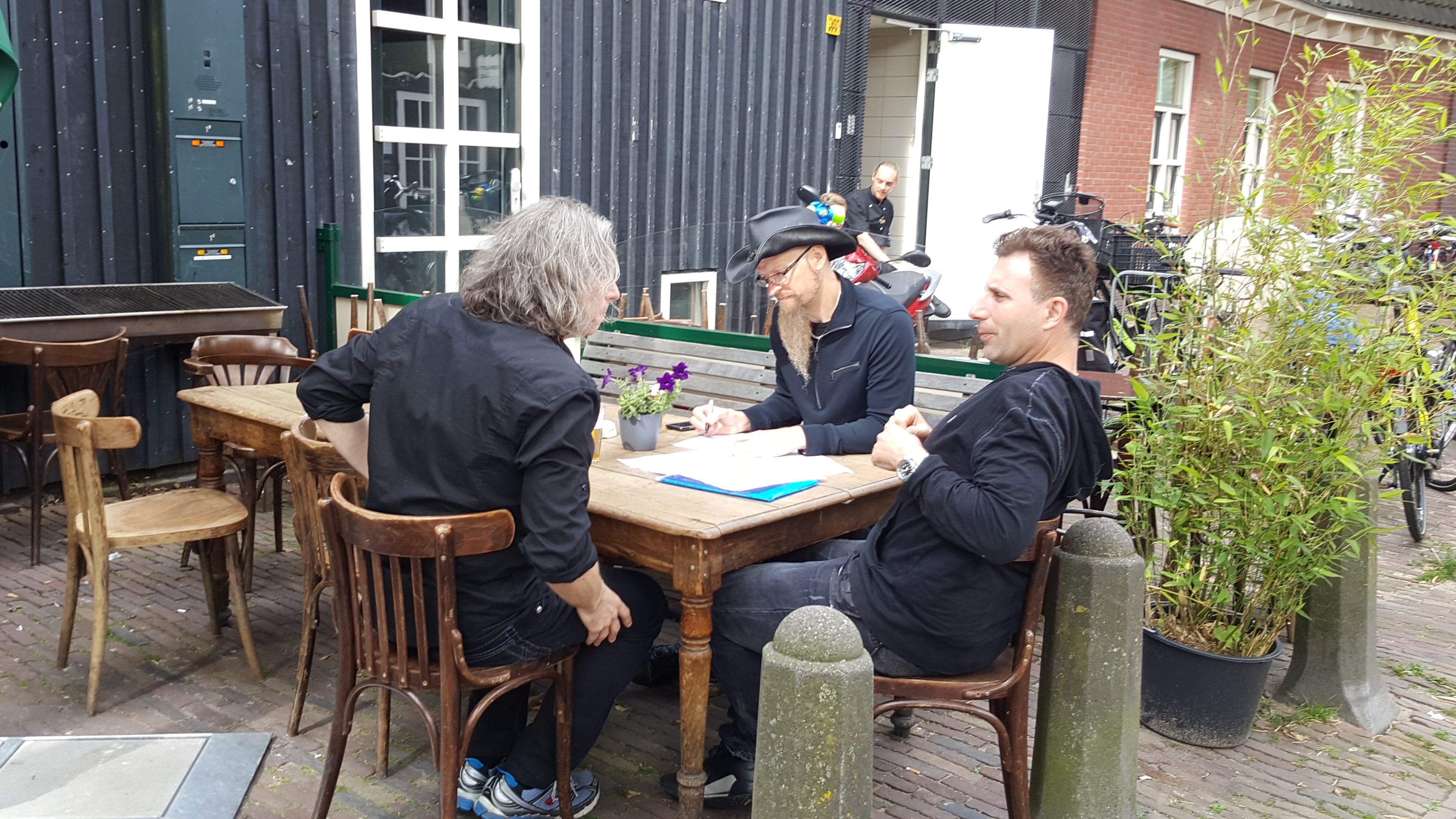 Set List time at De Taverne in Bergen, NL
We stayed at a hotel out by the coast in Bergen aan Zee (Bergen on the sea) and checked out the beach.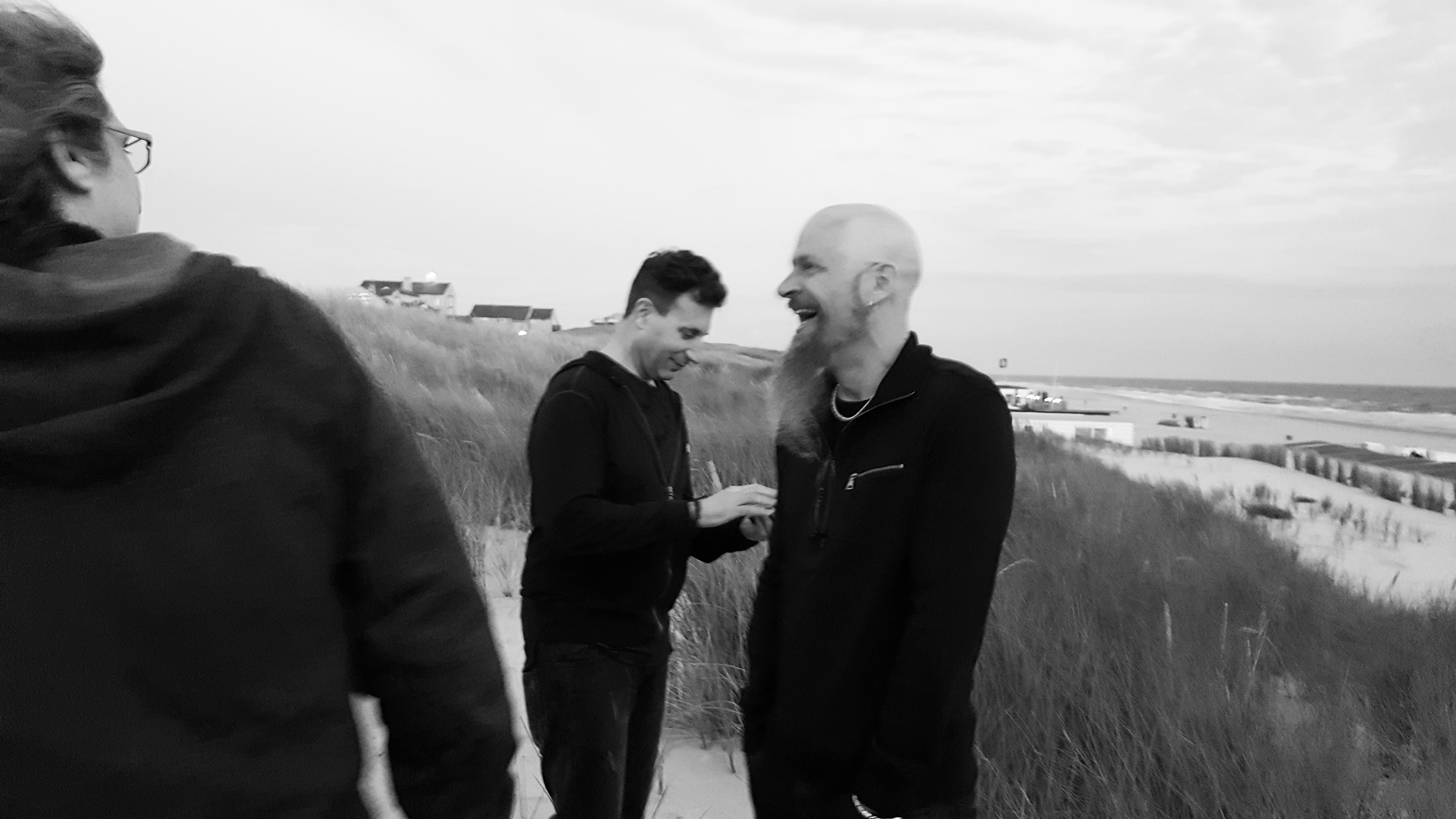 Bergen aan Zee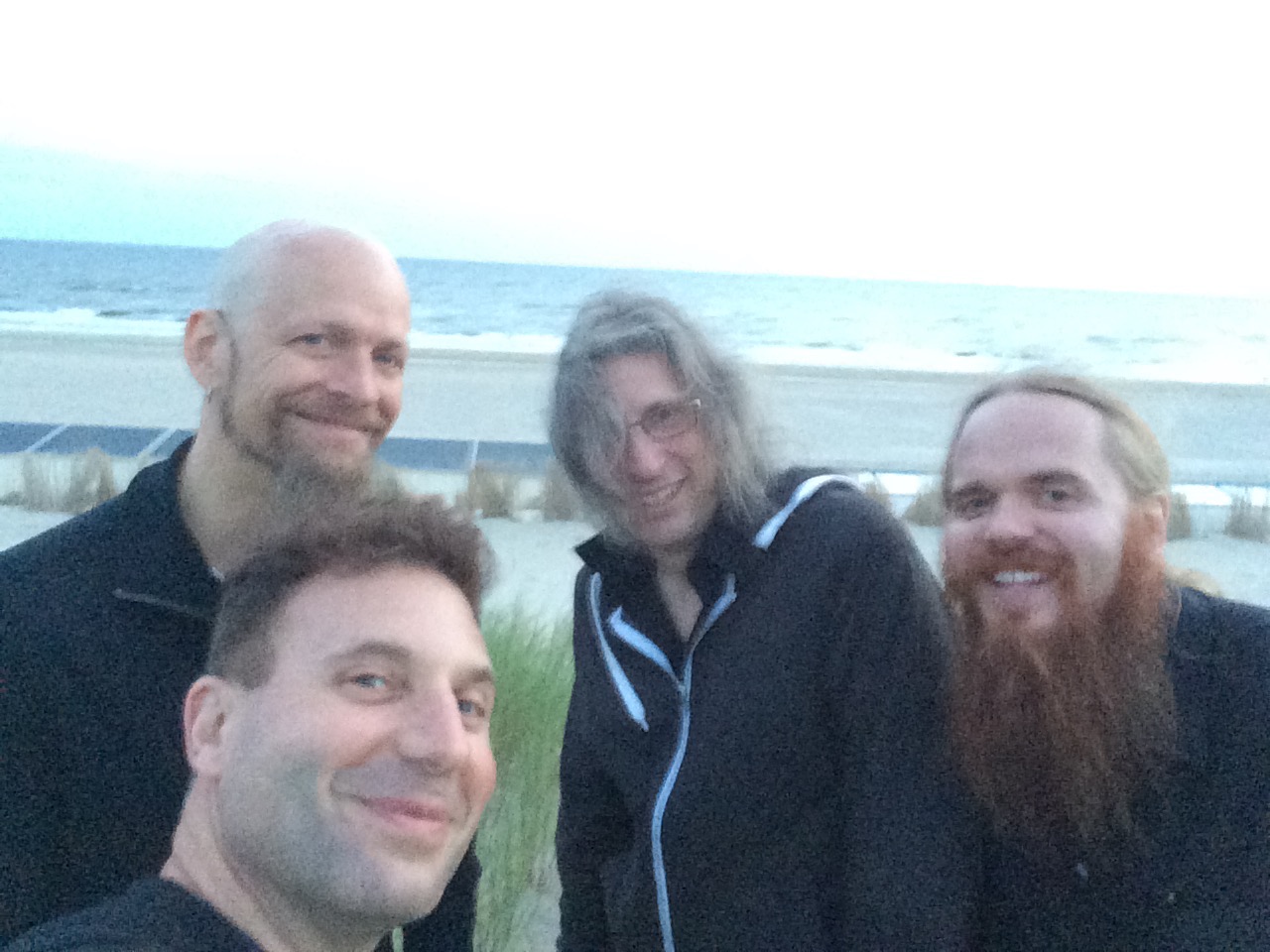 Beach Boys
When first booking the tour, I was not going to take the festival shows in Poland because of the soccer championship matches. There were no shows available there for a week afterwards, because no one wants to book a band when everyone is watching soccer. But I am glad that I did (at the band's urging) because those shows were fantastic. The problem was that after this show we played in Bergen, we had to drive all the way back across the continent to Poland for another festival we were headlining, and one club gig. Oh well. We're American and are used to driving long distances! Tell a Dutchman that you're going to drive for 10 hours and he will think you are fucking nuts! Well, I suppose that we are; just look at us! Hahaha...
So we drove 932 kilometers (about 580 miles) to Poznan that day. We could have driven all the way to Warsaw, but it's nice to check into a hotel and get some dinner and relax. No point in killing ourselves! We have stayed at the Hotel Ikar several times on these tours, and played Poznan at least three times, so we know our way around and are very comfortable there. The city center is really quite nice and they have some great restaurants, pubs and clubs there.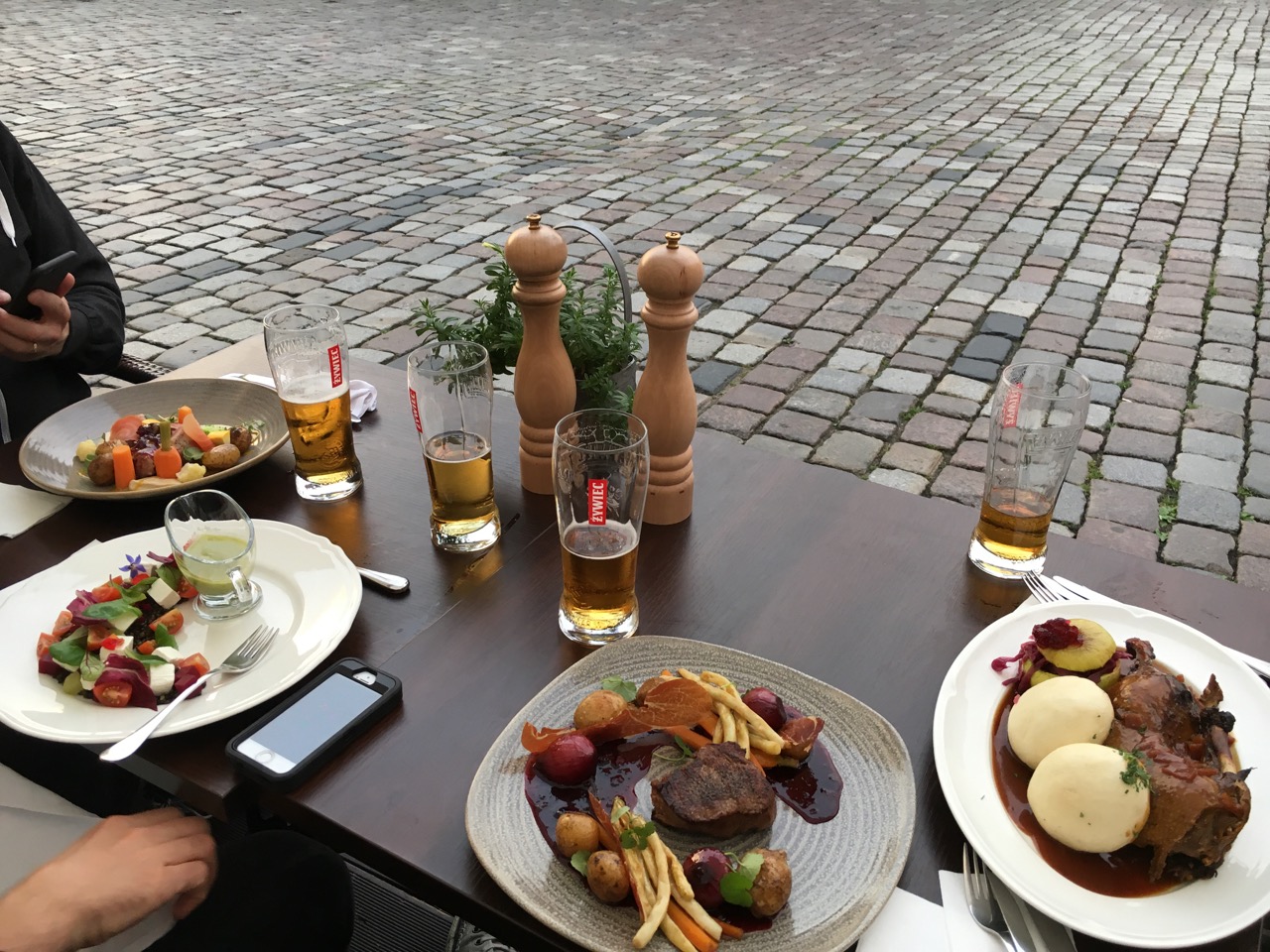 Killer dinner for 4 people for about $80!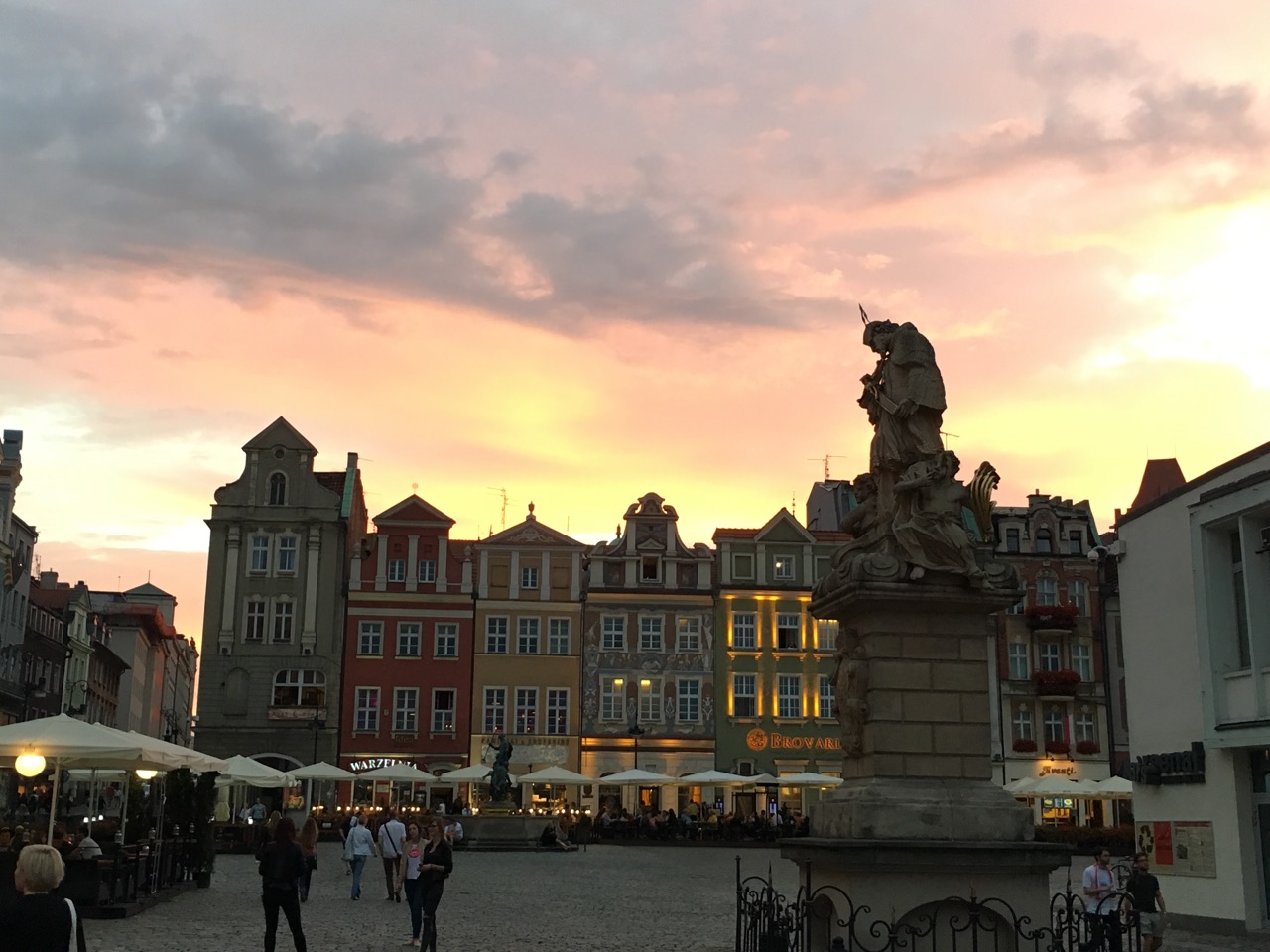 Beatiful night in Poznan City Center

The next night we had a gig in the center of Warsaw at a club called Beerokracja (literally beer-o-crat) which apparently is THE place to catch good blues when you are downtown. It is right off the main square and they take advantage of that with big billboard advertising, like times square: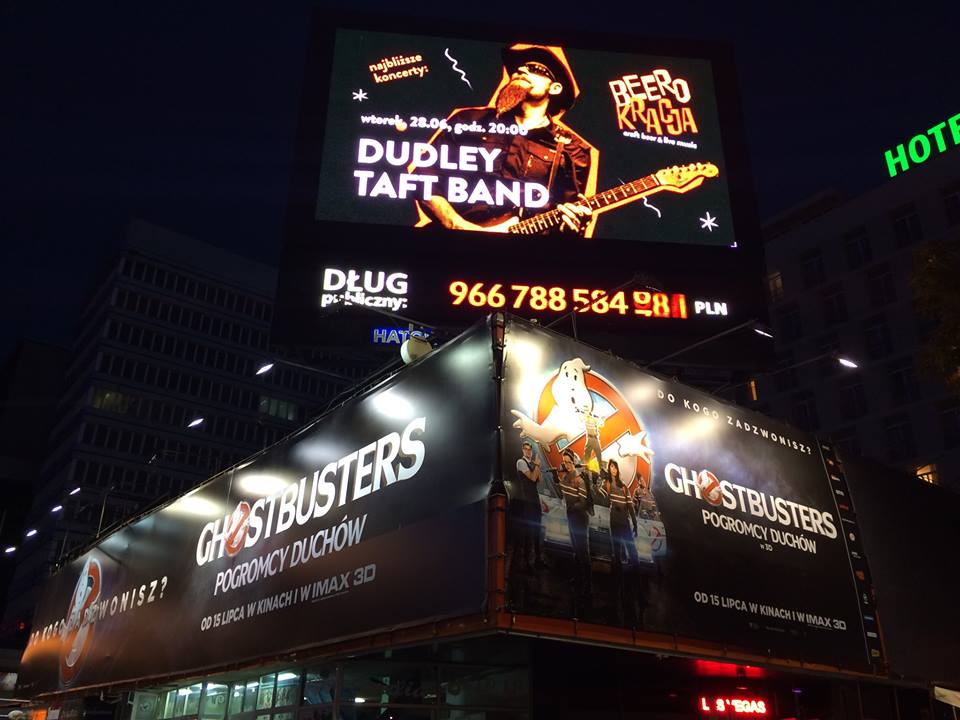 How cool is that?!?!

My good friend Krzysztof Inglik who is the Editor-in-Chief of Magazyn Gitarzysta showed up and gave me a super-cool overdrive pedal made by Mark L Custom in Poland. We are both insane gear-heads and love to try everything we can get our hands on! Thanks Kris for the pedal. It was great to see him at the show (and when there are guitar dudes at the show it really pushes me to play my best). If you know my music, you might be interested to see what our set list looked like at that point: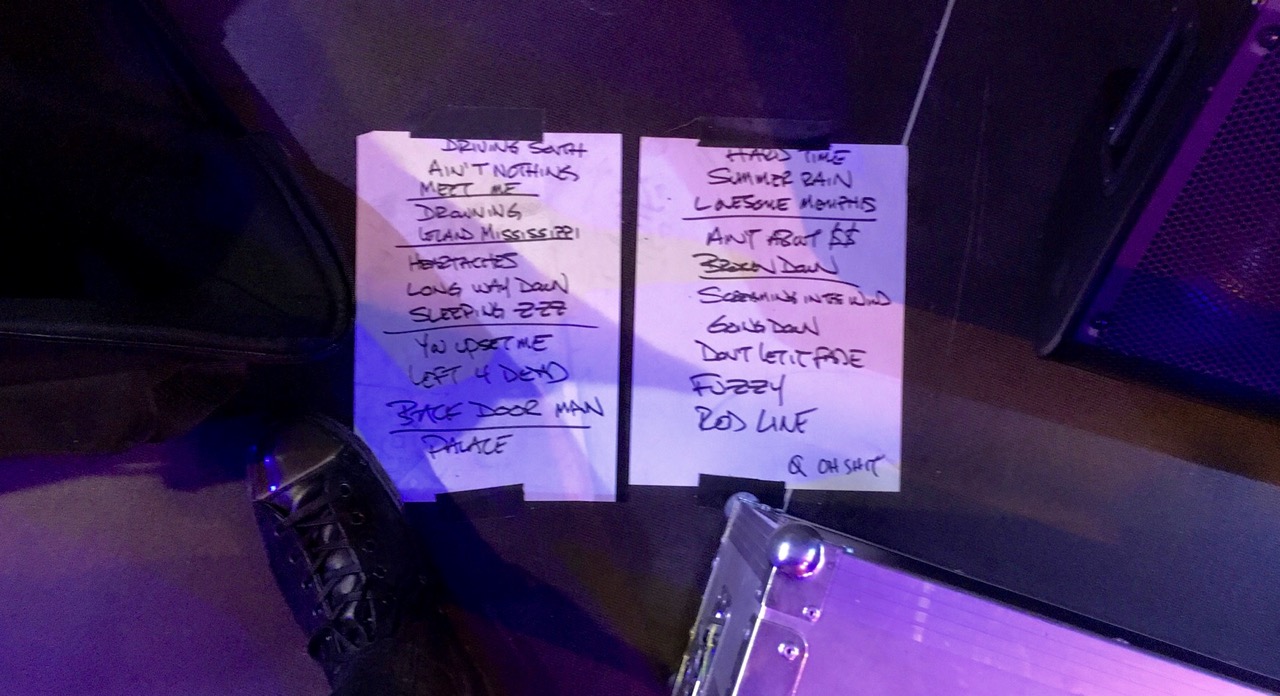 Set List Warsaw
Warsaw is like any other big city; the hotels are expensive! I have had good luck at the Intercontinental hotels, and the one in Warsaw was very nice. We stayed there for 2 nights and had great views from our rooms: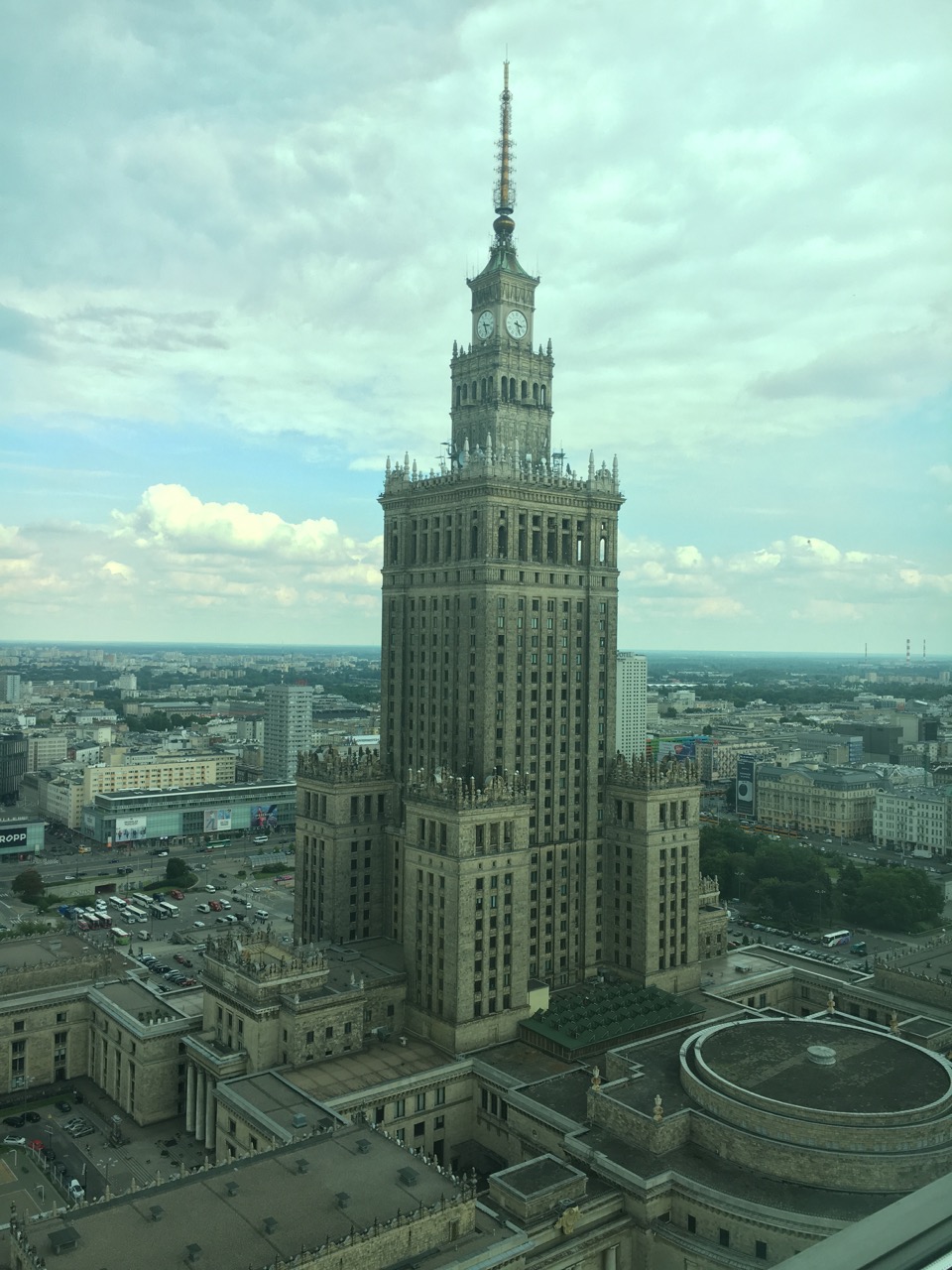 View from our hotel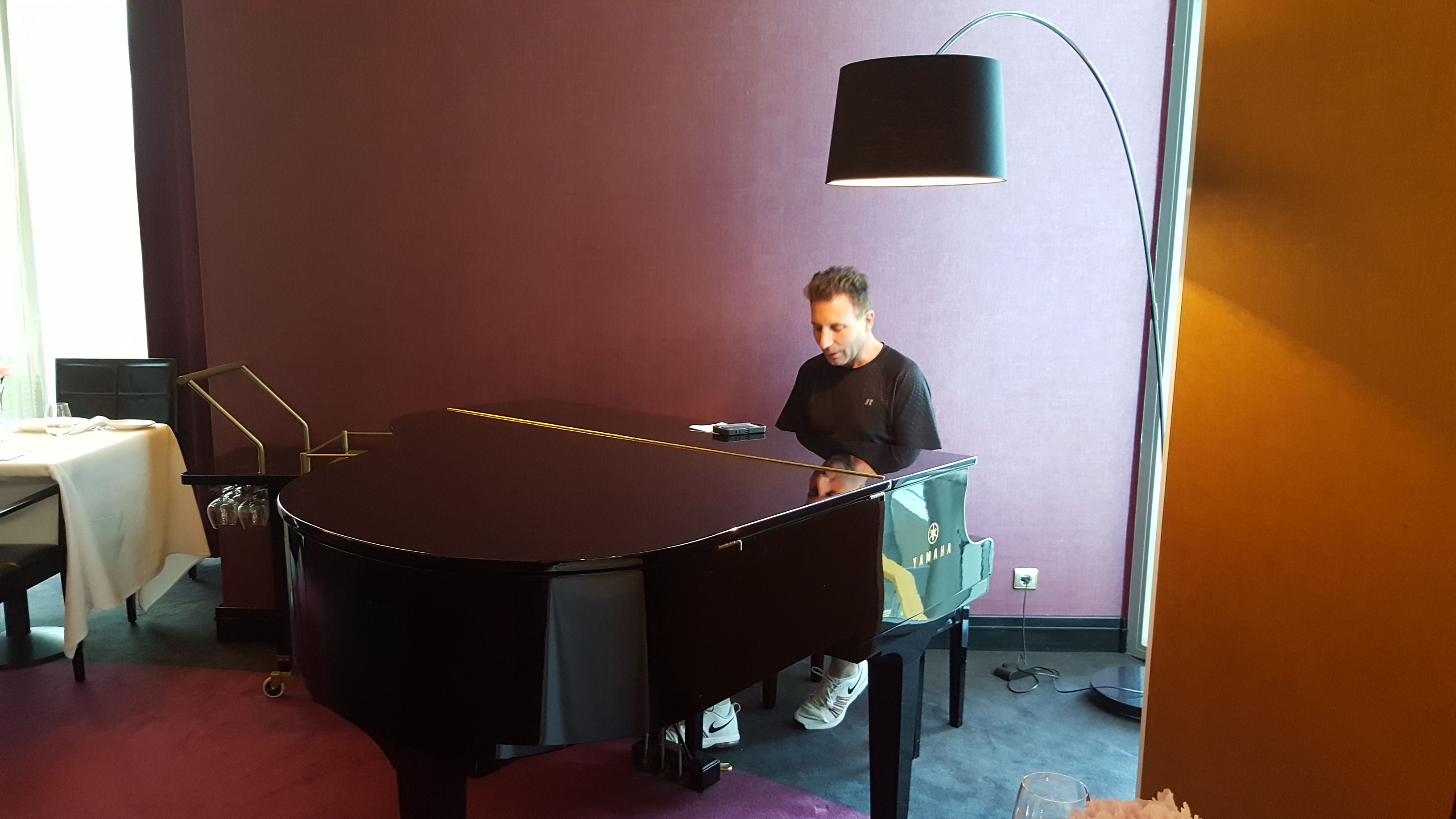 Eric always finds a piano! 
The next day was a day off, and we hung out in the Old Town.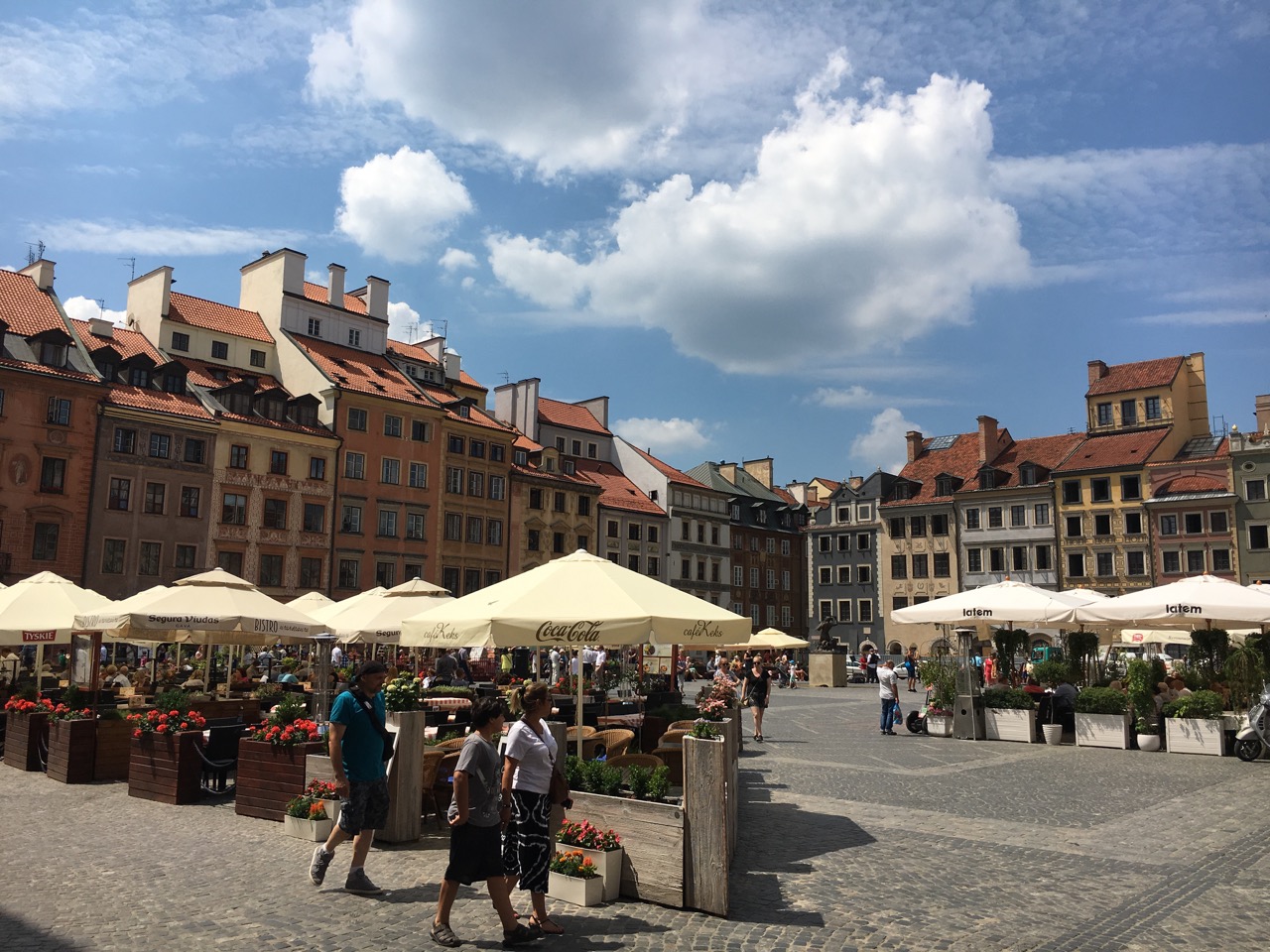 Old Town Warsaw. This was rebuilt after the destruction of World War II
 
Our next show was on Friday, and we had another day off (darn it). We headed north to Gdansk, which was pretty close to our outdoor festival gig. Gdansk was a highlight of our tour: the city was not damaged that much in the wars, and is very pretty. We had a blast there, and even got a canal/waterfront tour the next morning.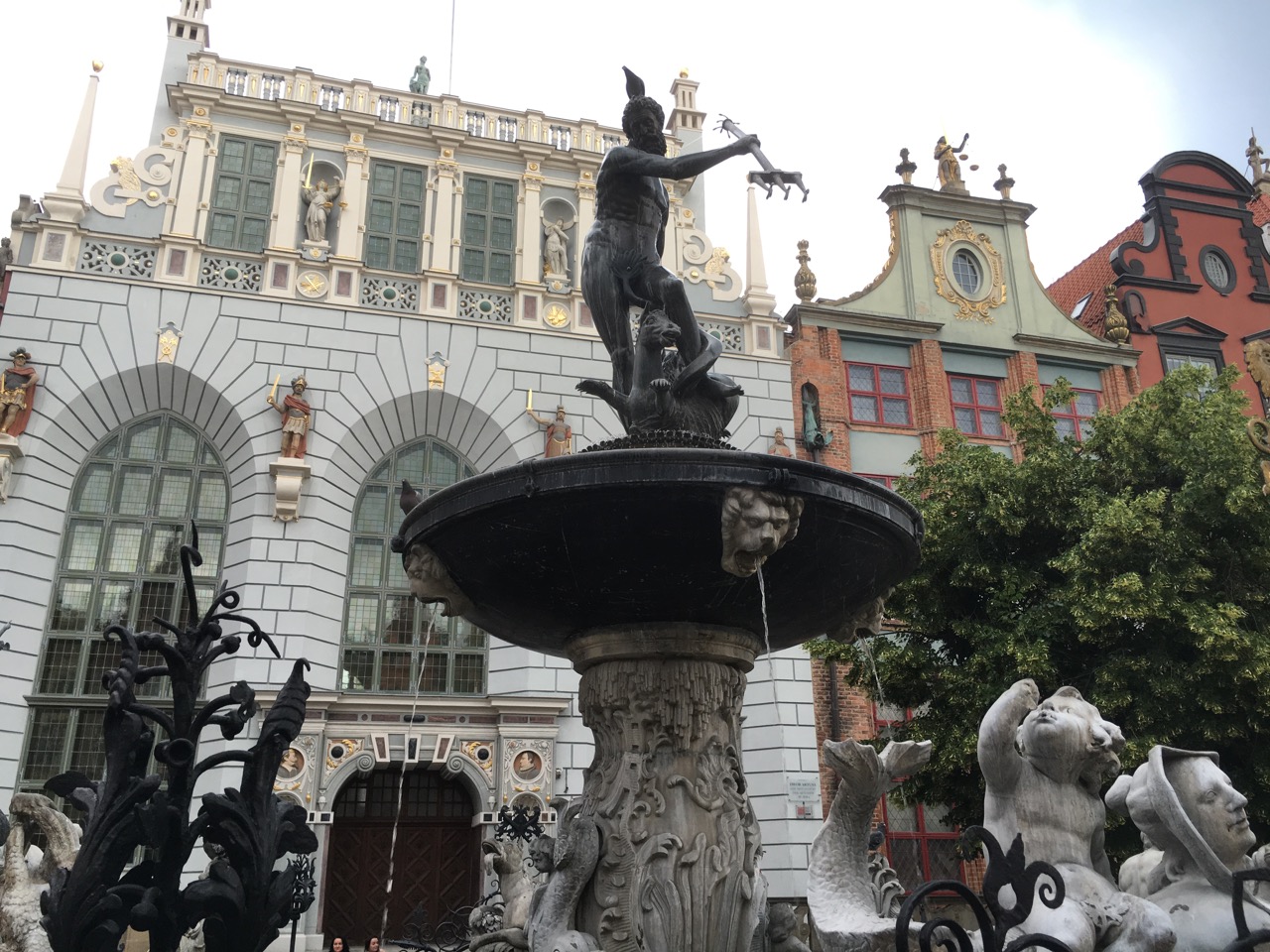 Gdansk City Center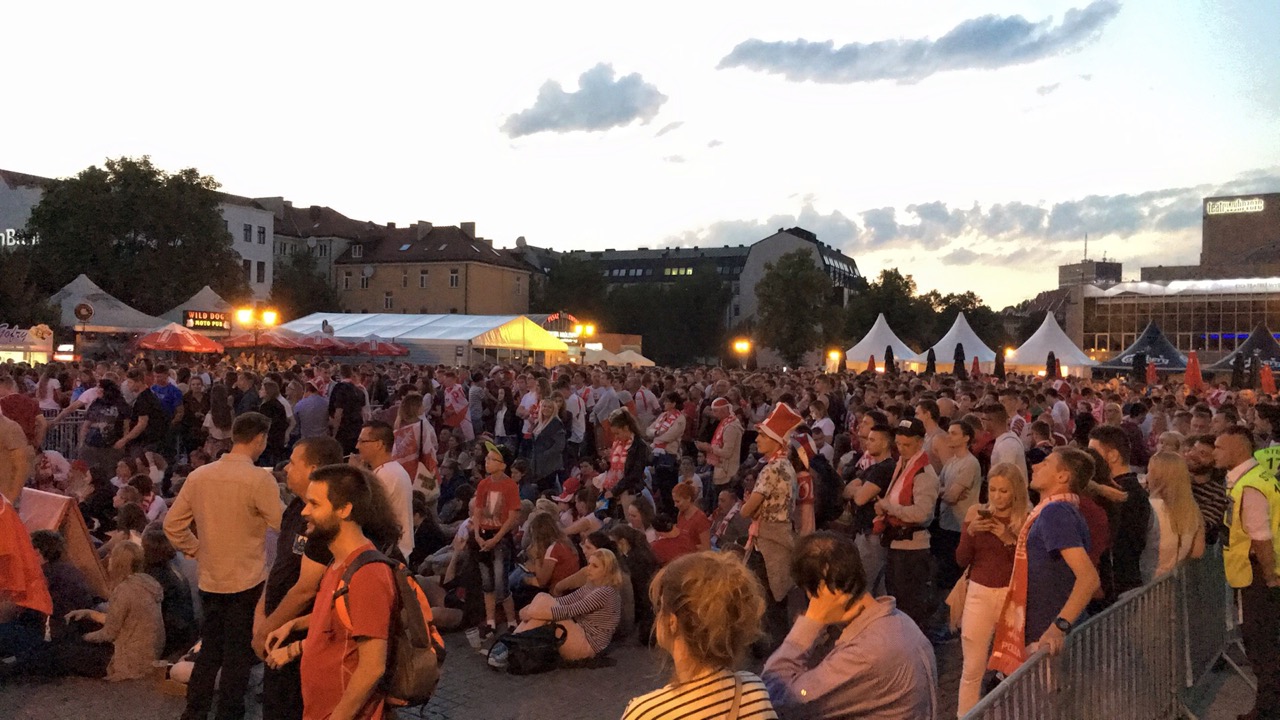 Watching the Soccer match on a huge projection screen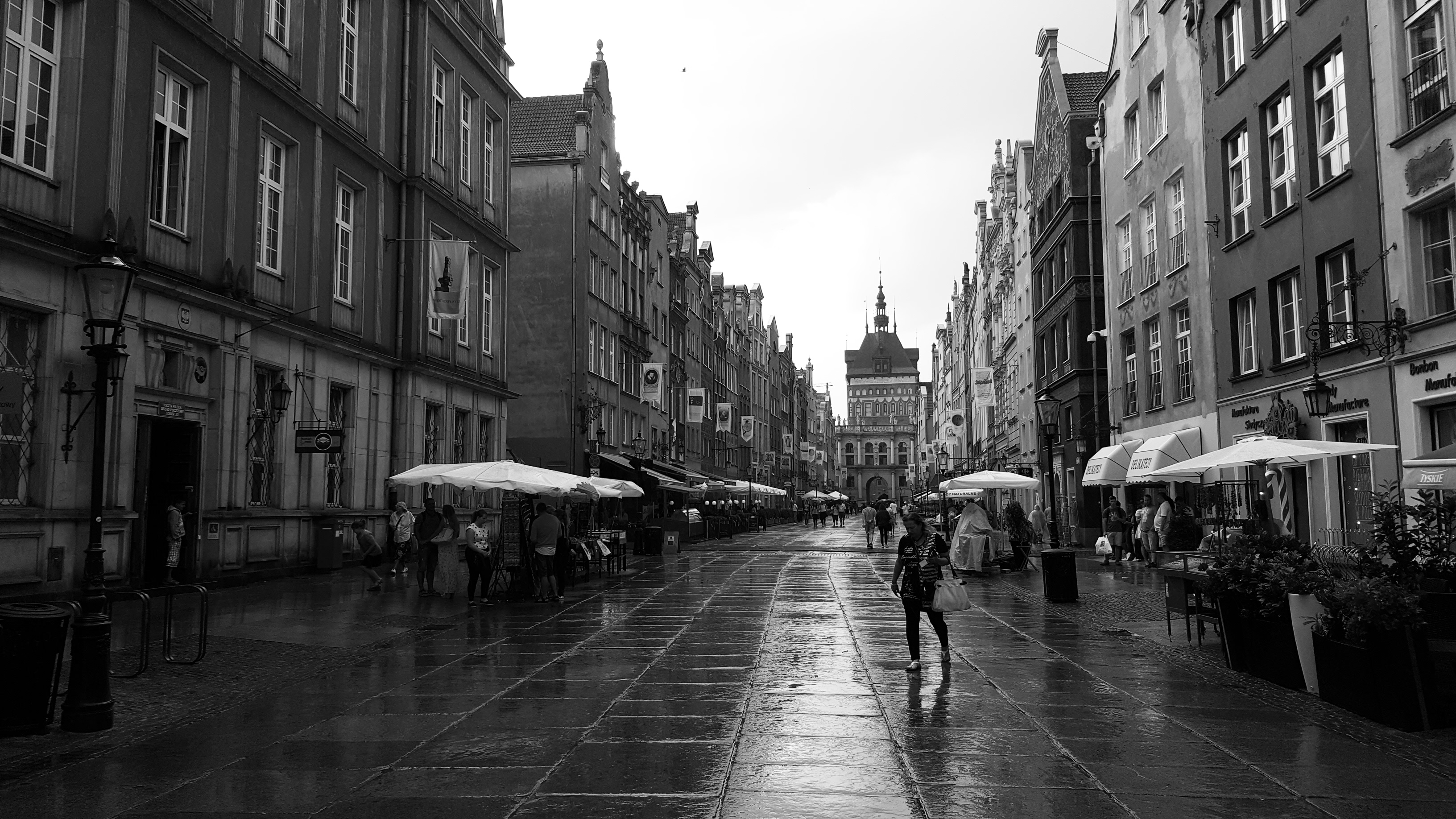 Rain slicked streets of Gsansk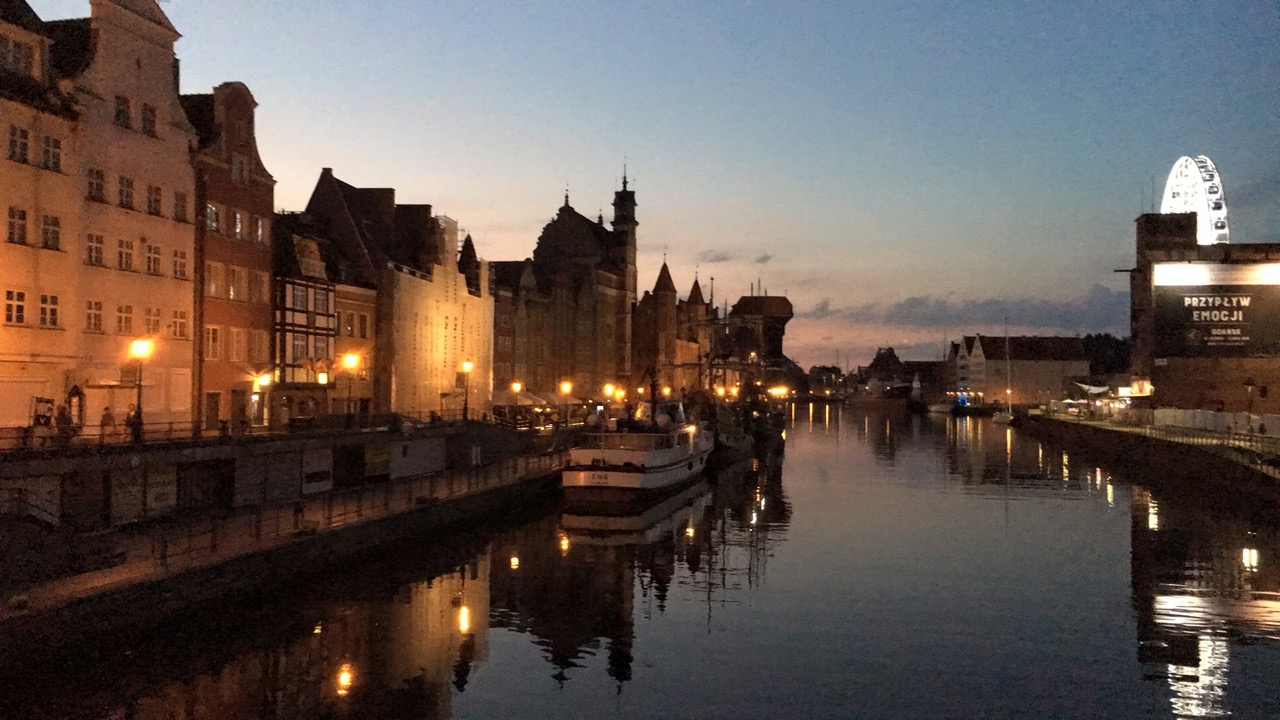 Sunset on the canal in Gdansk
Time to get back to work! We headed west to a small town called Katurzy where we checked in to our hotel. Some of the staff from the Blues w Leśniczówce festival met us there and we followed them to a camp in the middle of the woods. Man, we were really OUT THERE. I wondered who the hell would come all the way out there to see a show. But people kept coming in, and we had a nice crowd by the time the sun was setting. Backstage everyone was wound up and doing shots of whiskey. (I had a one sip!) Joe Columbo, a fantastic slide guitarist from Switzerland played there the night before and asked to jam with us, so we played a couple of tunes with him. He also played Victor Czura's Satyr Blues Festival, and we had heard a lot about him.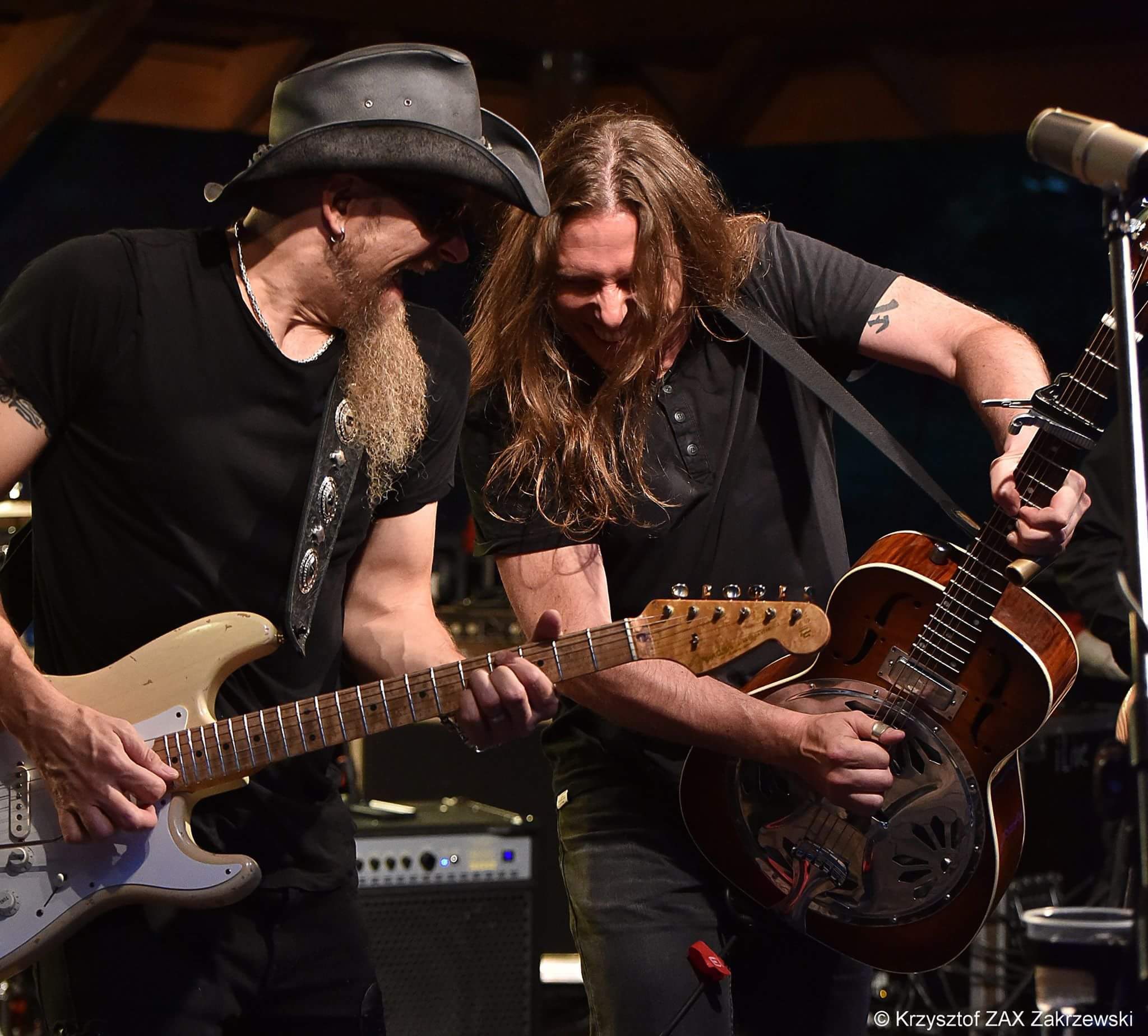 Me and Joe Columbo at the Blues w Leśniczówce Festival
We all had a blast and made some new friends!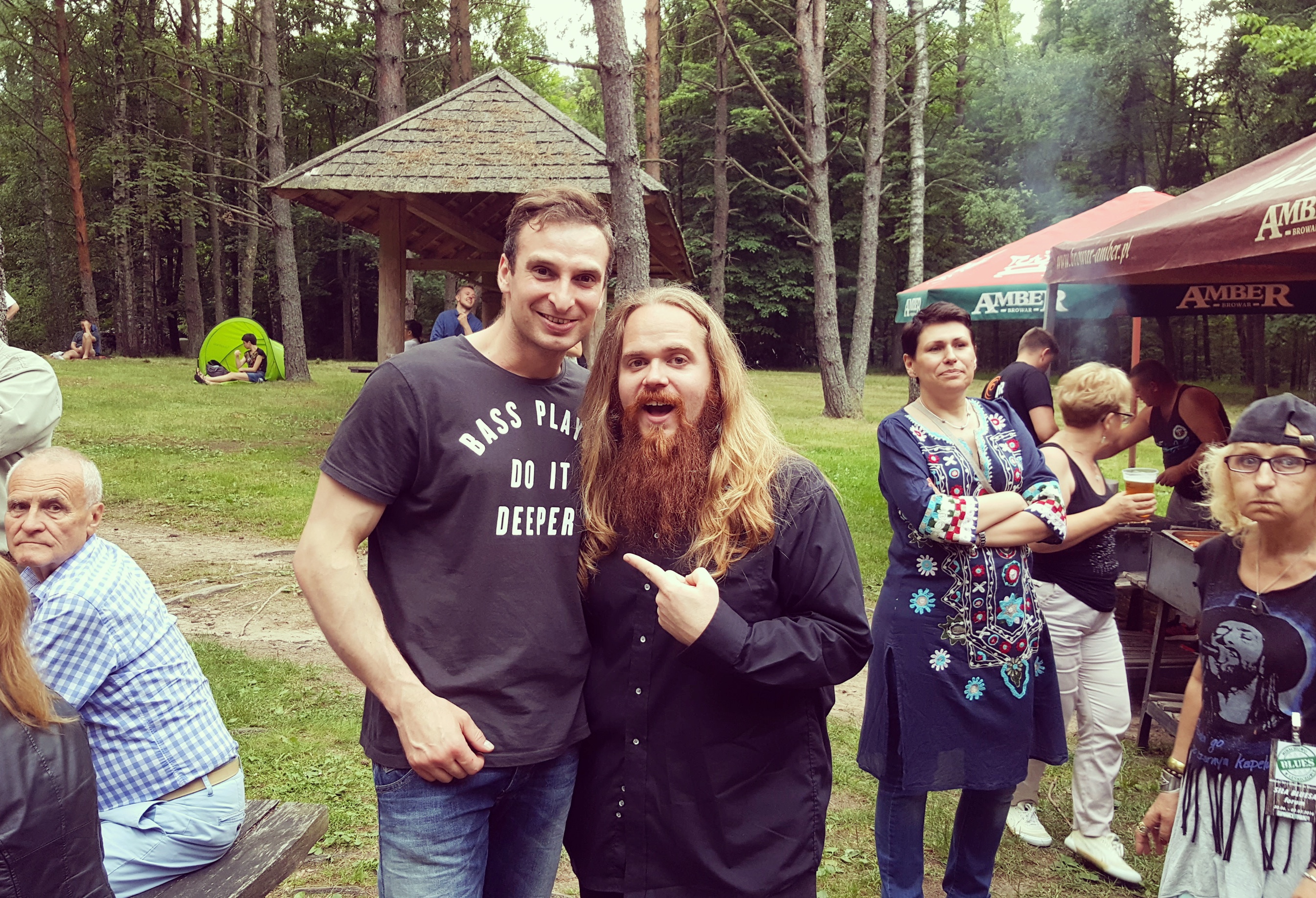 Bass players united
 
The next day was the beginning of our mid-tour break. Eric drove me to the Gdansk airport where I caught a flight to Milan, Italy for a week with family and friends to celebrate my 50th birthday (oh man...50!). The rest of the guys drove back to Castle Lammers, parked the van and headed out on separate adventures.
 
NEXT UP: 10 days off in Europe