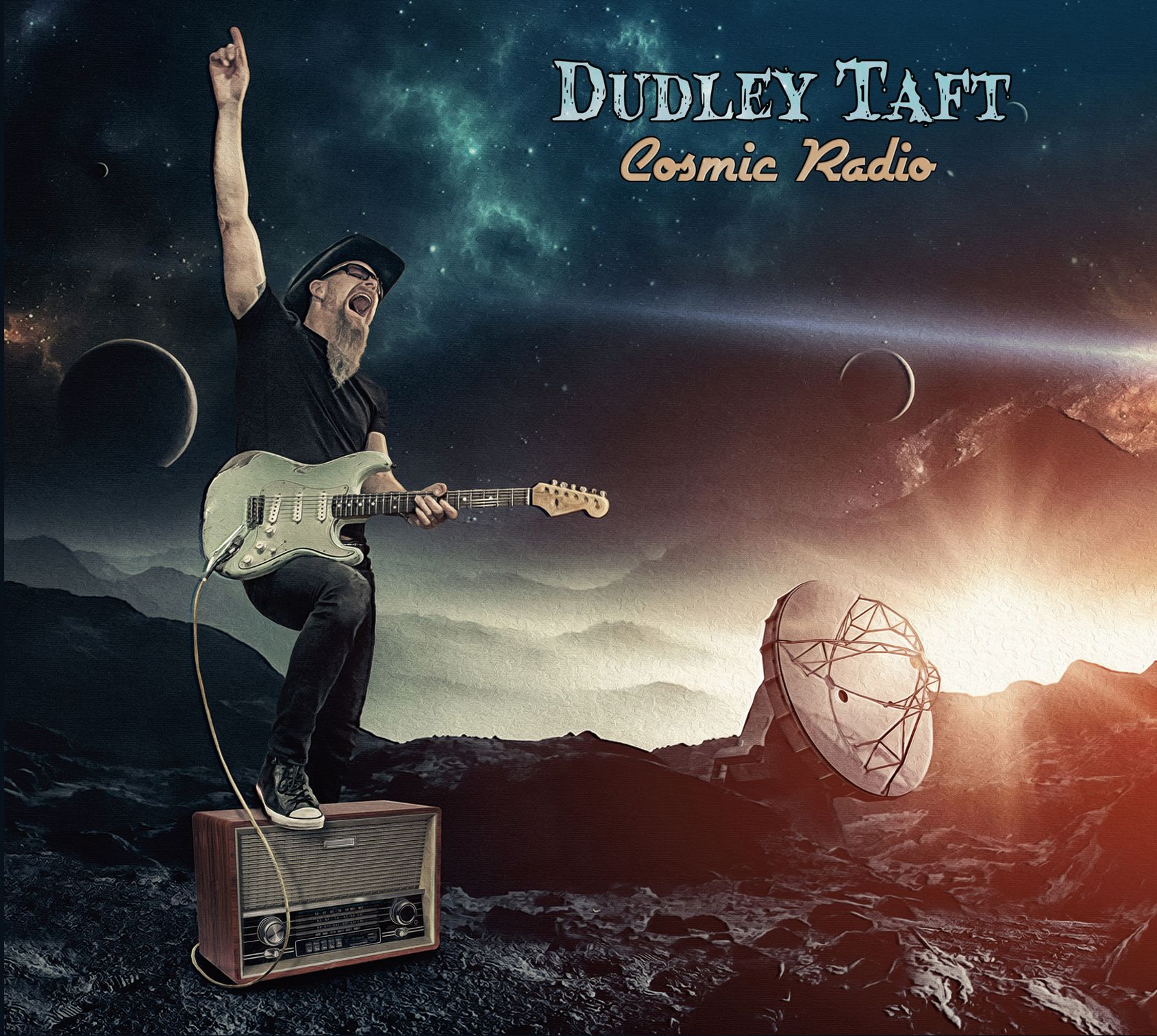 LABEL: AMERICAN BLUES ARTIST GROUP
RELEASE DATE: OCTOBER 2, 2020
DISTRIBUTION: CD BABY
FCC WARNING (SEE OVER)
Here's what Dudley Taft says about his new album, "Cosmic Radio":
The songs for this album were written between Fall 2019 and the Spring of 2020. The COVID-19 pandemic certainly gave me unexpected extra time to complete the tracks!
Playing drums on half of the tracks is Jason Patterson from North Carolina, original drummer for Cry of Love. Jason has played on many of my studio albums since 2013. The other half of the tracks were played by Walfredo Reyes Jr., who has a long list of credits that include Santana, Traffic, Steve Winwood and is currently the drummer for Chicago. Fortunately, Walfredo moved to the Cincinnati area late last year.
The bass guitar duties were handled by Kasey Williams, with my old Seattle partner-in-crime John Kessler playing on 'Goin' Away Baby' (his idea to do that song) and 'The End Of The Blues.' John is one of the blues' most learned scholars, helming the Puget Sound's KNKX All Blues show for the last 20 years. John's guidance and expert bass playing skills have been invaluable to my blues rock songwriting development.
My daughter Ashley Charmae was quarantined with me and my wife for more than three months, and sings backing vocals on many of the songs, and takes the lead vocal on 'Relentless,' which we wrote together. It was great having her around the house!
The title track 'Cosmic Radio' was written while vacationing in the Bahamas, along with 'Hey Hey Hey,' written on the same night! There's something about the Bahamas that spurs my creativity. Maybe it's the weed? 'Cosmic Radio' is about keeping your mind open to new possibilities and points of view – tune into the "frequency of the unknown" and let your imagination loose! And of course, it's also a love song – because you can find love if you let yourself!
'Left In The Dust' is a rocker I wrote after I bought a new fuzz pedal (an Analogman Sunface NKT for the guitar geeks). The opening riff just oozed out of that thing! The narrative is one of frustration about someone who lets too many opportunities pass by and fear of failure keeps them from trying new things. I wanted this song to have a lot of energy – the kind of song you might place first on the set list.
'The Devil' is a song I wrote when my Parisian friend Manu Lanvin visited me in Cincinnati. He calls his band the Devil Blues, and I wrote that with him in mind. I wanted it to be upbeat, fun and about temptation!
'Relentless' is the first song that I wrote with my daughter Ashley Charmae. She loves old blues singers like Etta James, Ray Charles and Billie Holliday and I think she was channeling some of that energy into the melody and lyrics. She really shines on this and I am quite proud of her!
The COVID-19 pandemic and resulting shutdown of the live music industry was a real blow to the solar plexis. 'I'm A Believer' is about the frustration I was feeling, but the chorus had to have a positive note: "If you're talking love baby, I'm a believer." The silver lining was getting to spend a lot of quality time with my beautiful wife and family.
The album ends with a piano ballad, 'I Will Always Love You,' and I was on the fence whether to include it on this album as it is different from most of my songs. But I felt it was strong enough to be heard. It's the first song I have written on piano, having just acquired one last year. A friend of my father's was downsizing from a big house into a condo, and he wanted someone "in the family" to take it. It's an interesting story: built in Hamburg Germany during WWII, it's all original and part of the keyboard sticks, so I avoided those keys. But it has this aged, grandiose vibe, and I think there are many more songs in that thing! I love the way Ashley Charmae's backing vocals takes the composition to a whole new level.
BIOGRAPHY
Dudley Taft grew up in the American Midwest, where he learned the values of friendship, roots blues, rock 'n' roll and a good ear of corn. With a background that includes Berklee College of Music as well as years touring with rock bands Sweet Water and Second Coming, Dudley is a thinking man's blues rocker. There's plenty of swagger here, but also the sensitivity of a thoughtful songwriter. In his music you'll hear delta roots mingling with Seattle grunge, a southern twang with a high-octane crunch.
Dudley's music career began in high school when he founded the band Space Antelope with friend Trey Anastasio (of Phish). In the 1990's he joined Seattle band Sweet Water, touring the states with Monster Magnet, Candlebox and Alice in Chains. After recording two albums for Atlantic, he left the band to join Second Coming. More touring followed with an album on Capitol Records and a taste of success thanks to the single 'Vintage Eyes' which made it to #10 on the Rock Radio charts. In 2006, Taft started playing blues rock in Seattle, and has released six studio albums and one live record - Left for Dead in 2010, Deep Deep Blue in 2012, Screaming In The Wind in 2014, and Skin and Bones in 2015, Live In Europe in 2016, Summer Rain 2017 and Simple Life in 2019. Reese Wynans of Stevie Ray Vaughan fame has played on three of these studio albums. Dudley has had four #1 songs on the Hit Tracks Top 100 charts, a #2 Blues Rock single (Give Me A Song) and Simple Life made it to #9 on the US Blues Rock Album charts.
Taft has been touring in Europe since 2012, and in 2017 Taft was nominated "best guitarist" by the European Blues Awards. Dudley's music has been featured in movies and on television, most notably "The Sixth Sense," and on "That Metal Show" and Gene Simmon's "Family Jewels." Dudley now makes his home in Cincinnati, Ohio.
WEBLINKS
OS: www.dudleytaft.com
FB: www.facebook.com/dudleytaftfanpage
IG: www.instagram.com/dudleytaft
TW: www.twitter.com/DudleyTaft
VIDEO
Channel: www.youtube.com/dudleytaft
PURCHASE & STREAMING LINKS
None at time of writing
IMAGES
Cover and artist: http://blindraccoon.com/clients/dudley-taft/
FCC WARNING
Track 1 - fuck